Your Preferred Semi Automatic Carton Sealer
Fast Loading Tape Design
Equipped With BladeGuard
Conveying Roller Design
Semi Automatic Carton Sealer
Allpack semi-automatic carton sealer is suitable for batch sealing production of multi-specification cartons. The top cover and back cover of the carton is automatically folded, and the corners are not folded quickly,and then the tape is applied on the carton. The side belt is driven, which is heavy-duty and easy to operate. The width and height can be adjusted manually according to the size of the carton. The sealing machine has stable performance, reliable quality, high accuracy,high sealing efficiency, strong applicability, and long service life.All Allpack semi-autoamtic carton sealers are widely used in food and medicine, daily necessities, industrial products, textiles, cosmetics, and other industries.This machine can be used alone or work with an assembly line, to improve the production efficiency and meet different production demands.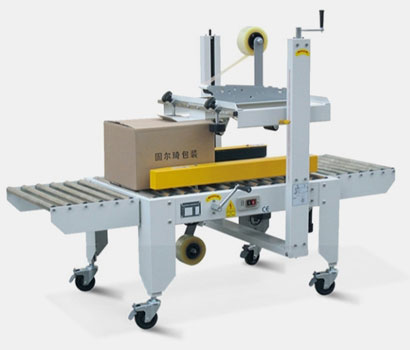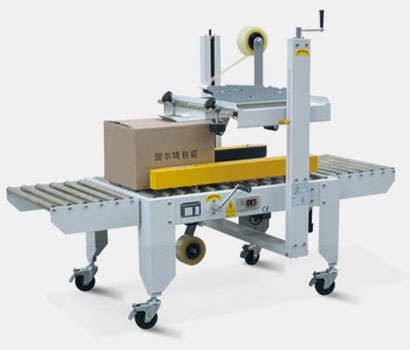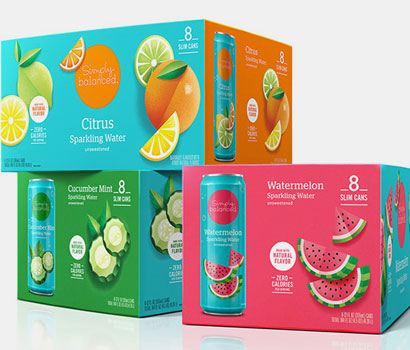 Semi Automatic Carton Sealer
Allpack DZF energy saving semi automatic carton sealer is used to pack all kinds of paper boxes, it is a semi automatic mode, which need the operator put into cartons manually and then the machine will continue the rest operations. This semi automatic carton sealer is suitable for uniform cartons, it is widely used in household appliances, textile, food, general merchandise, medicine, chemical and other industries. In addition, this machine can be used with automatic production line.
Reasonable Structure
Stable&Reliable Performance
Equipped With Protective Device
Allpack FXJ-5050A high speed semi automatic carton sealer is used to pack cartons by applying adhesive tape on them, which can improve the production efficiency of industries. This carton sealer is widely used in food, pharmaceutical, chemical, commodity, general merchandise and many other industries. It is equipped with side drive belts, and upper and bottom tape head, which makes it be suitable for different sized cartons. This carton sealer can be used separately and it can also be integrated into production line.
Double Motor Strong Power
High Cost Effective
Stable Transportation
Allpack FXJ-5050AS moveable semi automatic carton sealer is used to pack cartons, it is made of high quality and advanced material so that it has stable performance and long service life. Also, the metal structure of this machine is durable, wear-resistant and rust free, because of these advantages, this carton sealer is popular in a large range of industries such as food, textile, beverage, cosmetic, medicine, commodity, chemical and other manufacturing industries.
Adjustable Height&Width
Advanced Movement
Beautiful Sealing Effect.
Allpack FXJ-5050B middle sized semi automatic carton sealer is equipped with three-sides drive belts and upper&bottom tape head, it is easy to operate and high speed. The height and width of the machine are both adjustable so it is suitable for different sized cartons. This carton sealer conforms to ISO9001 certification, it is strong and durable, it is widely used in electric appliance, foodstuff, general merchandise, medicine and chemical industries.
Fast&Stable
Solid And Thick Fuselage
High Power Motor
Allpack FXJ-6050 high performance semi automatic carton sealer has double motor thus it has a high production speed which up to 1000 standard cartons per hour. The whole machine is made of high quality material, it is equipped with high grip conveyor belt so that it can let the cartons pass quickly and smoothly. This carton sealer is durable and wear-resistant, it has long service life, it is widely applied in food&beverage, chemical, pharmaceutical, home appliance industries, etc.
ISO9001 Certification
Easy To Operate
Wide Range Of Application
Semi-Automatic Carton Sealer: The Complete Buying Guide In 2023
Every stable and durable product requires quick and steady carton packaging that is efficiently achieved by a carton sealer. A semi automatic carton sealer has self configured functioning with approved quality standards that every manufacturer looks for.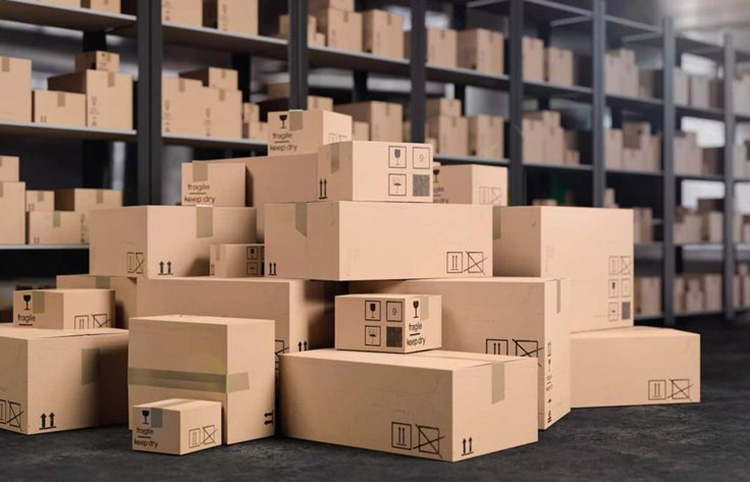 In this way you need to consider the underlying important questions regarding a Semi-Automatic Carton Sealer in order to be well informed by its pros and cons when you buy it.
Add a header to begin generating the table of contents
1.What is a Semi-Automatic Carton Sealer?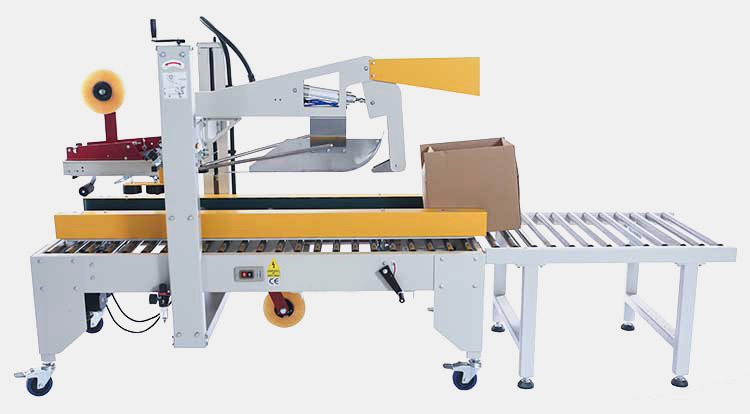 A semi automatic carton sealer is a machine used for the sealing or closing of corrugated cartons by applying adhesive material either in a form of tape or glue. This machine works automatically once the dimensions are fixed and is capable of sealing random-sized cartons with top and bottom sections.
Usually in large scale business, goods are exported on global level which needs efficient, perfect and safe packaging as well as sealing to prevent any type of damage in transit. Semi automatic carton sealer is thus ensuring fast production and high accuracy level by eliminating the manual sealing.
2.How does a Semi-Automatic Carton Sealer work?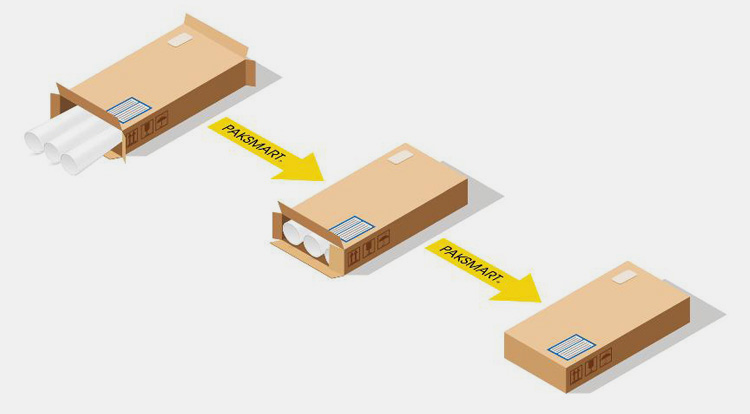 A semi automatic carton sealer works through various steps which are explained below:
The processing starts when machine is switched on as it provides the user with control panel to fix all parameters according to the cartons' size.
The machine requires an operator to feed it with loaded box and after realizing the presence of carton it begins the mechanism.
The conveyor roller then move the case ahead where flap folder close the case and cartridge dispense the tape neatly which results in the beautiful and firm sealing of the box.
The bottom drive pushes the box forward and bends it by inserting tongue. Finally, the carton is ready for shipping.
3.What Are The Different Methods Used By A Semi-Automatic Carton Sealer For Sealing?
There are two basic methods which are used by semi automatic carton sealer to seal different types of cases. These are explained below:
Tape Sealing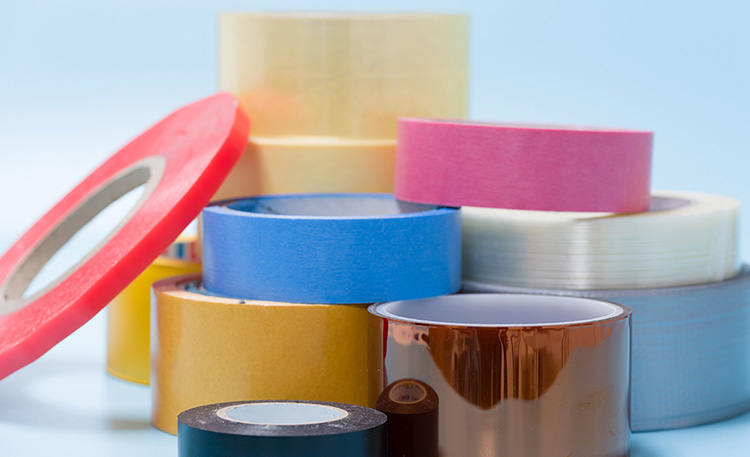 A carton sealer integrated with tape sealing system uses an adhesive tape to close the flaps of boxes. This method of carton sealing is fast and commonly used due to its easy implementation and lower initial cost. Moreover, it consume less energy and is more flexible that it can easily adapt itself to any shape or size of carton which ultimately makes it ideal for every company's perfect packaging.
Glue Sealing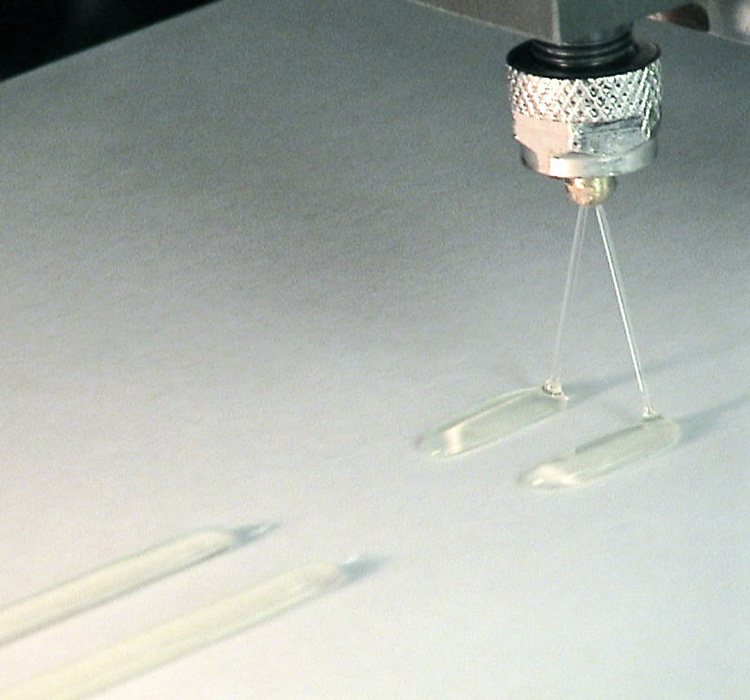 Glue sealing refers to the method of applying hot melt or cold glue on cartons for the purpose of achieving solid sealing. This method of sealing is uncommon and is rarely used due to expensive price. However, it provides the strong structural strength for cases with heavy load. It gives your cartons beautiful, clean and appealing look due to internal sealing.
4.What Are the Major Components of A Semi-Automatic Carton Sealer?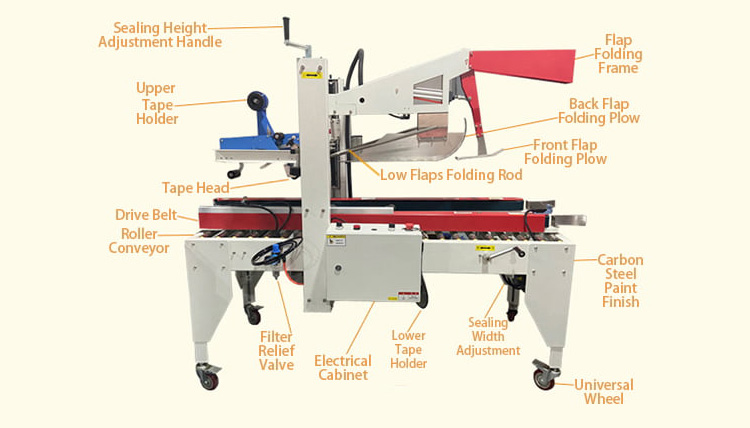 Control Panel
The core part of any carton sealer is no doubt the control panel where all the dimensions and parameters are fixed. This is located on a single side of machine and an operator has to bring it in use for fulfilling sealing task.
Drive Motor
It is also known as conveyor belt which helps in the movement of a case. It is the place where carton is kept for sealing. With two powerful motors it has the capacity to load heavier boxes and move them ahead.
Frame
Frame consists of the overall structure of machine including safety gates, table, mast front, mast rare, screws and wheels etc. It greatly assists the machine to stabilize performance during processing.
Box Folder
This part of machine is comprised of front flap folder and back flap folder. It closes the flaps of a carton by pressing the front and back folder constantly on box.
Tape Holder
It is also known as tape drum or cartridge from which excrete the adhesive tape is on the center of box through tape head.
Top & Bottom Belt Drive
For sealing cartons the machine adopts top and bottom belt drives. They help to position the carton on a fixed area so as to avoid the deviation from track.
Height Adjustment Handle
With ergonomic handle the width and height of machine can be easily managed in accordance with various size boxes.
Roller Conveyor
Roller conveyor is the essential component of a semi automatic carton sealer which is located on the table of machine. During the sealing process it ensures the stability of large size corrugated boxes by preventing any sort of jam.
5.What Are The Benefits You Can Get From Using A Semi-Automatic Carton Sealer?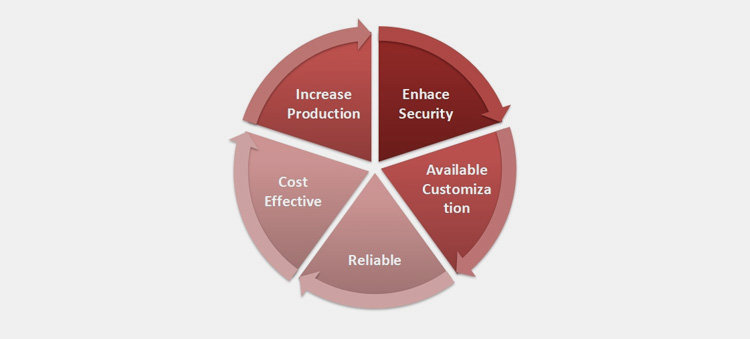 Increase Production
A semi automatic carton sealer is one of the innovative machines that can improve your bottom line with remarkable high speed, efficient and stable performance.
Enhance Security
With advanced stainless steel construction a semi automatic carton sealer is compact sealing equipment which enhances the security of your goods. Cut down the injuries with an excellent operator safety.
Cost Effective
While using this machine you are eliminating the extra cost of materials like the uneven tape length, double taping and most important the labour cost.
Reliable
It is most reliable with easy cleaning, low noise, and greater flexibility. With good equipment mobility it can be mobilize to any place and can be used both as a standalone and in connection with conveyor system.
Customization Available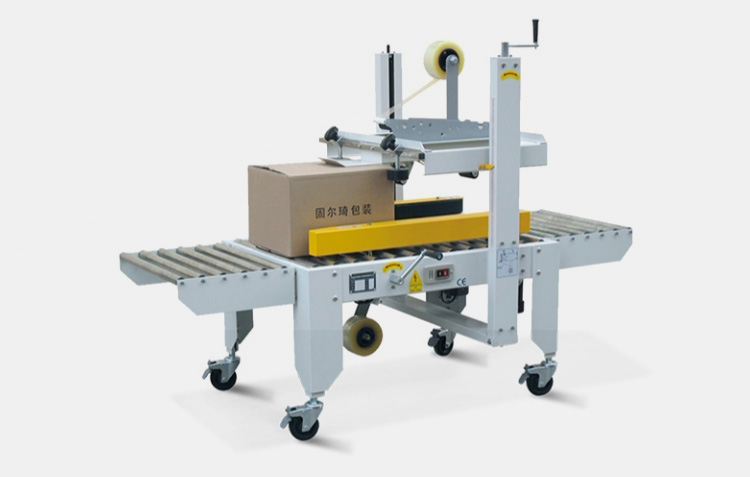 As the name indicates a semi automatic carton sealer has easy equipment maintenance. It allows an operator to gently customize the machine's specification during processing. It only takes one minute to adjust the case size and length.
6.In Which Industries A Semi-Automatic Carton Sealer Is Extensively Used?
The application area of a semi automatic carton sealer is another significant aspect to know. It is not confined to any particular industry rather the day to day excessive production makes its presence inevitable in almost every manufacturing firm such as:
Grocery Markets
Grocery market is the area where you can get all the essential products for your daily use. These goods vary in their nature like food products, condiments, soap, creams etc. To pack them in accurate way they are often sealed in cartons for which a semi automatic carton sealer is widely used.
Food Industry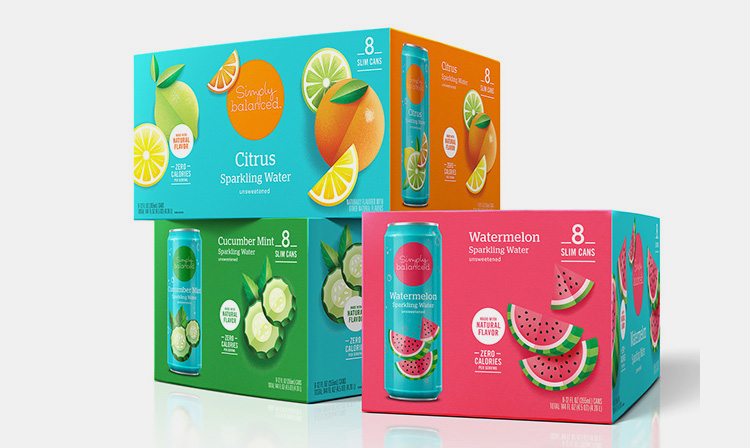 A semi automatic carton sealer is the core part of any kind of food industry. Whether it is the packaging of fruits or vegetables, beverages or solid eatables like candies and biscuits this machine plays crucial role in fulfilling these tasks effectively.
Glassware industry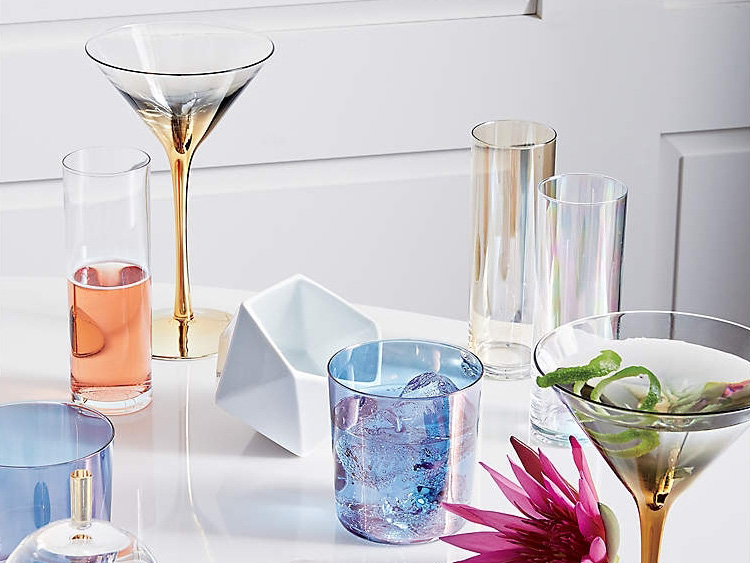 Glass is such a delicate object that it makes the use of a semi automatic carton sealer obligatory in glassware industries for perfect sealing. Materials made up of glass like utensils or decoration pieces can be often seen as covered in paper cartons.
Pharmaceutical industry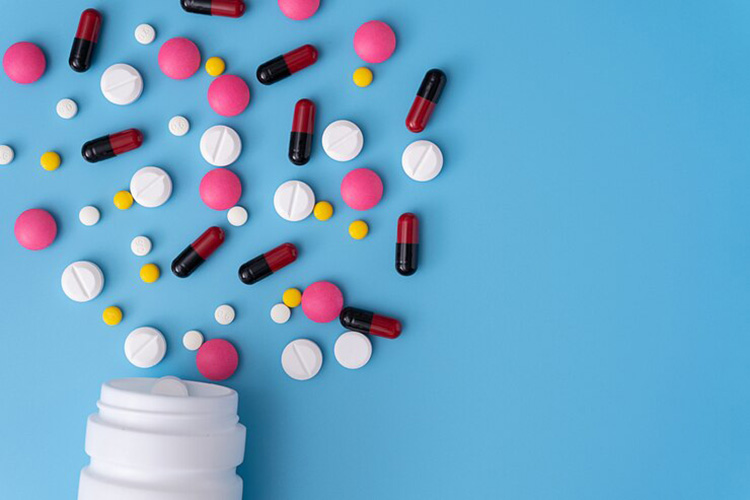 Another industry that can never be overlooked while discussing the applications of a semi automatic carton sealer is pharmaceutical. Thousands of pills, capsules, medicine and vaccines are prepared everyday which also needs proper and safe packaging/sealing so as to maintain their susceptibility and sterility, for which this machine is the first choice.
Electronic Industry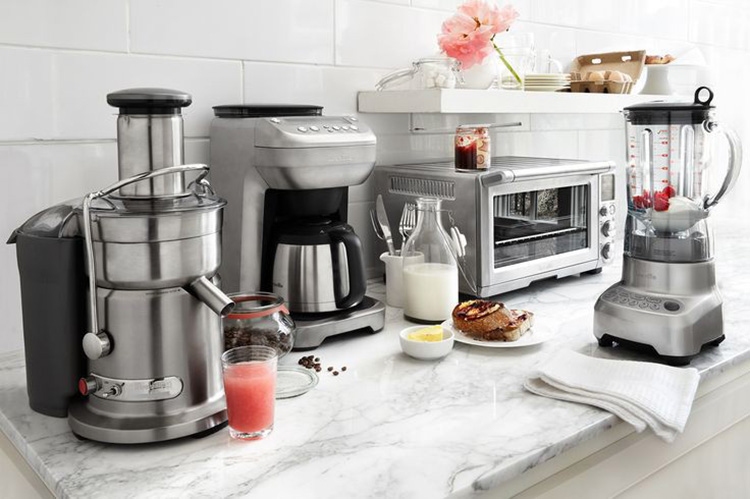 This machine is of great importance in the companies which are constantly engaged in manufacturing electronic items. For instance home appliances, microwave, iron, inverter etc are beautifully packed and sealed via this semi automatic sealing equipment.
Chemical Industry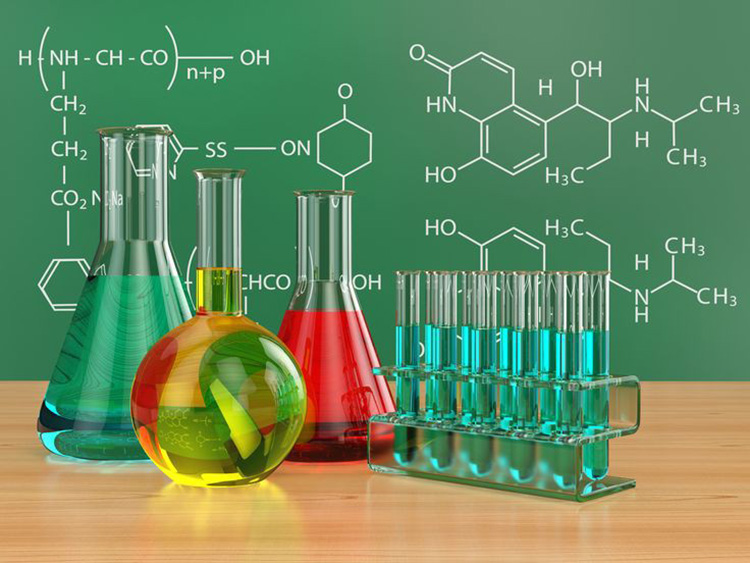 This machine is suitable for chemical factories. The reason behind is its stable performance which is extremely helpful in the packaging of various chemicals and chemical plants etc.
Plastic Industry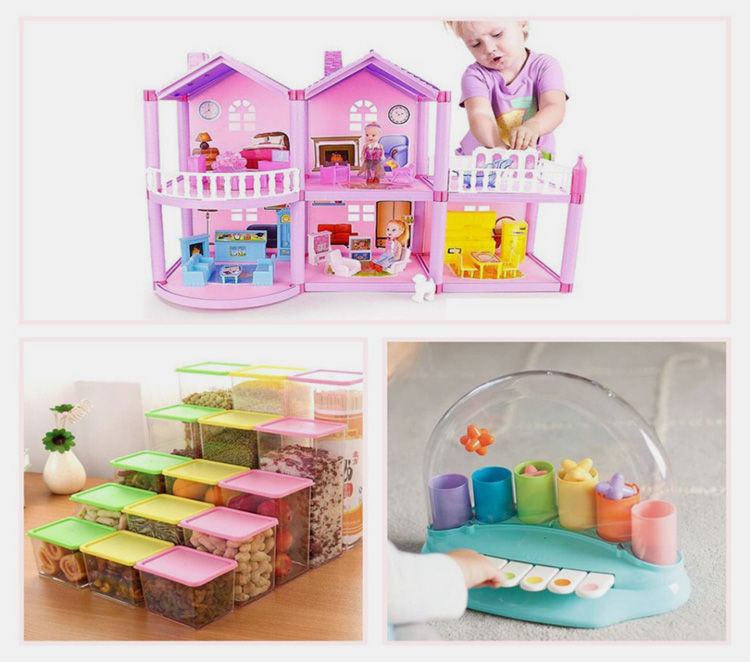 Consumer goods which are made up of plastic such as toys, pens, kitchenware etc tends to be easily broken. Due to this reason almost all plastic industries cover their goods with cartons thus have higher demand for a semi automatic carton sealer.
Cosmetic Industry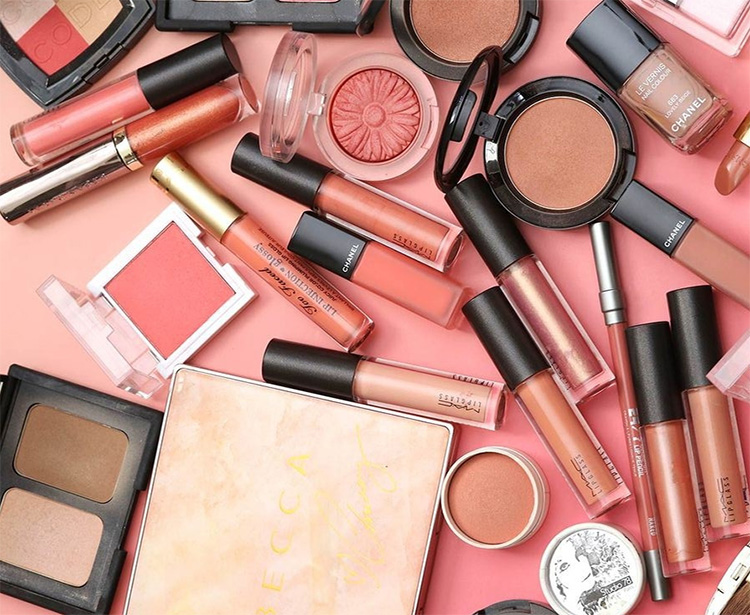 Among various other items special attention is paid to cosmetic products by consumers. In this way every firm strive to brand their products as well as prevent it from any sort of damage. This is how they look for a semi automatic carton sealer for its efficient and productive output.
7.Explain The Classification Of A Semi-Automatic Carton Sealer On The Basis Of Sealing Type?
A semi automatic carton sealer can be categorized into three important types on the basis of sealing side such as:
Top and Side Belt Case Taper
No
Top and Side Belt Case Taper
1
Definition
Top and side belt carton sealer is used to tape the top and side of cartons of different sizes and shapes but it is best suitable to process narrow width and small uniform cartons.
2
Working Principles
The machine works through dual drive motors and powerful side belt drive which pushes the machine to exact place where three flap folders tape is accurately dispensed and product is discharged.
3
Capacity & Speed
It can seal light to heavy boxes with weight upto 30 kgs. Along with that it has extremely high throughput that it can process 30 cartons in single minute.
4
Application
This equipment is best applicable to industries that are associated with processing uniform and small size cartos.
5

 

Machine
Top and Bottom Belt Case Taper
No
Top and Bottom Belt Case Taper
1
Definition
This type of machine is used for sealing top and bottom of cartons with heavy duty construction and is suitable for large run cases.
2
Working Principles
Its operating procedure is easy with two belt drives located on top and bottom of machine. The four belt safely drives the box towards sealing area without skewing where top and bottom belts hold the case and tape is applied.
3
Capacity & Speed
It can load boxes having weight up to 25 kg with speed ratio of taping 30 boxes per minute.
4
Application
It is mostly utilized by large industries due to its capability of sealing small to large cartons.
5
Machine
Side Belt Case Taper
No
Side Belt Case Taper
1
Definition
This machine is designed to seal the loaded cartons by only single side. It can process light to heavy boxes and is perfect for combined machines.
2
Working Principles
Its working procedure is same as others but this machine is driven by side Belt drive.
3
Capacity & Speed
With fast speed it can tap 20 cases in a minute.
4
Application
This machine is good for manufacturers who have medium size production capacity.
5
Machine
Four Corner Sides Case Taper
No
Four Corner Sides Case Taper
1
Definition
As the name indicates this sealing equipment is employed to tap the four sides of carton for ensuring dust proof, moisture proof and oxidation resistant packaging.
2
Working Principles
With 90 degree turning device this machine is auto pushed by a cylinder it strive to form four sides sealing of "H" shape.
3
Capacity & Speed
It is highly efficient with 20m/min speed and suitable for all size cartons.
4
Application
This equipment is great for food, chemical and electronic industries whose products have to be prepared for ocean shipping.
5
Machine
8.What are the major differences between Semi-Automatic Carton Sealer and Fully-Automatic Carton Sealer?
Both the semi automatic and fully automatic carton sealer has common objective of sealing huge number of boxes in an accelerated way. However, some of their attributes draws a line of differences between both which can be analysed by following factors:
| | | | |
| --- | --- | --- | --- |
| No | Factors | Semi Automatic Carton Sealer | Fully Automatic Carton Sealer |
| 1 | Definition | It is a semi automatic carton sealer which requires human to fold the cartons during process. | Fully automatic carton sealer works standalone without the need of an operator. |
| 2 | Operator Intervention | It cannot automatically adapt the size of random boxes. For this it needs your manual intervention. | Since it is fully automatic there is no need of separate setting. Just put the different size cartons and machine will seal them one after another. |
| 3 | Features | Its operation is convenient, durable and fast. | It is exceptional in performance with higher output ratio than that of semi automatic machine. |
| 4 | Application | Its scope of application is in small batch and medium-volume production industries for example household appliances, beverages, food firms etc. | This machine is frequently used in large industries such as textiles, chemical and medical etc. |
| 5 | Machine | | |
9.Explain The Most Common Problems And Possible Troubleshooting of Semi-Automatic Carton Sealer?

Despite having vast array of advantages there are some problems which you might face while using a semi automatic carton sealer, but there is no need to panic as we have provide you with some technicalities which would enable you to cope them gently.
No
Problems
Causes
Correction
1
Drive belts do no transmit cartons
It may be due to narrow boxes or the damage driving belts
Review the machine specifications and replace the driving belts
2
Drive belts do not divert
Either the drive belt is not fixed tightly or there is electrical disconnect
Set the screws of belt tension and check the power supply
3
Create squeaking noise when cartons are passed
Compression rollers and motor pulleys are dry
Lubricate the pulleys and compression rollers
4
Tape is not positioned in the middle of box
Case flaps are unequal

Tape drum is not concentrated

Compression roller and tap are not straight

Checkout the case specifications and arrange accordingly

Fix the position of tape drum

Align the tape drum and roller

5
Tape is shredded by its end and blade is not cutting accurately
Either blade is blunt, dirty or its head is broken

Tape is not applying sufficient tension

Clean, adjust or replace the blade

Enhance the force of tape by modifying mandrel wheel

6
Tape is leaving layers
There is intense pressure on tape assembly

Tape is threaded in wrong path

Reduce the tension and adjust the mandrel assembly

Check the path of tape and correct it
10.What Is The Preventive maintenance Required For Smooth Running Of A Semi-Automatic Carton Sealer?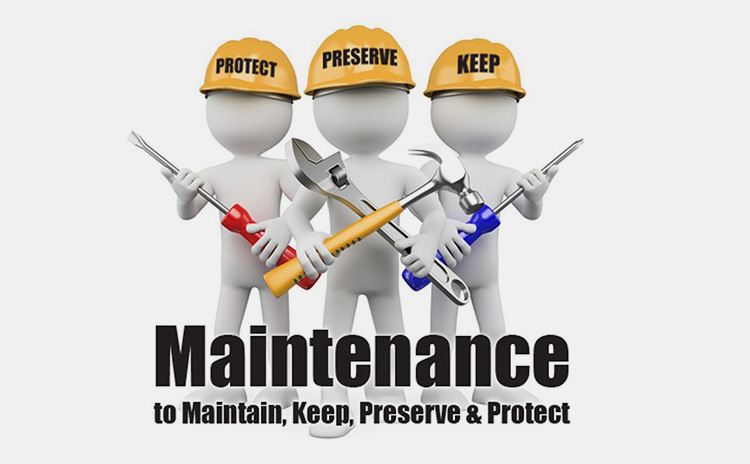 Everything which we use in our daily life, require proper maintenance if ignored can cause greater loss. In this way, following few points are taken into consideration which can benefits you in the smooth running of your carton sealer:
Lubrication
One of the important tasks you should regularly perform is to lubricate your machine. It can prevent your carton sealer from rust and helps in the stable functioning. Applying oil to blade guard can prevent the adhesive from sticking.
Cleaning
Properly remove dirt and clean all the parts of machine especially blades and moving parts. For their cleaning, dry air can be used as it reduces the risk of moisture.
Adjust Tension Knob
Tension knob is a core part of machine which should be properly adjusted. Make sure it is neither too tight nor too loose but adjust accordingly. Turn the knob right for tightening same as turn it left for loosing tension.
Chain Adjustment
Chain is the place which is used to mobilize the carton from one end to another. If it is loose your object may not be well processed for which you should remove few sections. In case, if it is too large contact the after-sale personnel for professional maintenance.
Rollers
Roller is the part of carton sealer which helps in the movement of tape. Through roller tape is dispensed from knob and applied on box. It is necessary that rubber should be free to spin and not blurred which can result in the improper or rough taping. To avoid this you need to check the resistance of roller if it is damaged replaces it with new one.
11.Factors to Consider Before You Buy A Semi-Automatic Carton Sealer?
Your choice would ultimately determine the fate of your business. In this way you have to be vigilant enough before buying a semi automatic carton sealer and consider the facts that are highlighted below: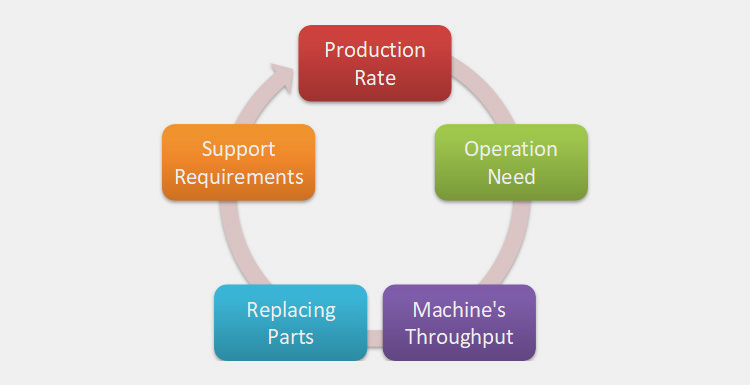 Production Rate
Before purchasing a carton sealer you should first identify your current production rate. If you are sealing more than 50 cases per day it indicates that a semi automatic carton sealer would be the best choice that can bring ease and automation to your industry.
Operation Need
What does your operation need, is another significant question you should consider. Every manufacturer produces various things which are consequently different is size, shape and weight. After understanding all these requirements you will definitely bring a best semi automatic carton sealer that can give desired results.
Support Requirements
Did you ever search about the business support for a carton sealer? What to do if machine suddenly breaks down? And how the supplier will help you to solve these problems? You should be very cautious about these queries and go for the company which provide full support and value their customer.
Machine's Throughput
Your money is precious don't ever waste it in purchasing a machine that can only give you 20-30% more than your current production. Always go for a machine that can assist you in achieving extra ordinary fast and excessive production.
Replacing Parts
No machine is structured which works for lifetime without any damage. A time comes when its parts needs to be repaired or replaced. Thus easy accessibility of machine parts should be paid heed and one should always go for a machine whose parts are readily available.
Conclusion
Above is the important information about a semi automatic carton sealer which may be of great help for you. The rapid advancement in technology can be seen everywhere, however, the inventions in result of these advancement are not all the time made for us. We have to acknowledge this fact and try to discover the every possible information about the equipment we are going to purchase.For any further detail or question you can contact us.
CONTACT US
Tell us your raw material and project budget to get quotations within 24 hours.
WhatsApp:+86 18171018586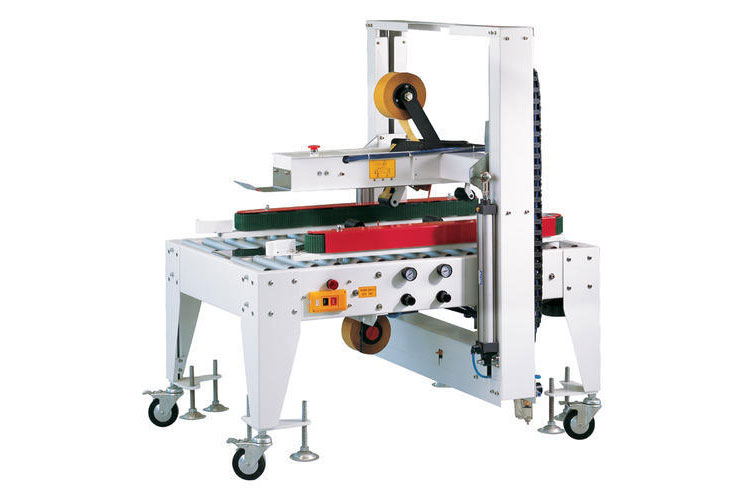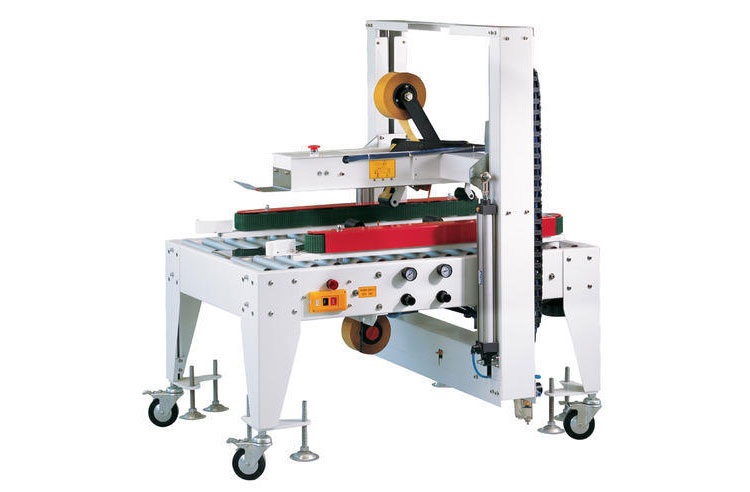 Tell us your material or budget, we'll reply you ASAP within 24 hours