Top Automatic Strapping Machine Manufacturer
Electric Tension Control
Lower Failure Rate
Humanized Design
Automatic Strapping Machine
Allpack automatic strapping machine is made of high-strength, corrosion-resistant materials and have a long service life.Its packing noise is low, and it stops immediately after packing technology, which saves electricity and is practical.The automatic strapping machine no needs manual belt insertion, has high working efficiency, one full automatic strapping machine is equivalent to 5 semi-automatic strapping machines.The parts of the movement are precisely processed by computer numerically controlled machine tools, and the matching accuracy reaches the micron level.All automatic strapping machines take polythene plastic strap as binding material, which is mainly used in packing and binding of paper carton, wooden box and paper and paper parcels in sectors of business, postal service, railway, bank, food, pharmaceutical and publishing.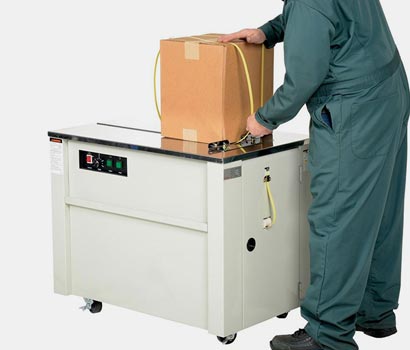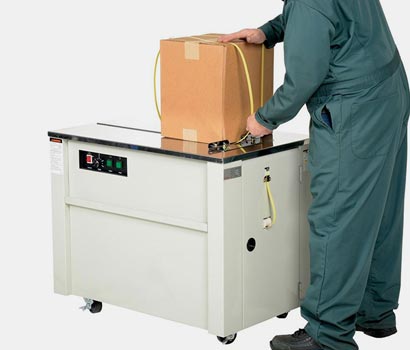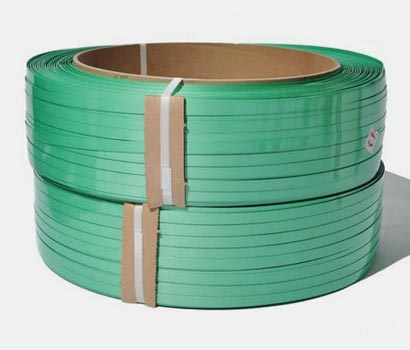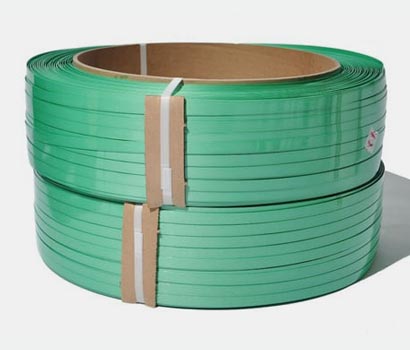 Automatic Strapping Machine
Allpack KZDT-100200 vertical automatic strapping machine has a stable frame and high quality conveyor, which can let the product pass and be strapped smoothly. The machine can strap, tension, cut and adhesion in a high degree of automation, the whole body of it is made of high quality metal, which makes it durable and stable, relevantly, it has longer service life. This automatic strapping machine is widely used in beverage, transportation, express, construction and many other industries.
Electricity Heating Adhesion
Advanced PLC Controller
Smooth Strap Band Roll
Allpack KZC-80120 vertical automatic strapping machine is more suitable for products which are large, heavy, dusty, or easy to leak out, for an instance, the marine products. This automatic strapping machine is made of high level material, therefore, it is durable, reliable and stable, it has good performance and high production speed. It can realize instant heating, as a result, it straps products quickly and safely, the machine can be used alone, and it can also be integrated into production line.
Solid-state Relay Output System
Auto Re-feed Function
Variable Interval Between Cycles
Allpack KZW-8060/D high speed automatic strapping machine is equipped with strap reel, stainless steel table, arch system, advanced control panel and other useful components, which make the machine easy to operate, durable, safe, fast, accurate, etc. This automatic strapping machine is suitable for general products which are common in daily life, such as food products, drinks, commodities, medicines, books, textiles and so on. The automatic strapping machine has high efficient and it is labor saving, thus it is an ideal equipment for industries.
Lubrication Free Operation
Intelligent Controller
Long Service Life
Allpack KZ-8060/D high efficient automatic strapping machine is suitable for strapping light products, it is easy to operate and maintain, it can save cost and ensure easy size changeover and stable running. This automatic strapping machine adopts micro-computer PLC precise control, and it has multi-mode adjustment, which let it adapt to different products right away. The automatic strapping machine has wide applications such as food, pharmaceutical, appliance, publishing, chemical industries, etc, it is popular in industries because of its long service life.
Human-machine Interface
Fully Digital Manipulation
Strong Power Fast Operation
Automatic Strapping Machine: The Complete Buying Guide in 2023
To secure the storage and transportation of goods, the strapping method is considered the best choice. For strapping, there are three kinds of strapping machines, such as fully-automatic strapping machines, semi-automatic, and manual strapping machines.
The automatic strapping machine can be functional by the completely hands-free method. For the packaging of large-volume materials, the automatic strapping method is more beneficial than the manual. Before buying an automatic strapping machine, some points that should be considered include what type of materials you are going to pack and how long your substances remain packed. This article would be helpful to resolve such issues, here we will discuss;
Add a header to begin generating the table of contents
1.What Is An Automatic Strapping Machine?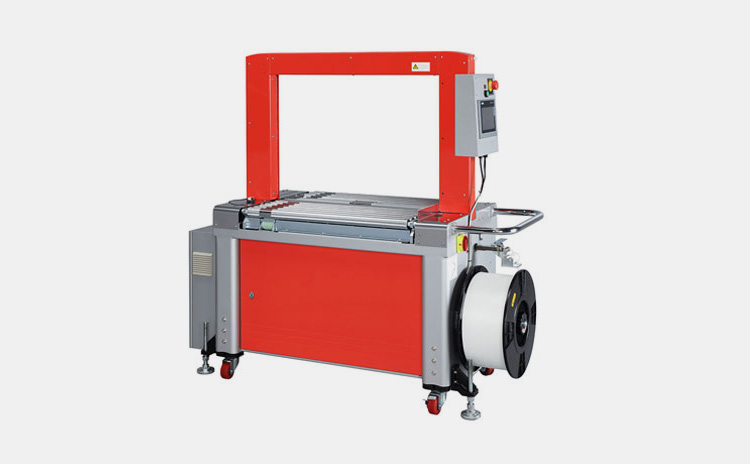 During shipping, strapping is a method used to secure cartons, and pallets for security. The automatic strapping machine is used to save time and improve the efficiency of the process. Any type of material (soft or hard) can be easily handled by an automatic strapping machine. The adjustment of tension level is easy in an automatic strapping machine as a result they can be used to a packed a variety of materials.
2.How Many Types of Strapping Machines?
There are three main types of strapping machines, which includes:
Handheld or Manual Strapping Machine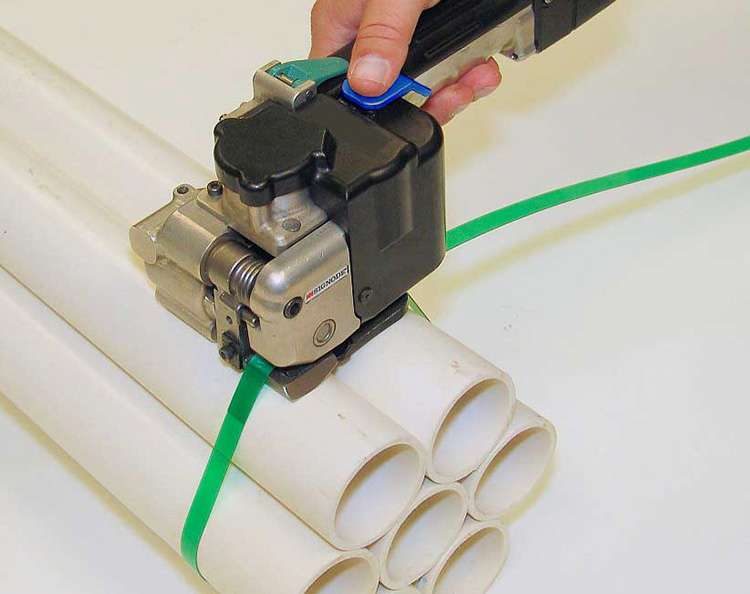 If you've continuous movement during work then consider a portable or handheld or manual strapping machine. This machine is ideal for a variety of packaging tasks and can be utilized as a vertical and horizontal strapping machine. This machine is suggested for small business purposes, warehouses, or mobile workstations.
Semi-Automatic Strapping Machine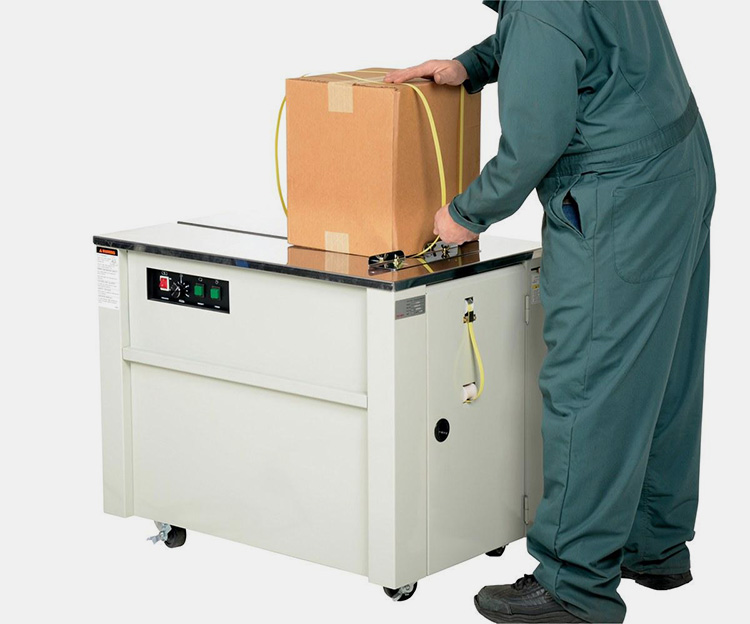 A semi-automatic strapping machine is a suitable option to staple small size boxes. Here, you will be required an operator to perform some functions. For example, for placing and removing the items per cycle.
Fully-Automatic Strapping Machine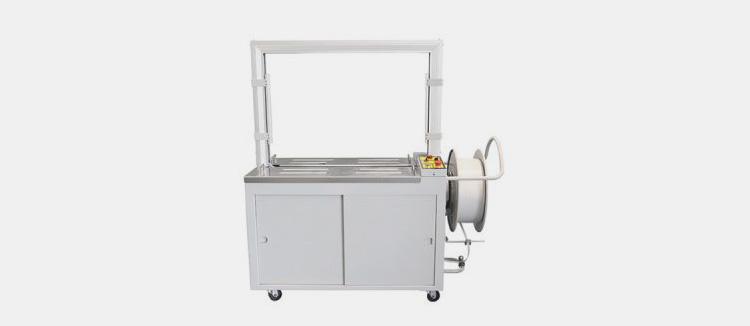 A functional principle of an automatic strapping machine is flexible based on entirely hands-free functioning where no operator is required. The machine is completely standalone, you just need to Press one button and feed the protocol into the software. It gives the fastest performance than semi-automatic and manual that can perform hundreds of objects per minute. So used for large production scale.
3.Fully Automatic Strapping Machine VS Semi Automatic Strapping Machine.
Fully automatic strapping machine and semi automatic strapping machine are the most common types on the market,they are all widely used in industries,however,although they are similar in many cases,they also have many differences,such as:
| | | |
| --- | --- | --- |
| | Fully Automatic Strapping Machine | Semi Automatic Strapping Machine |
| | | |
| Shape | Fully automatic strapping machine is equipped with a arch system,which can suitable for strapping different boxes. | Compared with fully automatic strapping machine,the semi automatic one does not have a arch,it looks like a desk. |
| Price | The price of fully automatic strapping machine is much more expensive than other types. | The price of semi automatic strapping machine is lesser than that of fully automatic strapping machine. |
| Automation Degree | The automation degree of fully automatic strapping machine is pretty high,you just need to put the box on the surface of this machine,and then click buttons to set parameters,the machine will strap the box automatically. | Whereas,the automation degree of semi automatic strapping machine is lower,when you use this machine,you need to put or remove box on it,and do some other manual operations. |
| Production Capacity | The fully automatic strapping machine can strap boxes in a high speed,up to 60 boxes per minute,so it is more suitable for high scale production. | The speed of semi automatic strapping machine is slower than the fully automatic one because it needs some manual intervention,so it is more suitable for small to medium scale production,it is not suitable for mass production. |
4.How Many Components Of The Automatic Strapping Machine?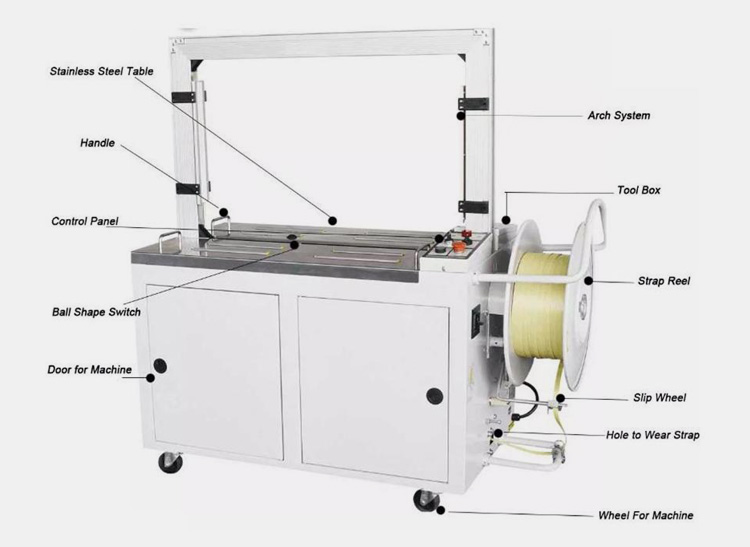 The automatic strapping machine has main components, that are designed based on its function.It has two main structural components which include, electronic and mechanical components. The electrical parts consist of:
Stainless Steel Table: Object are placed on stainless steel table for strapping.
Handle: Handle supports the strapping around the object.
Control Panel: controls the input protocol, services and troubleshooting functions.
Ball Shape Switch: an operating mode helps the user to adjust the tension of straps.
Door for Machine: helps in preventing exposure of switches ensuring user-safety.
Arch System: ensure tension, cutting and sealing of straps.
Tool Box: equipped with handy tools require to troubleshoot the problems.
Strap Reel: Helps in facilitating smooth feeding of straps for the procedure.
Hole to Wear Strap: follow the strap for perfect mobility.
Wheel for Machine: The entire machine is supported and moved from one place to other by wheel for machine.
5.What is the importance of using the automatic strapping machine?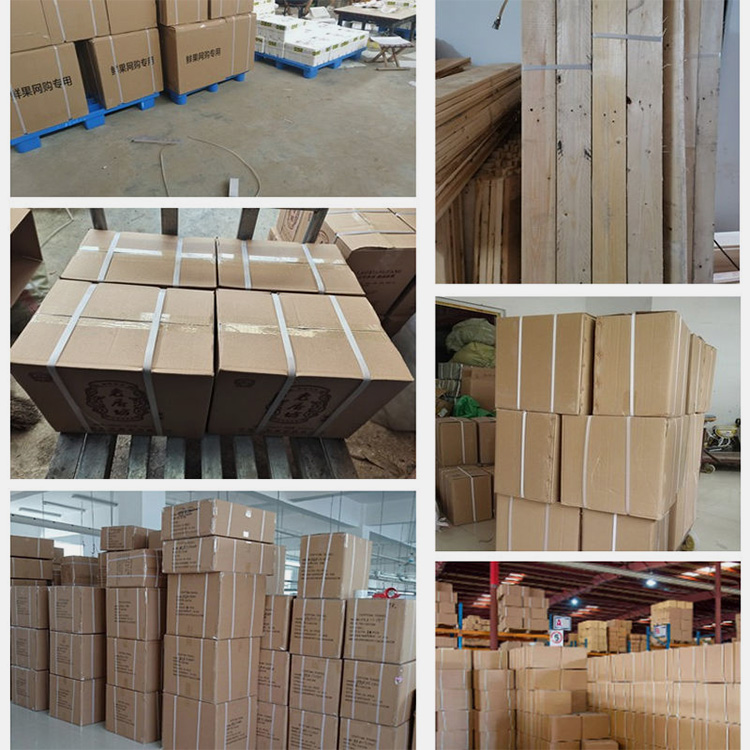 We can invest money in the automatic strapping machine because it has numerous applications. It is used for storage, packaging business for the long run, and transport. Other than this it also has multiple benefits which include:

Faster application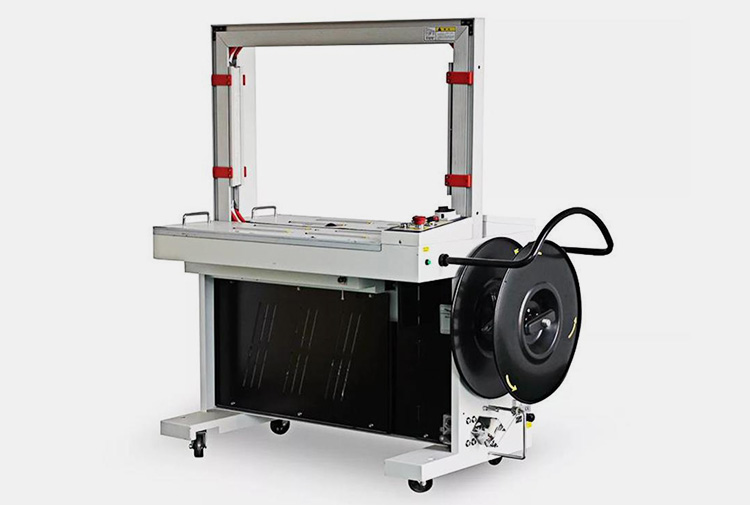 The automatic strapping machine is used to pack, and store materials faster compared to the manual strapping machine. It can pack more items in a minute.
Adjustable tension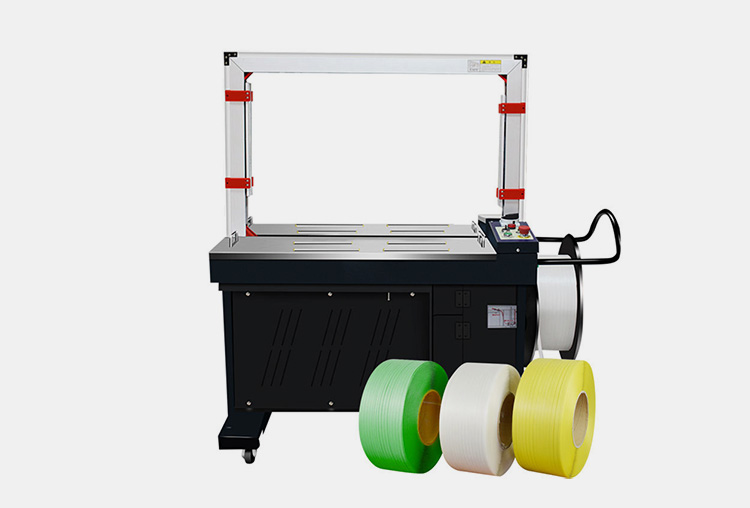 Each package requires a different type of tension packaging. The soft and light materials required flexible tensions whereas the hard materials including wood required tighter tensions. From the automatic strapping machine, tension can be easily adjusted, because it has an adjustable tension level. The automatic strapping machine adjusts tension appropriately based on the requirement due to its adjustable tension levels.
Consistent quality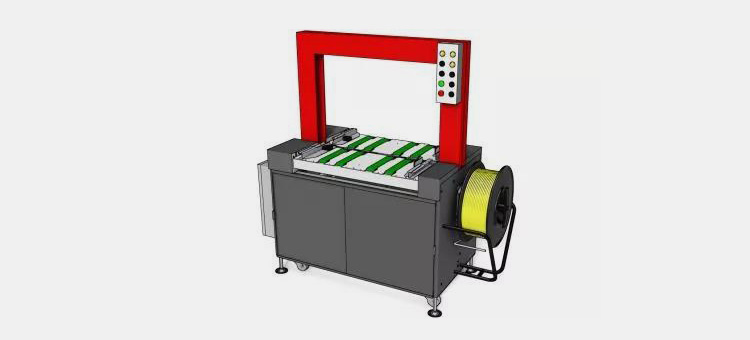 The automatic strapping machine can be easily achieved uniform tensions because this machine applies the same level amount of product to strapping with the applied tension level.
No wastage of straps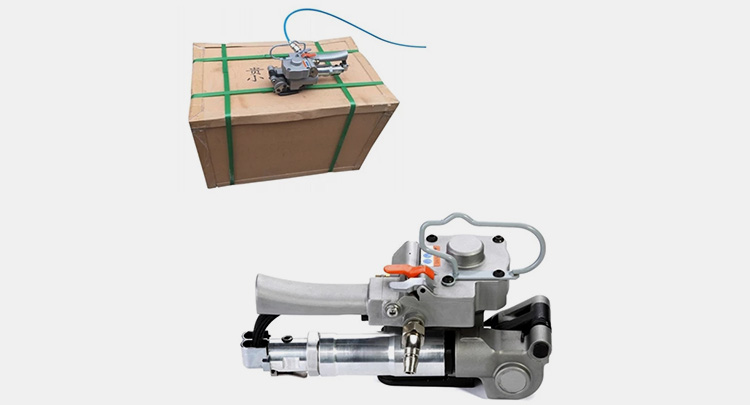 The automatic strapping machine has a main application which is the reduction of waste of straps during strapping because it depends on the size and tensile resistance of the material strapping.
Strapping compatibility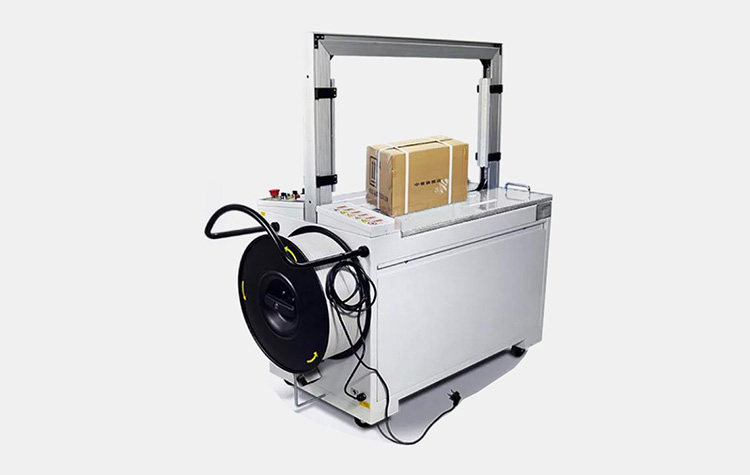 The automatic strapping machine can be used for all types of materials whereas the manual strapping machine is only possible for some types of materials but not for all.
Durability
An automatic strapping machine can be used in all weather conditions, it also has a long prolonged lifetime compared to the manual strapping method. These factors make the automatic strapping machine more durable than the others.
6.Which Type Of Materials Can Be Handled By An Automatic Strapping Machine?

Different types of materials can be handled by the automatic strapping machine, such as:
Polypropylene materials: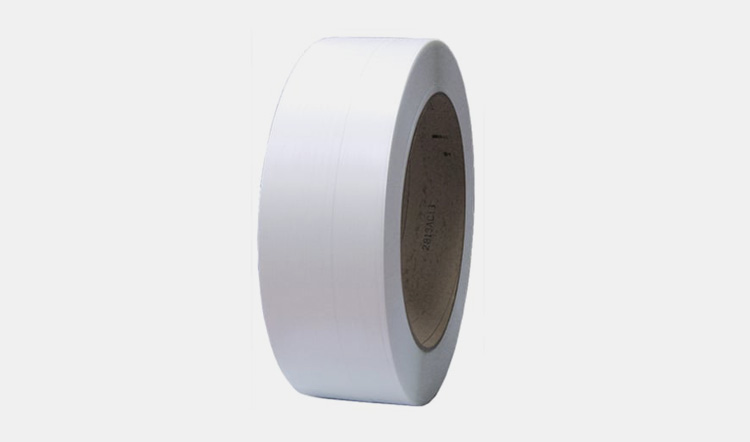 The use of polypropylene materials with the strapping machine is considered less expensive than the others. It can be used with automatic-strapping machines and also with manual-strapping machines. Polypropylene materials can be in practice easily due to their flexible nature and it is also suitable for lightweight strapping materials. It also can resist temperature, whereas it is considered a good choice for storage for a short period and not suitable for long-term storage.
Polyester materials: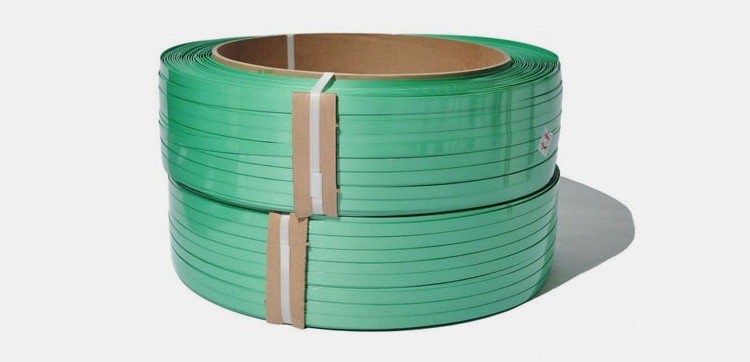 The second is the polyester type materials which could be incorporated with the automatic strapping machine and are more convenient in case when you are facing some resistance problem.  This type of material can be used to strap heavy or large load items. However, the drawback of using such material is that it cannot work great with the automatic-strapping machine. It can tighten the material more efficiently than the use of polypropylene materials.
Stainless steel: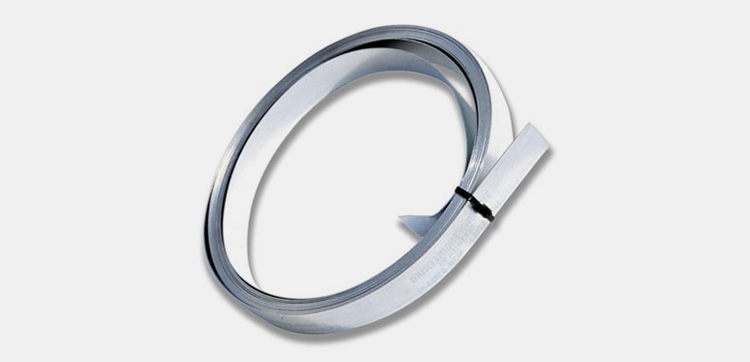 The stainless steel is another automatic strapping machine, used for heavy and rigid loads. It is used in some conditions such as the load does not compress or if they are not smooth (including iron, or concrete). The stainless steel strapping materials are not flexible, so the exact strap size is necessary for each load. Moreover, this type of material cannot be used for those items that can be easily damaged.
7.What Are The Industrial Applications Of Automatic Strapping Machine?
Because of its various advantages and high production capacity,automatic strapping machine is widely used for many industries,next some of them will be introduced to you.
Food And Beverage Industries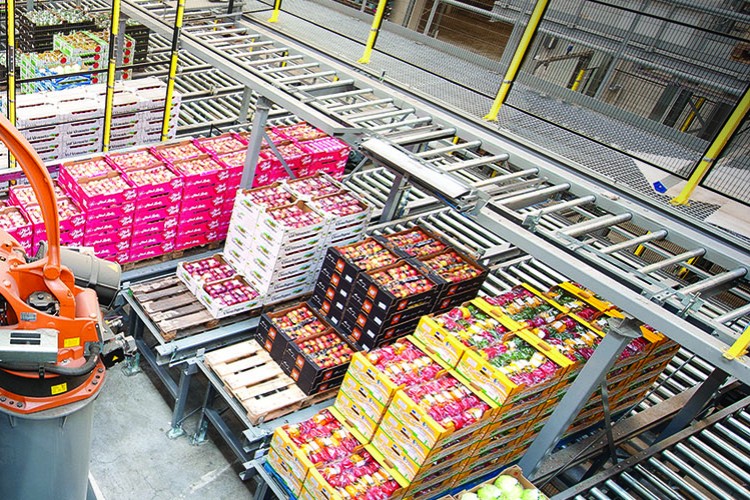 There are many kinds of food such as fruit,fine dried noodles,vegetables and others are packed in such hollow boxes,to seal these boxes,the food and beverage industries need to use strapping machines,so automatic strapping machine is applied in this industry.
Printing Industry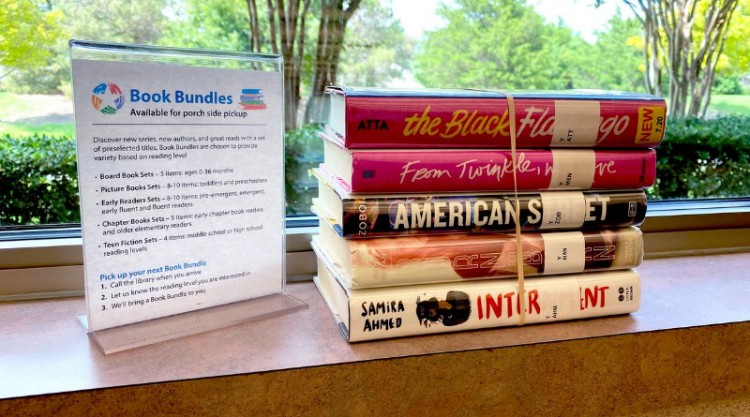 In fact,it is not unfamiliar of books or newspaper strapped by bindings,in printing industry,there are too much books,newspaper or other paper products,these products are hard to be packed in boxes because the amount of them is huge.The most convenient method to pack them is to strap them,so automatic strapping machine can play its role in printing industry.
Pharmaceutical Industry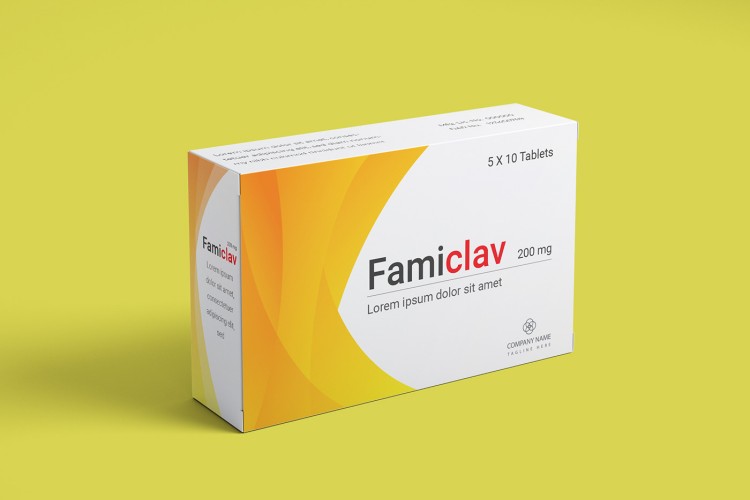 Even though medicine boxes are much smaller than boxes which in other industries,they also have a need of strapping.Strapping several medicine boxes into a bundle,is very convenient for deliver and carry.Therefore,pharmaceutical industry is also a important applying field of automatic strapping machine.
Building Material Industry
As is well known that the building materials are always large and heavy,it is hard to deliver them by human hand,in this moment,the automatic strapping machine will play its function,the building materials which are strapped are easy to be delivered by other heavy machinery.
Furniture Handling Industry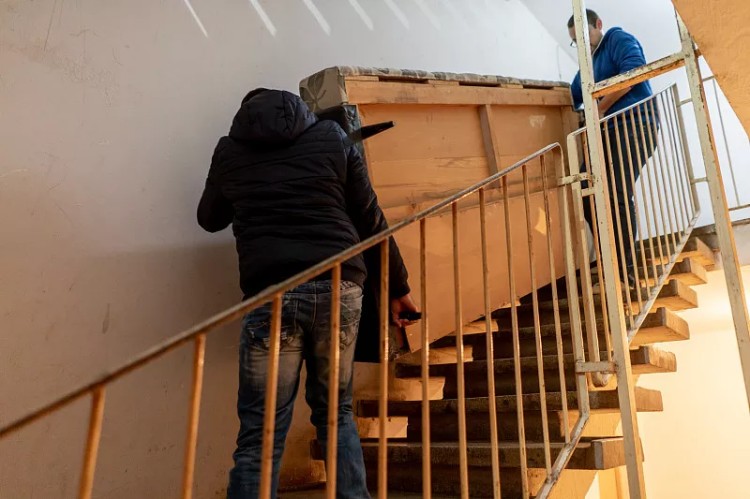 The reason why automatic strapping machines are so popular in furniture handling industry  is similar to that of building materials industry.The furniture is not convenient to be carry,but if it is strapped,it will be more simple to be carried by stevedores.
8.What Is The Operational Principle Of The Automatic Strapping Machine?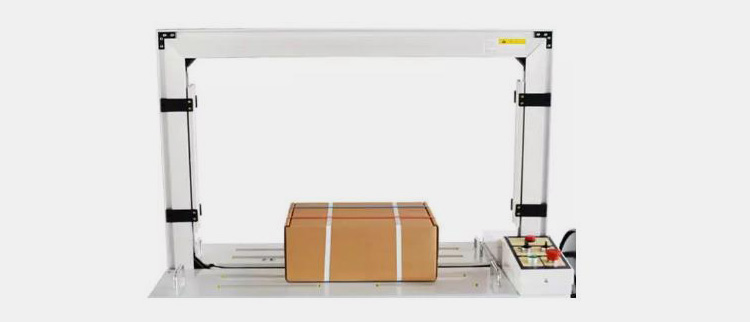 The automatic strapping machine is one kind of strapping machine, the others include a semi-automatic strapping machine and handheld strapping machine. However, each of them works differently, and here you find the working principle of the automatic strapping machine in detail.
The automatic strapping machine is a fully functional hands-free strapping machine. Its working principle is quick and simple
Once it is set up and prepared it starts working easily.
Before it works, first set the tension and the parcel should be placed on it. After that just start the machine by touching the button, as a result, you can see that machine starts working with the strap tensioned and the undesired materials are also cut by the machines.
Whereas the semi-automatic strapping machine requires moderate operation for proper functioning. i.e. Here, for each parcel, the strapping is required to be fed manually.
It requires assigning placing the parcel to be strapped at the right orientation and then setting the tension of the machine. After that, the machine starts working automatically in a simple way.
9.What Are The Precautions Of Automatic Strapping Machine?
When you use an automatic strapping machine,there are some points you need to notice to avoid accidents.Keep reading the next part,you will learn how to ensure safety during the operation process of this machine.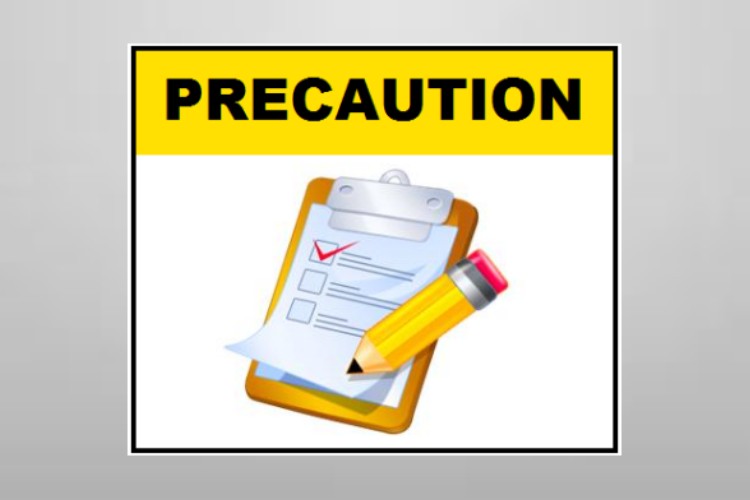 Before using the machine,check whether the voltage is accord with standard to ensure the normal working of the machine.
Ensure there are not any sundries on the table of machine before you operate it.
When you use a new automatic strapping machine,please read the instructions carefully,to have a primary realization about it,which can avoid many operation errors.
Pay attention that your hand or other body part can not touch the strapping chute when you operate the machine,or you will be hurt when the machine strapping boxes.
Remember to wear protection of face and hands,and don't wear loose clothes,to avoid being hurt by machine.
When there isn't box to be strap,don't insert strap in the strap steel.
When you need to clean the machine,you must not use water to wash the machine,which may cause damage to the electric components of this machine.
When you finish using the machine or you need to maintain the machine,ensure that you the power supply is off,to avoid accident.
10.How To Resolve The Problems Of Automatic Strapping Machine?
During the using process of automatic strapping machine,there will be breakdowns inevitably,when the machine occurs problems ,you need to find the cause and try to resolve problems by yourself,the problems are as follows:
Problems
Causes
Solutions
The strap breaks
The tension of the machine is too high
Reduce the tension of machine
The machine makes a loud noise
There may be something wrong of the tensioning sensor,as a result,the strap doesn't run in the correct direction
Check the position of the strap,if the position is wrong,you need to adjust it.
The strap doesn't go through the tabletop
The strap chute is blocked
Turn off the power supply,check whether there is blockage of strap chute,and resolve it.
The strap doesn't be cut down after strapping
①The elastic adjustment is too tight
②The cutter is worn
①Adjust the tension
②Replace the cutter
The strapping effect is bad
①The temperature of heating head is too high or low
②The electric heating head is damaged
③The strapping chute has a displacement
①Adjust the temperature of heating head
②Replace the electric heating head
③Adjust the strapping chute
The machine does not work
Maybe the fuse was burn out
Check whether there is a burned flavor,if there is,you need to replace the fuse with a normal one.
11.What Points Should Be Considered Before Buying An Automatic Strapping Machine?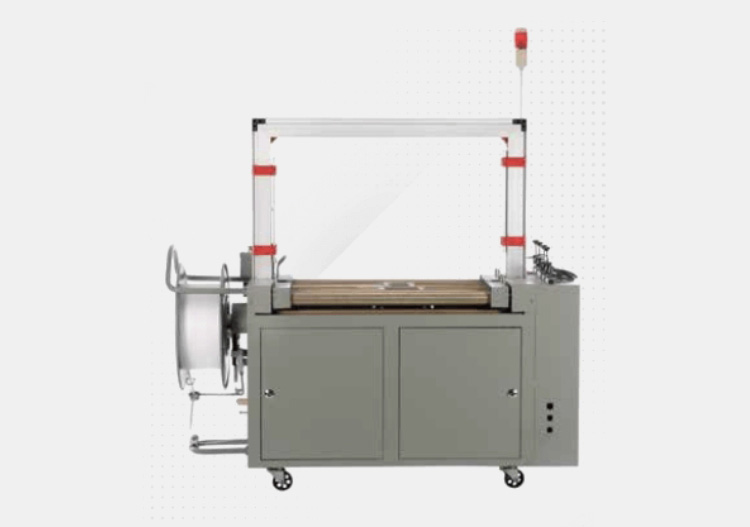 Strapping machines are used to secure and bind items of low and heavy weights. It is a method used to hold the materials tightly. So, before buying any strapping machine, consider some factors such as
The Amount Of Boxes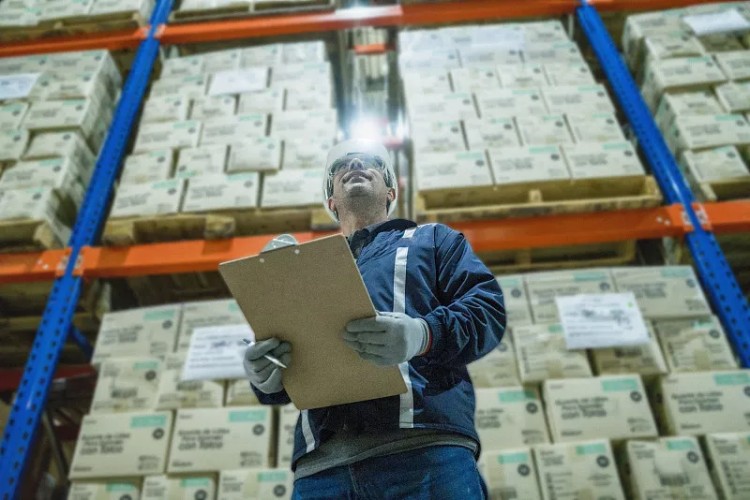 At first you need to figure out that how many boxes you need s to strap by this machine,this is a factor which is directly related to the production speed and production capacity of machine you need to buy.If you need to strap a large amount of boxes,remember to watch out the parameters of the machines,to find an automatic strapping machine which has the most fast production speed.
The Size Of Boxes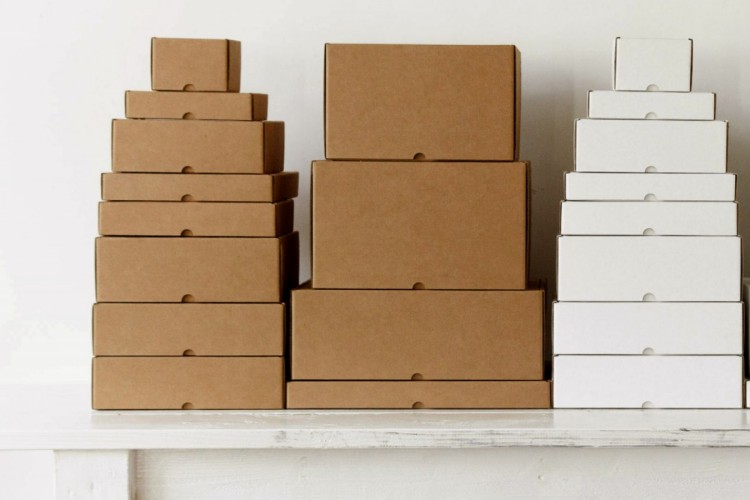 Besides amount,you also need to think about the size of boxes,what is the most large size of your boxes?According to the size of boxes,you can determine the height of the arch of automatic strapping machine,which makes it more convenient for you to choose proper machine.
The Type Of Strapping Material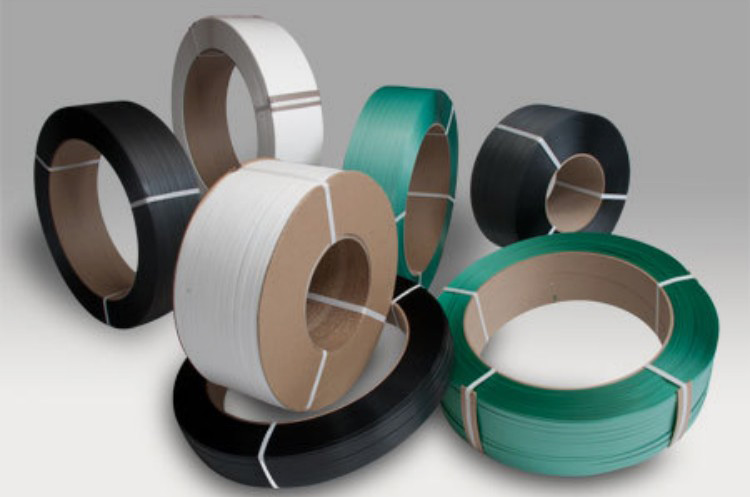 The type of strapping material which you use is also an important factor to consider,different automatic strapping machines are suitable for different strapping materials.Therefore,when you choose the automatic strapping machine,you can ask the seller for the most suitable machine.
The Cost Of The Machine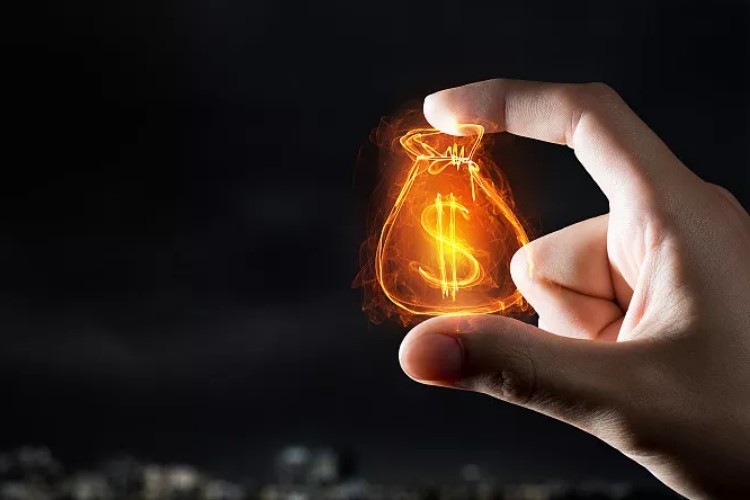 And the most basic factor is the cost of the machine,you need to find an automatic strapping machine which have a reasonable price.If a machine,its price is too high or too low,it does not a good choice for you.In addition,the power consumption and maintenance fees also belong to cost of the machine,you need to consider all these cost before you buy an automatic strapping machine.
Working Space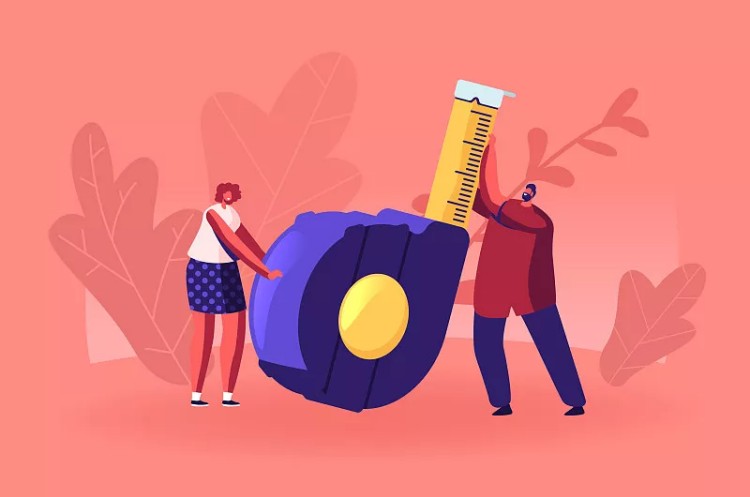 And there is another factor is the working space,as a matter of fact,because of different height and width of arches,the automatic strapping machine also need different size of working space.Before buying a automatic strapping machine,it is suggested that you figure out your working space first,to avoid buying improper sized machine.
12.Top 5 Automatic Strapping Machine Manufacturers All Over The World.
To help you guys choose high quality machine,the top5 worldwide automatic strapping machine manufacturers will be introduced,they are as follow:
1.StraPack
Strapack is a packaging machine manufacturer which was established in 1960s in the USA,its main business is to provide world class strapping machines,in other word,Strapack is vey professional in this filed.This company provides multiple types of strapping machines,and it insists constantly innovation and applies advanced technology to its products.Therefore,Strapack is of the leading status in automatic strapping machine production industry.
2.Reisopack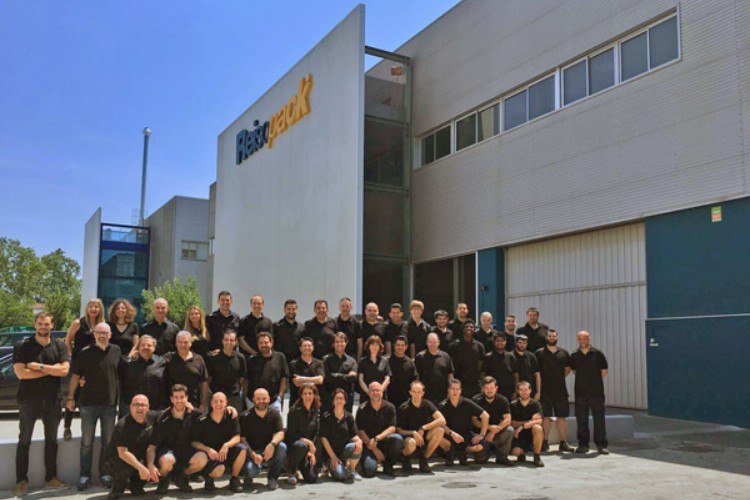 Reisopack was founded in 1965,its headquarter is located in Spain,this company has already focused on strapping machine production for almost 57 years,has accumulated much experience in this industry.It provides automatic and semi automatic strapping machines,vertical and horizontal strapping machines.Besides,this company also provides strapping machines,can perfectly meet your strapping demands.
3.Cyklop International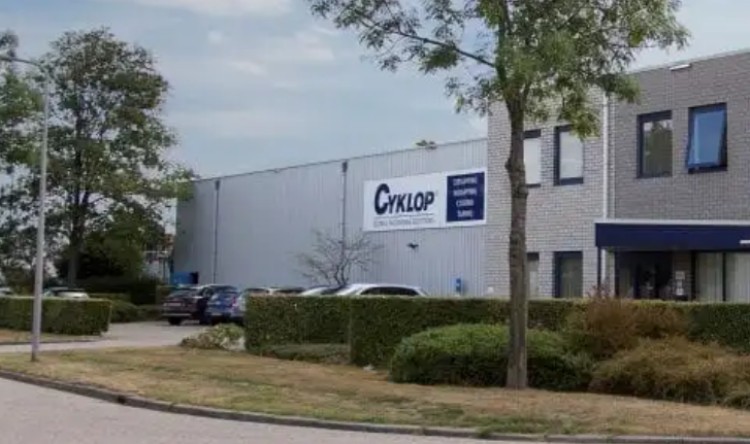 Cyklop International is a globally automatic strapping machine manufacturer and supplier,it has a large trade network.Cyklop International is a company which has a very long history that it has established for more than 100 years,it was established in 1912 in Germany.
This company provides various packaging equipment and packaging solutions,aims to provide customers with good services.Cyklop International produces a large range of strapping equipment,from strapping tools to strapping machines,all these products are reliable and durable.Cause the arches of its automatic strapping machines are in different sizes,you can choose a machine which perfectly matching your boxes.
4.Allpack
Allpack is one of the largest automatic strapping machine manufacturers in China,it is at the leadership in this industry.This company has a history of over 11 years,it provides diverse kinds of packaging machines,has constantly provided high quality packaging solutions to customers.
The automatic strapping machine provided by Allpack are made of durable materials,which guarantee the quality of machines.And these machines adopt advanced technologies and components,so that their service life is long.
5.MOSCA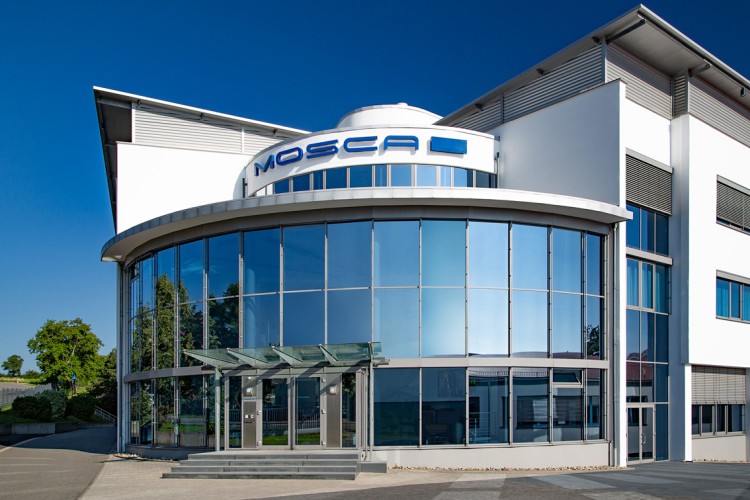 MOSCA was started in Germany at 1966,until now it has been over 50 years,the company provides top quality strapping machines and strapping materials,aims to give customers reliable usage experience.The strapping machines of MOSCA have beautiful appearances and high production efficiency,they are very helpful in packaging industry and transportation industry.
In addition,the distributors and locations of MOSCA are all over the world,so you can buy its machines no matter where you are.As a result,the consultation,training and maintenance of machine are all very convenient for you.
Conclusion
An automatic strapping machine is a fully functional hands-free based strapping equipment that is used to pack a variety of materials. It has numerous applications than manual strapping and can be adjustable in all weather conditions. If you looking to buy an automatic strapping machine, some points should be considered in mind. To avoid problems, you can contact the "allpack" company which provides the best quality product.
CONTACT US
Tell us your raw material and project budget to get quotations within 24 hours.
WhatsApp:+86 18171018586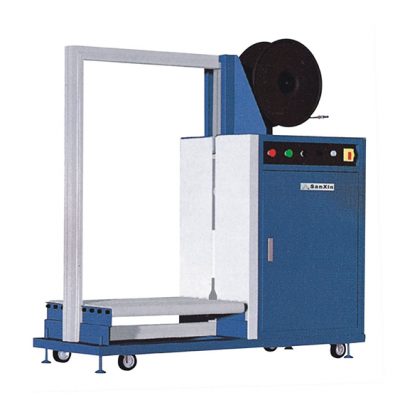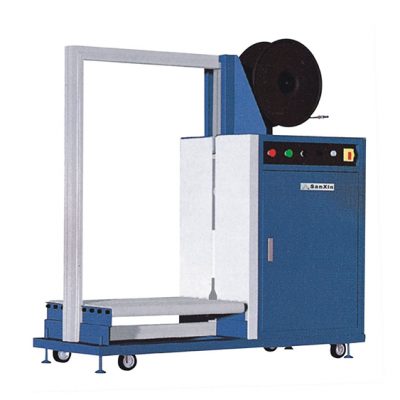 Tell us your material or budget, we'll reply you ASAP within 24 hours