Allpackchina liquid filling machine is compact and portable. The casing uses stainless steel so it is durable and easy to clean. The machine has a self-prime pump that can suck in the liquid from your container and then output via the nozzle. It can be used to fill many different types of clear thin liquid,including water, olive oil, fuel, drinks, vinegar, milk etc.
Liquid suitable: low viscous liquid like water, wine, solutions etc.
Liquid unsuitable: very thick liquid (sauce,detergent etc), or liquid containing small particles.
The tubes are made of silicone gel and the pump head is made of PVC plastic material so it can endure mild acid/alkaline solutions. The machine has a control front panel and digital display. You can easily enter your parameters by pressing the buttons on the control panel and the parameters will show in the LCD screen. The filling volume can be controlled via the filling time and speed parameters which give you much flexibility.
We can customize based your liquid type and filling rate,to equip related pumps types and filling nozzle,from manual to semi automatic to full automatic.
Liquid Filling Machine: The Complete Buying Guide In 2023
Industries that are involved in filling procedures are now focused on improving their productivity and use modern techniques. Liquid filling machine is one of the best choices for industries all over the world to increase their productivity, quality and most importantly their business.
This buying guide will assist you regarding the application, types and working principle of a liquid filling machine. So get the most of it!
1.What Is A Liquid Filling Machine?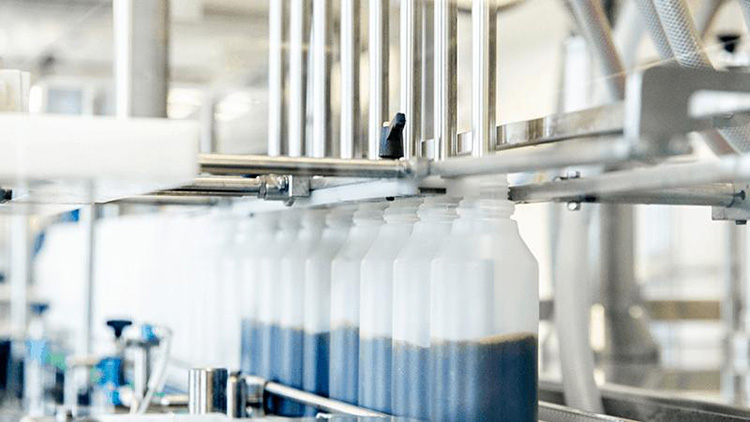 Liquid filling machines are mostly used in pharmaceutical, cosmetics, beverages and food industry where liquid is to be filled in various types of containers, jars and bottles. Liquid filling machines are highly precise that the volume of liquid has a filling tolerance of only ± 0.5 ml. This makes them too accurate and efficient for production setups.
It is an easy way to fill liquid in a quick manner using a liquid filling machine and replacing the traditional filling practices where human errors were a common disadvantage. A liquid filling machine also ensures less wastage of material.
2.In Which Industries Are These Liquid Filling Machines Used?  
Common applications of a liquid filling machine are
Food and Beverages Industry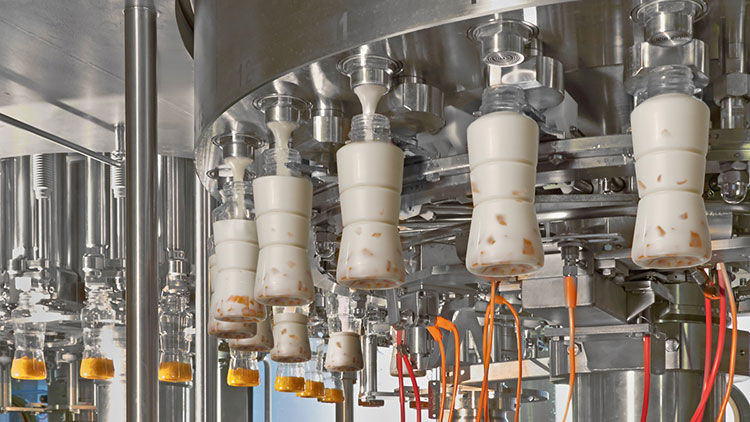 Liquid or viscous products are also filled, sealed and wrapped using a liquid filling machine. Beverages in bottle and containers are also properly filled with high quality and precision.
Cosmetic Industry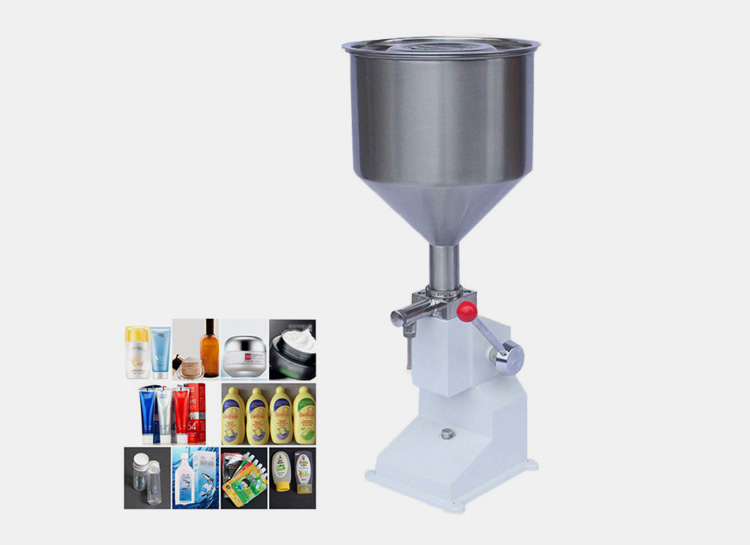 Liquid materials used as cosmetic products like cream, lotions, creams, moisturizers and other are filled using a liquid filling machine.
Medical Industry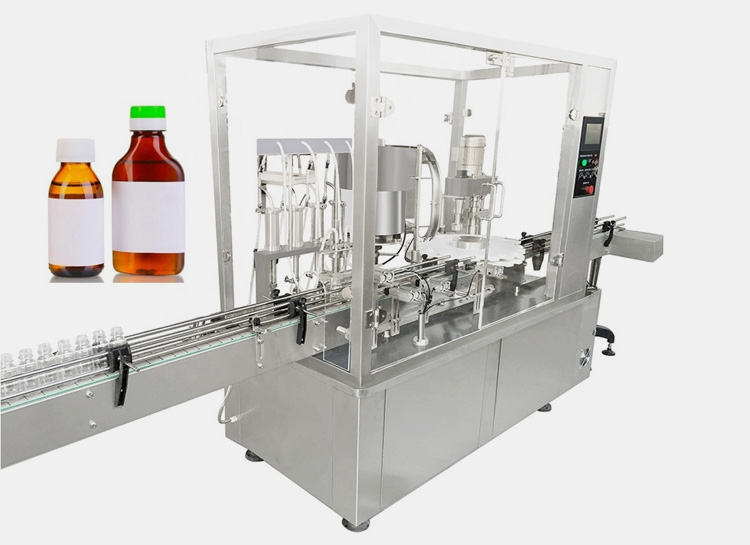 Liquid filling machines are used to store sterilized liquid products like medicines and other in sterilized conditions. It helps to avoid cross contamination and increase the shelf life of products. Products like hand wash and shampoo are also filled using a liquid filling machine.
3.What Is The Working Principle Of A Liquid Filling Machine?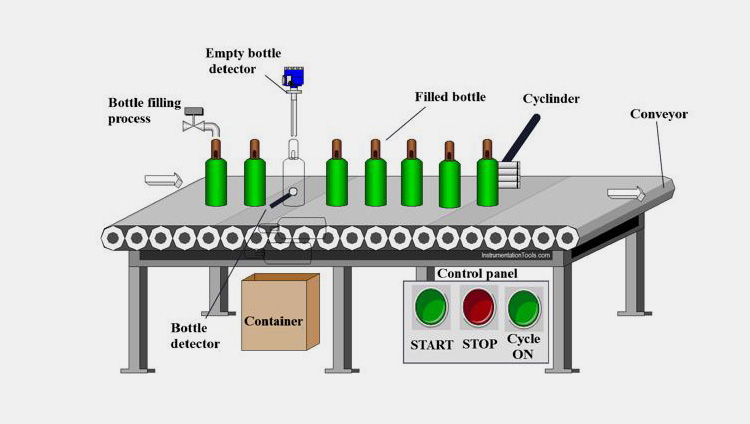 Like other filling machines, a liquid filling machine also has the same working principle. The only difference between them is that a liquid filling machine requires high pressure to fill the containers or bottle in a precise manner. Following is the working principle of a liquid filling machine.
Initially all the parameters of machine like speed, temperature, pressure etc. are set according to the viscosity and nature of liquid.
After that the feeding pan is filled with the mixture that is to be filled in the container. The pan mixes it well to achieve the desire composition.
The liquid then travels from feeding pan to the discharge tube where it exits the system. Meanwhile, containers are set in a proper conveyor system and moved in sync with the help of sensors.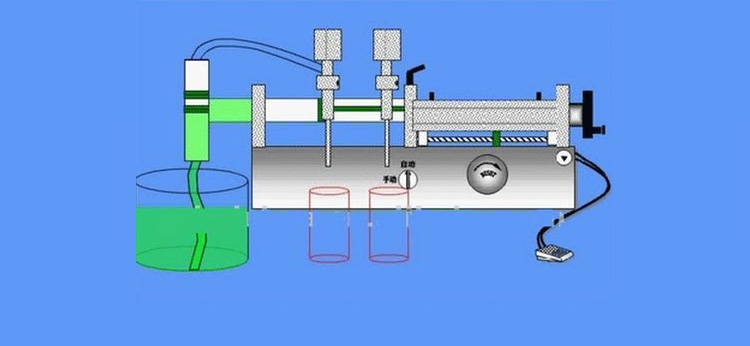 As the liquid and container both reaches the filling head, the container gets filled and proceeded to next step.
Rotations are also done for proper wrapping, covering and sealing of containers in a single machine. Highly efficient working is carried out to have same products of same quality.
4.What Are The Main Components Of A Liquid Filling Machine?
Main Components of a Liquid Filling Machine
Some of the main components of a liquid filling machine are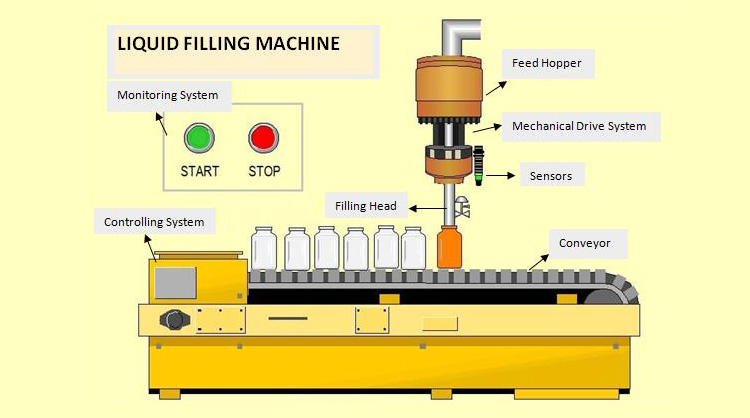 Feeding Pan / Hopper
The most important component of a liquid filling machine is a feeding pan. This is the area where the product actually gets mixed and is prepared to be filled in the filling object. Hoppers are also there to control the exit of feeding material.
Filling Head
A filling head is the part which gets contact with the packaging material like bottle, jar, container etc. It allows the mixed product to enter in those packaging materials.
Mechanical Drive System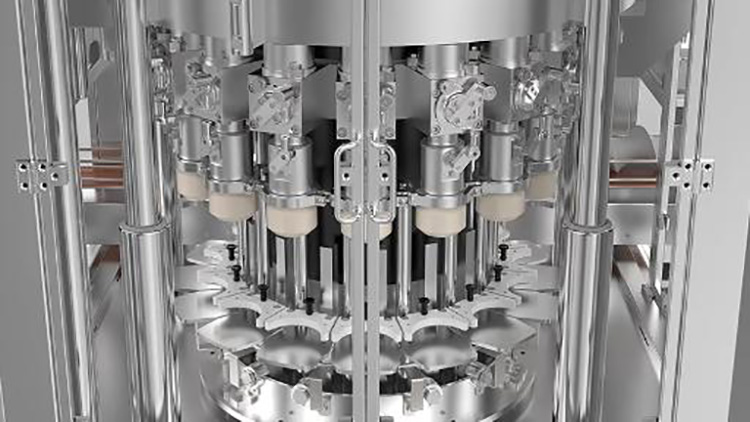 This drive system is responsible for the mechanism of whole packaging material movement. A mechanical drive system ensures that the movement of packaging material is synchronized with that of the amount of liquid released from the filling head. A minor delay or excess speed can damage the whole production line.
Sensors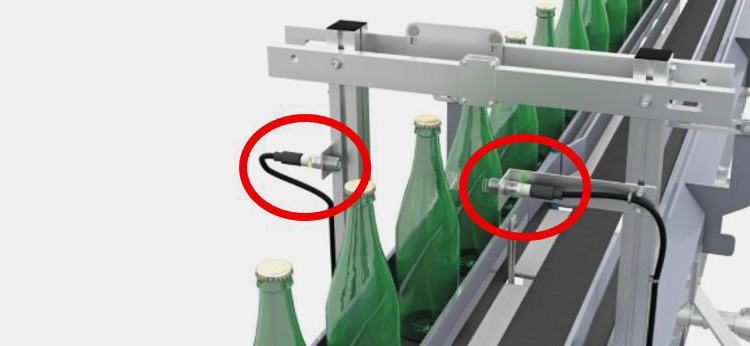 Sensors transmit signals that indicate the presence of packaging object. These are also responsible for making a synchronize relationship between the movement of object and filling unit. It allows the container to enter in the filling unit only when it is empty to avoid overlapping of containers.
Control Panel
The operational parameters like speed, quantity, liquid volume, power and others of a liquid filling machine are controlled through this control panel.
Control System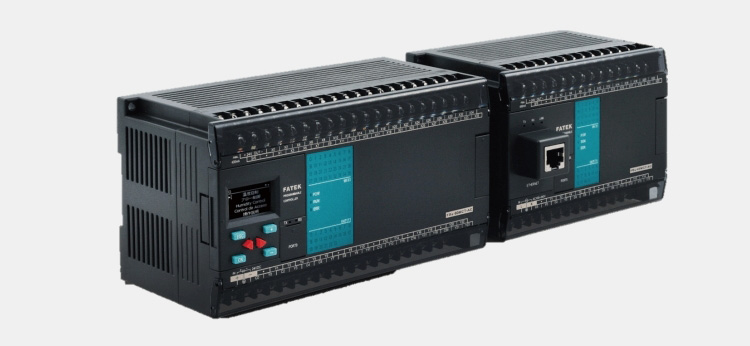 The automation of a liquid filling machine is through this control system. Nowadays mostly PLCs (Programmable Logic Controllers) are used for monitor and control all the activities performed by these liquid filling machines.
Monitoring System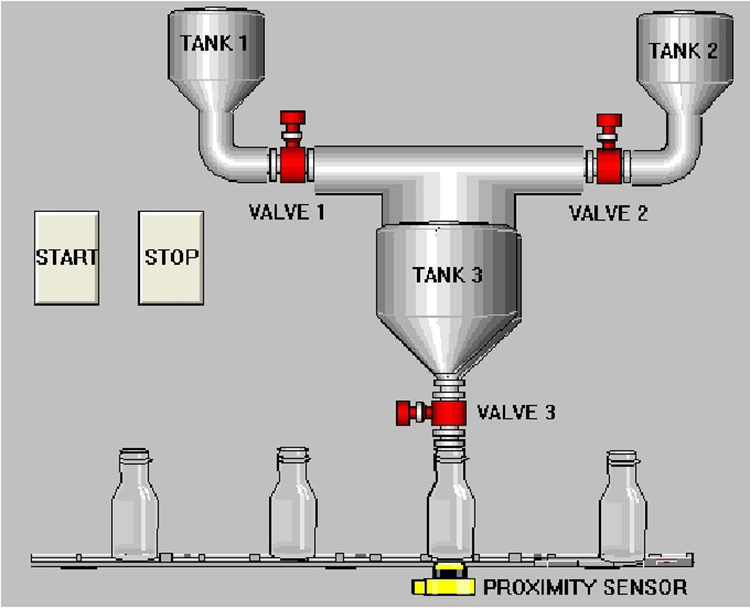 HMI or Human Machine Interface is the virtual display of all the activities that are carried out in a liquid filling machine. It allows a monitoring display to the operator which helps to control the operations of machine.
5.What Are The Types Of A Liquid Filling Machine Available In Modern World?
Out of number of liquid filling machines, the most usable and productive liquid filling machines available in modern world are
Paste Liquid Filling Machine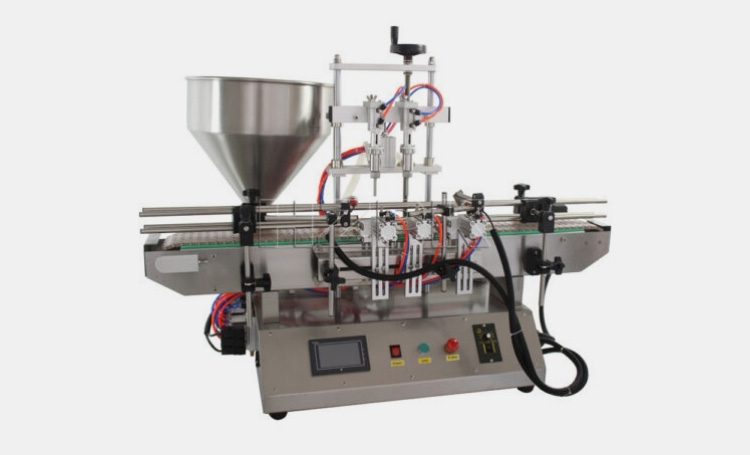 For thick liquids like paste, tooth paste, Vaseline and etc., paste liquid filling machine is used. The machines are available in automatic, semi-automatic and pneumatic operations.
Pneumatic Liquid Filling Machine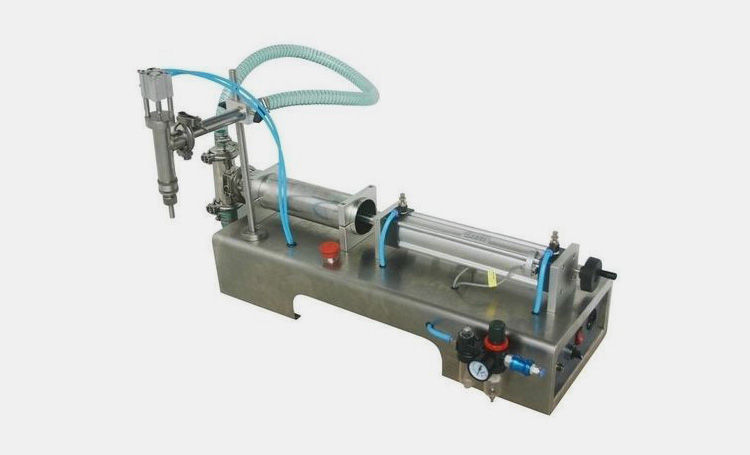 Pneumatic supply is used for machine operations instead of electric one in a pneumatic liquid filling machine. For flammable liquids and paste, pneumatic liquid filling machine is ideal as it reduces chances of spark and other hazardous things.
Inline Liquid Filling Machine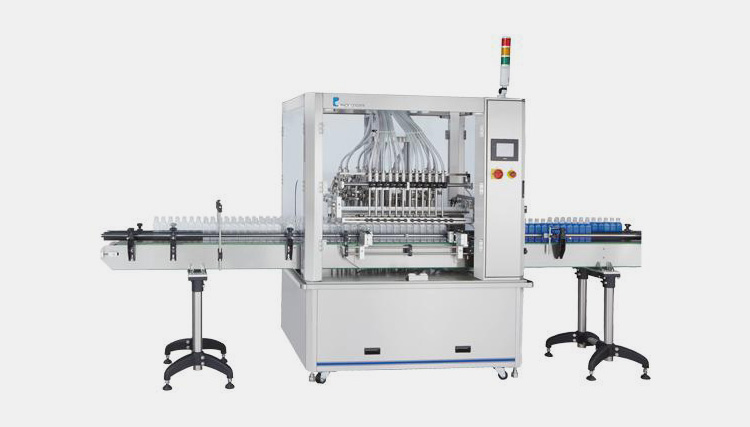 An inline liquid filling machine is highly compatible with all types of liquids and are arranged using a conveyor system.
Rotary Liquid Filling Machine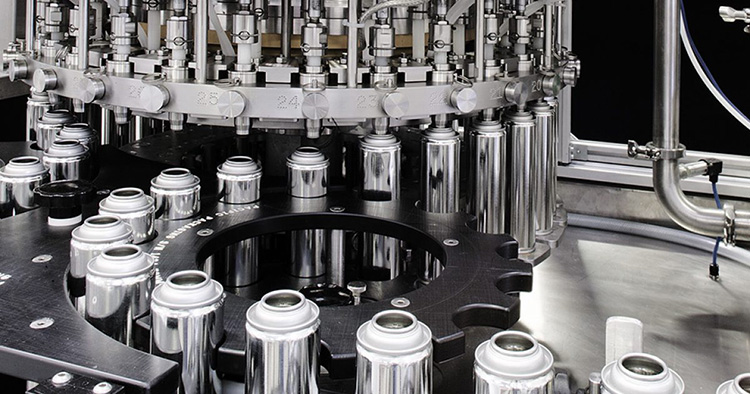 In a rotary liquid filling machine the containers is rotated to different stations in a single machine. The container circulates in filling, sealing, wrapping, capping and other stationsin a rotation or sequence.
Manual Liquid Filling Machine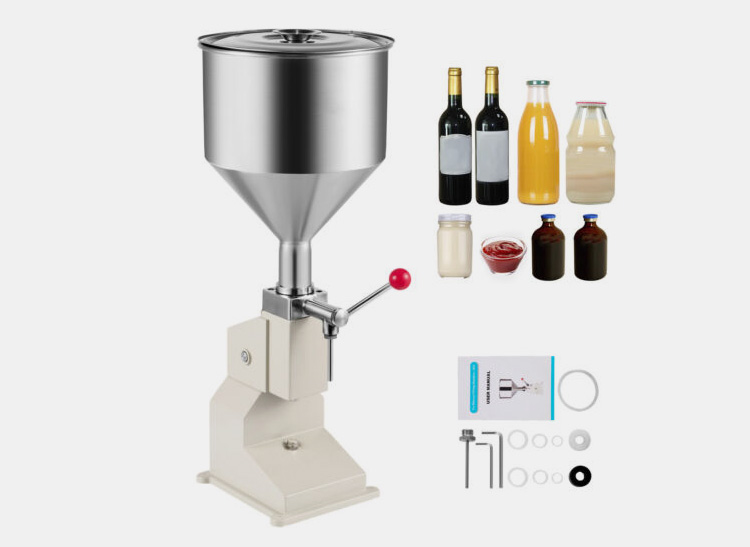 A manual liquid filling machine is used in places where the productive is not much high. The machine requires complete manpower for its operation and are suitable for small scale business.
Semi-Automatic Liquid Filling Machine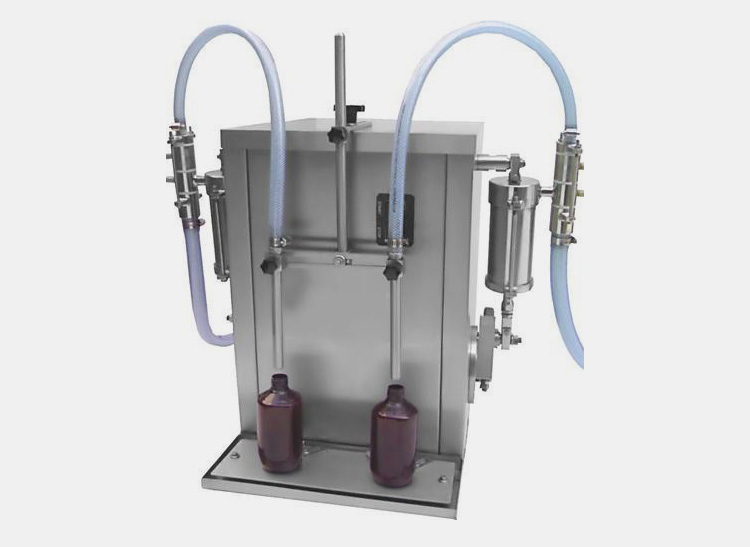 Semi-automatic liquid filling machines have less involvement of manpower and majority of work is carried out by the machine itself. Medium scale businesses mostly require this semi-automatic liquid filling machine.
Fully Automatic Liquid Filling Machine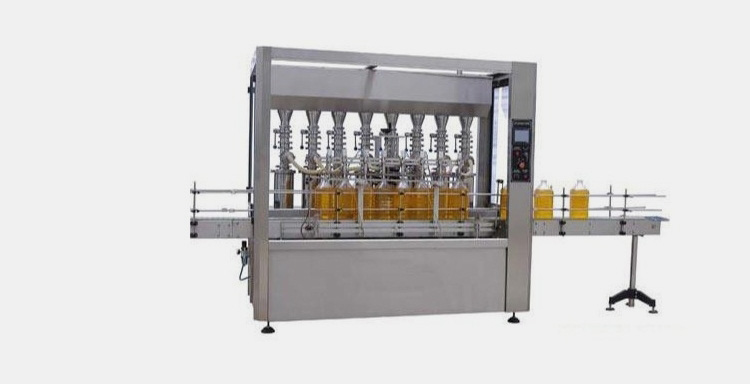 No human interface is required in this type of machine. Thousands of products can be prepared in no time but today these automatic liquid filling machines have spread its network. Fully automatic liquid filling machine is used in large scale businesses where the productivity is too high.
6.What Are The Differences Between Semi-Automatic And Fully Automatic Liquid Filling Machines?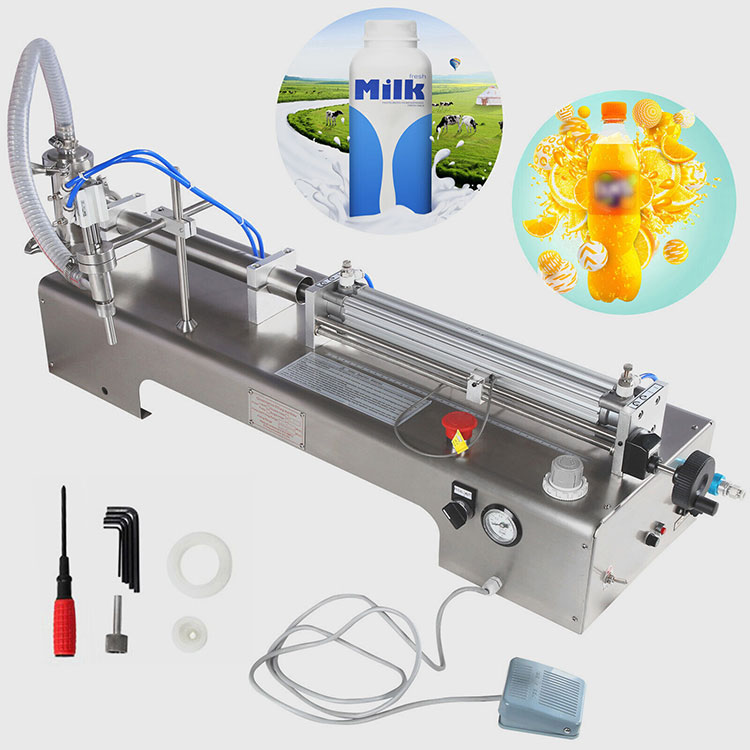 Differentiating a semi-automatic liquid filling machine to an automatic liquid filling machine is never an easy task. As most of the things are common in both of them, but machines can only be distinguished on the basis of its structure, working principle and functionality.
Functions
Semi-automatic liquid filling machines are ideally used to fill containers ranging from 5 ml to 1000ml. More than 500 containers can easily be filled in one hour. Human involvement is also an important thing in this machine.
Completely automatic functions are present in an automatic liquid filling machine. Liquid ranging in between 100 ml to 10000 ml are filled with a capacity of filling around 1500 containers in an hour.
Construction
A semi-automatic liquid filling machine is mostly made up of stainless steel and is robust in nature. These machines have nozzles, fillers, syringes and other equipment that are compatible with both manual and automatic operations.
An input and output conveyors are mostly associated with the structure of an automatic liquid filling machines. The speed of conveyors is controlled according to the production requirement. Increasing head in a fully automatic liquid filling machines, the productivity increases directly.
Filling Methods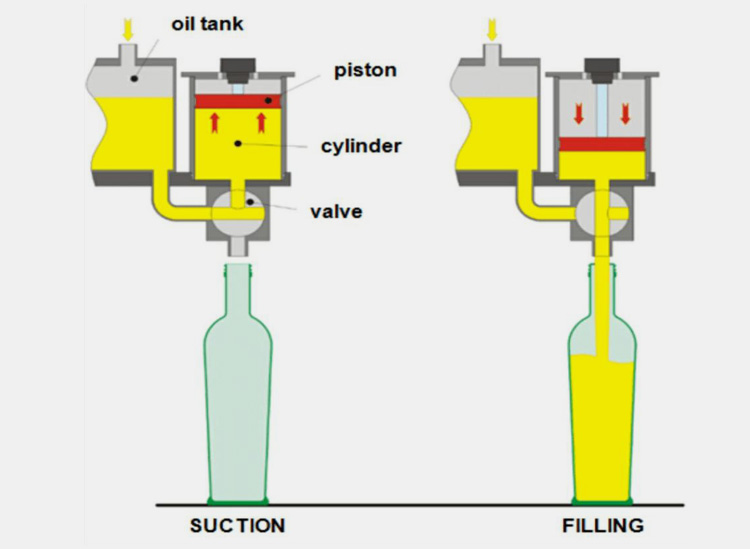 Bottles are placed by the operator in semi-automatic liquid filling machine and then automatic filled by the machine.
The containers and bottles are placed on the conveyor and it moves automatically throughout the system. Conveyor and liquid filler work together in a synchronize manner during the process.
Product Movement
Human push is always necessary in a semi-automatic liquid filling machine but automatic conveyor movement of product is present in a fully automatic liquid filling machine.
7.What Are The Different Liquid Filling Systems That Are Present In A Liquid Filling Machine?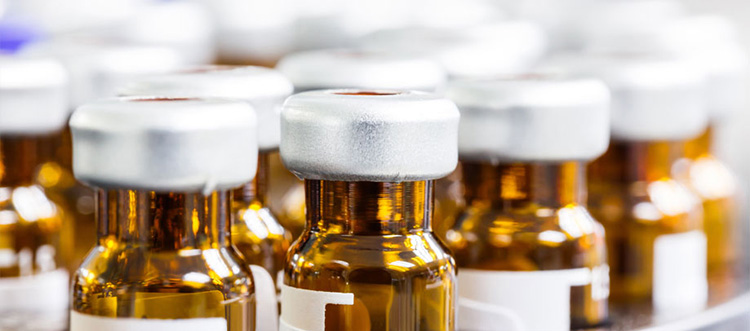 Globally there are two types of liquid filling systems that are commonly found in a liquid filling machine. Those are
Level Filling System
When the requirement of the system is to fill the bottles only to a level that has have specified by the manufacturer. There is no concern regarding level of liquid because a level filling system only works on the principle of filling bottles regardless of ideal productivity.
Same product can be filled in different packaging sizes and only the level of filling system is maintained. Filling of liquid in glass containers and bottles are most suitable to be filled under a level filling system.
Volumetric Filling System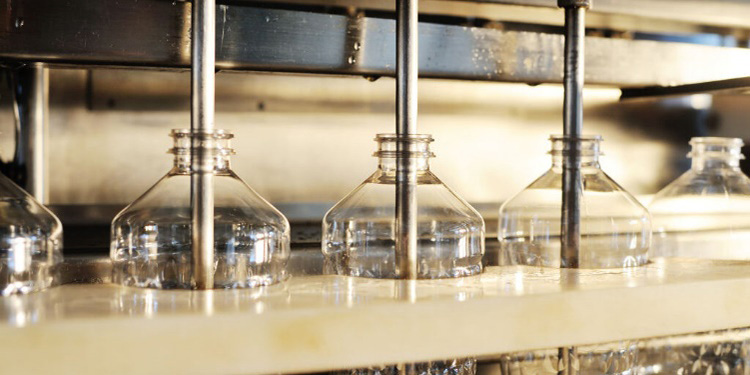 Volumetric liquid filling systems are used when exact amount of solution is to be filled. These are also applicable at places where the system remains synchronized in terms of liquid filling. Each bottle or containers holds the same amount of solution.
Highly precise and accurate results are obtained when volumetric systems are used in filling machines. Only fillers are to be purchases for each type of bottle or container.
8.What Is A Liquid Filling Machine Made Up Of?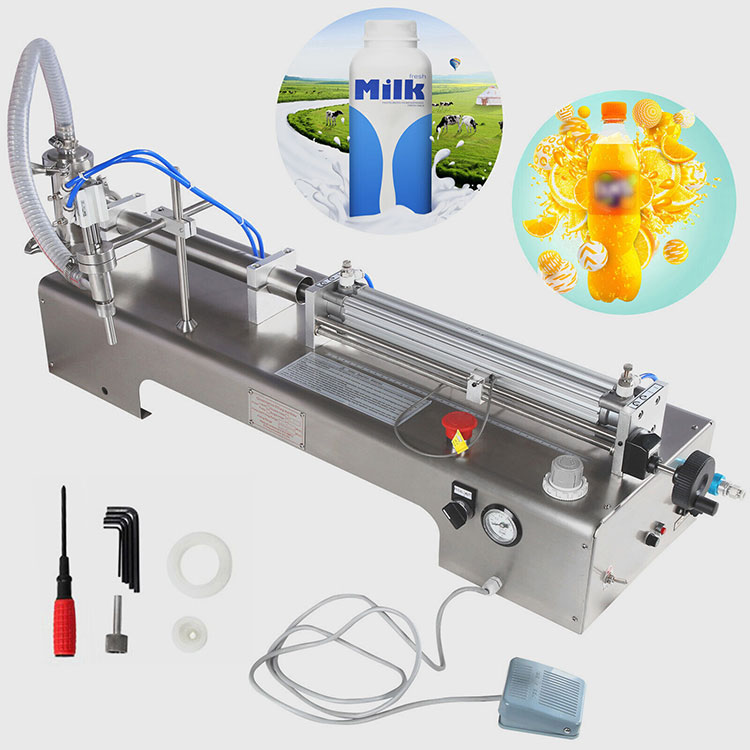 Some of the materials that are commonly used for making liquid filling machines are
SS Material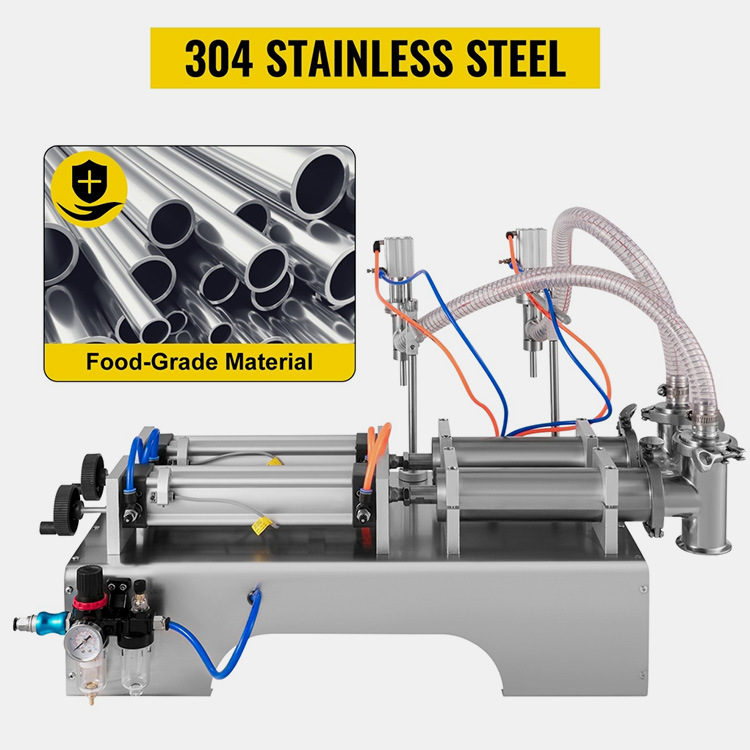 SS is the best type of material available for any type of processing machine. The keeps the structure free from contamination and increases its life even if kept in humid condition. SS as compare to other materials is always set on priority also because it keeps the dust away from body which can later on disturb the working procedure of machine. Hard layered stainless steel keeps the boiler, heater and sealer secure from any type of hazard.
Mirror Polished
Another material that has been used for making a liquid filling machine is mirror polished surface. The body of tank where the liquid is kept is mostly made up of mirror polished surface as it keeps the rust away from system and blocks the entrance of environmental microbes.
German Technology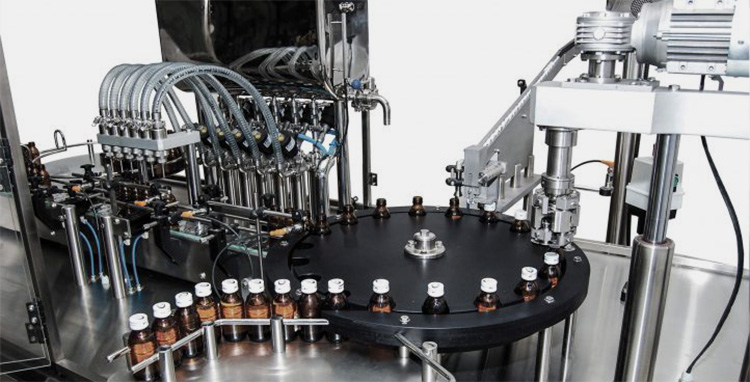 Due to high speed production setups, the structure in mostly fully automatic liquid filling machine is made up of german technology material. The material provides proper sealing feature to the machine and can be suitable for high rpm setups. German material can cope up with a running rpm of up to 5000 cycles per minute.
9.What Type Of Materials Filled Using A Liquid Filling Machine?
Material used in a Liquid Filling Machine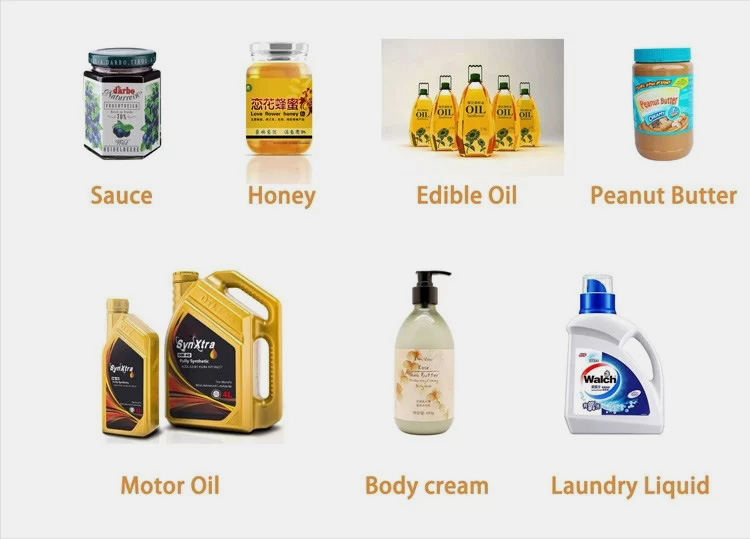 Liquid filling machines are highly sensitive when it comes to filling material selection. It is a much important task to select liquid depending upon its nature, viscosity, temperature effects and atmospheric impacts.
It is mostly used in beverages industry to fill cokes and other fresh juices.
In Food industry, oil and liquids are mostly filled using a liquid filling machine
In Medical industry syrups and other vials are filled using these machines.
10.What Are The Advantages Of A Liquid Filling Machine?
Liquid filling machines can be highly economical and revenue generating when used in industries. It can increase the productivity and provide number of benefits like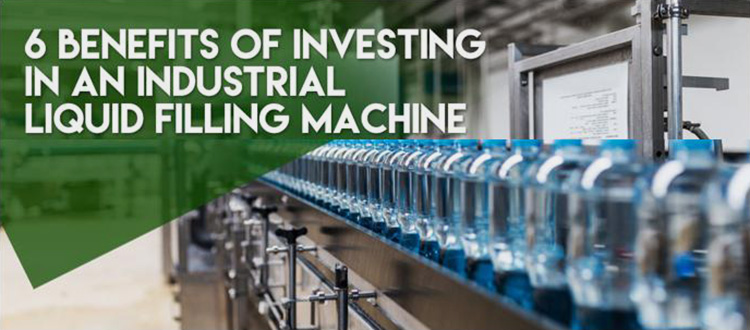 Accuracy
Liquid filling machines are highly accurate and give a filling accuracy with an only tolerance of ± 0.5%. 100% consistent, precise and accurate results are obtained when products are filled using a liquid filling machine.
Precision
Brushless DC Motor drive makes a liquid filling machine highly precise. Also no measuring instrument is used after the production due to this important factor. Thick and thin, both liquids can be filled
Easy Operation
The operation of a liquid filling machine is very simple due to the rotative fillers in it. Simple filling procedures are there that no individual has to get training for it.
Saving of Time and Energy
Production of thousands of filling objects is carries in no time and also due to less manpower, the required energy loose a distinct level.
Consistency
No bottle in the production line differs from other. Each one has same quality ad filling of liquid. Its consistency can be reflected whenever quality check of a batch process is carried out.
Speed Filling
A liquid filling machine can give a filling capacity up to 12 liter in a single minute which makes it highly productive and reliable for industrial purpose. A greater volume of productivity can be achieved using a liquid filling machine that is impossible if done manually. Thousands of products can be filled in no time.
11.What Common Faults Occur In A Liquid Filling Machine And What Are Their Remedies?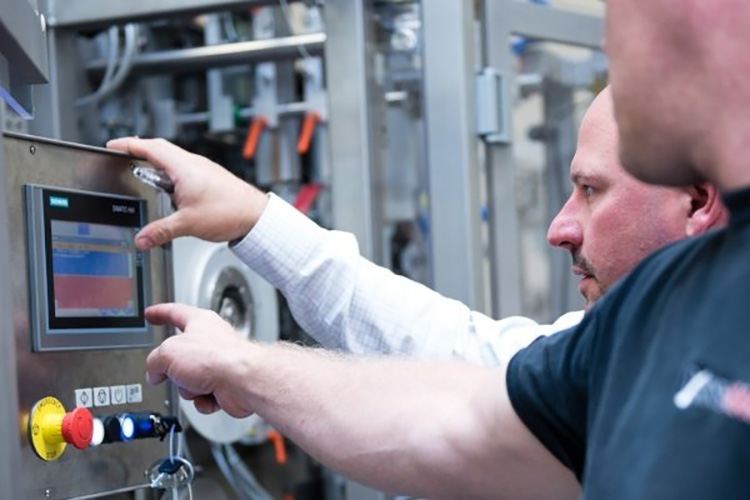 S.NO
Errors
Fault Cause
Troubleshooting
1
No Display on LCD
Blowing of dose of power plug is off.

Replace the fuse

Reinsert the plug.

2
Error in Pump Wheel

Roller of pump wheel stuck.

Driver circuit board is faulty.

Installation of bump head. Checking of circuit board.
3
No Liquid Transportation
Damaged hose pipe
Replacing the hose and adjusting the pump head cover.
4
Sliding of Hose
Hose is not fixed properly
Checking if hose and tightly knotting it with screws and cards.
12.How Are Liquid Filling Machines Maintained?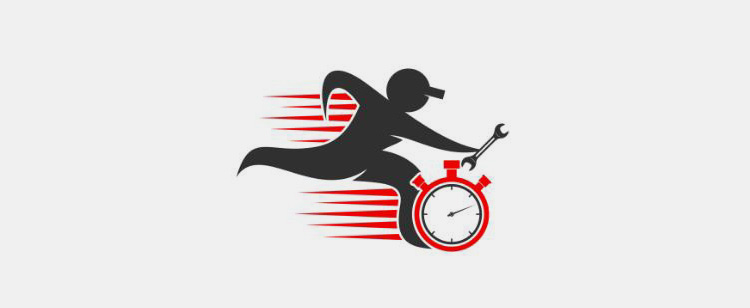 Maintaining smooth product in liquid filling machines purely depends upon timely maintenance and cleaning of machine. Following are the steps taken to maintain a liquid filling machine.
Standard operating procedures (SOPs) given by the manufacturer of liquid filling machines should be followed strictly and routine checks are necessary to be performed.
At the end of each production process, the operator must check every part of machine that whether there is any blockage, rust, excess liquid or dust present in the machine. Such materials should be promptly cleaned and services should be done if required.
Long production lines may have contamination is filling spaces that are neglected during production, an adequate drainage should be allocated to those areas to get rid of excess liquid.
Schedule maintenance of liquid filling tanks, raw materials is an important task to do especially when different type of material is to be filled in same type of tank.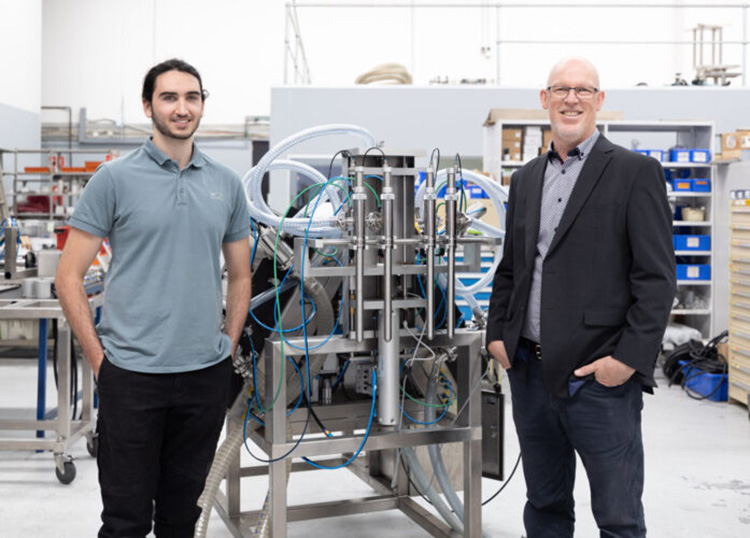 Checking of all equipment as per plan can help the operator to identify the faulty ones and can easily replace those before occurrence of any mishap.
All the maintenance and cleaning procedure may be applied by an expert that has complete command in machines operation. A new individual can cause damaged to personal and machine both.
Finally, a complete checking sheets and procedure should be designed by the buyer so that they may maintain the machine as per plan. Proper maintenance and cleaning can avoid accidents to a distinct level.
13.What Are The Important Factors That Should Be Considered Before Buying A Liquid Filling Machine?
Before going to purchase a liquid filling machine is always necessary to consider the production targets of an organization as it requires a lot of initial investment. Some of the important factors to be considered before buying a job are.
Piston Pressure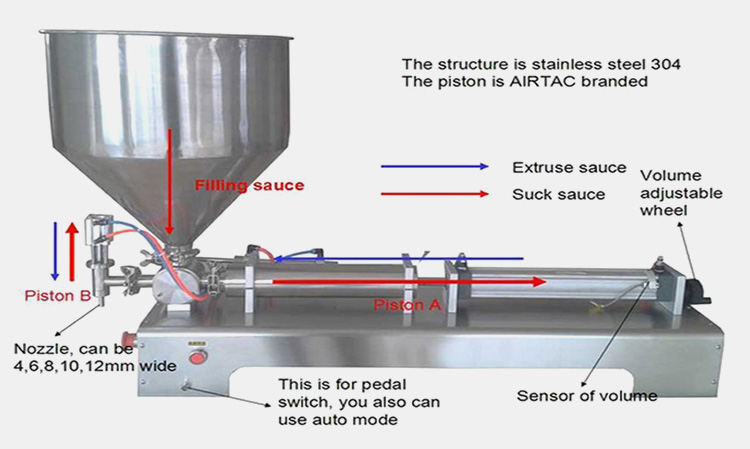 Mostly the filling process of a liquid filling machine depends on the power and pressure of pistons that are present in cylinders of filling tank. The material and strength of these pistons should be closely monitored because these are the main components to handle mass production requirements.
Product Viscosity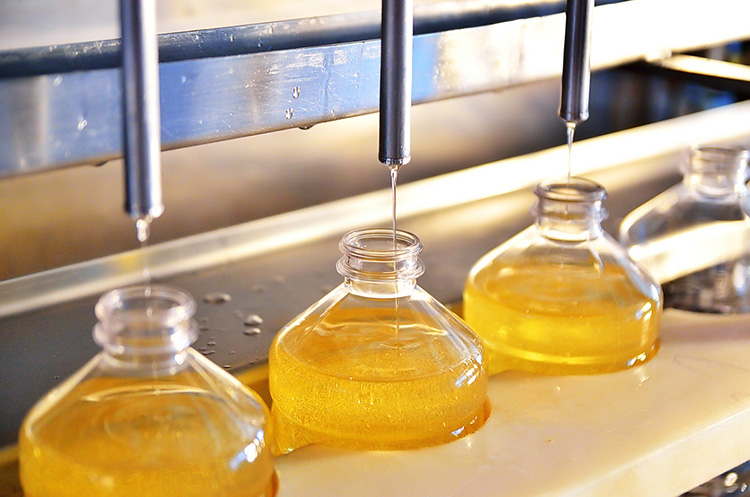 There are different types of products that are filled using a liquid filling machine. Each of the liquid has its own viscosity and this lies as the main feature of those. The greater the viscous, greater filling time will be there if the machine is not selected properly. Versatile machines that can handle every type of viscous liquid are always a better consideration by different industries.
Liquid Filling Productivity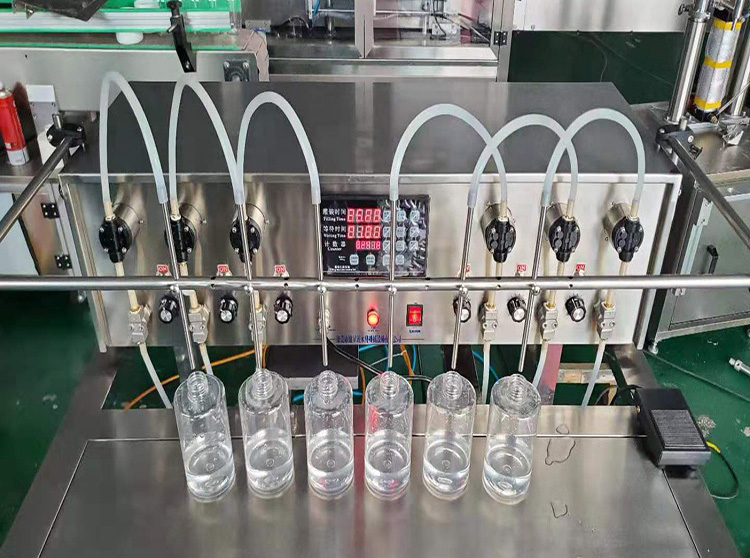 Small, medium or large scale industry should select liquid filling machines depending upon their annual production need. Manual liquid filling machine offers the least rate but automatic machine can fill thousands of bottles per hour.
Type of Container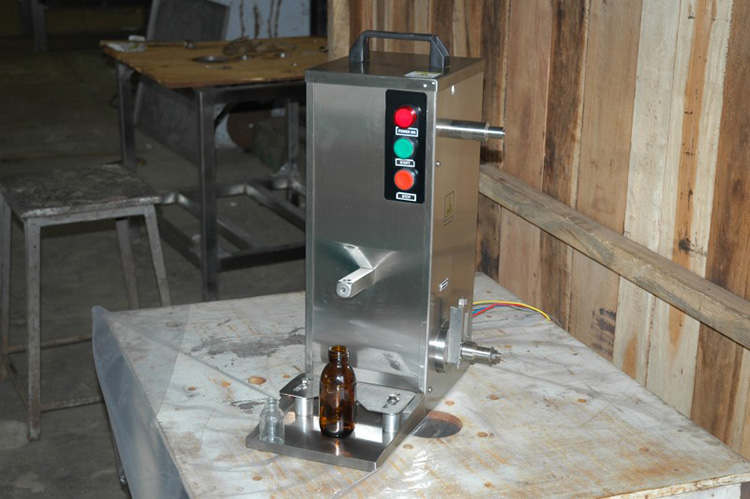 It is always under consideration that what type of liquid container is incorporated along with the machine and what is the structure made up of. As liquid stays there for longer period therefore material of container should be moister, humid and contamination resistive.
Also the size of container means a lot. Small container cannot be used in large scare industries or heavy production setups.
Conclusion
The usage of liquid filling machines is increasing drastically nowadays. Industries are moving towards these machines for making high quality, precise and efficient filling products to increase their productivity and meet the needs of global world. This article in detail explains you all liquid filling machines and their usage. Allpackchina provides its customer best solutions of liquid filling machine with variety of options and easy operational machines. You can feel free to ask us anything anytime or visit our website  for further details and assistance.