Your Best Automatic Liquid Filling Line Manufacturer
Wide Range Of Liquid Filling
Various Containers Liquid Filling
Highly Accurate&Full Automatic Filling Line
Allpack Automatic liquid filling line
Allpack can provide you with complete sets of filling equipment,automatic liquid filling lines for various products such as curing agents,coatings,inks,chemical raw materials,pesticides,shampoos, disinfectants, solvents,toilet cleaners,liquid soap,paints,,etc., and can also meet customer requirements from semi-automatic,fully automatic to intelligent and environment friendly new products,and can be composed of automatic barrel loading,filtration,filling,and the entire assembly line of capping,filling,labeling,coding,palletizing,winding,etc.All Allpack liquid filling machines are rather simple and rapid to change items,simple to operate.easy to master,good universality and high control precision,designed in quite distinct,appearance corresponds to international concept for mechanical equipment,and have applied Siemens PLC computerized control from Germany.And all Allpack liquid filling machines are precise with a high qualified rate.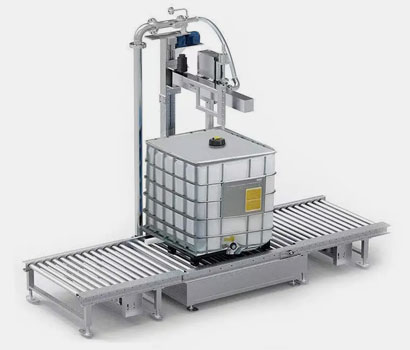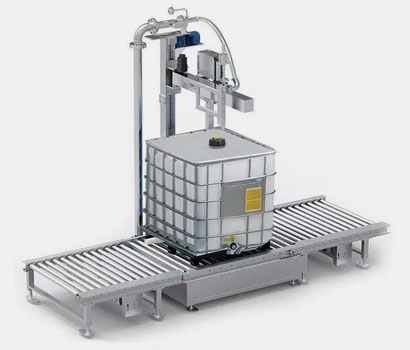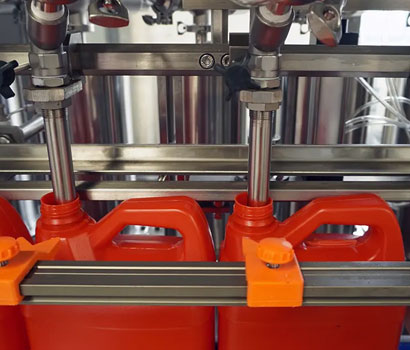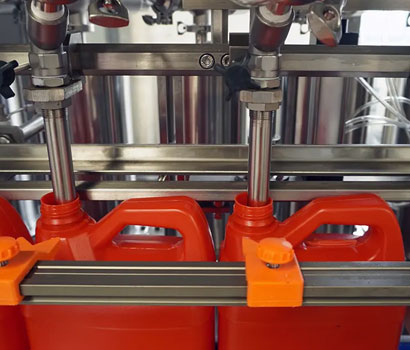 Allpack Automatic liquid filling line
Allpack curing agent automatic liquid filling line is suitable for filling 1-4L by weight,and automatically completes a series of operations such as counting into barrel,filling by weight,and conveying out barrels.It is especially suitable for quantitative filling of water agent and raw materials.The curing agent automatic liquid filling line is an ideal production line for petrochemical, paint, pharmaceutical, chemical and other industries.The whole machine adopts programmable logic controller(PLC) and touch screen for operation control,which is convenient to use and adjust.
No bottle no filling, no bottle stop and overload protection
High precision, no need tool disassembly
Easy cleaning and maintenance
Allpack engine gear motor lube oil lubricant filling machine adopts piston pump and rotary valve, suitable for filling all kinds of thick & sticky material.In food industry like edible oil, yogurt, tomato paste, chilli sauce, honey, butter, ketchup lunch meat etc.In cleaning liquid and cosmetic industry, like shampoo, liquid soap, hand sanitizer, laundry detergent, shower gel, cream, lotion, hair gel, etc.In car products industry, like motor oil, lube oil, antifreeze, brake fluid, fuel additive, screen cleaning liquid etc.In pharmaceutical industry, like syrup, oral liquid , alcohol etc.
Every filling head has anti-drop design
Adjust filling volume
Take off piston cylinder cleaning
Allpack pesticide filling machine automatic liquid filling line is a full corrosion-protecting high-tech filler integrating in the PLC program control, photo electricity transuding and pneumatic. The machine is specially used in the liquid filling of strongly corrosion liquid and cosmetics which can't touch the metal. The equipment's all parts touching liquid are manufactured with the non-metallic corrosion protection material, and designed the descending filling function. Measurement accurate, there is not bubble and drool as filling.
High filling precision&no leak&corrosion
Long life antic corrosive filling
Touch screen operation control
Allpack shampoo filling machine production line can be also called high viscosity viscous liquid volumetric filling sealing and capping machine piston filling machine ,it has been widely used in daily chemical industry, cosmetic, food industry ,high viscosity materials, shampoo, hair condition cream, hand cream dish washing liquid and so on, the effect is obvious. Its filling method can be customized according to your different material , if your material is low viscosity material , suggest use gravity flow filling machine,  if your material is high viscosity material , suggest use piston filling machine .
Accurate measuring ,advanced structure
Stable operating ,low noise ,large adjusting range
Fast filling speed
Allpack chemical filling machine automatic liquid filling line is a fully automatic in-line atmospheric pressure filling machine. The whole machine is made of non-metallic PP material and corrosion-resistant material, has anti-corrosion function. It is mainly used for bottle and sub-package of pesticide, chemical and water-based liquids, and can be applied to various types of containers. It can be combined with the capping machine and the labeling machine to form a production line.The controlled filling time is used to achieve different metering filling, and the filling time can be accurately controlled to one hundredth of a second.
Piston-type linear filling with high precesion filling
Easy installation and commissioning
Cleaning and maintenance is simple
Allpack disinfectant filling machine automatic liquid filling line is suitable for daily chemical products,such as dishwasher,disinfectant,glass cleaner,laundry detergent,softener,personal care products,hand soap,shampoo,conditioner,shower gel,hail oil,essential oil,etc.The whole machine is in-line structure, adopts the principle of servo motor-driven filling and volumetric metering filling to realize the high precision of filling and metering. Using plc control, touch-sensitive human interface, the whole machine is convenient and intuitive to operate.
Stainless steel conveyor belt
Adopts high precision and high speed ration filling valve
Filling volume adjustable, no bottle no filling
Allpack solvent filling machine automatic liquid filling line is developed wholly in corrosion standard. It is a high-tech filling equipment which is a combination of microcomputer (PLC) controlled photoelectric sensor and pneumatic actuator.It is specially used for high corrosive liquid, such as solvent,bleach liquid, 84 disinfection liquid, toilet clean fluid, Bleach liquid and so on. can be used to fill corrosive liquid both with sticky or not, can fill round bottle or any other bottles(e.g: angle neck bottle). With features, such as precise filling volume, no drip, photoelectric detection, no filling when without bottle.
Running in a high automatization and intellectualization
No bottle no labeling
High efficiency&fast speed
Allpack toilet cleaner liquid filling machine automatic liquid filling line is a full corrosion-protecting high-tech filler integrating in the PLC program control, photo electricity transuding and pneumatic. The machine is specially used in the liquid filling of strongly corrosion liquid and cosmetics which can't touch the metal. The equipment's all parts touching liquid are manufactured with the non-metallic corrosion protection material, and designed the descending filling function. Measurement accurate, there is not bubble and drool as filling.
Adopts frequency conversion speed adjustment
No bottles no filling,no cap feeding
Accurate metering control
Allpack liquid soap filling machine is suitable for various viscous and non viscous and corrosive liquid. Daily chemical filling machine series include: laundry detergent filling machine, hand sanitizer filling machine, shampoo filling machine, disinfectant filling machine, alcohol filling machine, etc.It adopts linear filling, anti-corrosion materials, independent control of electrical cabinets, unique design, superior performance, other in conformity with the concept of international filling machinery and equipment.
No bottle no fill, PLC control
Accurate filling volume
Closed condition ensures the sanitary requirement
Allpack coating filling machine automatic liquid filling line is a full automatic control system consist of filling machines, capping machines, labeling machines. It is specially designed for all kinds of  cans, buckets filling of different products like liquid fertilizer, lubricant oil, edible oil, paste, other chemical and biology liquids in food, cosmetic, chemical industries.This automatic liquid filling line can be customized base on different products, filling volume and capacity required. Bottle unscrambler machine,filling machine,capping machine,labeling machine, ink coding machine and packaging machines can be added an option and combine freely.
Weighing function to ensure the filling accuracy
No can no filling
Using photoelectric sensor
Allpack paint filling machine automatic liquid filling line is widely used in food and chemical industries.The paint filling machine ranges from simple single head units to high speed multi-head machines with cappers to suit. Built to the highest industry standards and used by many major companies world-wide, these machines can cater for a wide range of viscosities from paint to inks, water to mayonnaise, soft-gels, creams, oils etc.This automatic liquid filling line contains semi automatic, automatic in-line, pneumatic and electric servo drive volumetric fillers, weigh fillers and drum/IBC fillers.
High-quality stainless steel frames
International famous brand electrical components
Easily controlled by computer
Allpack ink filling machine automatic liquid filling line can be used for filling filling various liquids into bottles. Such as ink, shampoo, laundry detergent, shower gel, detergent, tomato sauce, sauces, lubricants,cooking oil, etc. It is suitable for filling in large quantities of factories, and can be connected to the production line before and after.It can be used together with the capping machine, capping machine, labeling machine and inkjet printer.According to your actual production requirements, single head, 2 heads, 4 heads, 6 heads, 8 heads, etc. can be selected.
High Filling Accuracy
Long Diving Filling Head
No need tools to clean the pistons
Allpack drum filling machine automatic liquid filling line is used for all kinds of scale liquid filling.It can finish a series of operations automatically, such as drum inlet, weight filling,and drum outlet.Especially for edible oil and lube oil.It is a nice choice for foodstuff and chemical industries.The drum filling machine adopt PLC control, touch screen control panel,convenient to adjust.Each filling head has the weight and feedback system. Each filling head can be regulated.With photoelectric sensor, approximate switch and other electric elements are the international famous brand. No container no filling. 
Safe, environmental, sanitary
Easy to disassemble to clean and maintain
Wide range of application
Allpack edible oil filling machine is suitable for filling viscous,inviscid and corrosive liquid.It's widely applied in plant oil,chemical liquid,and daily chemical industry.It adopts linear type filling, electromechanical & instrucmental intergration controlling.It's simple and rapid for changing the varieties with unique design and superior capability.It's appearance accords with the international machinery concept.
Anti-drip oil filling machine
Continuous capping,efficient&fast
Quantitative filling&accurate metering
Allpack Automatic Liquid Filling Line Application Industries&Filling Containers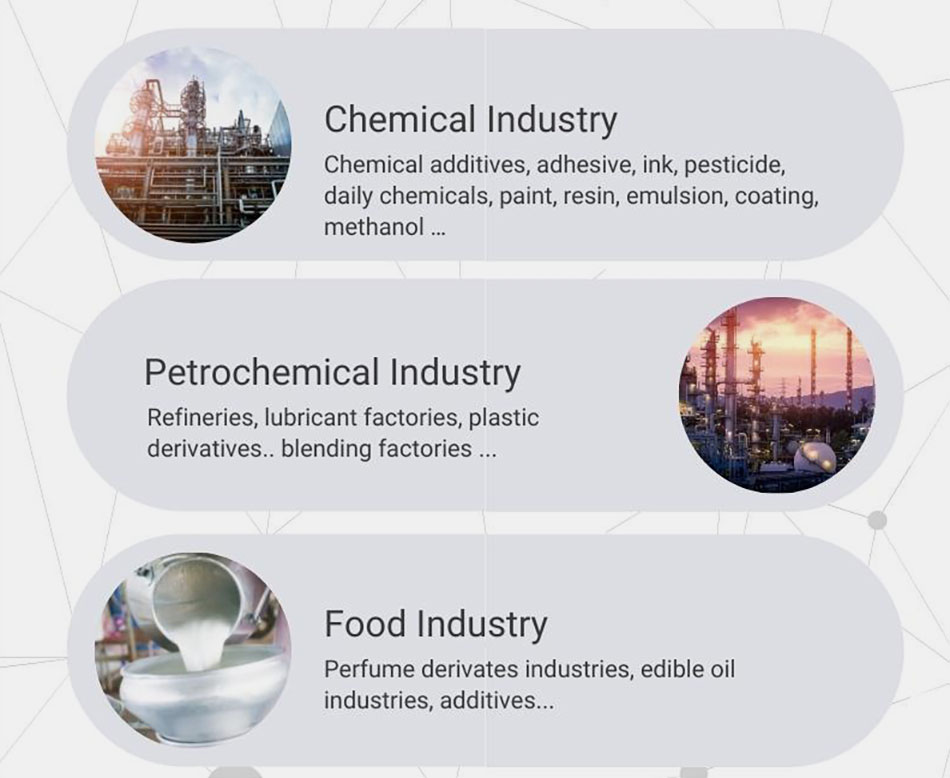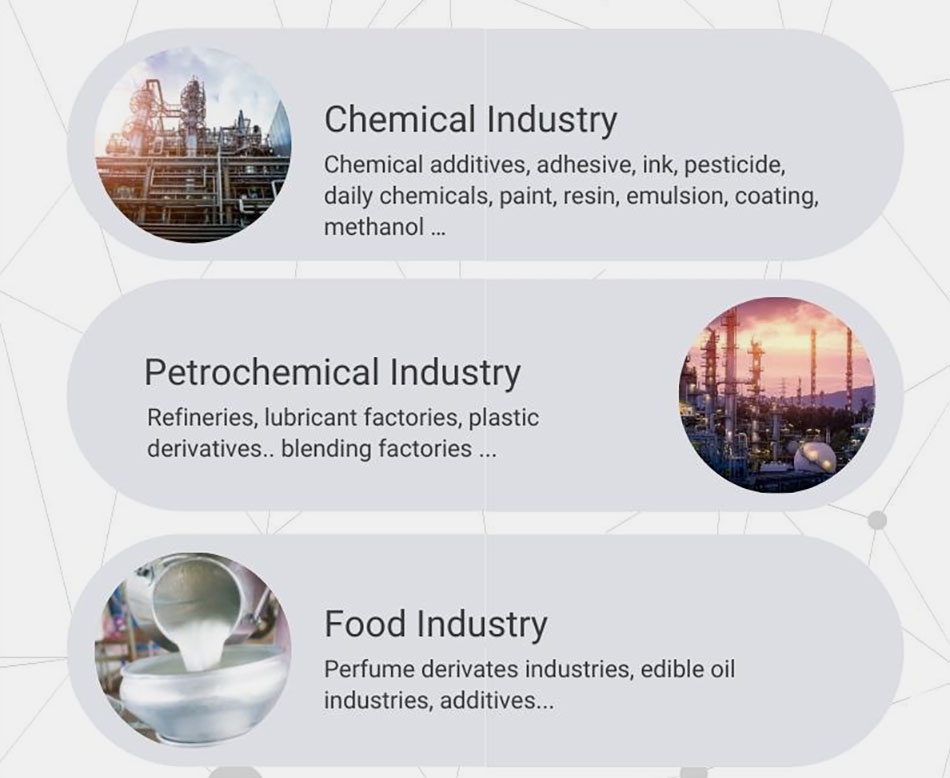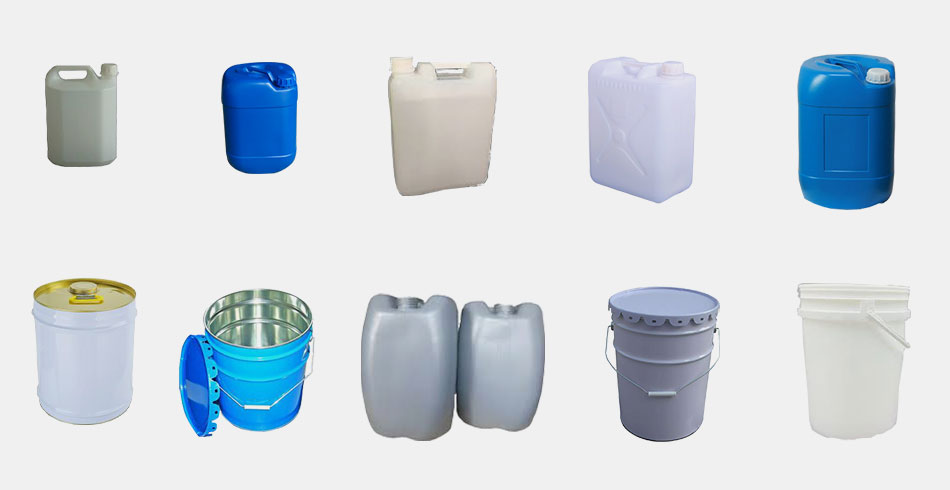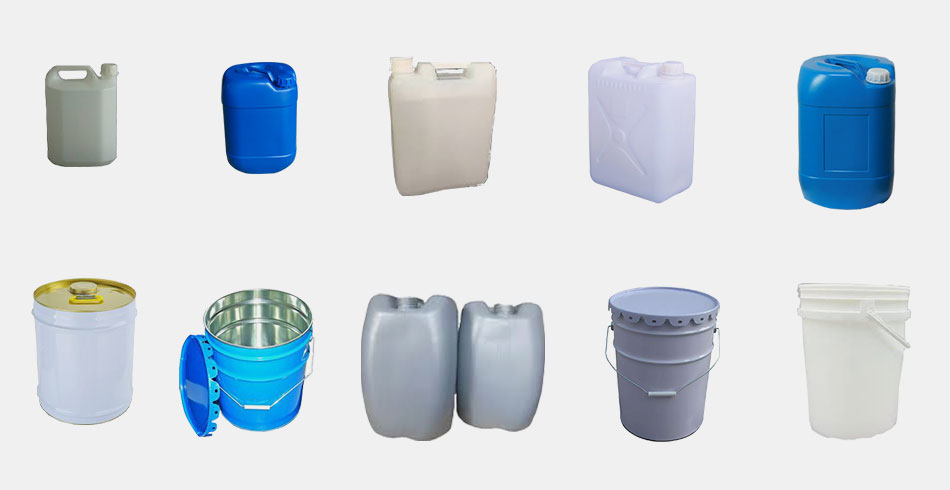 Automatic Liquid Filling Line
Are you manufacturing any consumer-based liquid products then you need your automatic liquid filling line to load containers, seal them and package them for final shipment? The automatic filling line is an excellent solution to increase product quality and production capacity while saving your operational cost. Moreover, attractive filling containers create a great impression on customers and are essential in impulse buying.
Read through this guide to discover all there is to know about this essential industrial solution.
Add a header to begin generating the table of contents
1.How to Define Automatic Liquid Filling Line?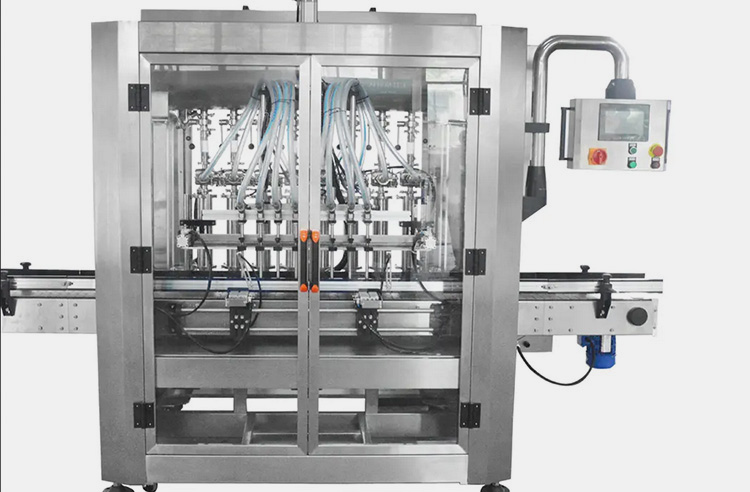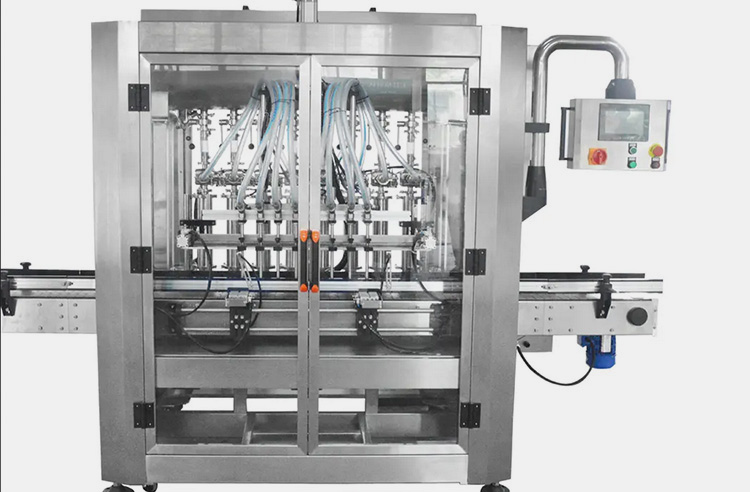 The automatic liquid filling line as the name suggests, is an autonomous liquid processing and packaging line. It is an independent unit that guides and loads the bulk-capacity containers- either one by one or depending upon the number of filling heads in the machine- on the conveyors.
The containers are moved automatically through each station such as filling, capping, and labeling without any human supervision.
This machine is programmed to steadfastly load each container with a specified volume of varying liquid products.
Moreover, it is an excellent choice to fill and precisely dispense different viscosity products instantly in drums, kegs, bottles, gallons, etc.
2.Why it is Essential to Automate Your Liquid Filling Line?
Without an automatic liquid filling line, working staff fill products by hand, taking more time and effort. This also increases the error rate in the filling. Thus, it is essential to automate your liquid filling line as it offers several advantages such as:
High Filling Speed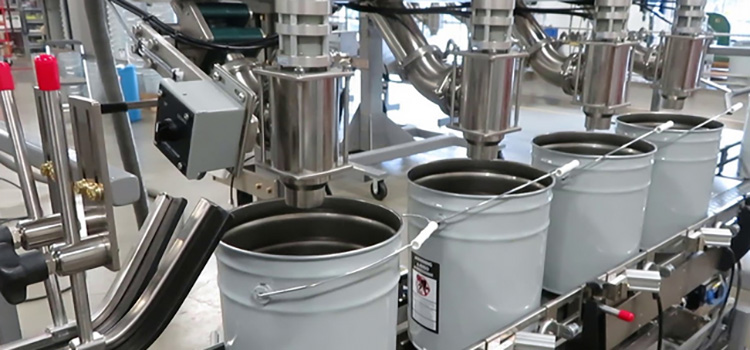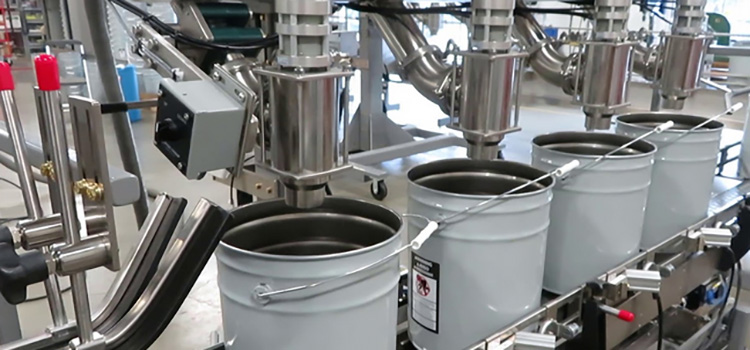 The automatic liquid filling line is equipped with modern and advanced computerized, mechanical, and electric parts that work efficiently to fill hundreds of thousands of bulk-capacity containers per day.
It is estimated that on average, there are sixteen filling heads in the automatic liquid filling line which means about sixteen containers are filled simultaneously, resulting in more products in the market.
Superior Consistent Results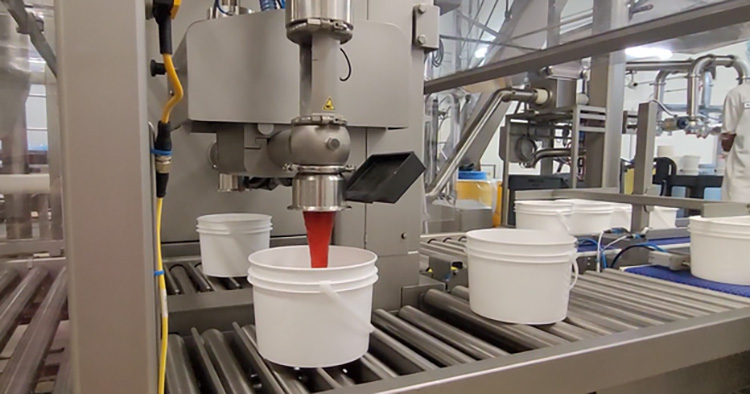 By using an automatic liquid filling line, you will have consistent and reliable filling results. If you require specific volume or weight products, so integrate this machine in your packaging line as it will give a specific outcome every time. Moreover, this equipment will ensure that there is no variation from batch to batch.
Customer Approval Assured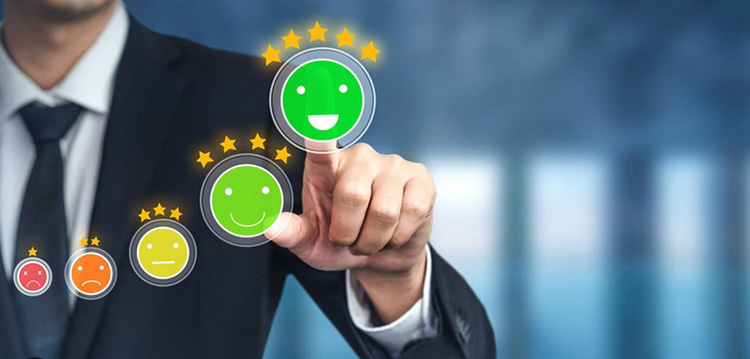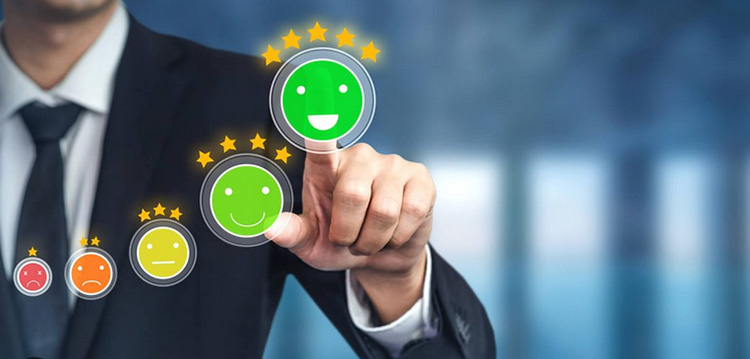 When you use an automatic filling line in your business then you are ensuring customer approval. This equipment fills and packages liquids with great precision and accuracy. Moreover, with this machine, you will deliver high-quality products in the market, gaining customer trust and in turn increasing buying chances.
Error-Free Filling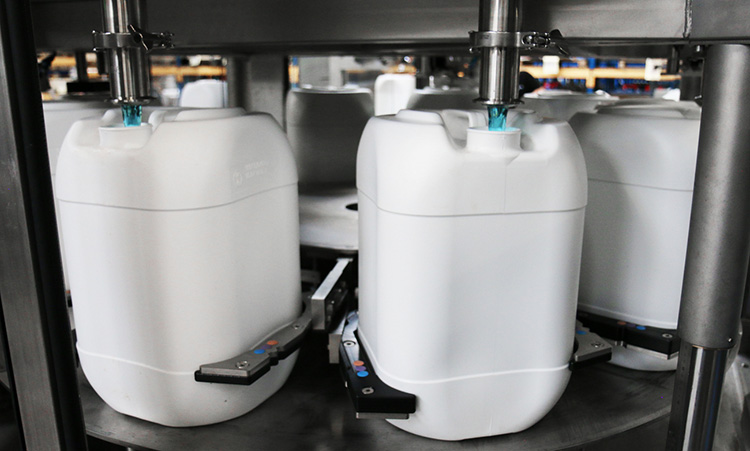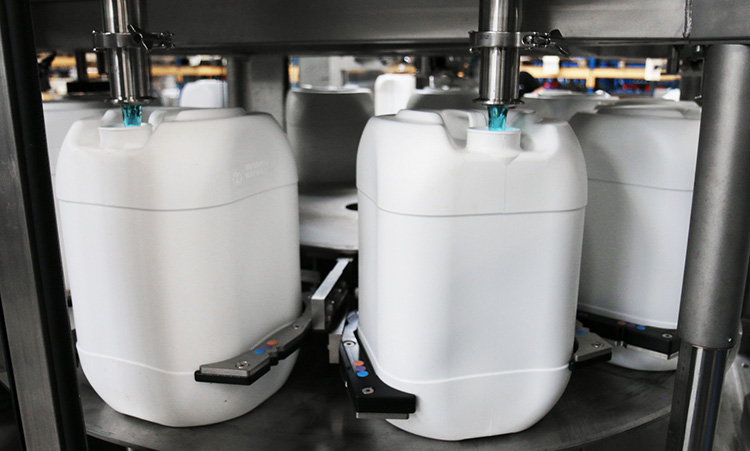 With an automatic liquid filling line, you are guaranteed error-free product dispensing. A minimal number of operators are required to manage and supervise it, therefore, decreasing the chances of human error while filling and packaging containers.
Simple Process


On the outside, it seems that an automatic liquid filling line has a complicated and difficult-to-understand operation. However, this is further from the truth. Operating this machine is quite easier as simple alterations on the HMI of the machine are required product changeover and it will configure itself with adjustments.
Lower Cleanliness Requirements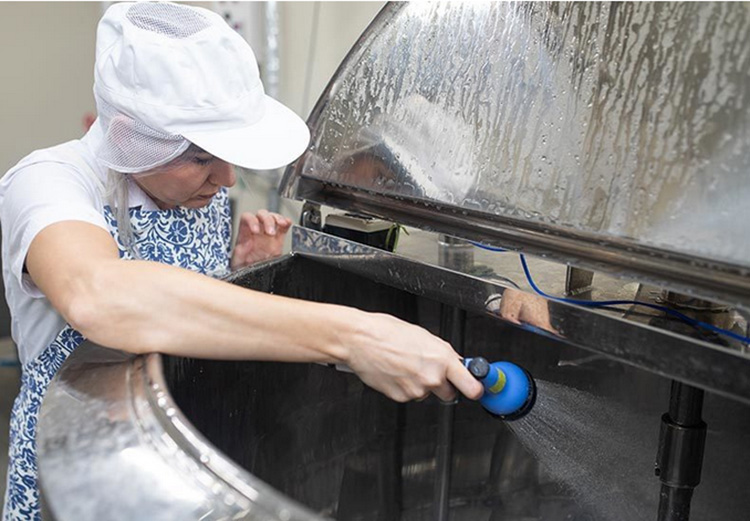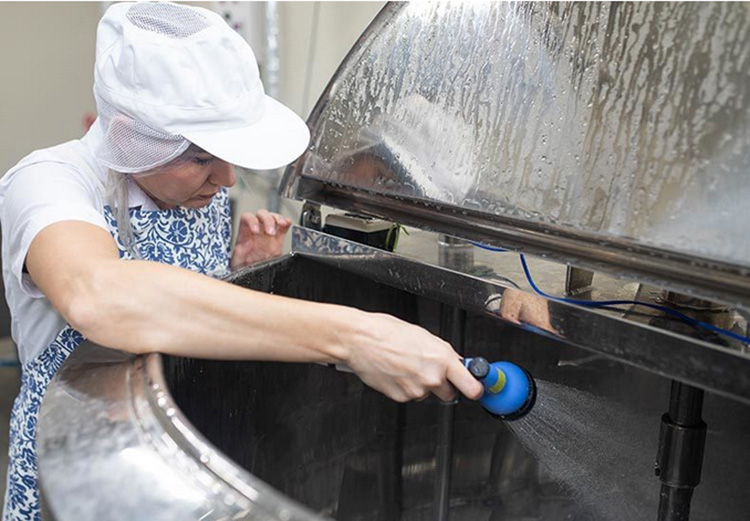 The automatic liquid filling line is furnished with state-of-the-art clean-in-place systems that make it easier to clean this equipment. It is superior hygienic construction which aids in sanitation efforts. Furthermore, it is disassembled conveniently for quick cleaning.
3.What Are The Industries that Require an Automatic Liquid Filling Line?
Almost every industry involves the filling of some kind of liquid product, hence, an automatic liquid filling line is an integral component of every industry. These industries rely on this equipment to deliver safe liquid products to the market.
Some important industrial applications of an automatic liquid filling line are discussed below for your understanding:
Food Industry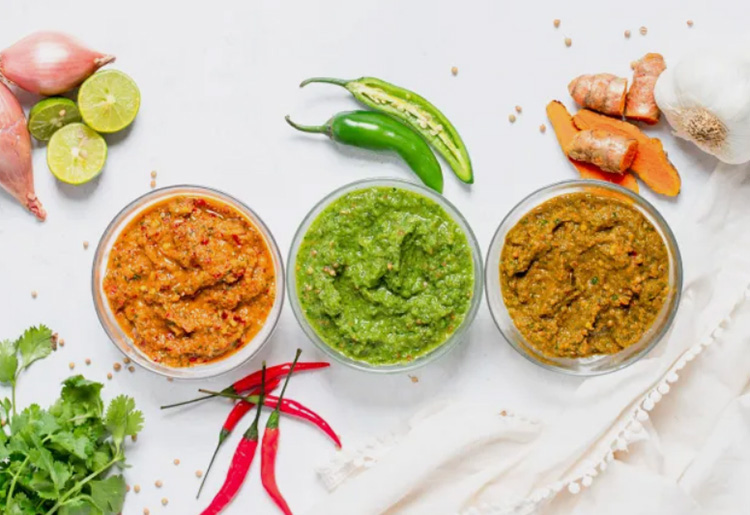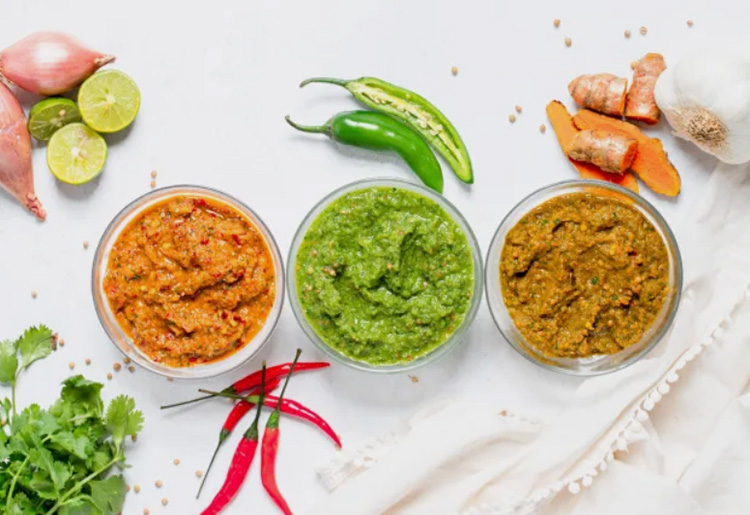 Hygiene and prevention of cross-contamination are essential in the food industry, therefore, this industry depends upon an automatic liquid filling line for dispensing food products. This equipment easily handles viscous, non-viscous, foamy, pasty, and particulate liquid food products such as jams, dressings, jellies, creams, ice cream, pastes, curry mixes, etc.
Beverage Industry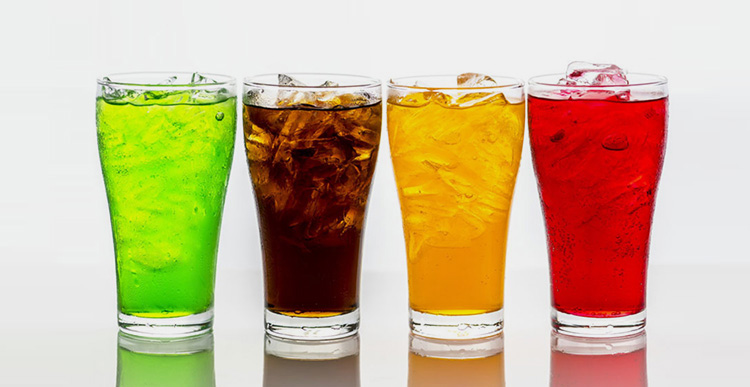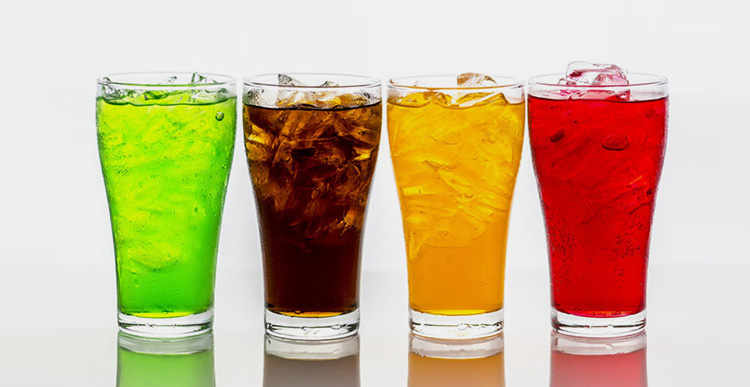 In the beverage industry, a wide range of liquids ranging from juices to water, milk to alcoholic drinks are filled. Often, an automatic liquid filling line is employed for the accurate dispensing of these liquids in clear and opaque containers. This machine measures and dispenses precise volumes in drums, kegs, and buckets.
Personal Care Industry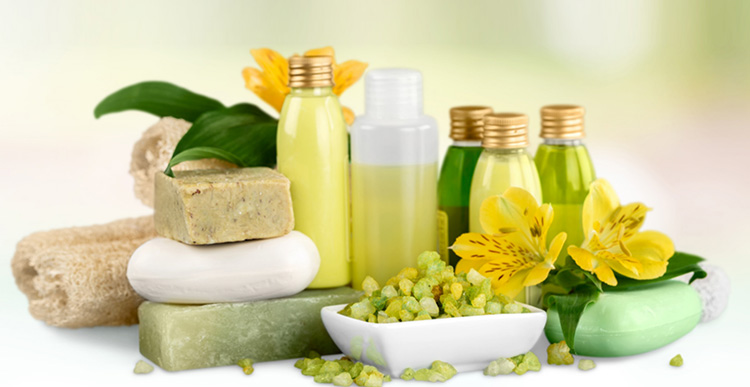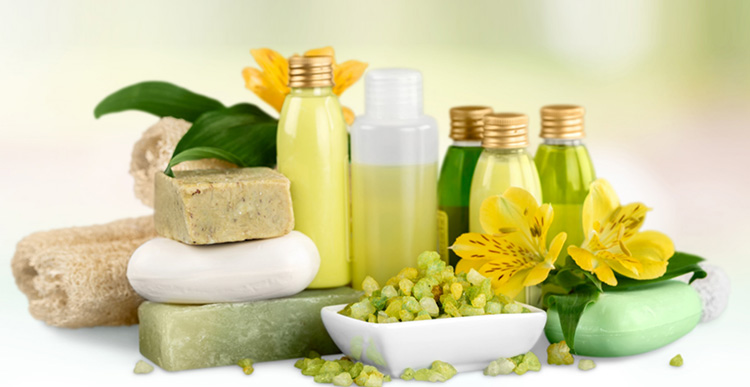 Since personal care products such as shampoos, liquid soaps, body washes, cleansers, face masks, etc. are loaded inside unique unusual shaped containers. This machine is employed in the personal care industry for handling these containers with care to avoid product spillage and splashes.
Chemical Industry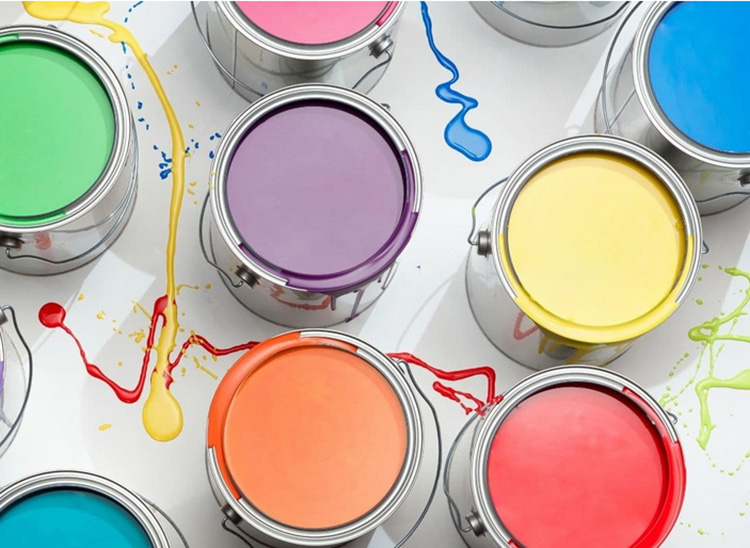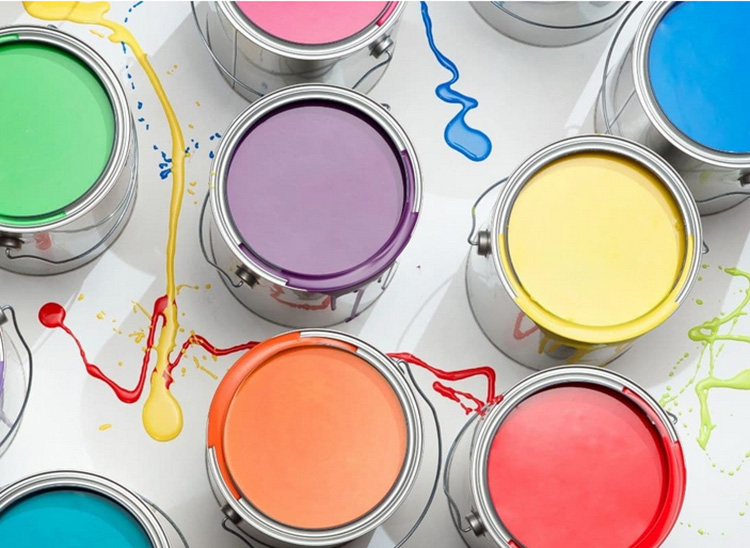 A safe filling is one of the most important aspects of the chemical industry, hence, an automatic liquid filling line in this industry prevents the risk of work-related injuries such as skin burns or fumes inhalation. In the chemical industry, this filling line dispenses disinfectants, liquid detergents, cleaners, acids, glues, paints, coatings, etc.
Agriculture Industry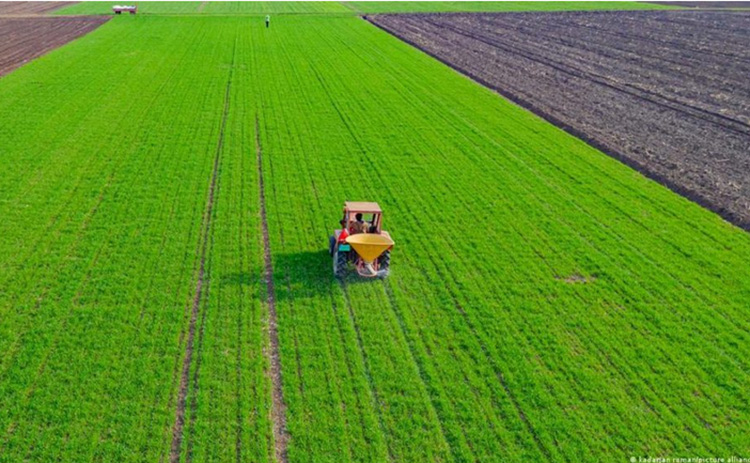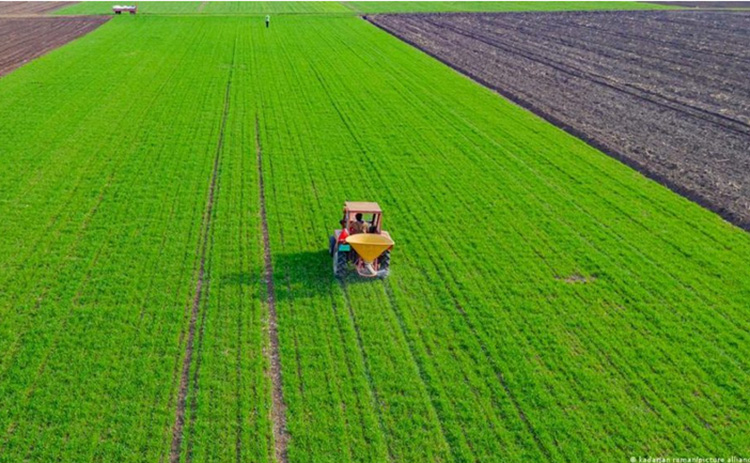 In the agriculture industry, several liquid products such as pesticides, herbicides, bactericides, fungicides, nematicides, insect repellents, and liquid fertilizers are formulated and packaged. For this filling purpose, an automatic liquid filling line is used for obtaining superior quality and precise dispensing.
Automotive Industry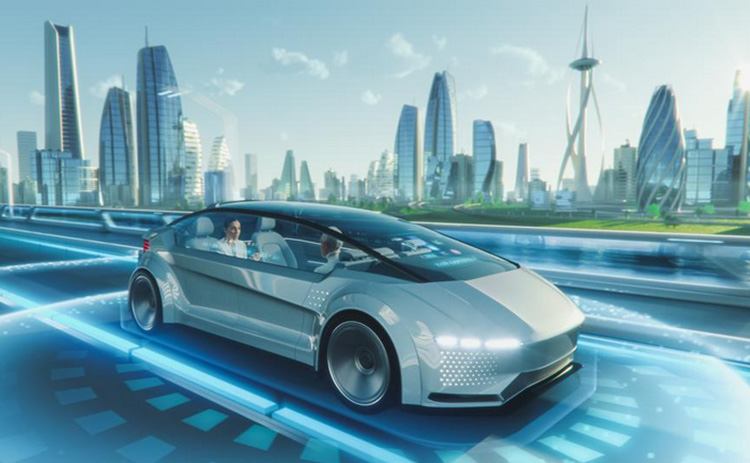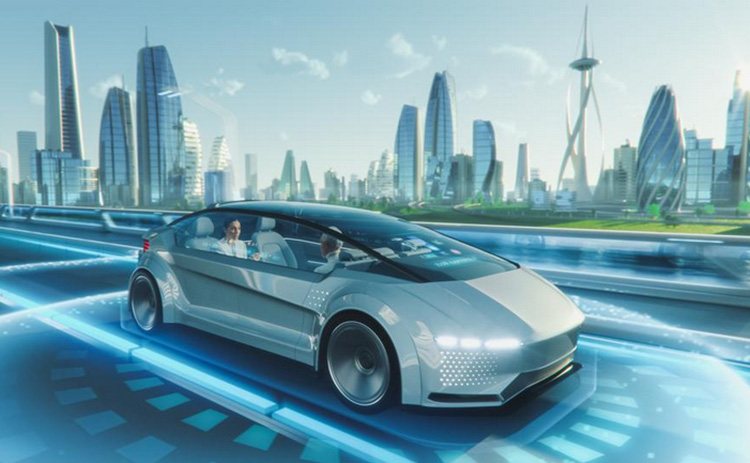 Automatic liquid filling line loads accurate amounts of automotive oils, coolants, lubricants, gasoline, etc. in large barrel drums, jerry cans, buckets, etc. This filling line is designed with anti-corrosive materials to handle harsh automotive liquids.
4.What are the Types of an Automatic Liquid Filling Line?
Now-a-day to run a factory or business one needs a different type of automatic liquid filling line. However, finding the right filling line can be difficult as many options are available in the market.  There are several ways to classify an automatic liquid filling line such as:
Classification Based on Type of Fillers
There are four kinds of automatic liquid filling lines when categorized based on the type of filler present in them.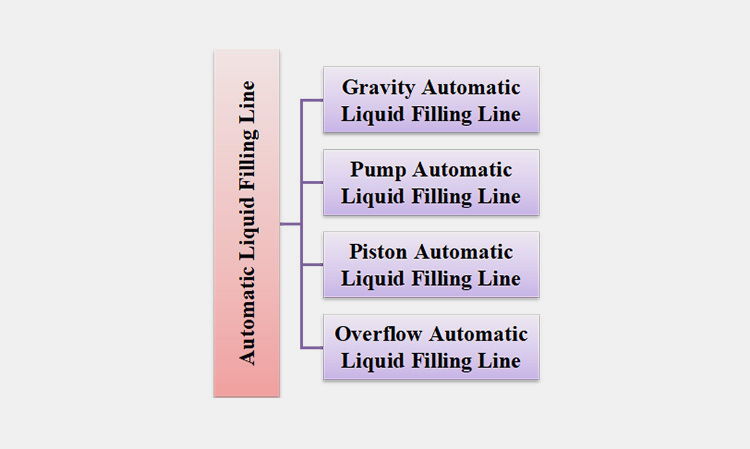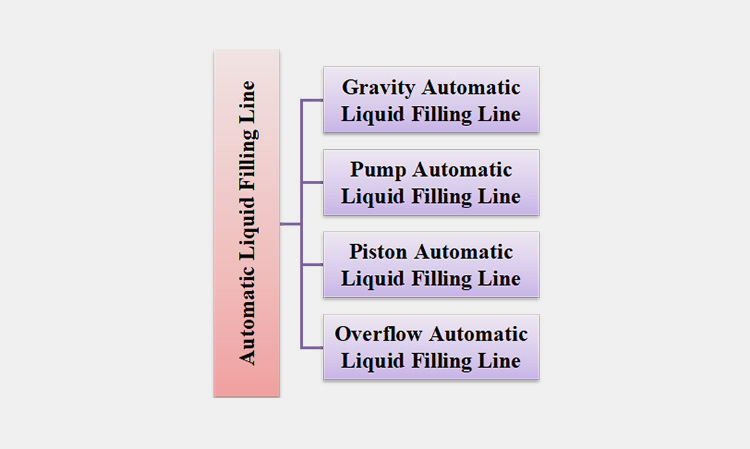 Gravity Automatic Liquid Filling Line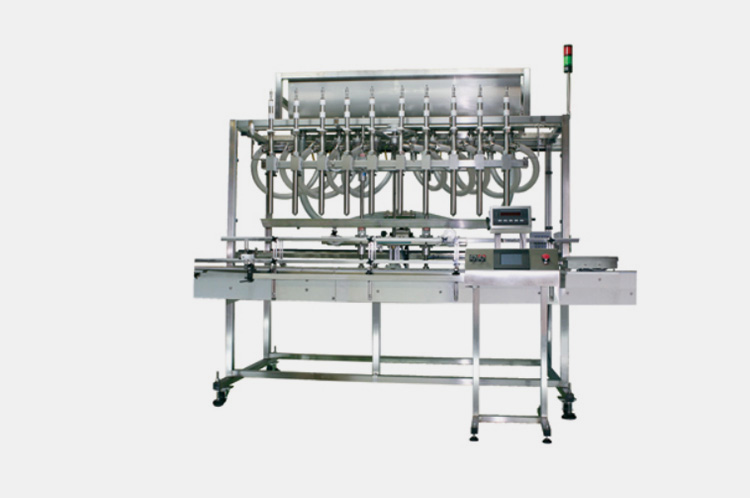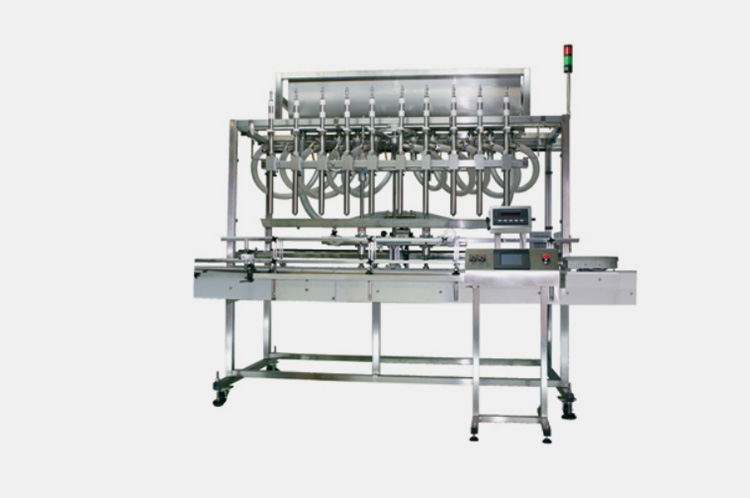 This gravity automatic filling line helps to fill accurate volume into the containers with the help of a tank above the filling head, here gravity plays a large part in completing the fill. There are valves present in the filling nozzles that can be opened and shut for a pre-set amount of time to allow products to flow from the tank into the waiting containers. As gravity plays an important role, that's why it is best suited to free-flowing products.
Pump Automatic liquid Filling  line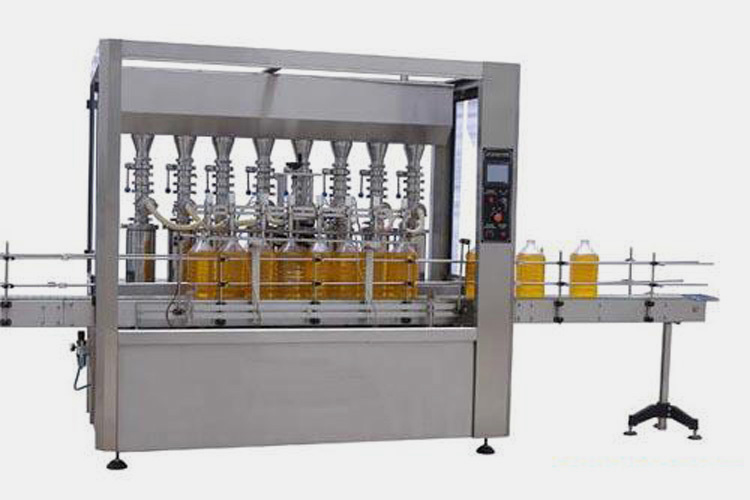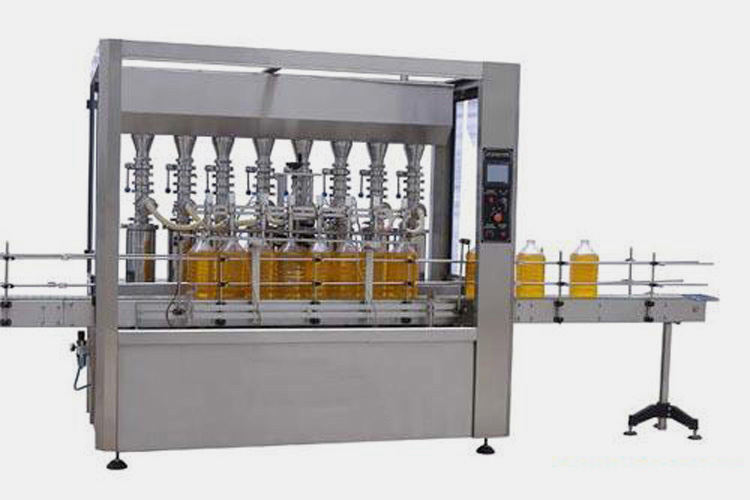 Pump automatic liquid filling line not only allows for perfect volumetric fill but also adds a little boost to the movement of the liquid. This machine uses a single pump for each fill head that moves the product through the pipes.
Different pumps can be added like gear pumps, rotor pumps, cavity pumps, and lobe pumps, among others depending on the application. This filling line helps to fill thick liquid into the container.
Piston Automatic Liquid Filling  Line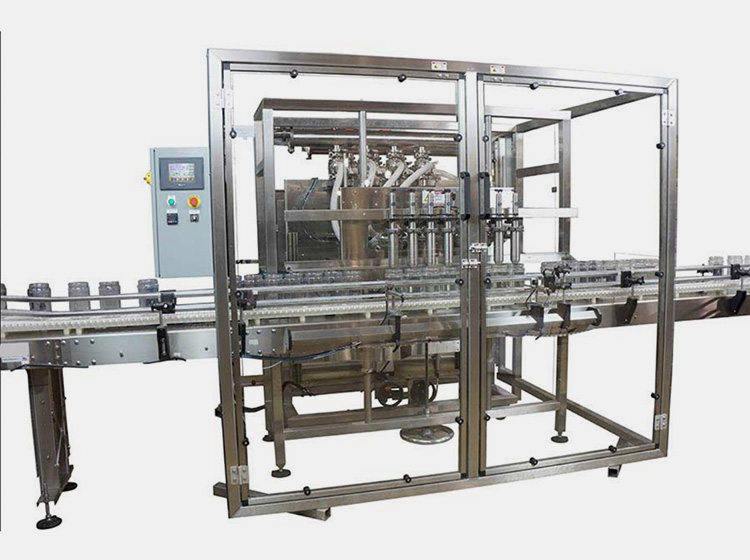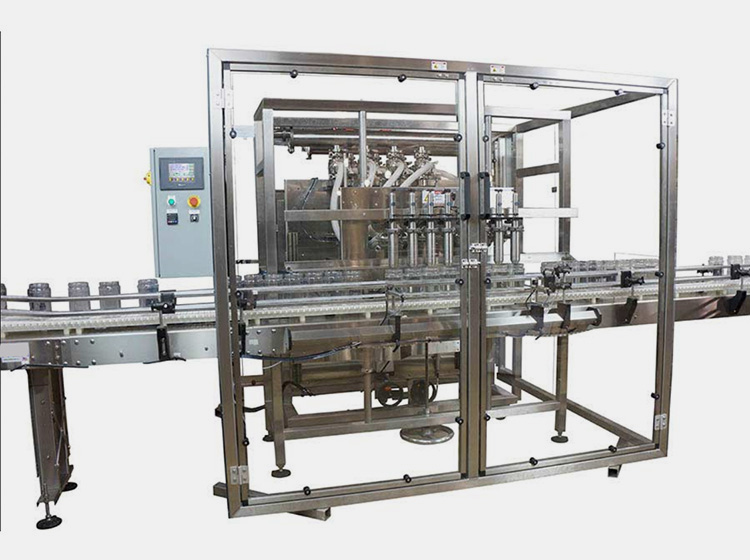 The piston automatic liquid filling line uses the opposite mechanism to fill the cylinders, liquid moves in and out of the piston cylinder. As the piston withdraws, the liquids are forced inside the cylinder. The piston returns after filling and again pushes material into another cylinder. This machine has accurate filling and is best for filling viscous products.
Overflow Automatic Liquid Filling Line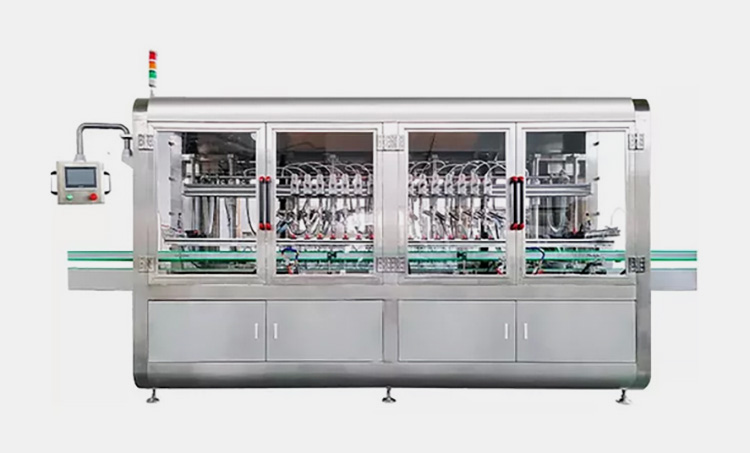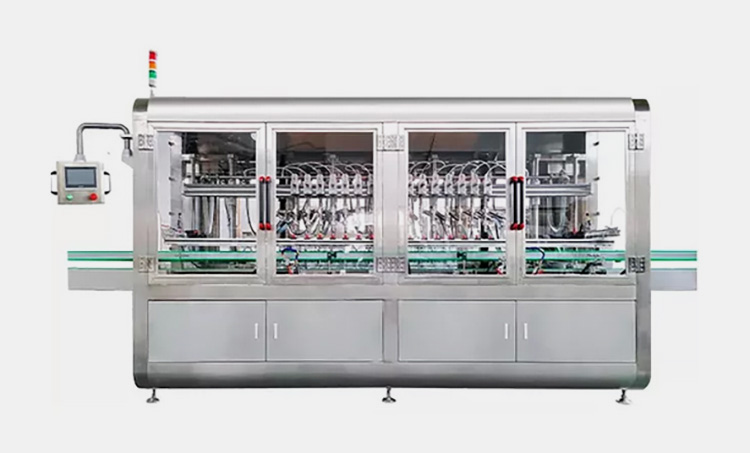 This automatic liquid filling line is not filling a specific volume but fills the container up to a certain level. The product flows inside the container until it reaches the desired level. The extra liquid is then returned to the tank via an overflow nozzle. This automatic liquid filling line is ideal for liquids in a transparent container where a product line on the shelf is obvious.
Classification Based on Design Configuration
There are two kinds of automatic liquid filling lines when classified on design configuration.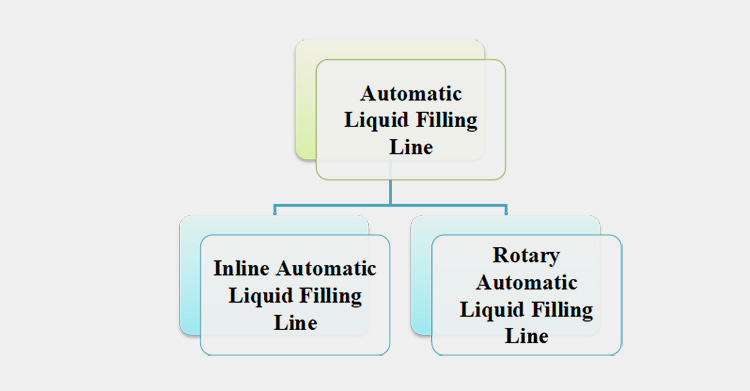 Inline Automatic liquid Filling line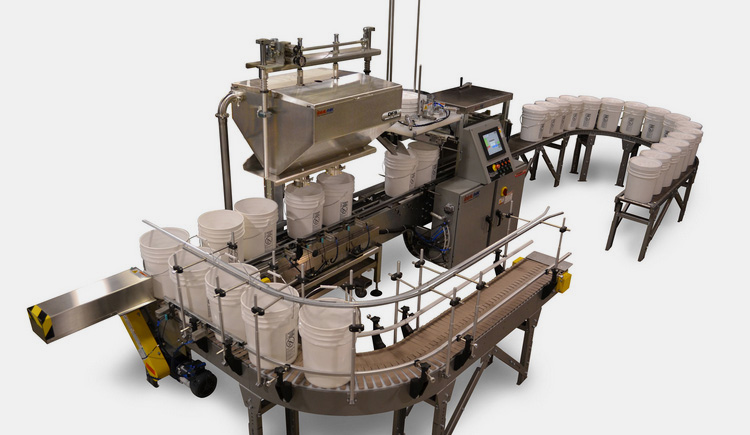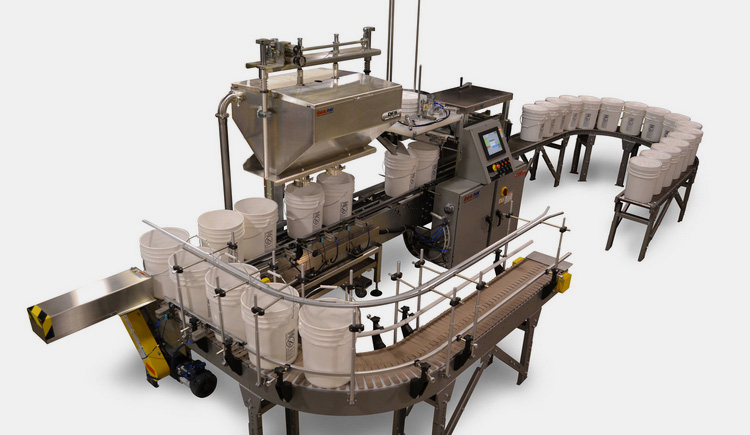 The inline automatic liquid filling line is designed in a straight-line or U shape or Z shape configuration. This machine dispenses liquid by moving a container in a line. This machine has low production capacity because the filling process stops while the container filling.
Rotary Automatic liquid Filling line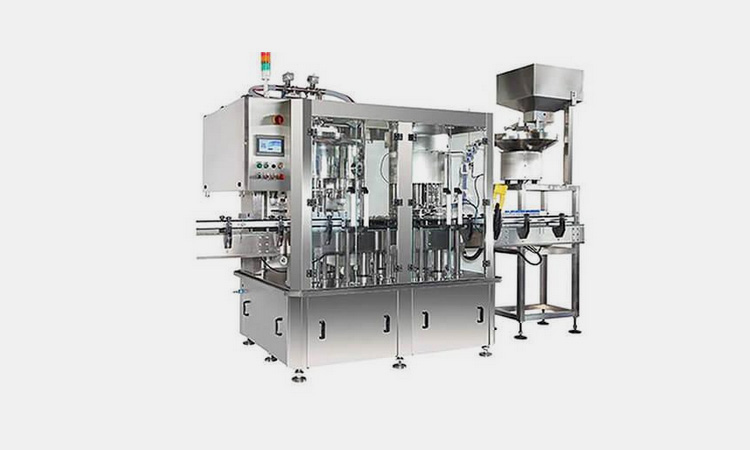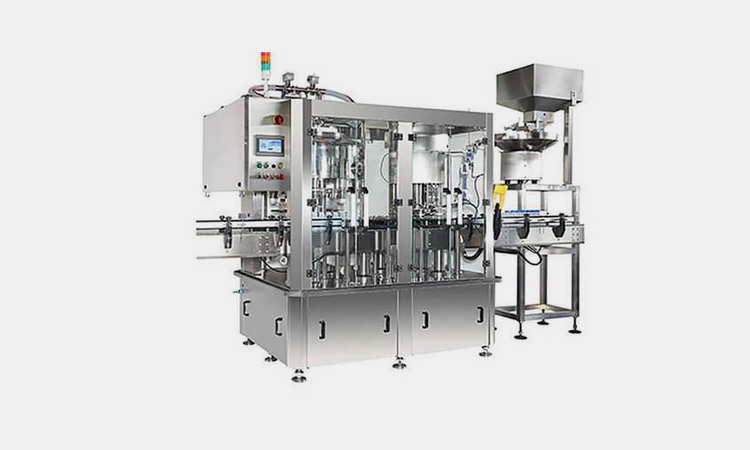 The rotary automatic liquid filling line consists of a rotating table with multiple stations or filling heads positioned around its circumference. Empty containers that need to be filled are placed on the rotary table and are guided through the filling process.
It has a rotary star wheel in which various filling heads as well as capping and labelling heads are present. It has more production capacity than that of an inline automatic liquid filling line because filling is continuous in this machine without stopping while filling takes place.
Classification Based on Filling Material
On the based of filling material automatic liquid filling line is classified into the following: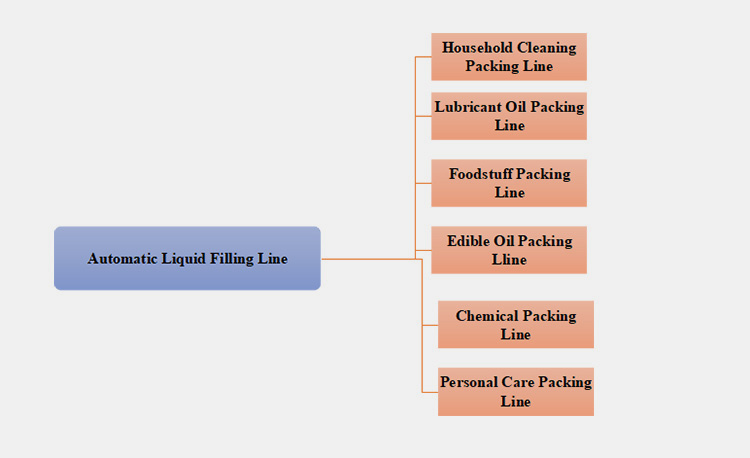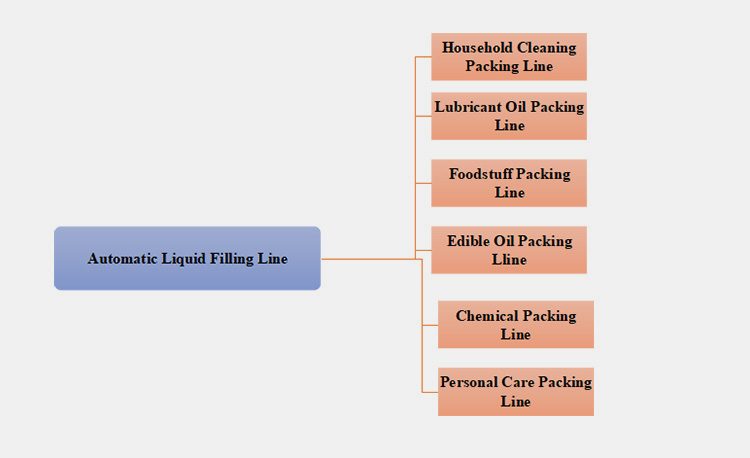 Household Cleaning Packing Line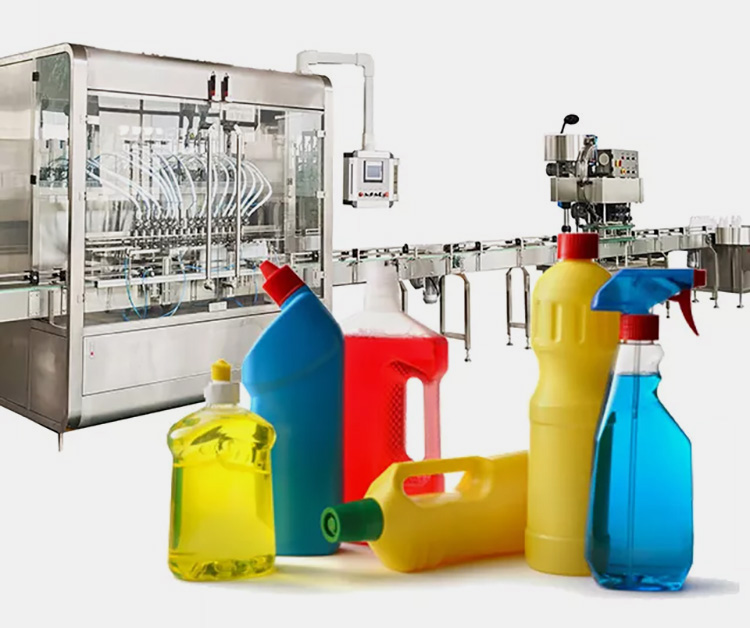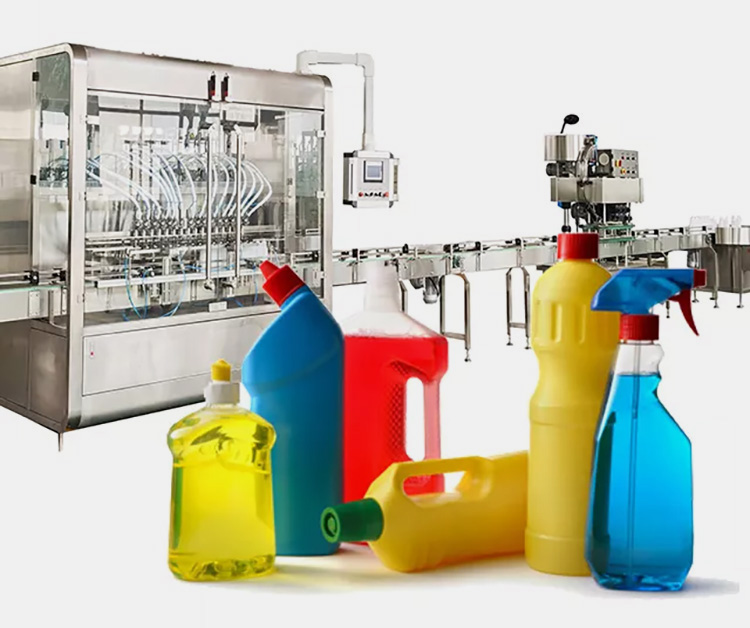 This automatic liquid filling line is used to deal with household cleaning products like disinfectants, soap, and liquid detergents in various containers.
Lubricant Oil Packing Line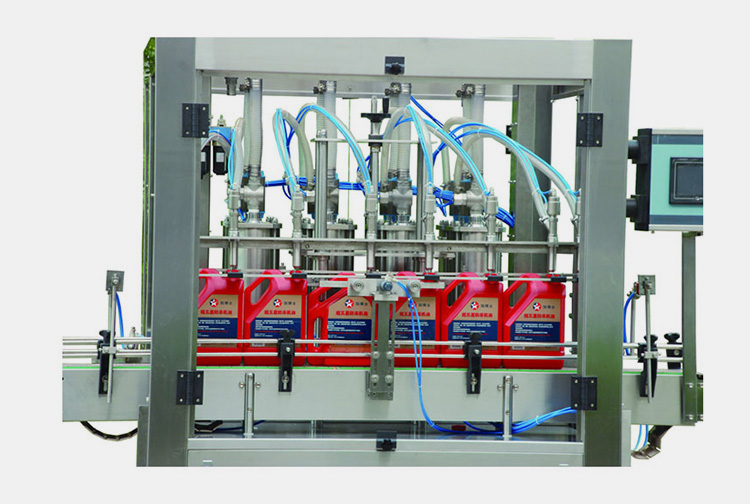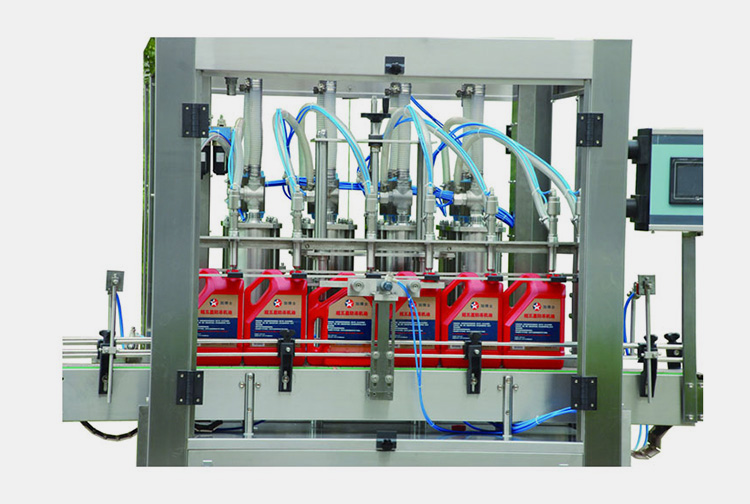 The lubricant oil fillers are specially designed to fill oily, greasy, low or high-viscosity products effectively.  For example, lubricant oil, motor oil, engine oil, etc.,
Foodstuff Packing Line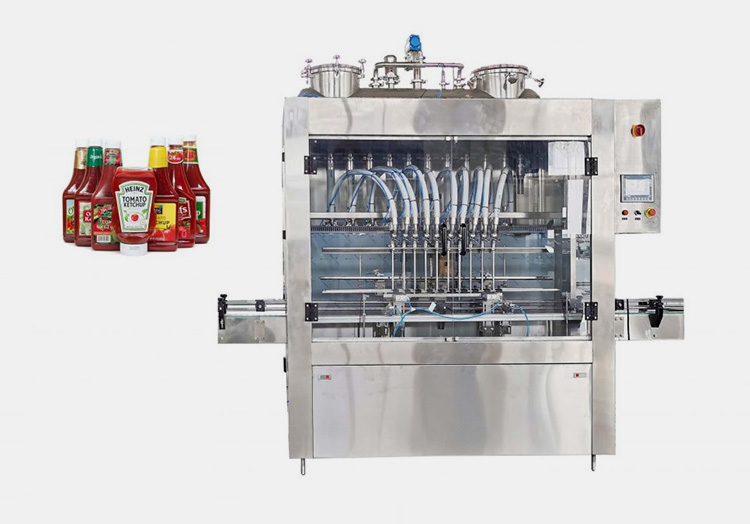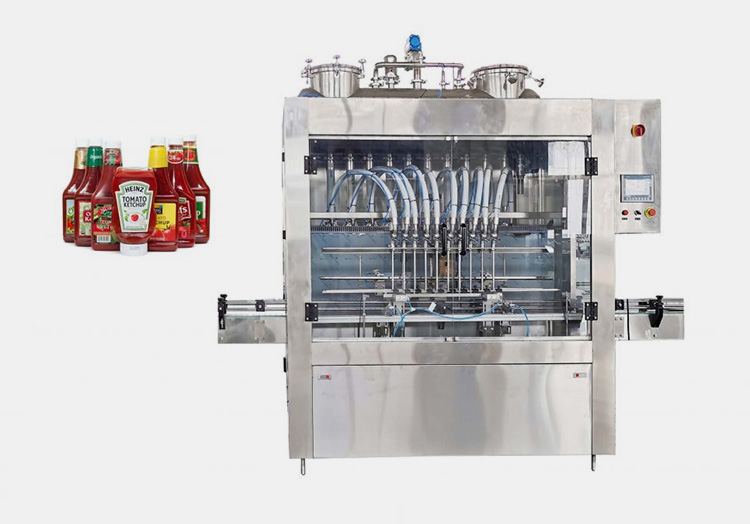 The food industry mainly use automatic liquid filling line for packing food products either in cans, jars, bottles, gallons, etc., such as ketchup, frozen products like purees, pulses, etc.,
Edible Oil Packing Line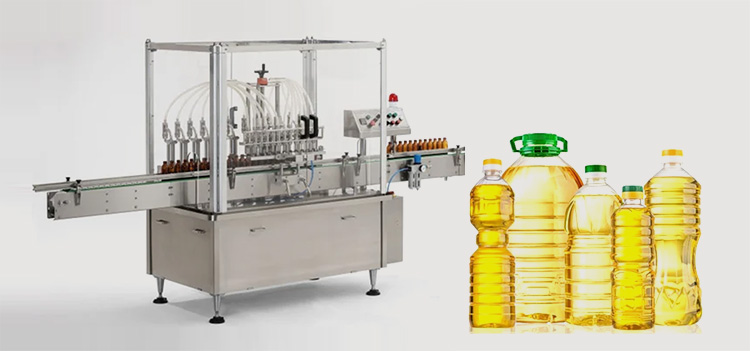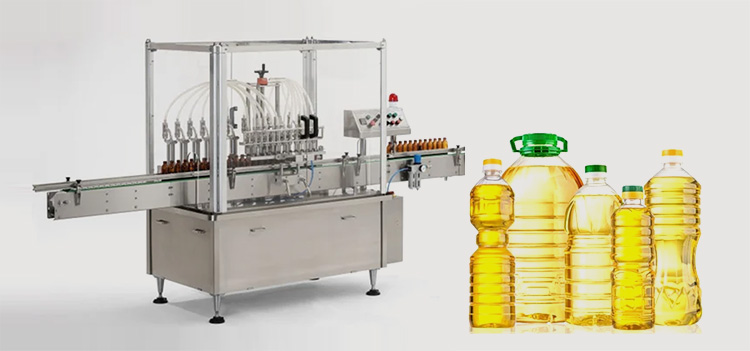 The automatic liquid filling line for edible oil packing is another important classification used for filling edible oil safely into assigned bottles, or cans. For example, cooking oil, therapeutic oil, aromatic oil etc.,
Chemical Packing Line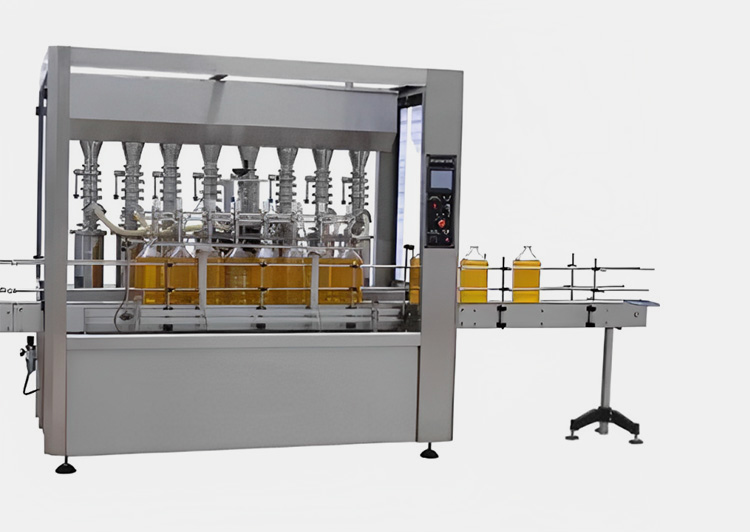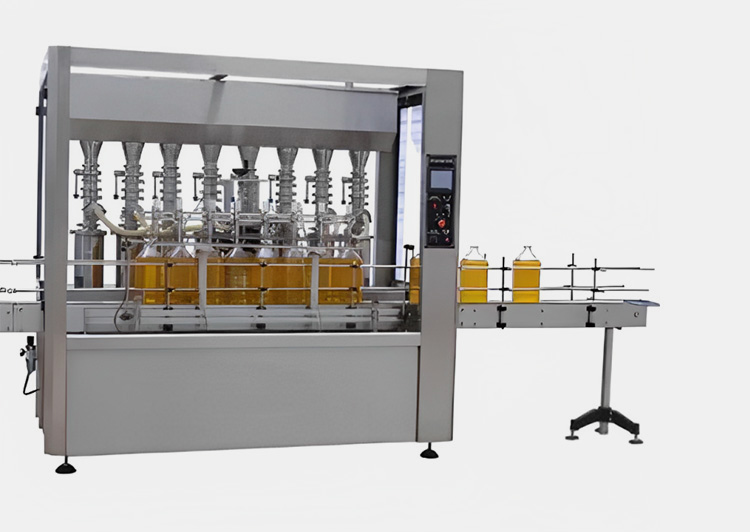 For the chemical filling, an anti-corrosive and highly safe automatic liquid filling line is used that is not only user-friendly but environmentally friendly too. The following filling line is used to treat products like bleaches, acids, alkaline, solutions in either moderate or large cans.
Personal Care Packing Line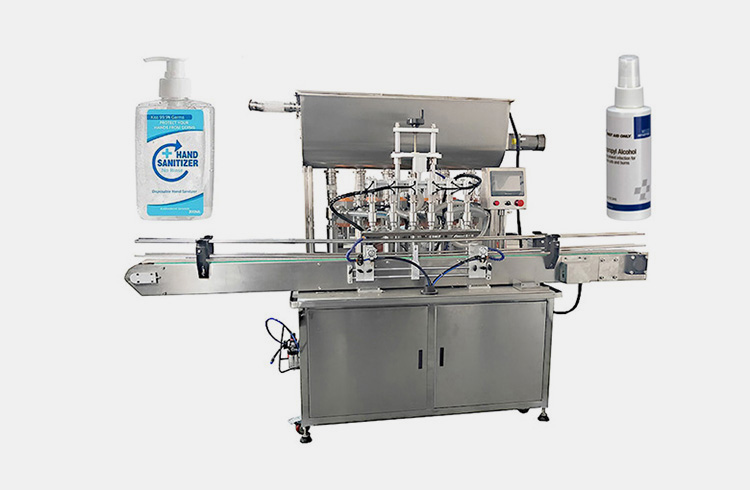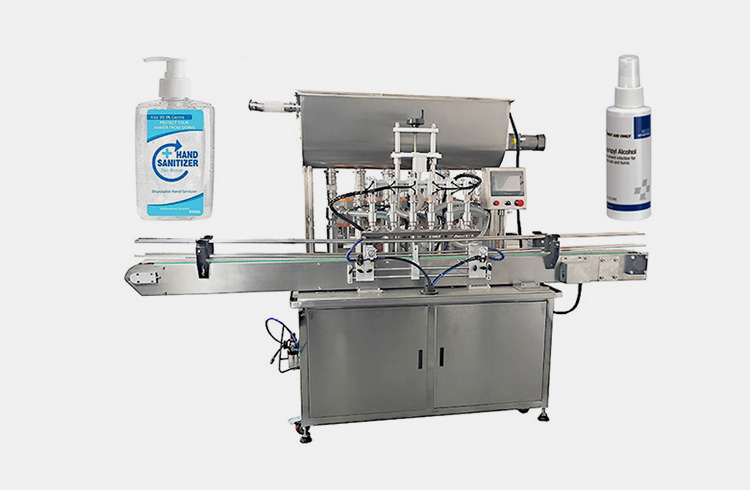 The personal care packing line is designed for flexible filling of liquid products like shampoo, handwash, body wash, and mouthwashes into packing material.
5.What Is Safety Device Of Automatic Liquid Filling Line?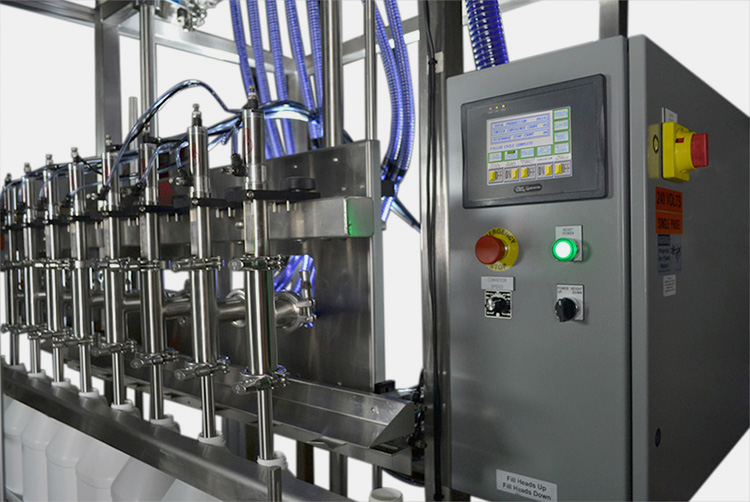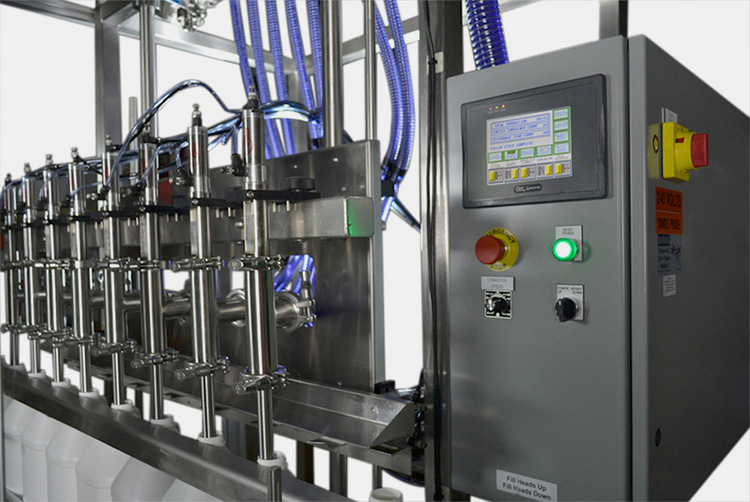 Automatic liquid filling line processes several kinds of liquid products. Some of which require specialized handling measures such as 'explosion-proof device'.
This is required as the automatic liquid filling line handling processing of hazardous chemicals, ignitable liquids, and petroleum.
An explosion proof device such as intrinsically safe input-output components like sensors as well as different alarm systems. The device also includes reinforced wiring, explosion proof electric cabinets, anti-static conveyor systems, and motors as well as 100% explosion proof stainless-steel design.
The purpose of these explosion proof device is that they can withstand explosion while processing liquids that generate explosive gas or vapors. These gases have chances of ignition when catalyzed with sparks or flashes. Also, automatic liquid filling line comes with anti-static devices and high-quality ventilation systems that have little chances of sparking and release fumes and vapors in the atmosphere to eliminate detonation of such materials.
6.What are Unique Products Filled in Automatic Liquid Filling Line?
An automatic liquid filling line is the best solution for filling unique products because it can be customized in several ways depending on the nature of the products.
Some unique products dispensed by automatic liquid filling lines are detailed below for your information:
Liquid Materials with Particulates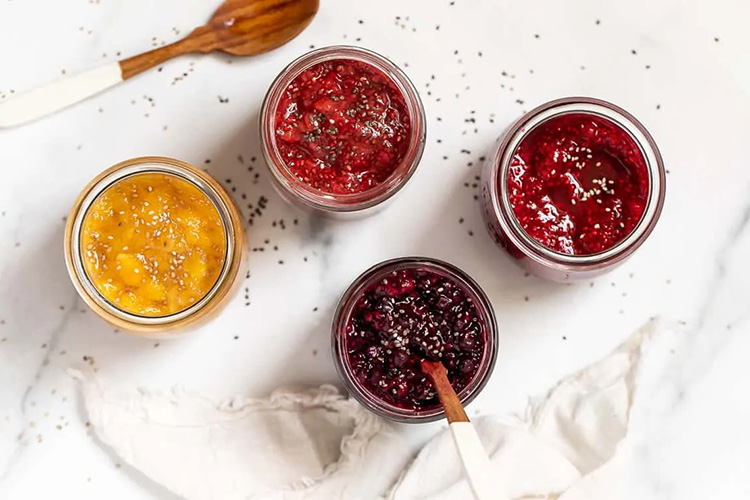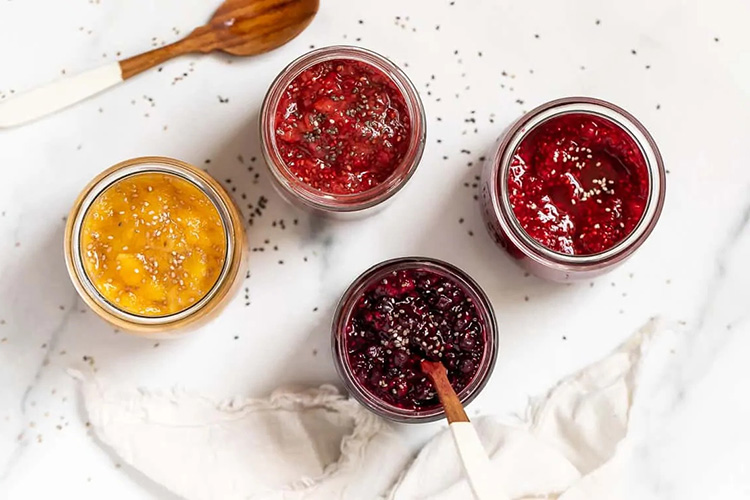 These products have tiny chucks that cause issues in the product passageway therefore, the piston liquid filling machine with a wide-diameter cylinder is employed for filling jams, jellies, sauces, dressings, soaps, etc.
Molten Products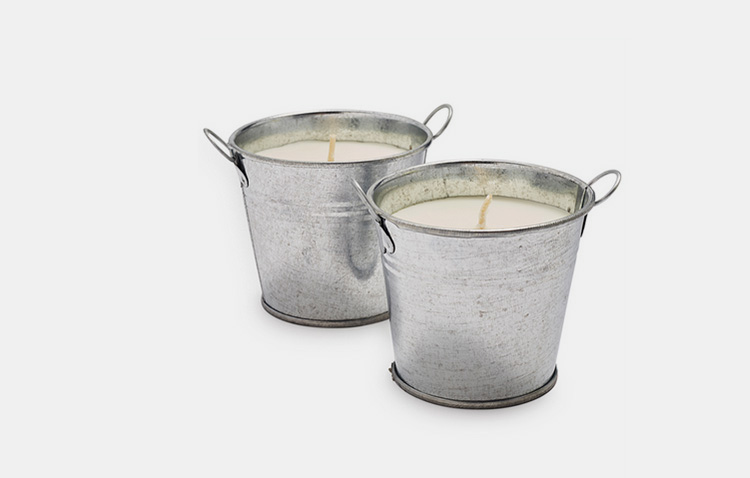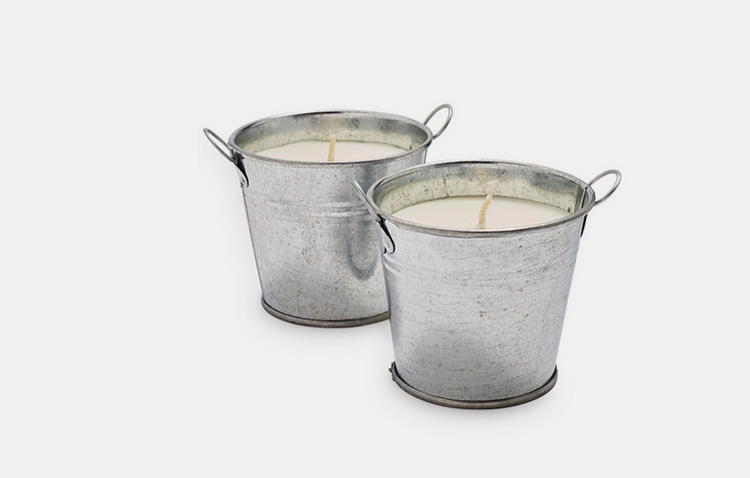 These are the materials that solidify at room temperature but also, melt at the high temperature. Consequently, these products are loaded inside the bulk-capacity container by the automatic liquid filling line as the hot liquid. After the filling process is complete, these products are set upon cooling. They include candles, crayons, deodorants, and lip balms.
Corrosion Resistant Feed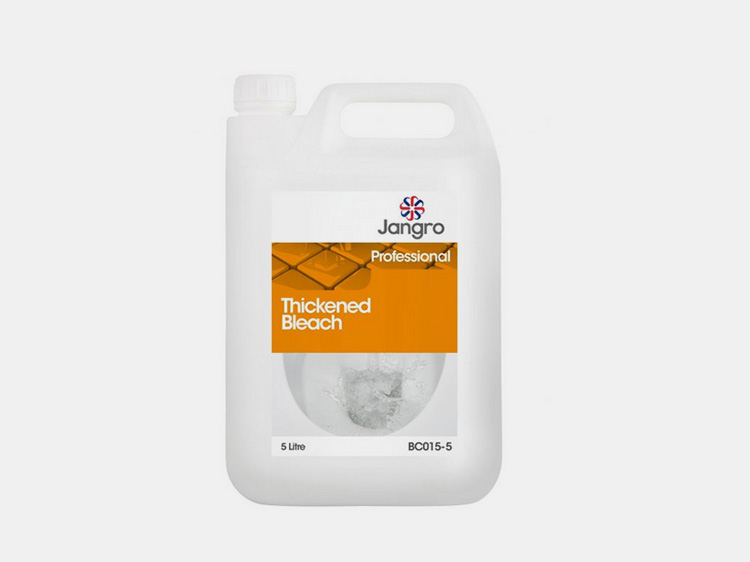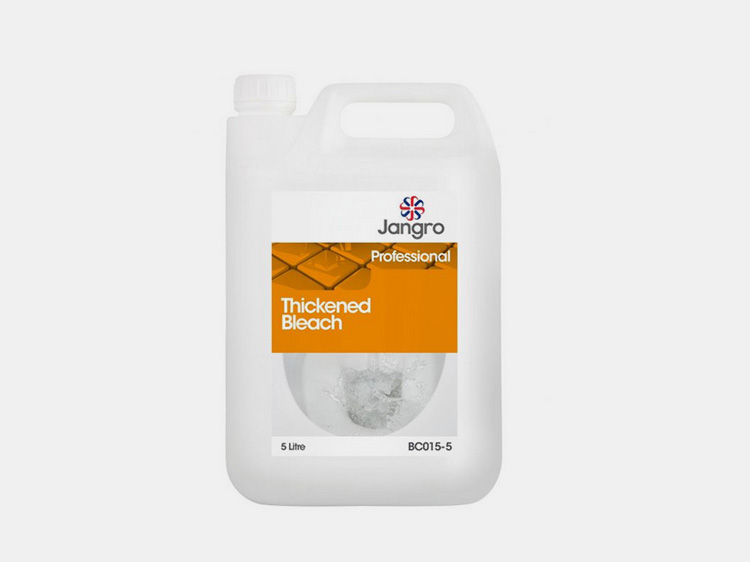 Certain acids, alkalis, and bleaches are harsh chemicals that interact with stainless steel tubing and result in its corrosion. These products are also filled using an automatic liquid filling line by replacing stainless-steel tubing and nozzles with plastic such as HDPE (high-density polyethylene).
7.What are the Machines Present in Automatic Liquid Filling Line?
Different high-tech and cutting-edge machines are integrated into the automatic liquid filling line. They work together to accomplish secure packaging of different liquid products.
All these machines are discussed one by one for your knowledge: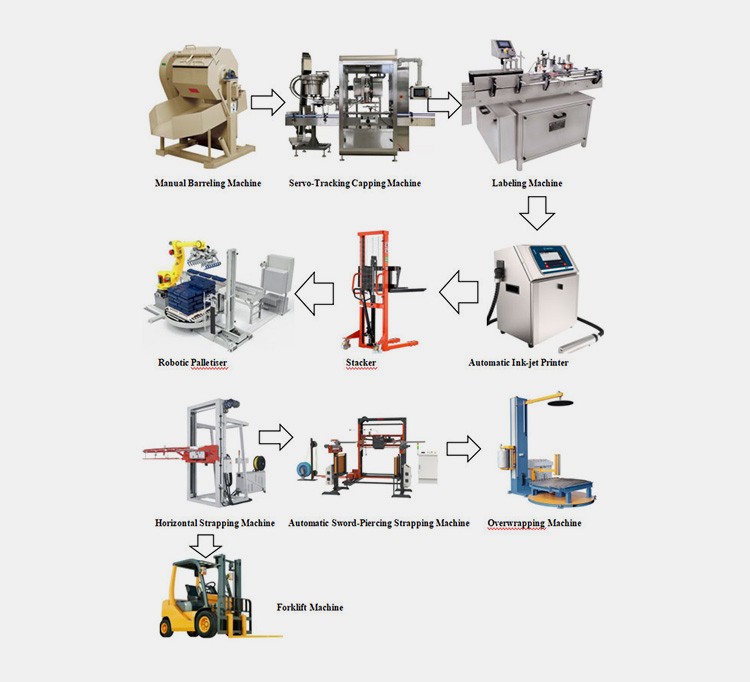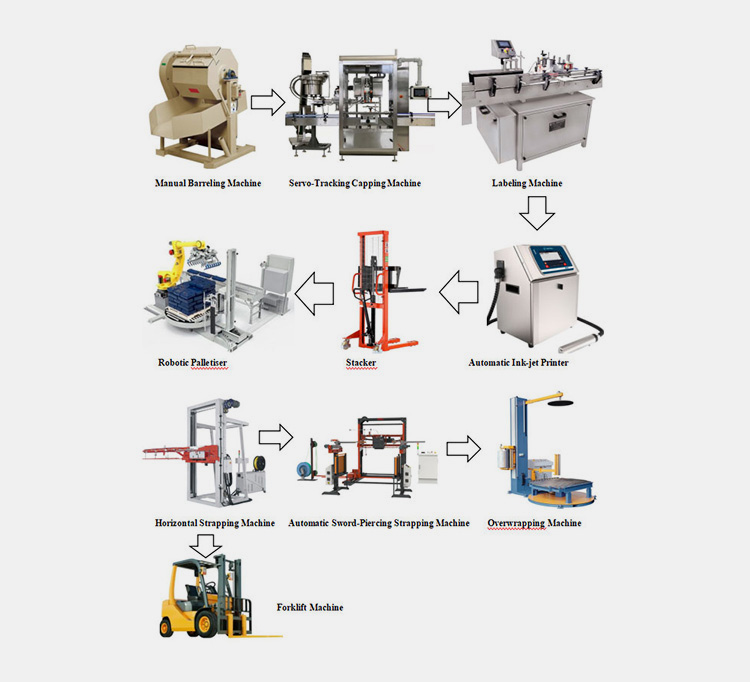 Manual Barreling Machine
It has a tumbler or drum-like component in which containers are loaded for their cleaning and polishing. This machine also assists in removing scratches and dents from the surface of reused containers.
Servo-Tracking Capping Machine
This machine secures the inner contents of the containers by capping or lidding them. Different kinds of caps such as ROPP, screws, and metallic lids are fixed at the opening of large-volume containers with a servo-tracking capping machine. As the name indicates, this machine has a servo motor system for regulating the motion of a capping device.
Labelling Machine
After the servo-tracking capping machine, next in sequence is the labeling machine. It sticks or attaches the film roll labels or stickers on the body of the liquid-filled containers. This labeling improves the product's shelf appeal and aids in product remembering.
Automatic Inkjet Printer
As the name suggests, this high-definition and superior-quality printing device prints important information such as bar code, manufacturer name, address, and product information. This machine is designed to handle high-capacity uninterpreted printing and has a higher resolution to handle small meticulous labels.
Stacker
Since it is quite difficult to carry heavier loads manually, a stacker machine is used for lifting and piling bulk-capacity containers. It is a hydraulic lift or an electric carrying machine that carries the containers and stacks them one over another.
Robotic Palletiser
For fast and efficient stacking of large-volume containers such as drums, IBCs, and buckets, robotic palletisers are utilized. It is a robotic arm that lifts the containers and piles them on the wooden pallet for secure packaging. This pallet supports and protects the containers.
Horizontal Strapping Machine
After palletising, a horizontal strapping machine ties the container pallets from the sides. Moreover, it compresses and squeezes the pallets before strapping them with heavy-duty PET or steel cables or tapes. It ensures the pallet shipment reaches the destination in one piece and averts the chances of containers fleeing from pallets.
Automatic Sword-Piercing Strapping Machine
This machine straps the pallets vertically via a blade-like component that goes through the pallet's bottom and ties it close to the surface. This strapping completely secures the pallets as well as stabilizes them.  Moreover, it keeps the container in place while transportation.
Automatic Wrapping Machine
This equipment fully encloses the pallet inside a stretch film. It is equipped with a robotic arm or turntable that wraps the film around the pallet and prevents the risk of mechanical damage to pallets during shipment.
Forklift Machine
It is the lifter machine that carries the completely packed pallets from the packaging area to the final shipment area for storage.
8.How to Determine the Best Type of Fill for Your Liquid Products in Automatic Liquid Filling Line?
Are you planning to launch a new product in the market or are you reevaluating your fill? It is best to choose the right type of fill for your liquid product in an automatic liquid filling line.
There are three ways to fill liquid materials such as:
Fill By Level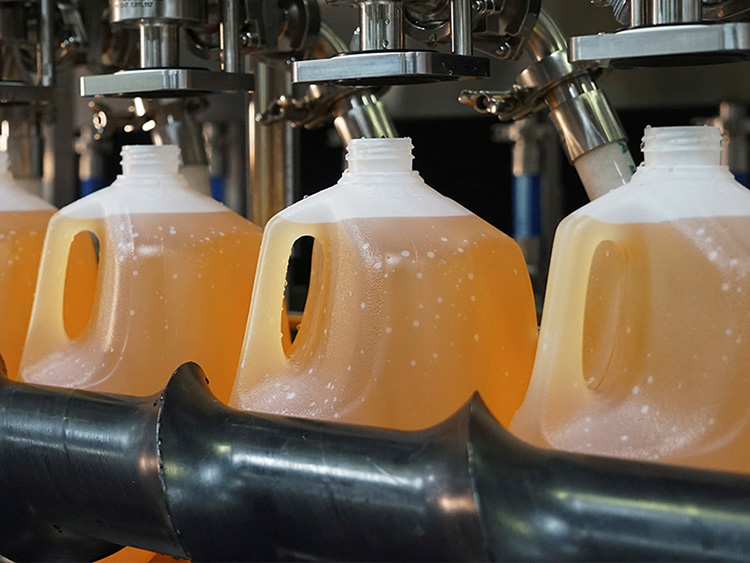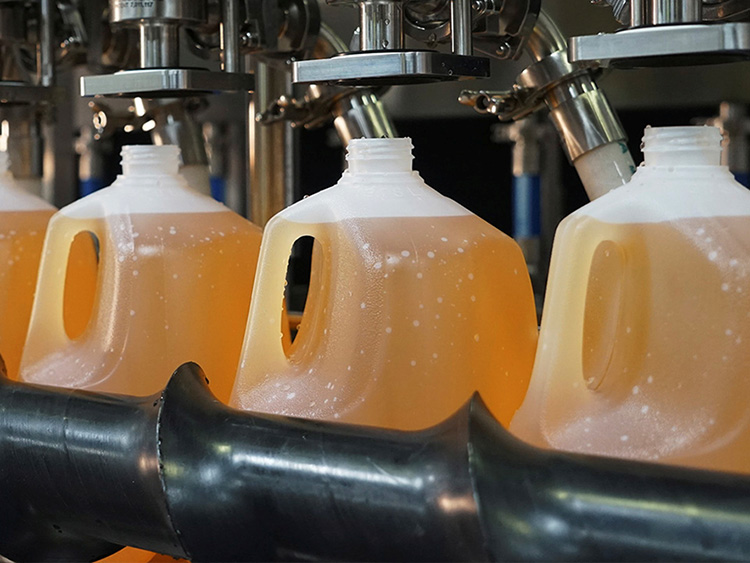 In this fill type, an automatic liquid filling line loads liquid products in containers up to a specific level irrespective of weight and volume of materials. This is usually done to improve the visual appeal of the container so that it seems that every product container holds the same quantity of liquid.
Filling by level is employed for filling beverages, beer, and cosmetic liquids in clear containers. These products appear uniform on the display shelf and there is no visual difference in the level of products.
Fill By Weight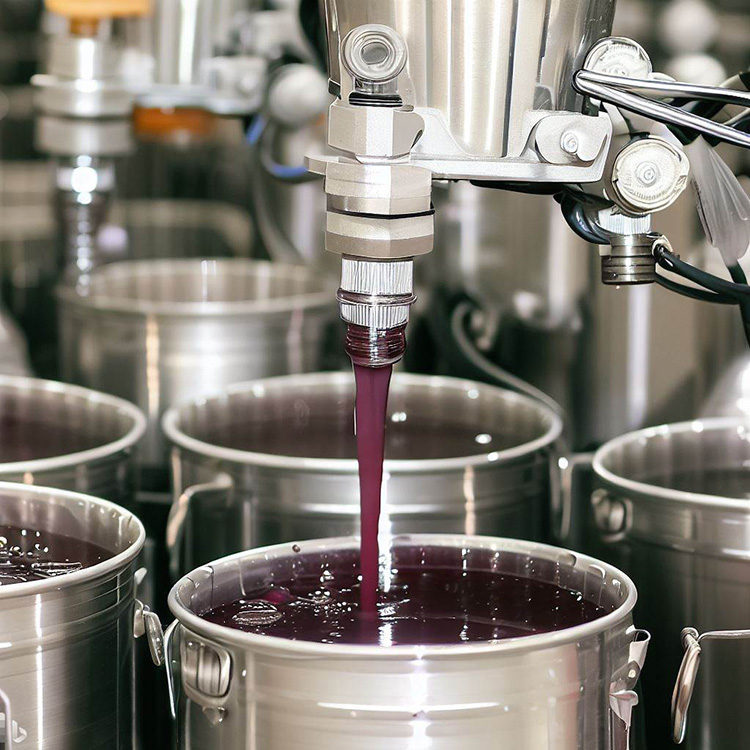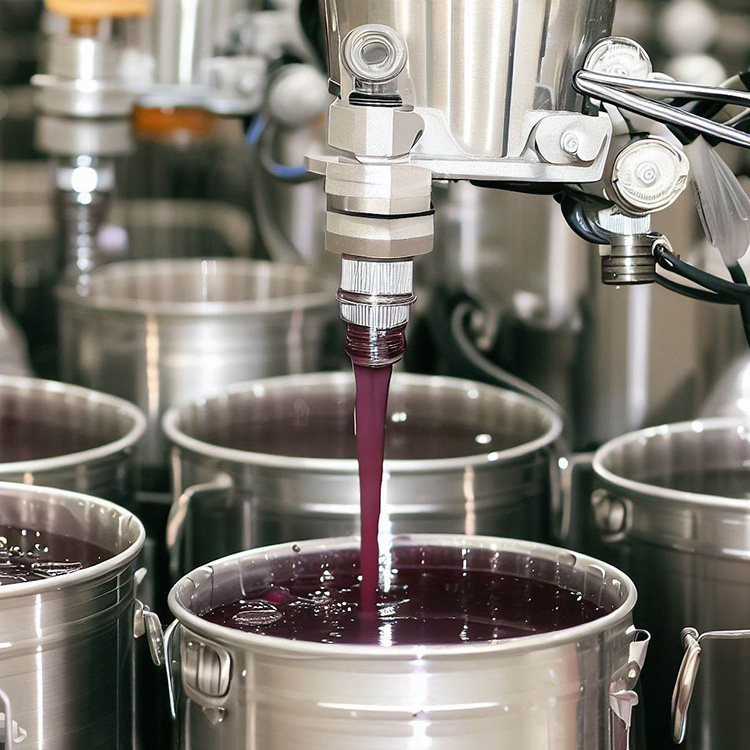 Automatic liquid filling line dispenses weighed quantity of liquid materials if they are filled by weight. When this approach is used, there are slight differences in the level of the filled container, but, they have the same quantity of product. This filling method is used for dispensing food products such as jams, jellies, sauces, etc.
Precision in the weight of these products is more important than the fill line of containers.
Fill By Volume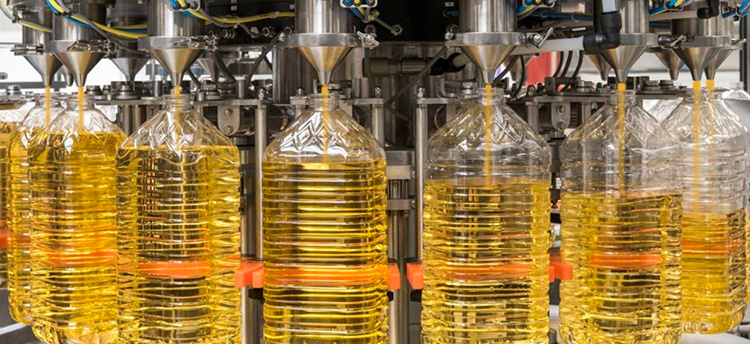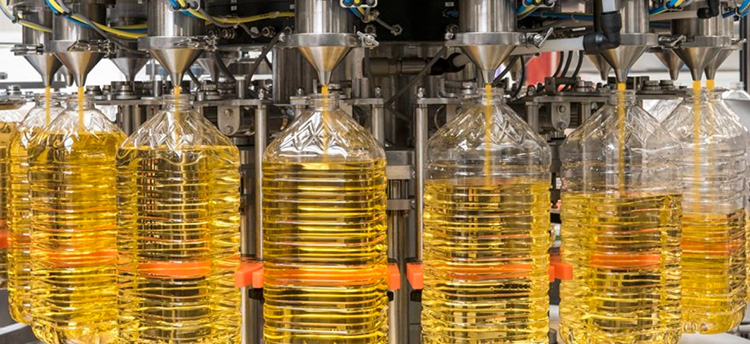 This is a widely employed filling approach in an automatic liquid filling line. In this case, a set volume of fluid liquid product is dispensed inside bulk-capacity containers. When products are filled by volume, they occupy the same space, however, there are some small differences from container to container.
This method is commonly employed for filling glass and plastic containers with chemicals, pharmaceuticals, oils, water, etc.
9.Why Maintenance of Automatic Liquid Filling Line is Essential?
Regular maintenance goes a long way in upholding the productivity of a well-functioning automatic liquid filling line. If any part becomes faulty due to the non-adherence to proper maintenance schedule, then you would encounter severe packaging delays causing a loss of profits.
There are various benefits of maintaining your automatic liquid filling line including:
Economizing Benefits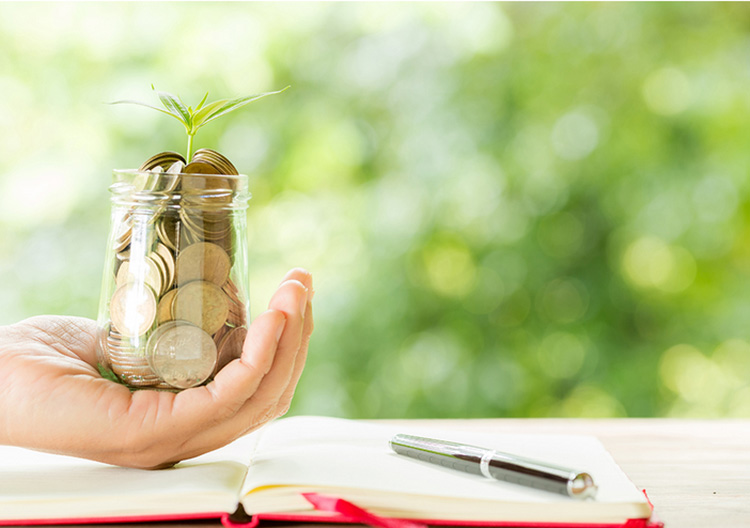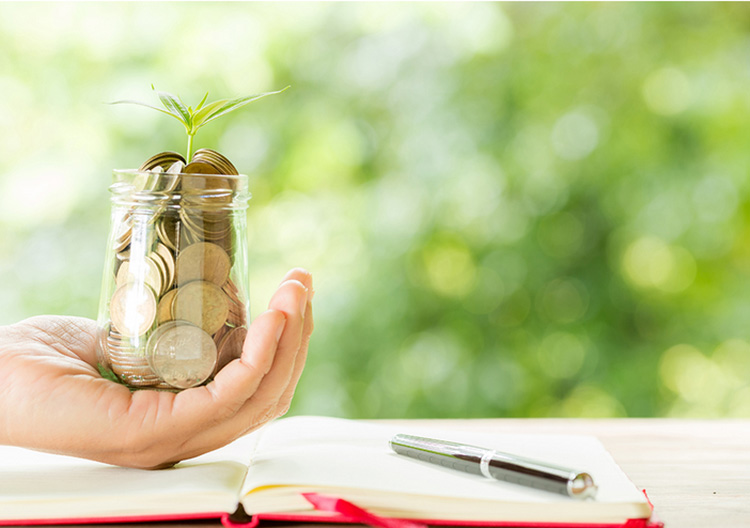 Downtimes usually happen without any warning and result in unforeseen consequences, ranging from low productivity to high repair expenses. Missing shipment deadlines lead to dissatisfied customers which in turn increases expenses. Therefore, doing daily preemptive maintenance assists in preventing these consequences and helps in saving repair expenses in the longer run.
Boosting Filling Efficiency
In addition to saving expenses, routine preventive maintenance of an automatic liquid filling line also reduces part failure which in turn boosts efficiency. Due to regular maintenance, components work at their full capacity and also load the liquids in a much shorter time.
Improved Safety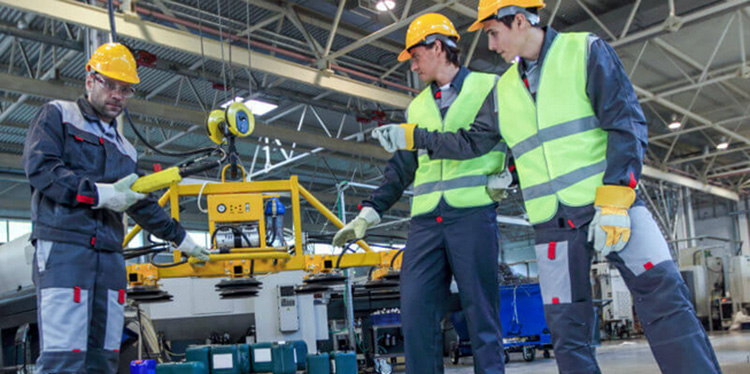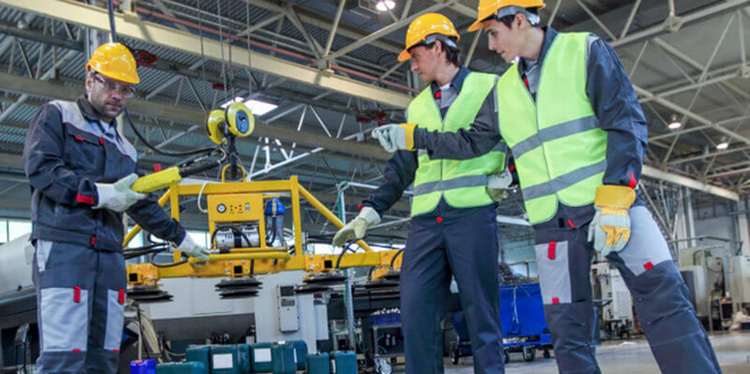 Working personnel inspect electrical, mechanical, and safety system daily and can foresee hazardous situations well before time. In this way, maintenance of automatic liquid filling line help to improve the safety of the production plant and prevents the risk of work-related injuries or other accidents.
Maintaining Spare Part Inventory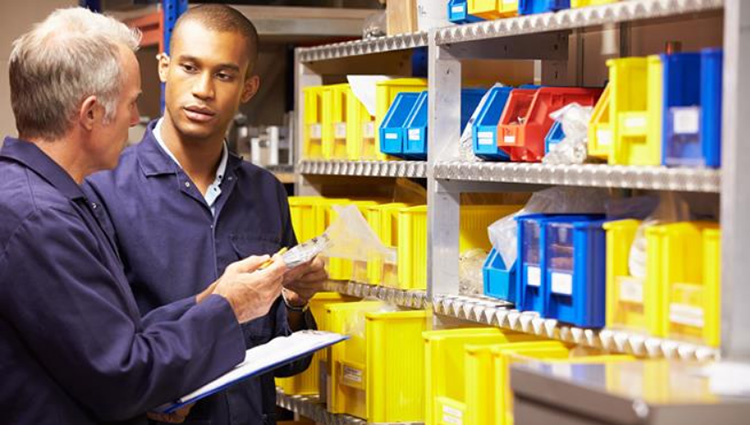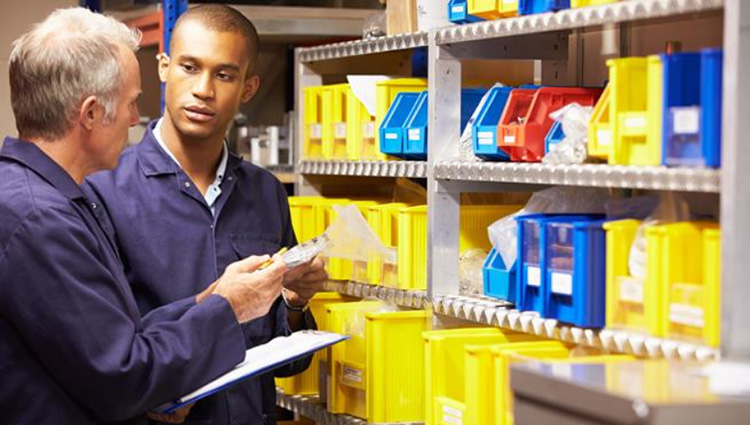 Last but not least, by keeping a routine maintenance schedule, you can estimate how much longer old components last and you can order spare parts before their breakdown. This saves the hustle and lengthy wait for shipment and also prevents production downtime.
10.What are the Basic Problems and Solutions foran Automatic Liquid Filling Line?
Technical Problem
Cause
Solution
Varying Liquid Filling

Uneven level of machine

Mis-match spacer and nozzles

Wrong programming of fill time

Blockage or dripping from the filling nozzles

Properly level the machine on the floor

Use compatible spacer and nozzle

Adjust the settings of fill time

Inspect the nozzles for product dripping and rinse them with detergent water

Nozzle and Hose Become Clogged

Dust and debris buildup

Stickiness of liquids with nozzle and hose

Clean the nozzles and hose with detergent water

Thoroughly rinse the filling unit after each batch

Dripping

Untighten or faulty ball valve

Corroded or defective O rings

Obstruction in the syringe assembly

Defective or old nozzles

Tauten or replace the ball valve

Repair or replace the O ring

Clean the syringe assembly

Replace filling nozzles

Filling System Do Not Dispense Liquids inside Containers

Valves in the nozzles are closed

Incorrect pressure of compressed air

Fuel injection cylinder drips

For the opening valves, again turn on the machine

Alter the pressure settings of compressed air

Repair the leakage in the fuel injection line

Immovable Head Dive

Interruption in a compressed air supply

Wrong setting for head dive on HMI

Pipelines that control the movement of head dive become faulty

Fix the compressed air supply line

Modify the setting of the head dive

Repair the pipelines

Leakage

Faulty O rings

Untightened filling nozzle clamps

The positioning of gaskets is incorrect

Replace O rings

Properly tightened nozzle clamps

Correct the positioning of gaskets
Conclusion
An automatic liquid filling line is an essential component of industries where liquids are processed and packed. This machine comes with several benefits and streamlines your production. With this equipment, production control is achieved by automating and speeding up filling. This helps in reducing operational costs and also bringing high profits. Quick alteration of fill setting increases precision and lowers product wastage. If you need any assistance regarding this machine, you are more than welcome to contact us.
Automatic liquid filling line Related Posts
CONTACT US
Tell us your raw material and project budget to get quotations within 24 hours.
WhatsApp:+86 18171018586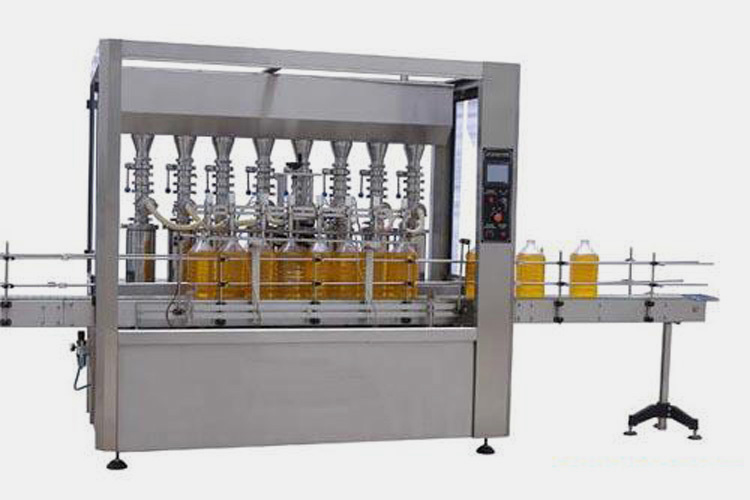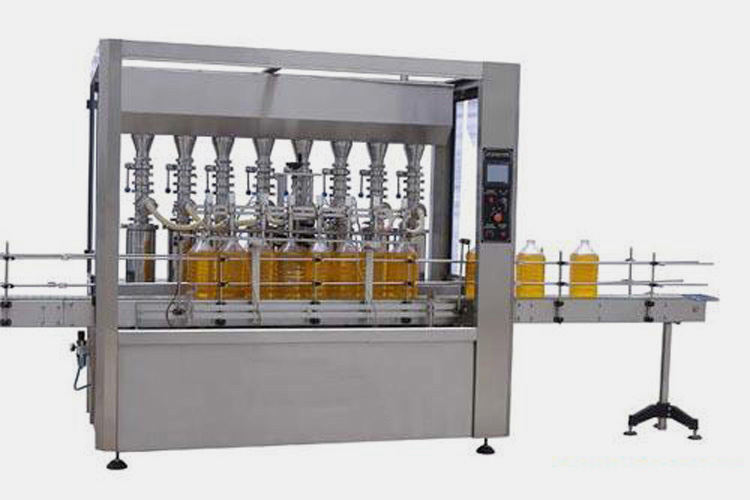 Tell us your material or budget, we'll reply you ASAP within 24 hours