Your Multifunctional Herbs Grinder Machine
Continuous Feeding
High-speed Rotating Blades
High-speed Single Phase Motor
Herbs Grinder Machine
Allpack herbs grinder machines are very portable and convenient and can be put in a small corner after use. The herbs grinder machine is user-friendly control, the machine will start to work after screwing up the lids and then turning on the switch. The machine has very powerful powers and strong blades,  the stuff can be ground into power in 1-2 minutes, whose density can reach 5–300 mesh(that is 0.297mm-1.782mm. These machines can provide high degree of fineness, they have fast speed and super high power motor. All Allpack herbs grinder machines are multipurpose and can be used in kitchens, hotels, restaurants, pharmacy units, Chinese medicine houses, research institutions, laboratories, and scientific research units of geology. With its efficient design and high-quality pharmacy built, the mail grinder will keep all the unitsvitamins and nutrition in every batch of grain. The machine is made of high-level stainless steel, complies with "GMP standards".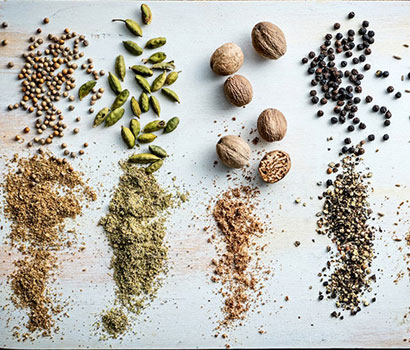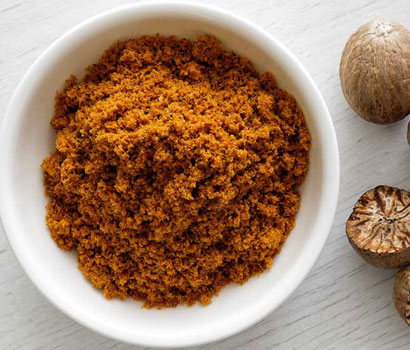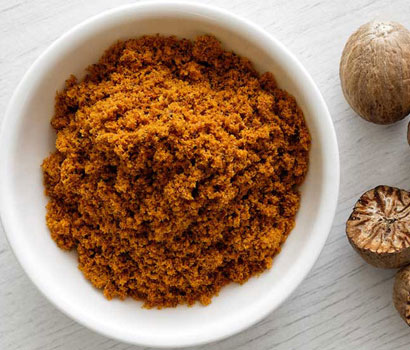 Allpack YF 103B industrial herbs grinder machine is mainly used in the medical, food, and chemical industries. There is no limit to viscosity and hardness of materials, it can almost use all materials. Especially for the traditional Chinese medical material and oily materials, such as chilli powder, turmeric powder, herb medicine powder, tobacco powder, grain powder, sugar salt powder, etc.
Simple in structure, easy to assemble and clean
Corrosion resistance
Continuous feeding, high efficiency
With a capacity of 700g and stainless steel construction, Allpack this YF-111B herbs grinder machine is superfine mill crushed level and will guarantee ultra-fast grinding. Highly efficient and power-saving, this is a commercial-use ready kitchen mill grain grinder. Use it in your restaurant, hotel, bar, or food store. The rough, potent & fine power, makes the grinder reliable for grinding wide-range different sorts of grains and materials. Small, light & compact design, very easy to clean and maintain. With its efficient design & high quality built, the mail grinder will keep all the vitamins and nutrition in every batch of grain.
Long Life (Stainless Steel Built)
Electricity Saving, Highly-Efficient
Huge Capacity
Allpack YF 114B industrial herbs grinder machine is characterized as beautifully-designed, small in size, light, highly-efficient, easy to operate.The grinder is safe as well as electricity-saving, which grinder the rough and fine power no more than a minute. Can quickly smash all kinds of dehydrated food , rice, corn, sesame, soybean, fish feed, pepper, medicine (such as ganoderma, licorice, pearl) even stone etc.
Overload protection
Crushing cover bulge design
Quick open lockpin
Allpack YF-116B herb grinder machine can mill high volumes of grain to make flour and recipes incredibly easy. The herb grinder machines uses a high-speed motor to crush all kinds of soft and hard materials quickly. The adopts high speed single phase motor as power, can quickly crushing all kinds of soft and hard materials, general medicine only half a minute can be crushed into 30-300 mesh, a piece of Tianqi crushed into 350 objective fineness only a minute, the pearl is crushed into flour only two minutes, both the uniform and non loss. 
Beautiful appearance, light weight
Simple operation, no vibration
Smooth and easy to clean
Allpack YF 118B industrial herbs grinder machine also called the powder milling machine, is the ideal complete set for grinding and can specifically handle heat-sensitive and sticky material. It features multiple general functions, tight structure, stability, low power consumption, universal use, no over-grinding, adjustable fineness of powder, easy maintenance, and more.The machine is made of high-quality Stainless Steel, complies with "GMP standard".
High power motor, stable performance
Low noise, low power consumption, fine powder, no dust
Continuous feeding, high efficiency
Allpack YF-150B herb grinder machine uses general grinding high-speed rotating blades hit to achieve dry material comminution. It consists of the crushing chamber, the crushing blade, high-speed motor. The material is directly into the crushing chamber, locking the crushing chamber cover, boot for 1-3 minutes to complete crushing. It is used for milling all kinds of dry materials like herbs, Chinese herbal medicine, spices, grains, beans, peanuts, pearls,  and even stone.
Good safety performance
No dust, low loss
Easy to clean
Allpack YF-800 automatic herbs grinder machine also names powder milling machine. Adopts top grade motor, mental fan blades, high rotating speed and high power makes the working life longer, can continue working for half an hour. It combines the functions of mini-mill pulverizer and grinder.The machine is suitable for processing and small batch production of materials in Chinese and Western medicine, food industry, chemical industry, scientific research institutions and other fields. It can also be used for medical research, cosmetics, internal medicine, surgery, ophthalmology and dermatology medicine.
Easy to operate
Safety switch
Overload protector
Allpack YF-1000 herb grinder machine has high grinding&milling fineness and high speed,driven by a motor, which ensure the fineness and speed.The pulverizing steels of the machine rotate at a high speed and pulverize materials by the impact and cutting among materials.The machine is small in size, light in weight, compact in structure – no vibration, so there is no need to fix the machine, which means that the machine can be used in any occasion.
Wide application
Easy to operate
Overload protector
Herbs Grinder Machine: The Complete Buying Guide In 2023
Herbs grinder machine is a tool used to grind herbs. They are some of the most popular means of tools used at home and by industries to grind herbs and their demand has been increasingly growing over the past few years due to a number of favorable factors it offers.
Herbs are an essential part of our dishes. Their taste, aroma and health benefits enhance our dishes to a whole new level. Thus, using a herbs grinder machine in order to incorporate these aromatic herbs in our food is an essential part of making our cuisines delicious.
So why should we buy a herbs grinder machine by paying considerable amounts of money just to grind herbs when we can do it manually. What is so special about it that it's becoming more popular day by day with a growing demand? Is it worth buying?  In order to answer these questions, one has in mind, let us take a look at the advantages of buying this machine, its features and why it is the best option out there for grinding herbs.
Add a header to begin generating the table of contents
1.What Is A Herbs Grinder Machine?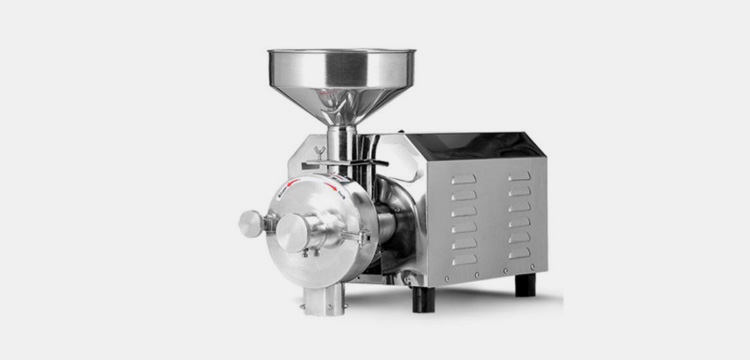 A herbs grinder machine is a machine used to grind herbs. To put it simply, these machines which are built from different components turn large, full sized ground herbs into smaller pieces or in powdered form which can then be added to our food in whichever way they like. These herbs which are taken from a plant source can be used to season food to improve its taste, texture appearance and aroma.
2.What Is the Mechanism Of Herbs Grinder Machine?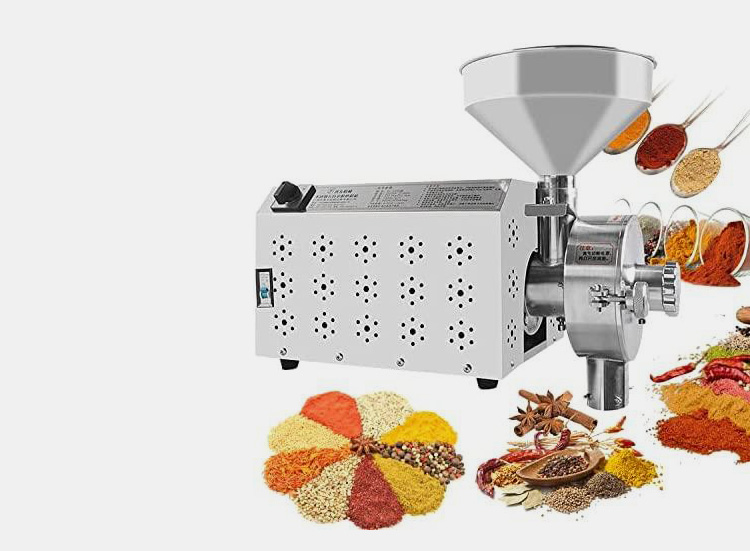 Herbs grinder machine are provided with powerful motors. They have two sides, an opening from the top and a base which consists of sharp blades. These blades are fixed in such a way that when the machine is switched on and the herbs are added in the grinder, these blades rotate in such a way that they trap the herbs between the teeth of the blade moving in the opposite direction from each other and shred them into smaller pieces. If they are grinded for a longer period of time, these herbs can also be grinded into powdered form.
The machine and the blades are usually made of stainless steel. The machine is enclosed at its opening to prevent spillage of herbs during the grinding process.
3.What Is the Purpose of Grinding Herbs?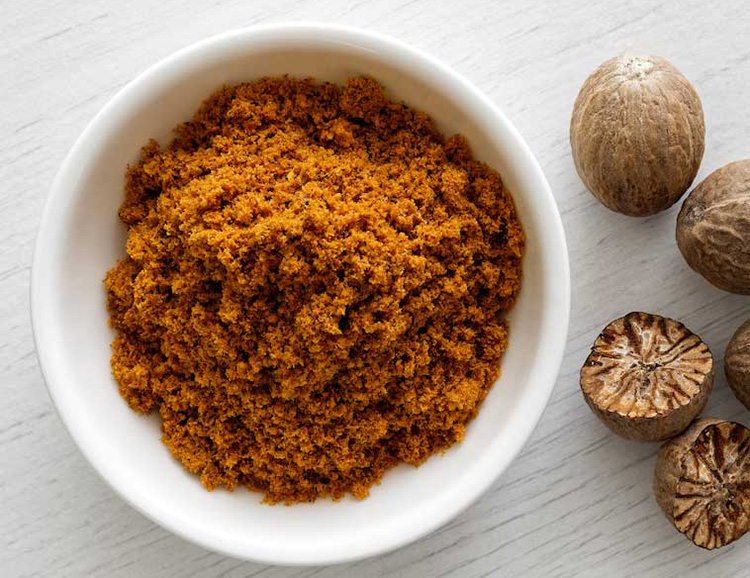 The purpose of grinding herbs is simple. The herbs are shredded in order to get flavor out of them. This happens because grinding increases the surface area of herbs, releasing their flavors and aroma. When this changed form of herbs are used for seasoning, they enhance the overall taste of the dishes and make them more appetizing.
A herbs grinder machine is in demand for grinding pharmaceutical solids to reduce their size and surface area. This is required to accelerate the rate of dissolution and ensure a homogenous mixture needed to improve biological effects.
4.Components Of Herbs Grinder Machines
Different types of herb grinding machines consist of different components.
Hand Grinders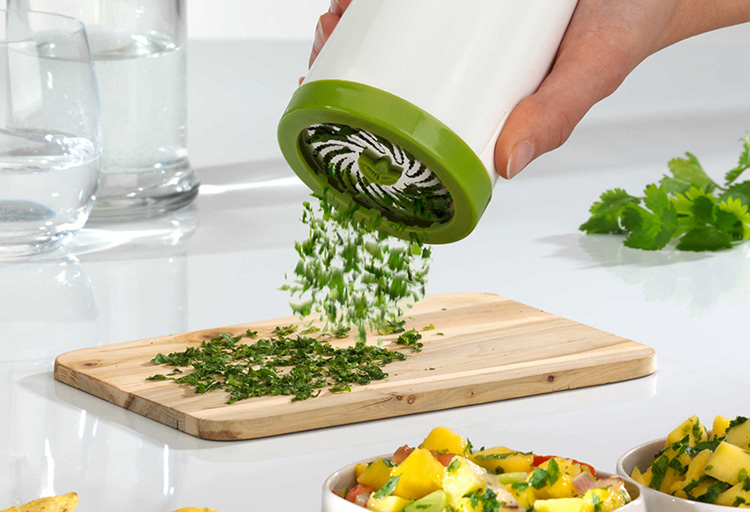 Cylindrical Body
This is the main body of the hand grinder which is either made from metal or plastic.
Teeth In Plates
This is the main component of a hand grinder. When these teeth are made to rotate, they crush the herbs inside into fine particles.
Electric Grinders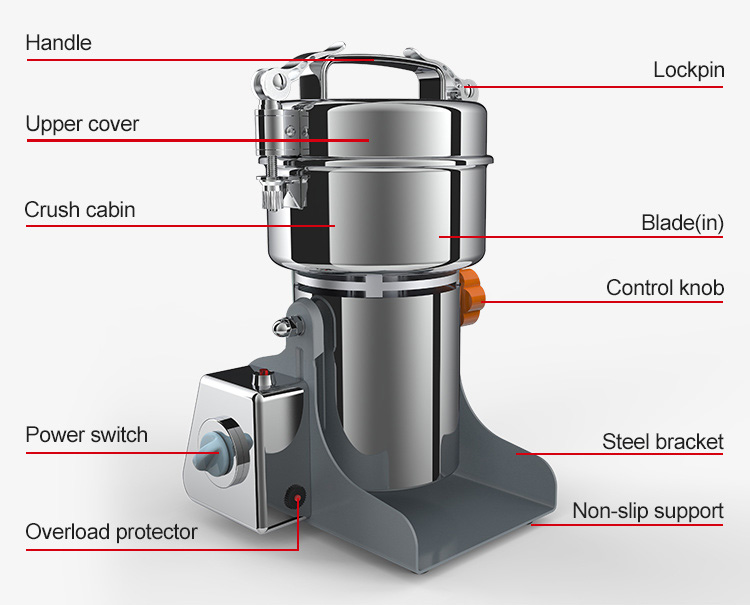 Crush cabin
This is the body of the electric grinder in which the herbs are added in and crushed. It is usually made of metal.
Upper cover
Upper cover is situated at the top of the crush grinder and acts as a lid. It enclosed the crush cabin and prevented the spillage of the contents inside.
Handle and lock pin
Handle is used to hold the lid and the lock pin is used to lock the upper cover to avoid its opening when the grinder is being used.
Blades
The blades inside the crush cabin rotate and crush the herbs into smaller pieces. They are generally made from stainless steel.
Power switch
Power switch is a button which is made from plastic. It turns the grinder on.
Overload Protector
Such switches are helpful to protect the machine from overheating and shutting down if short circuits.
Control Knob
A rotational knob facilitates a manual adjustment of mechanical as well as electrical control by feeding desired protocol.
5.What Are The Types Of Herbs Grinder Machines?
There are a number of different types of herbs grinder machines available in the market which have their own unique characteristics and advantages.
Hand Grinders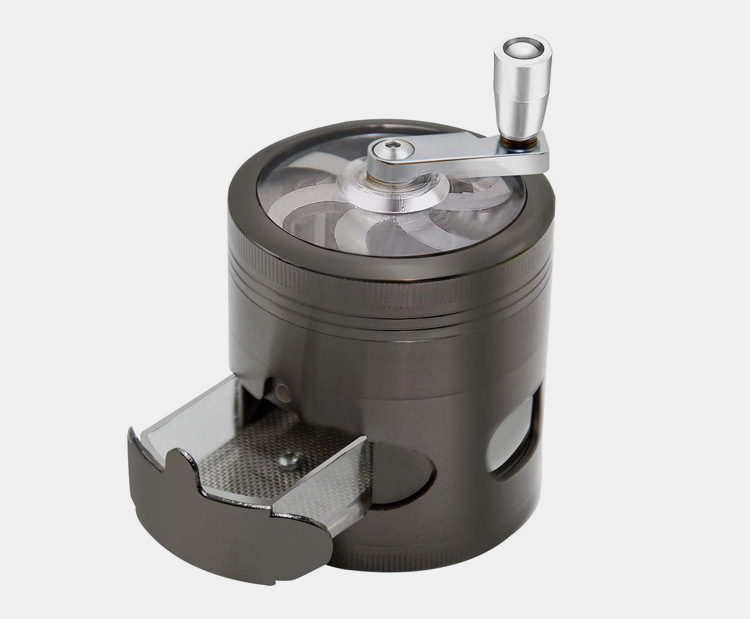 This is the type which most people are familiar with. Hand grinders are simple hand operated devices. They contain teeth on their plates which rotate against each other when grinding herbs. They have magnets on their ends to hold them in place when grinding. Some often contain chambers which allow the customers to filter the ground herbs into different sizes.
Hand grinders can be made from a variety of materials. Some of the most common ones are metals like aluminum and hard plastics such as acrylic. Customers also have the option of buying hand grinders made of wood.
The greatest advantage of buying a hand grinder is that they are cheaper than the electric grinders. Although they won't run as long as electric grinders do, they are a really good option for those who are on a budget. They are also portable and have a wide array of options for customers to buy online or at their local store.
Electric Grinders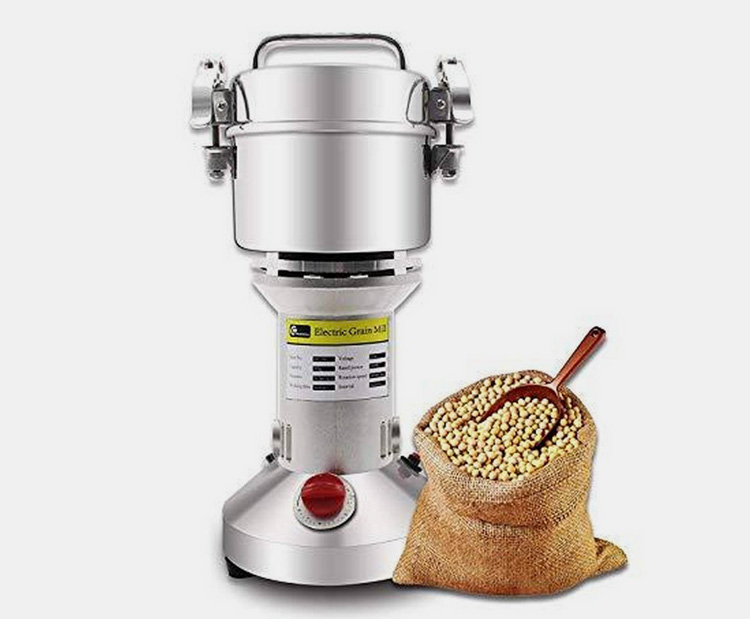 Electric grinders are some of the best option available to customers to grind herbs. Their use has been growing tremendously over the years and more customers are opting for this type of grinder.
Electric grinders work similar to hand grinders with the exception that they use an electric motor connected to a power source which then rotates the blade at a very high speed, turning the large sized herbs into smaller pieces quickly.
Electric grinders undoubtedly prevail over hand grinders in almost every aspect. They are very fast, can cut the herbs into small uniform pieces, have longer running life and do not require much effort as opposed to hand grinders. Although electric grinders are generally more expensive than hand grinders the benefits they offer to the customers make them worth buying.
6.Industrial Applications of Herbs Grinder Machines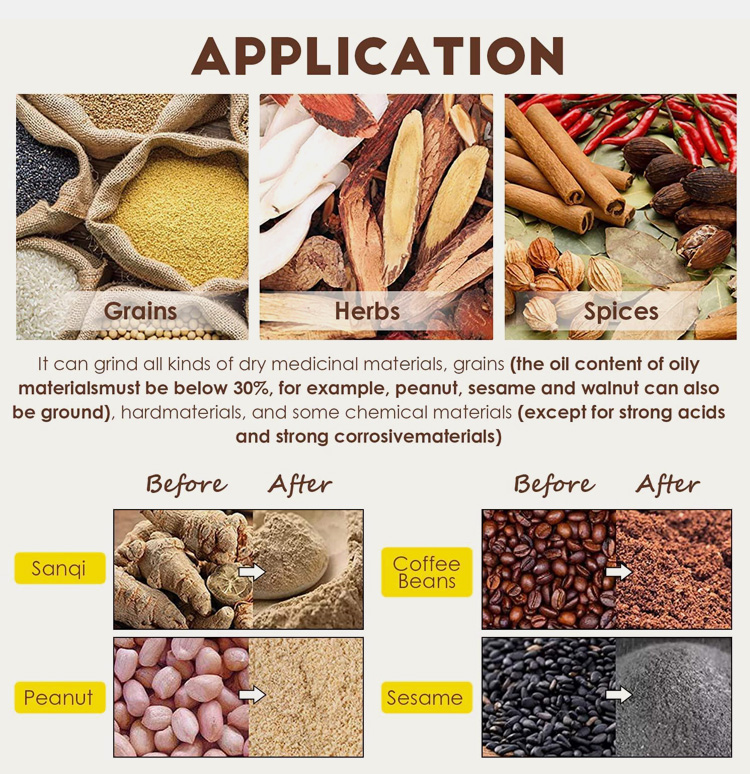 Herbs grinder machine are used in the food industry, pharmaceutical industry and chemical industry. We will now discuss the applications of this machine in various industrial sectors.
Pharmaceutical Industry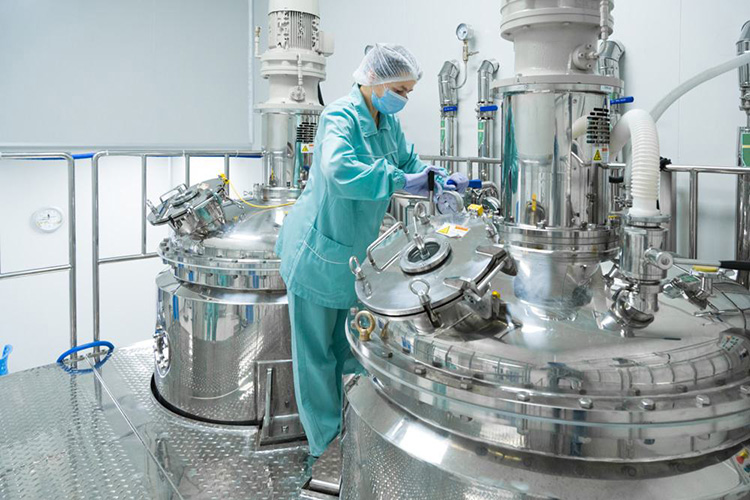 The grinder machine is used in the process of grinding, granulations and tableting of medicines. The grinding of drugs ensures the homogeneity of mixing and elimination of large sized particles. This results in maximum efficiency of the medicines.
Food Industry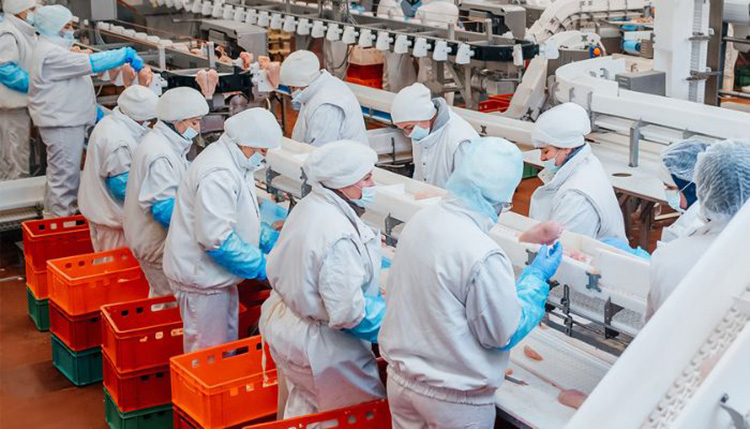 Grinder machines are extremely important in the food industry especially those who are involved in the packaging of herbs and spices and shipping them all around the world. This machine turns large sized herbs and spices into powdered form which are then packaged in boxes and sent out for shipping.
Paint Industry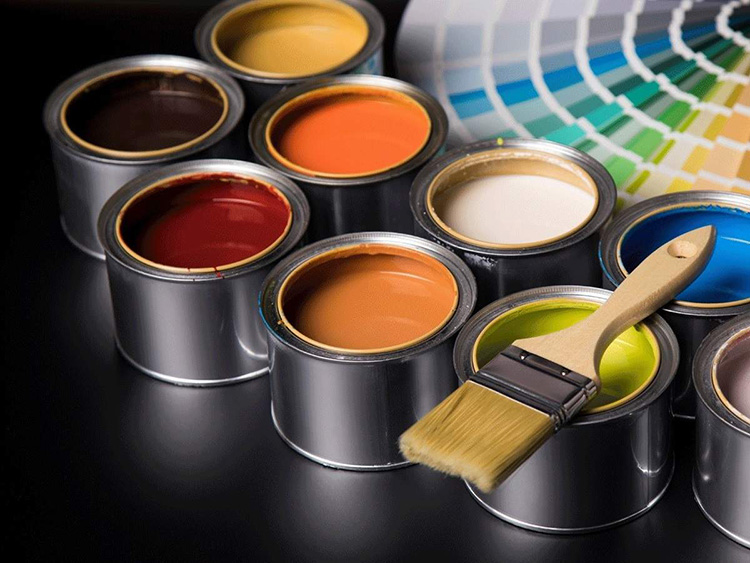 Paint industry manufactures ink, dyes and colors used in cosmetics, pharmaceutical, food, clothing and automobile industry. The raw materials for paint include pigments, resins, additives and solvents. The grinder machine is used to grind the pigments such as zinc oxide and titanium dioxide.
The grinding process of pigments is an essential step since it determines the size, shape and color intensity of the paint. The finer the pigment, the more intense color it will give. Plus the size and shape of the pigments can drastically change the appearance of the paint by either absorbing or reflecting more light.
7.What Are The Features Of HerbsGrinder Machine?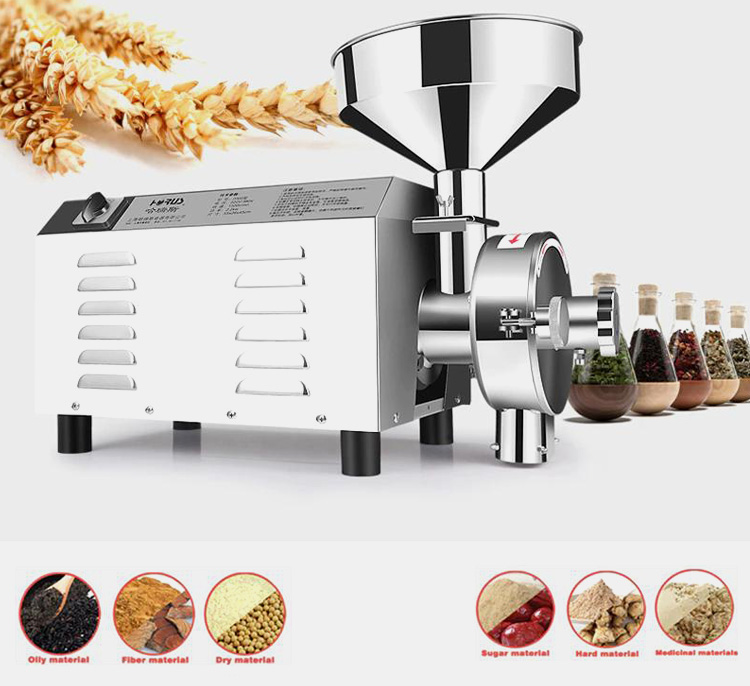 The features that must be in the herbs grinder machine are:
Herb grindermachine gives a high speed and yield result with a noise little.
A stainless-steel structure gives anti-microbial protection to your product.
A fine and compact structure is simple to use and grinds a variety of grain into fine powder with ease.
Compliant with International quality standards.
Aesthetic and innovative design conforming with -state- of – art.
Offering customized optimization as per requirement.
Easy to dismantle and assemble in no-time.
A powerful motor with consistent performance.
Simple construction makes it simple to clean up after.
The crushed material can satisfy any hygienic criteria because the powder pulverize machine resists corrosion and acid.
8.Advantages Of Using Herbs Grinder Machines
The purpose of grinding herbs into powdered form is not just restricted to enhancing the flavor of food but it also improves the efficiency of medicines and provide immense health benefits. Below are some of the advantages of grinding herbs
Seasoning of Food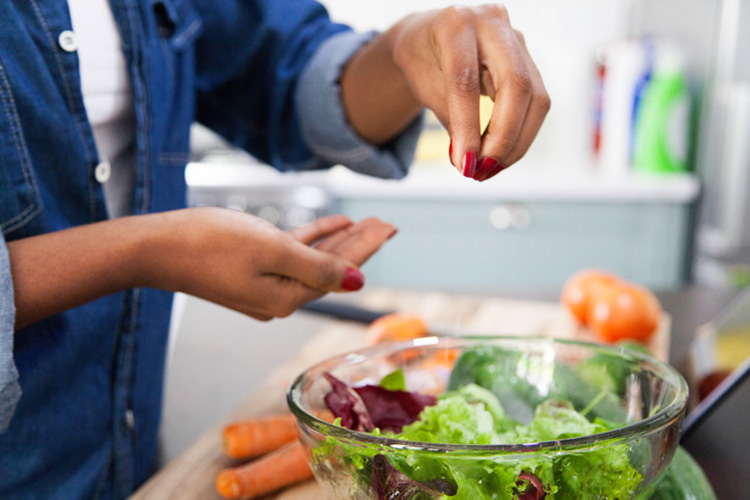 When powdered herbs are added to dishes, they enhance the flavor of the food, improve texture, provide aroma and make it aesthetically pleasing. This overall effect of herbs makes the dish delicious and appetizing.
Improves Bioavailability Of Medicines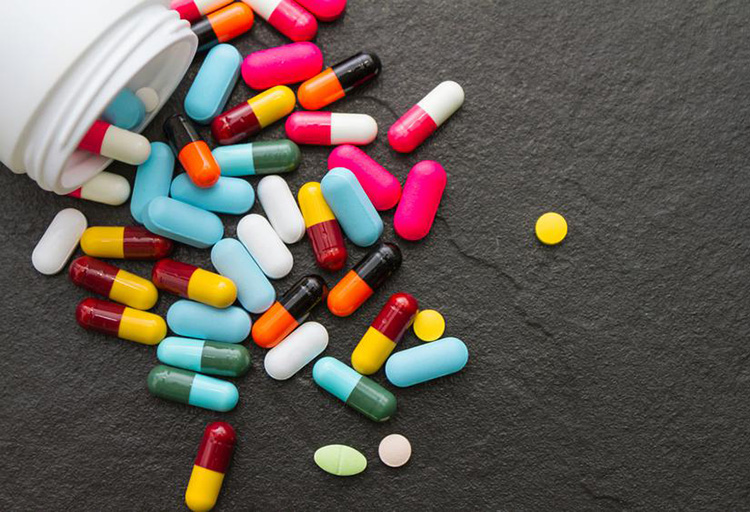 When the herbs undergo pulverization that is, they are broken down into smaller pieces, the surface area of the herbs in greatly increased, shortening the extraction time.  The active ingredient transfer rate is improved, increasing the overall effect of raw materials utilization.
Quick Results
Herbs grinder machines are high speed devices which can quickly grind herbs in a matter of seconds.
Eco-Friendly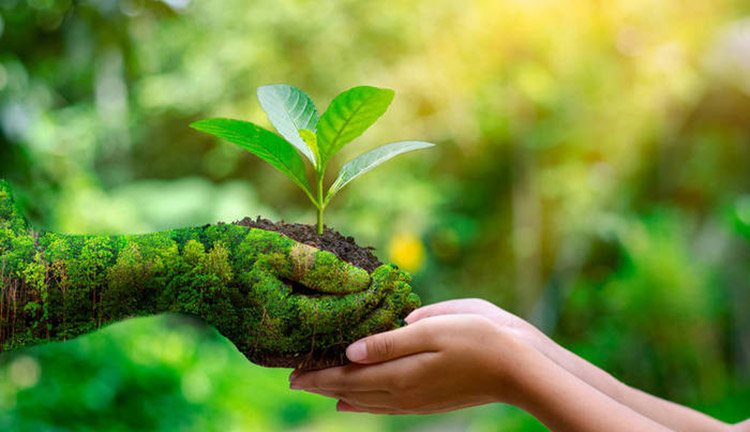 These machines are generally very eco-friendly and do not produce any waste materials or substances which will be harmful to the environment. Thus customers who are conscious of their environment can buy these machines without any hesitation!
9.What Are the Hazards Of Herbs Grinder Machine?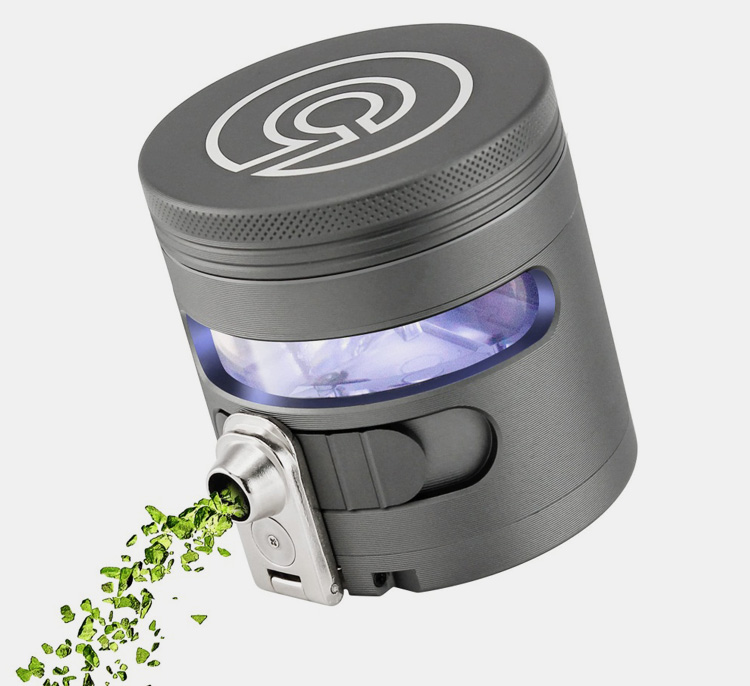 In a herbs grinder machine, some hazards are present. Such as:
The cutting or grinding disc may run over a body part while in use, or it may fracture and fling off bits at a very high speed. An employee could easily suffer from eye injuries as well as burns, cuts, or abrasions.
There is a risk of eye allergy and tearing, dust particles may enter the eye via air resulting in a tear and burning sensation.
Machines' noise may interrupt hearing abilities if used for long procedures.
Too much running of the machine may results in motor heating therefore quality loss of ingredients.
10.What Factors Influence The Performance Of The Herbs Grinder Machine?

The performance of the herbs grinder machine is  affected by certain factors, i.e: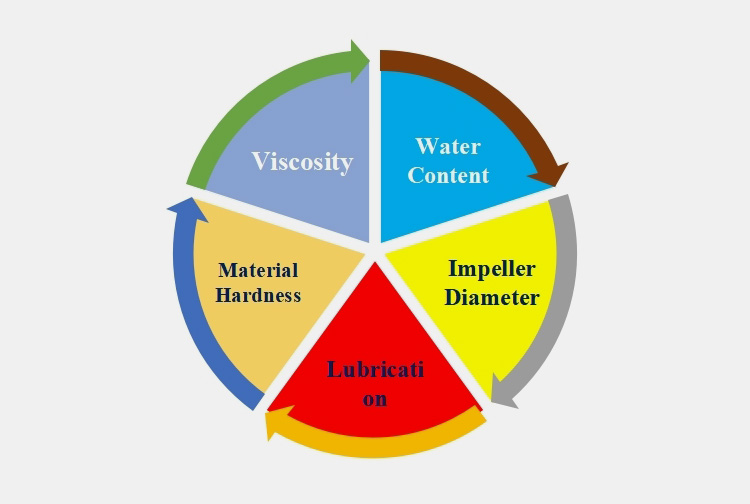 Water Content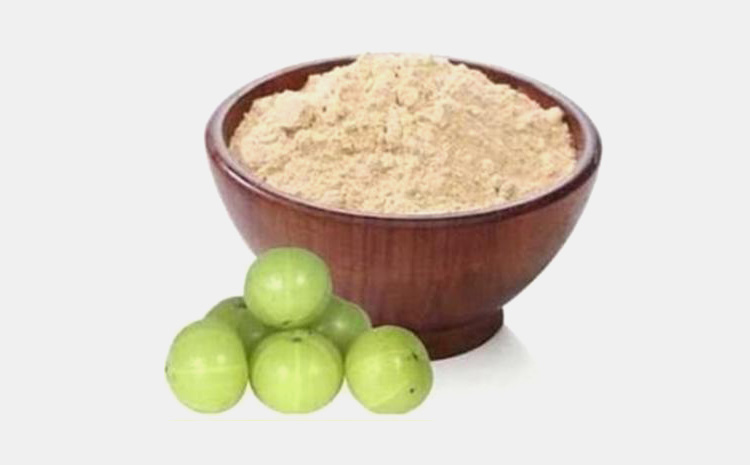 The water content of the material affects the grinding process and causes sickness among particles. For perfect grinding 5% of water, content is suitable that is also considered dry-milling.
Material Hardness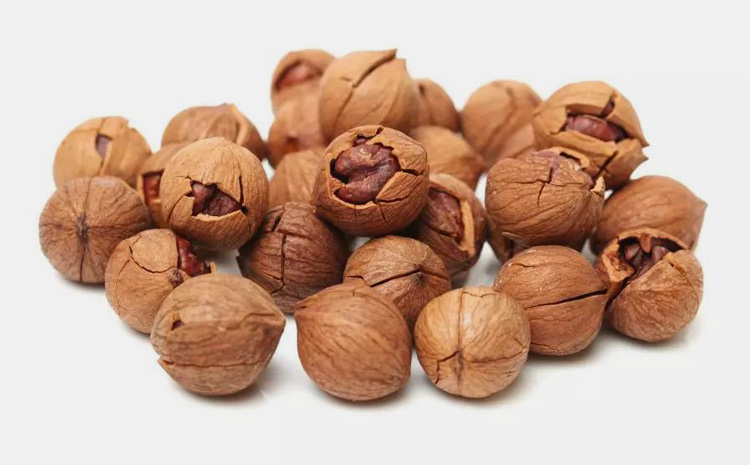 The grinding of the ultra-rigid or tough substances is also not fully supported by herbs grinder machine, thus it requires size reduction before being treated by the machine.
Viscosity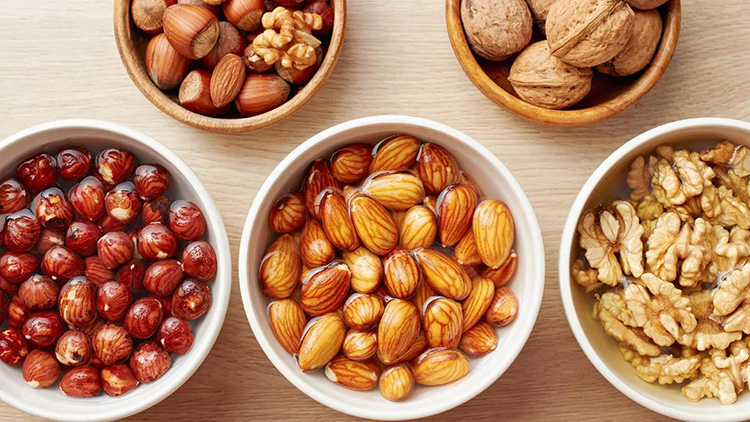 A highly viscous or sticky substance has less flowability and is capable enough to stick the blades and affects the performance.
Blades Size and Structure

The cutting and particle size reduction are influenced by the design and size of the blades. Because high or low shearing force is determined by the configuration of the blades.
Rusting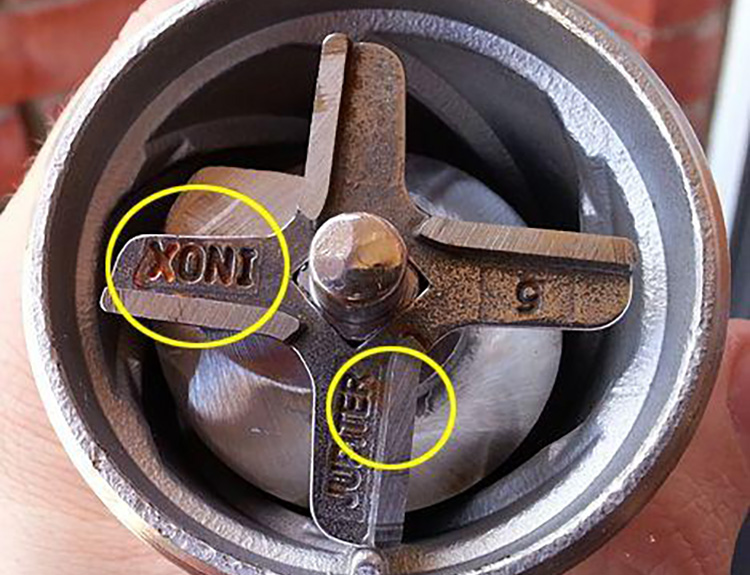 Blade rusting can affects the size reduction and rotation velocity of the herbs grinder machine and cause heat generation.
11.What Are The PrecautionsWhen Using Herbs Grinder Machine?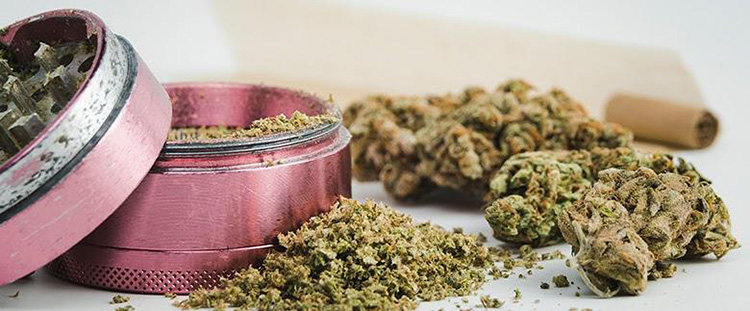 When using herbs grinder machine follow the mentioned points to avoid trouble.
During maintenance avoid placing tools over the machine's body.
Avoid using the 'Emergency' button regularly as it can damage the parts.
Replace 'Guard' if cracked slightly; use the machine when it is in correct form.
Avoid using the machine with bare hands and on a wet floor.
Do not use the herbs grindermachine for hard material i.e., stones, gypsum, etc.,
Avoid using chemical substances in the herbs grinder machine as it may dissipate heat.
Proper ventilation at your working area is mandatory for user safety.
For harmful material, a rigid-bin and flex pack system is recommended
12.What Kind Of Herbs Can Be Grinded In Herbs Grinder Machine?
Generally speaking, you can grind any kind of herb in the machine according to your needs. These herbs can be used in food industry, pharmaceutical industry and nutraceutical industry. Below are some of the herbs used in
Food Industry
Coriander
Cardamom
Nutmeg,
Black peppercorns,
Cumin
Ginger
Garlic
Pharmaceutical Industry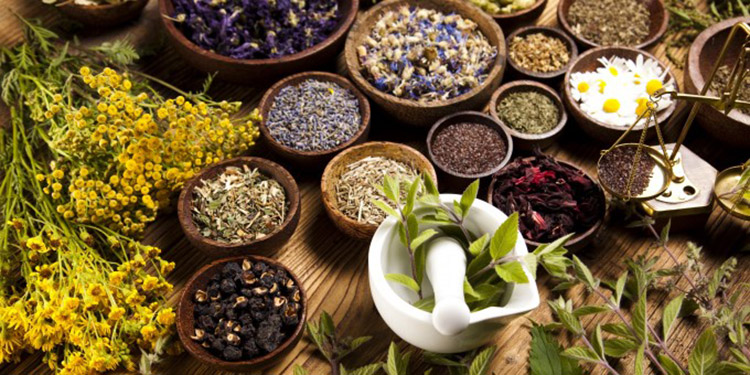 Chamomile. (Flower). …
Echinacea. (Leaf, stalk, root)
Feverfew. (Leaf)
Garlic. (Cloves, root)
Ginger. (Root)
Gingko. (Leaf)
Ginseng. (Root)
Goldenseal.
13.How To Clean Herbs Grinder Machine?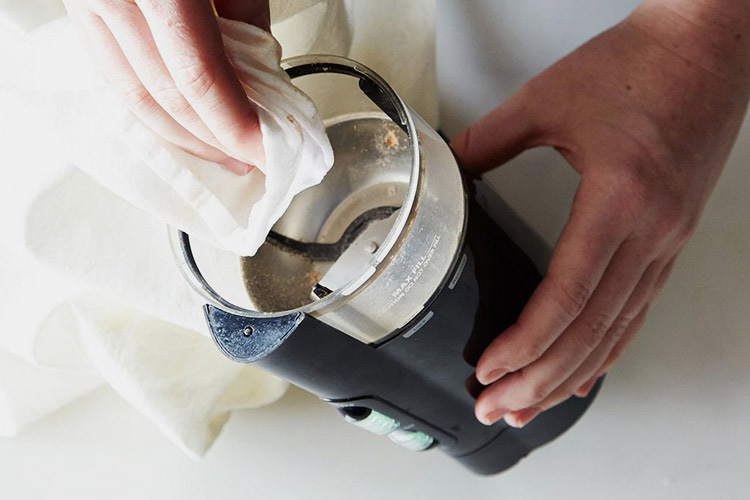 Cleaning the herbs grinder machine is an extremely important of its maintenance which cannot be overlooked. When the grinder is being used for the first time, it should be cleaned thoroughly with water and dishwashing soap. This is because the manufacturing and shipping process can leave residues inside the grinder.
The machine has to be washed thoroughly after every use to avoid the mixing of stale herbs with the fresh herbs. The blades and the glass bowl have to be taken out and washed too.
In case the spare parts of the electric motor, blades or the glass bowl get damaged, they can be easily replaced with the new one. Customers have a number of options online to buy these readily available components.
14.Problems And Troubleshooting of Herbs Grinder Machine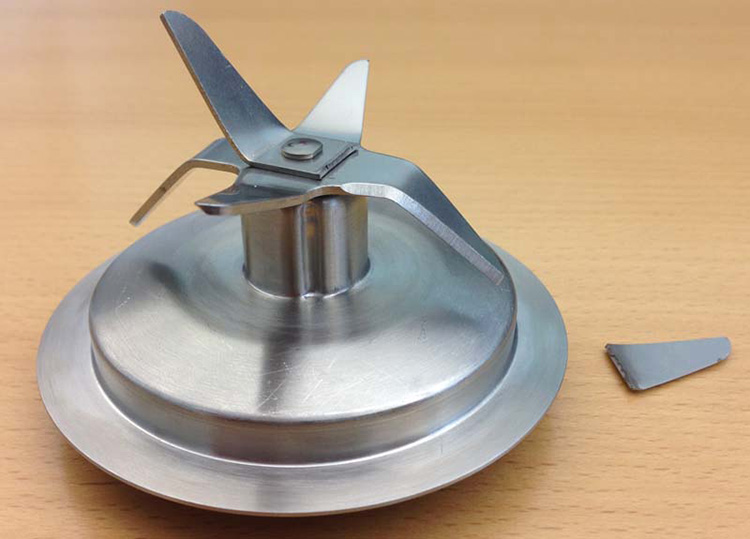 Causes
Just like every machine has its pros and cons, the herbs grinder machine also has cons of its own. These machines need constant maintenance and cleaning. They become clogged up with residues after every use which need to be removed to avoid mixing with the fresh contents. They have a limited life whether it's a hand grinder or an electric grinder, after which their components would start breaking or they would no longer be of any use. There comes a time when the spare parts of the herbs grinder machine also start breaking and become nonfunctional.
Maintenance And Solution
The herbs grinder machine is maintained by using lubrication oil. The inside of the fan and the inner wall of air duct are inspected for any dust particles or residues which are then removed.
If the components of the grinder break down, they need to be replaced with new ones such as blades, crush cabin or the electric motor. These parts are readily available in the markets or online where the customers have lots of economical options to choose from.
15.Is Herbs Grinder Machine Worth Buying? Importance Of It in Promoting Your Brand.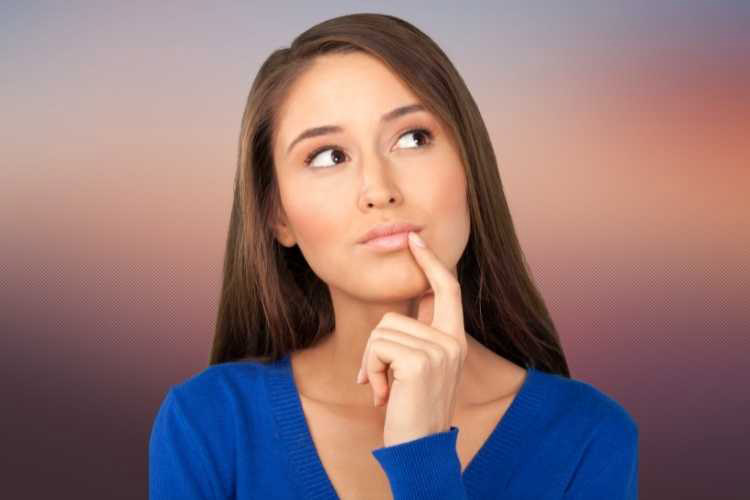 Buying a herbs grinder machine is definitely worth it. It provides benefits to various industries such as food industry and pharmaceutical industry.
The food industry sector can promote their brand through the marketing of their food improving in taste, aroma and appearance with the use of herbs grinder machine and would be successful in attracting customers, thus increasing sales.
The pharmaceutical and nutraceutical companies can also benefit from this since the use of this machine maximizes the efficiency of medicines and their mode of action. This will attract the customers in buying medicines and vitamins from them as it will convince them that using medicines from a particular company will ensure optimum success rate.
16.How Do I Choose the Right Herbs Grinder Machine?
It's essential to choose the right herb grinder machine. Below are some tips for choosing the right herbs grinder machine.
Material
Look at the material of the grinder first, it should not be made of wood or acrylic but from wood.
Size
When it comes to herb grinders, size is crucial. The majority of grinders will have a distinct label indicating their width, which is typically 1.5, 2.2, 2.5, or even 3 inches wide or more. Just keep in mind that the sizes' ability to contain and grind herb will vary greatly depending on width. It's great to carry about a smaller grinder like1.5-inch Premium grinder in your pocket or purse to grind just enough for a fast puff. However, occasionally you might want a larger grinder, such as the 3-inch wide.
Quality And Brand:
Popular brands may be more expensive, but they are almost always worthwhile. Their products are made to last and often have excellent construction quality. When purchasing a herb grinder, you should search for models with sturdy threads since this will reduce wear from opening and closing the case. Additionally, you should look for models with a sturdy coating or finish on the metal itself to prevent flaking that can wind up contaminating your plants.
Multiple-Piece Grinder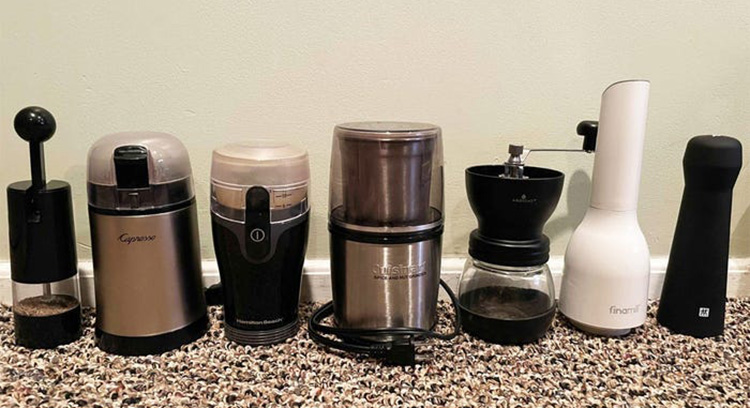 You can buy herb grinders in single- or multi-part variants. Two-piece grinders, often known as multi-piece grinders, have a simple construction and are less useful. There are also three piece variants available that feature tenth for grinding, a top, and an additional chamber into which the herbs fall after passing through the teeth. The facilitates gathering processed plants. There are also four-piece grinders that include a sieve-style pollen catcher in addition to all the functionally found in three-piece grinders. This minimizes herb waste by allowing every piece of dust to be gathered.
Budget
Herb Grinder's prices range from affordable to pricey. Unless you are a professional herbalist who needs to process a huge number of components, you shouldn't get the most costly one you can afford, but you also shouldn't buy the cheapest one you can either. The best choice is typically to purchase a herb grinder that is reasonably priced.
Conclusion
You know the herbs grinder machine is an endless solution dealing with various industrial applications discussed above. Before investing in a herbs grinder machine, it is recommend to use your advisory services available to support your business keeping budget in mind. All you need to do is to get in touch with us to explore best fit herbs grinder machine NOW!
CONTACT US
Tell us your raw material and project budget to get quotations within 24 hours.
WhatsApp:+86 18171018586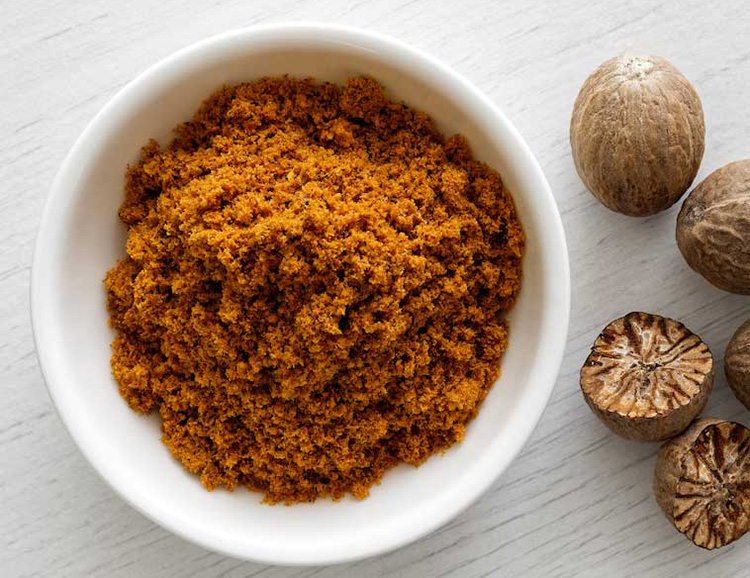 Tell us your material or budget, we'll reply you ASAP within 24 hours