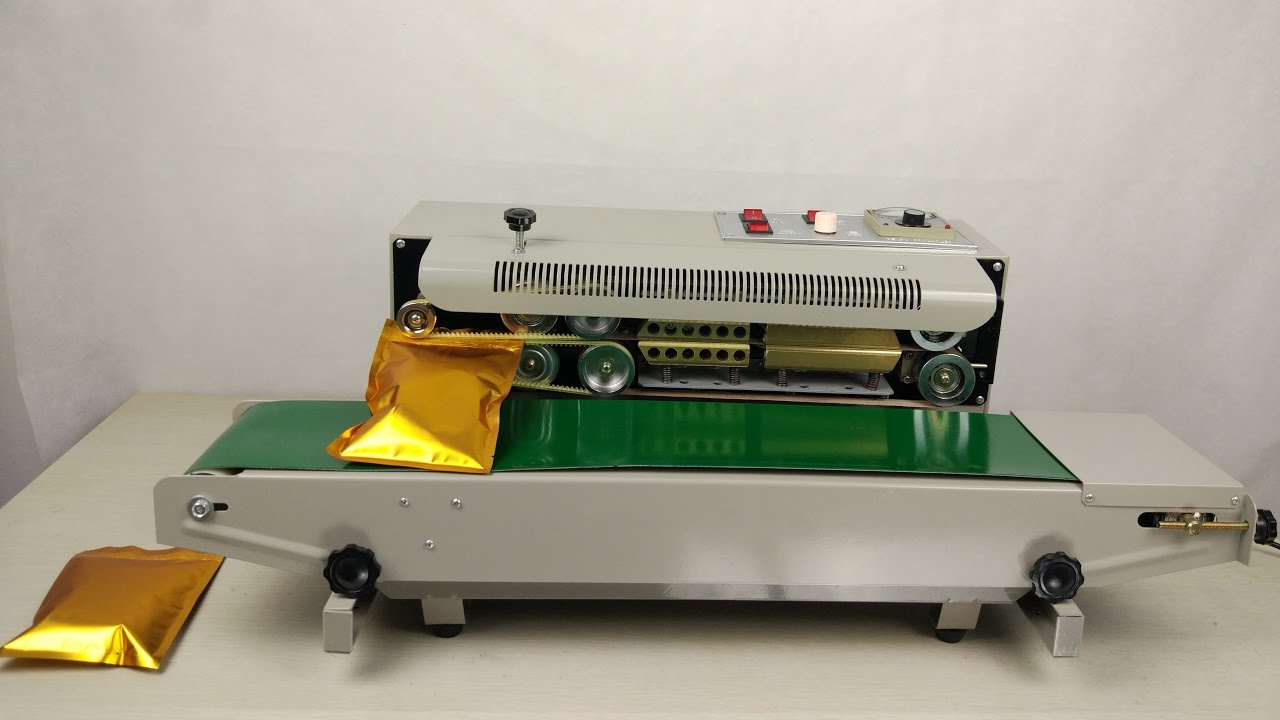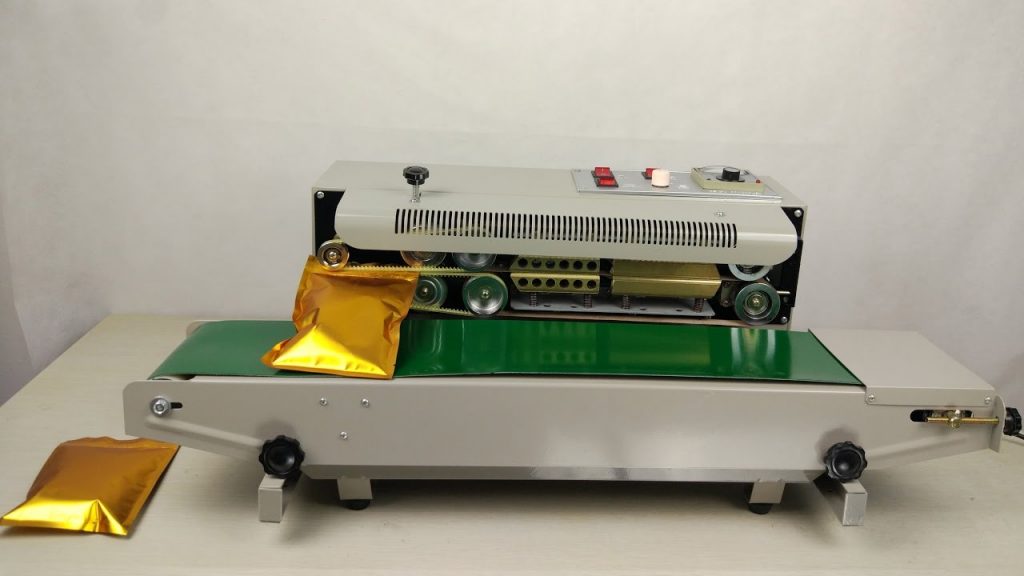 Continuous Sealing Machines
Are you a fully-equipped pharmaceutical, food processing plant, or stationary factory? Are you looking for an equipment sealing your products in individual containers or raising the working efficiency of your clients, so that to extend the shelf time of your products. One of the equipment that you may consider adding to your cart is the continuous sealing machine.
Continuous sealing machine can seal plastic films made from various materials continuously. The sealing machine is a machine for sealing a container filled with a package. In order to seal the product, maintain the product quality, and avoid product loss, the packaging container need to be sealed.
Allpack continuous sealing machine is consistent in transferring, sealing and lettering. There are a lot of materials can be sealed by Allpack Continuous sealing machine. It adopts the technologies of electronic constant temperature control and transmission machinery of step less speed regulation.
Showing 1–24 of 54 results
Your Complete Buying Guide for Continuous Sealing Machine In 2021
When we discuss about buying a continuous sealing machine there are many different aspects that are involved. It includes the type of machine, the model and what type of the material is being persevered.
Spending money on is sealing machine is indeed a big investment for your venture. While thinking about the acquisition of new packing machinery, you will need to set aside the effort to get to know about the product details.
Assuming you need to realize what sorts of apparatus are accessible, the materials they run, their appropriate and safe working methods, and how to keep them running at top execution, this article will furnish you with all the data you are searching for.
Let's get started.
Types of continuous sealing machine
Machines can be operated manually, or semi- or fully-automatically. Key specifications include intended application, sealer type, sealing method, sealer configuration, materials sealed, along with the operating parameters of sealing size, thickness, and rated speed. Sealing equipment ranges from simple manual jaw-type devices to fully-automated medical tray sealing machines.
Automatic continuous sealing machine
The automatic continuous sealing machine is a sealing machine controlled by a computer system. When in use, the first thing to do is to turn on the power switch. You just wait until the indicator light inside the button lights up. 
An automatic sealing machine ensures faster and efficient sealing process with less labor. An normally comes with a configuration and options which ensure a fully automatic operation of the machine without need of manual efforts
Allpack continuous sealing machine have proven to stand the test of time, pressure, and temperature. After passing these verification and validation protocols, the sealing machine are deemed suitable for end-use in the market.
Semi-automatic continuous sealing machine
Semi-automatic continuous sealing machine is utilized extensively in various fields, including but not limited to, chemical, pharmaceutical, medical, beverages, cosmetics, food, and electronics industries. Semi-automatic continuous sealing machine are also used in the cases of packaging materials such as aerosol containers, bottles, boxes and cartons. Allpack provides advanced technology coupled with an innate understanding of market requirements, to meet every need of its customers in regards to semi-automatic continuous sealing machine.
At Allpapck, you'll find different versions of semi-automatic continuous sealing machine with varying functions, ensuring adherence to industry standards, and keeping proper design and safe handling at the forefront. The semi-automatic continuous sealing machine should be selected after a full analysis of its features and applications.
Manual continuous sealing machine
Manual continuous sealing machine is a traditional and basic variant of sealing machine. In this machine, most of the tasks need to be operated manually. It is comparatively cheaper than automated versions of the sealing machines. For workshops or production units where production is low manual machines are the best alternatives to cash in for an efficient sealing process. These machines are generally equipped with shrink tunnels for higher working capacities.
What is Continuous Sealing Machine Working Principle?
Continuous sealing machine adopts mechanical structure, stable operation, fast speed, good effect, low noise, simple structure, convenient operation and maintenance, and low failure rate.
Some machines have different methods but based on the same principle:
1.Heating
For a continuous sealing cycle, a conveyor will move the material to seal between the heating jaws, mostly irons containing a heating cartridge. This element is always heating to allow a continuous scrolling of material.
Congealing
Once the heating irons passed, the material passes between cooling irons effectively ventilated to allow heat to dissipate and material to congeal. Then follows the passage of knurling, the material passes between two knurled wheel that will give their final appearance to the seal.
3.Packaging
Finally, the conveyor leads the material on other accessories on a packaging line, to finish its final sealing. This is the last step of sealing.
How to choose the most suitable continuous sealing machine?
Choosing the right sealer can be complexed, but with Allpack it doesn't have to be. Allpack have created this overview of the various types of sealers with the hope that it will help to simplify the process of finding which one is best for your material type. When you are in the process of trying to select the best sealer for your material, there are things you must keep in mind. For example, what is the type of the material that you plan on sealing? Are you have an overview of the types of welds needed to create your end product? If you have the answers to these questions ahead of time, it will make the selection process run so much smoother.  There are many other types of sealing machines, but the two main types are impulse sealing machines and direct sealing machines.
There are different types of continuous sealing machines, and the following will help you to decide on which one is best for your material, according to thickness:
Hand Sealers: can seal poly material up to 10mil in thickness
Foot Sealers (or Pedestal Type): can seal poly material up to 15mil in thickness
Auto Sealers: can also seal poly material up to 15mil in thickness
Double Impulse sealers: come with automatic and foot options, and are recommended for heavy duty applications as they can seal poly material up to 20mil in thickness.
Sealers with Cutters: used to trim and seal excess material, like that found in tubing, in order to make customized bags
Overall, continuous sealing machine is easy to use because they have no warm-up time. They are also extremely safe, as no component of the machine stays hot throughout the duration of the weld. Furthermore, electricity is only used during the sealing process, making these welders an economical option. 
With optimum performance, user-friendliness, and easy installation, Allpack offers a range of sealing machine to buyers that suit their products.