Allpackchina pedal sealer is suitable for plastic sealing of the giant body and heavy weight matters,uses for sealing the agricultural products of rice and bean and chemical articles etc., with form sealing strength,long service life,steady working performance and wide usage.It's a low-priced and pretty durable equipment.This machine belongs to a "weight grade" in pedal type and made with the alloy casting parts,matched a special grand power transformer and adjustable up and low heavy articles sealing bracket.It possesses a quick speed and extra-short sealing time and high working efficiency and non-fungible function than the common sealing machine.It is widely used in the industries, such as foods, medicine,electric elements factories, shopstore servive, family food sealing, ect.
Pedal Sealer: The Complete Buying Guide in 2022
Among the different types of sealers, such as foot pedal and tabletop sealers, the foot pedal sealer is considered as the best choice. The more attention to the pedal sealer also in the year 2022 is due to its property and economy as it can be used to save money.
The pedal sealer applied to pack a variety of materials has numerous applications in different industries such as it is used to pack a variety of materials in food, pharmaceutical, and manufacturing industries. Before going deep into this, depth let's discuss points related to pedal sealer in more detail. These including:
1.What is a pedal sealer?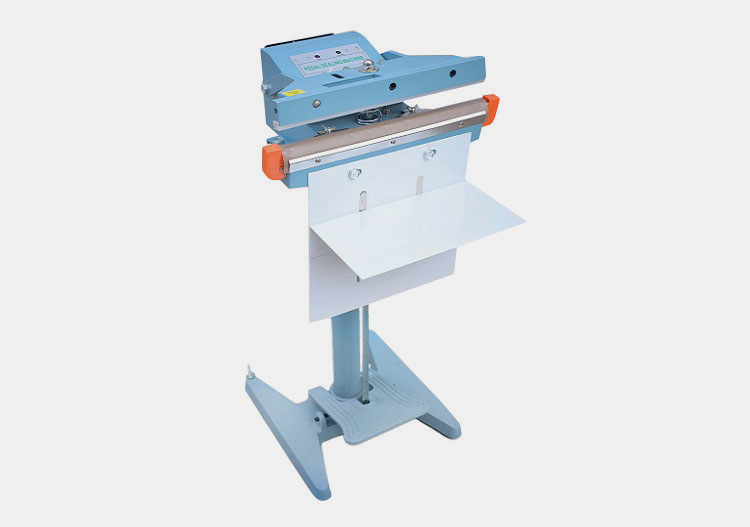 A pedal sealer is a machine applied to seal a variety of products. It is a heat-type sealer, with that has a variety of applications, like used for packaging polypropylene, and polyethylene bags. It provides heat to the plastic bags, and helps it which becomes starting to melt and as a result, the bag becomes seal packed. It can be applied in different industries such as for tea, hardware, local products, foodstuffs, medicines, etc. And also any type of bags can be sealed by the pedal sealer. The temperature should also be controlled with the materials suitable for bags.
2.How many Types of Pedal Sealers?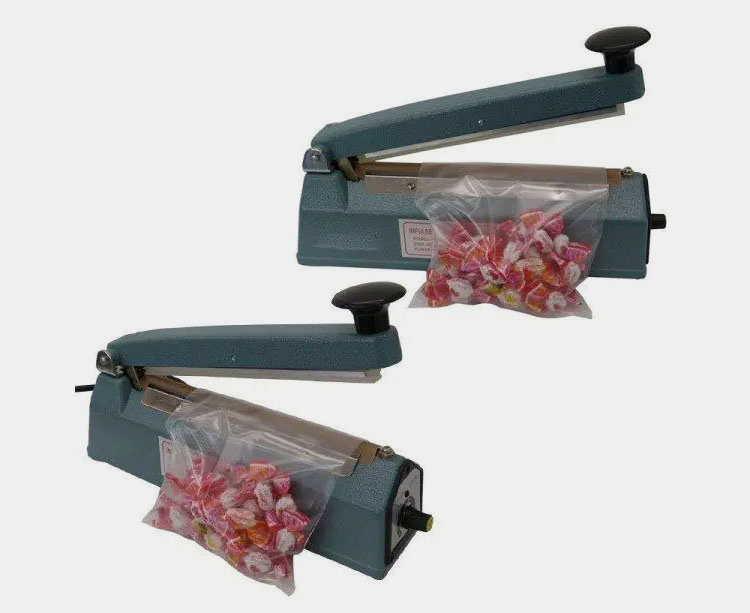 Based on its work, there are two types, including;
The impulse sealer, and
Direct heat sealers.
Applied depends on the material used:
Types of Pedal Sealers
Purpose
Impulse Sealer

It is one of the types of pedal sealer, It is the most appropriate tool for sealing bags made up of polyethylene, or polyvinyl chloride.

It seals polyethylene bags within 2-3 seconds when held down in.

Direct Heat Sealer

The second type of pedal sealer is the direct heat sealer, it is applied to seal aluminum foil, cellophane, copper foil, gusseted pouches, polystyrene, and tin foil-based bags.

With the direct heat sealer, heat is provided all the time and can be suitable for all types of foil and polyethylene packages.
With both types of pedal sealer, the temperature can be controlled electronically and easy is to be adjusted. For another type, hands-free foot pedal sealers, improve great work efficiency.  of its adjustment is also not too much difficult.
3.How many Types of hands-free Pedal Sealers?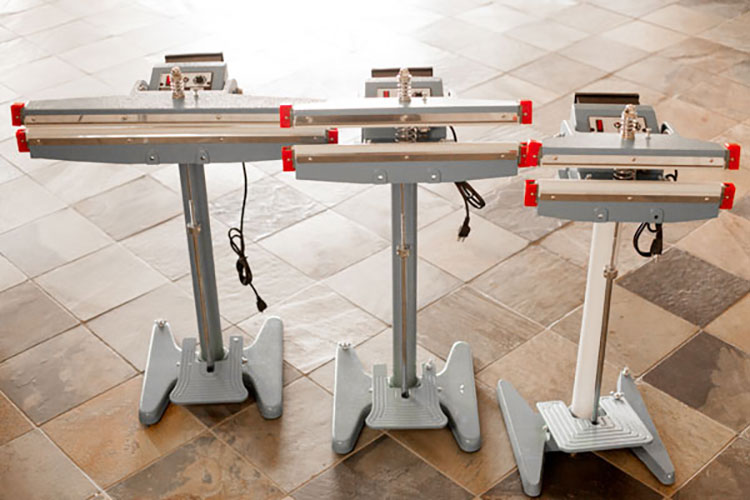 There are three versions of hands-free based pedal sealer.
Single-sided heat hands-free pedal sealer
Double-sided heat hands-free pedal sealer
Constant heated hands-free pedal sealer
The stapler-based hands-free sealer is cost-effective with better quality, and also reduces time and money.
Single-side heat sealer machines are less expensive and efficiently working as packaging. It seals packages from small (single packet) to large and heavy material (multiple packets).
It has a seal of around 5mm. Whereas the double-sided heat sealer can be applied to seal anything and can seal extensively types of materials. However, some industries such as in the field of medical and military are required constant heating during packaging. The constant heat sealer is applied in different industries, as in the field of medical and military, during packaging required constant heat.
4.How many parts of the pedal sealer?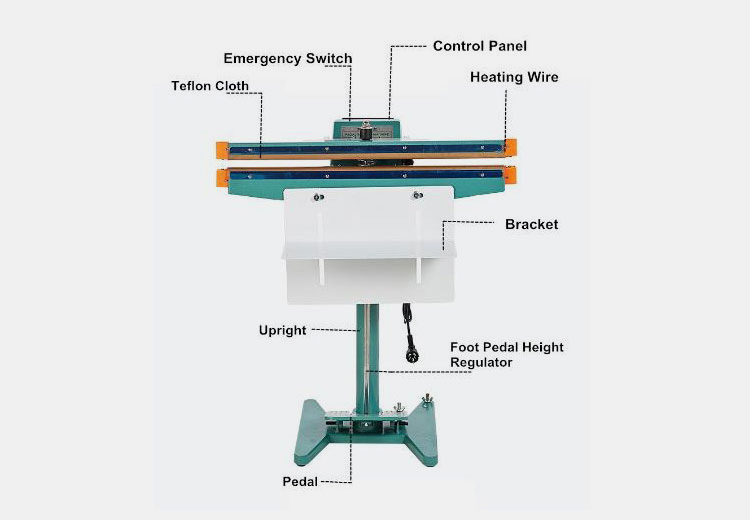 A pedal sealer is a machine applied to seal a variety of materials. There are different parts with particular functions. Including:
The pedal
Foot pedal height regulator
Bracket
Heating wire
Teflon cloth
Emergency switch, and
Control panel
5.How does the pedal sealer work?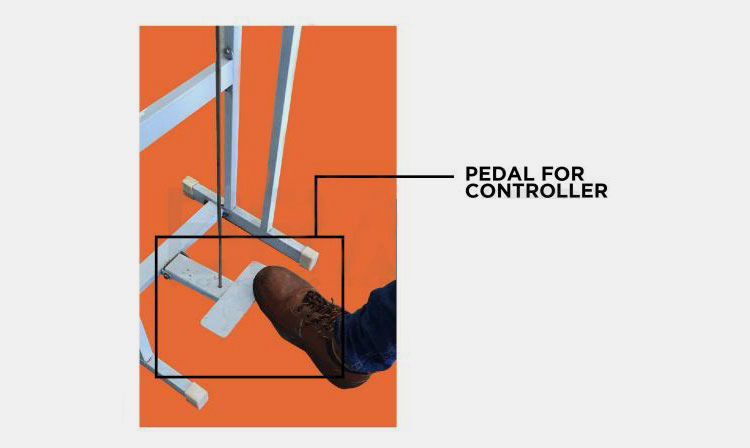 The instructions for pedal sealer:
Firstly, fix the rod of the foot pedal,
Secondly, switch on the main switch, until the yellow lights on
Thirdly, keep the temperature at 100°C, then, as a result, the green light turns into red light just for two minutes, this is the heating time.
Fourthly, step on the foot pedal, the sealing pilot starts on
During the sealing process, turn on the sealing timer, at the same time temperature will rise, after that remove the sealing bag, and the operation is finished
For safety-related issues, during the sealing process, fingers and hands shall keep away from the machine
6.What are the applications of pedal sealers?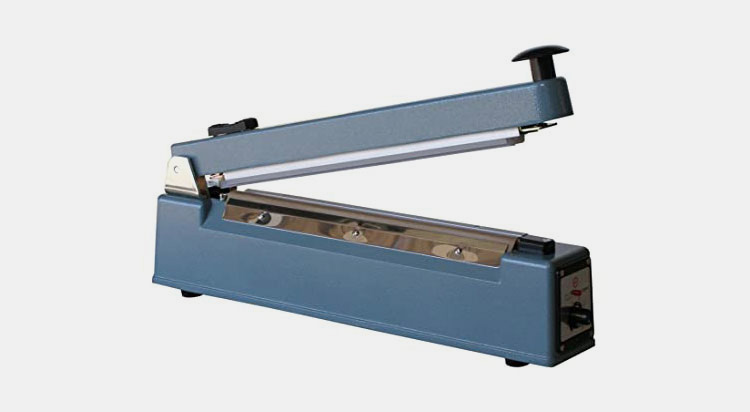 Any size of material can be packed with the pedal sealer conveniently, whether the bag is small or big. It can be applied to seal any kind of material including compound films, aluminum films, and plastic films, respectively. The pedal sealer is widely applied for food, cosmetics, medicines, health products, pesticides, lubricants, honey, jujube, washing Powder, melon seeds, condiments, chicken essence, and so on.
There are numerous applications in the pharmaceutical, hardware industries, food industries as well as in other manufacturing industries. It also can be applied to seal propylene, polyethylene, and multi-layered plastics compounds. This is a multifunctional equipment used in factories, shops, and supermarkets.
The hands-free sealer machine is money and time-saving. We offer more reliable quality of the products. The tabletop sealer is also less expense reduced with low efficiency than other machines. The foot pedal sealer is mounted on the metal stands with high quality. The pedal sealer is applied in any type of material including Oil, Cosmetics, Detergent, Dairy products, Cleaning, Hair Care Products, Skin Care products, Tea, Fruit, Vegetable, Meat, Fish, Snack, Flour, Meat, Seasons, etc.
7.What would be the Troubleshooting to Solve the Problem Related to Pedal Sealers?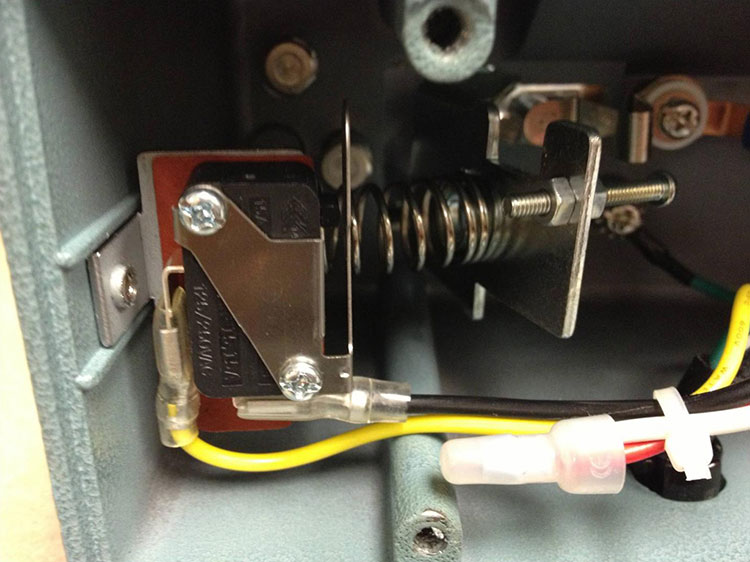 During sealing, if face any problem, so it could be possible to solve such problem. Besides them, problems can be solved by working on any part includes; PTFE adhesive, microswitch, heating element, PTFE cover, mounting spring, etc. The element is a wire which provides heat for sealing bags. In case of faces any problem, by removing the PTFE cover it would be possible to solve it. Meanwhile, by removing the element, the cover of PTFE and adhesive TFE is the possible solution to resolve issues related to the pedal sealer.
Conclusion
The pedal sealer is a heat-type sealer, applied for sealing numerous types of products. It has a wide range of applications in different industries for tea, hardware, foodstuffs, local products, and medicines, respectively. It is applied to seal the packaging of polypropylene and polyethylene bags. The foot pedal sealer is also a hands-free pedal sealer which is less expensive and highly recommended due to its better performance. It is money and time saving with the accuracy of the work. Besides them, the pedal sealer can be applied to pack a variety of materials. If you have additional inquires related to pedal sealer you can contact ALLPACKCHINA 24/7 customer service.