Tea Bag Packing Machine: The Complete Buying Guide In 2023
Do you know that tea is the second most consumed drink over worldwide after water? More than three billion cups of tea are taken every day which makes the total estimate of 6.3 billion kilograms. The rapid increased in demand for tea is one of the major contributions of tea bags which are preferred by large number of people due to its quick and easy dissolution method.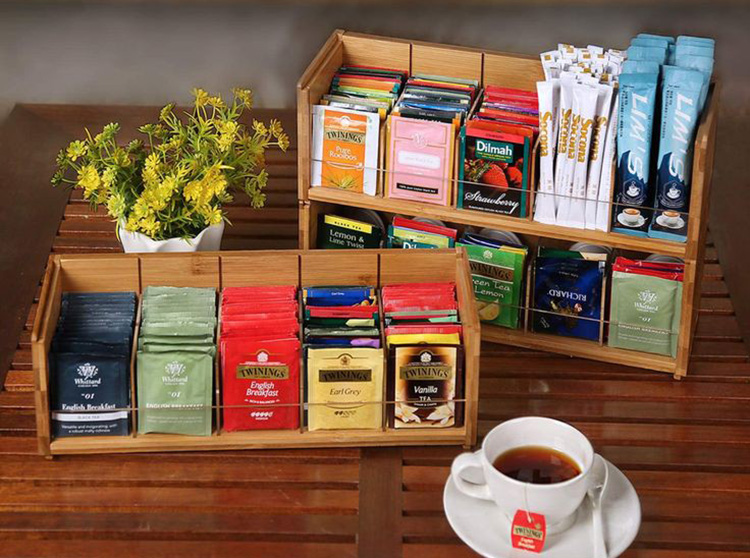 After knowing these facts, you would definitely want to change the mode of delivering tea and make your brand recognized around the globe. For this purpose, a tea bag packing machine has been introduced in the field to carry out an important task of packing tea in beautiful shape bags.
This machine has designed with standard features that allow you to produce bags of your own choice in terms of shape and size. Moreover, the user-friendly operation adds more into its convenience and enables you for better customization. To explore several other aspects of a tea bag packing machine keep reading this buying guide!
Add a header to begin generating the table of contents
1.What Is A Tea Bag Packing Machine?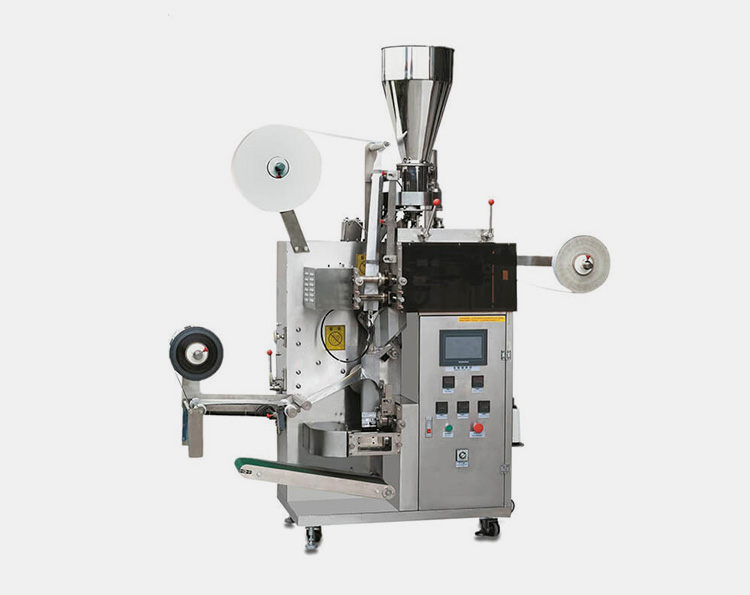 Tea bags refer to the small perforated sealed bags containing limited amount of tea in form of leaves or powder used for the purpose of making tea. The equipment that process the functioning of manufacturing tea bags through systematic process is known as tea bag packing machine.
It accomplishes the objective of forming an inside bag and an outside pouch through appropriate system of operation. You may pack many kinds of tea using this machine, including herbal tea, black tea, and green tea. Tea bags are quite popular due to their usefulness and lack of additional requirements while producing tea, and this fact encourages many industries to adopt this technology into their production line.
2.Are There Any Advantages Of Using A Tea Bag Packing Machine?
A tea bag packing machine has a number of benefits that would encourage you to utilize this machine. Following are these advantages
Increase Production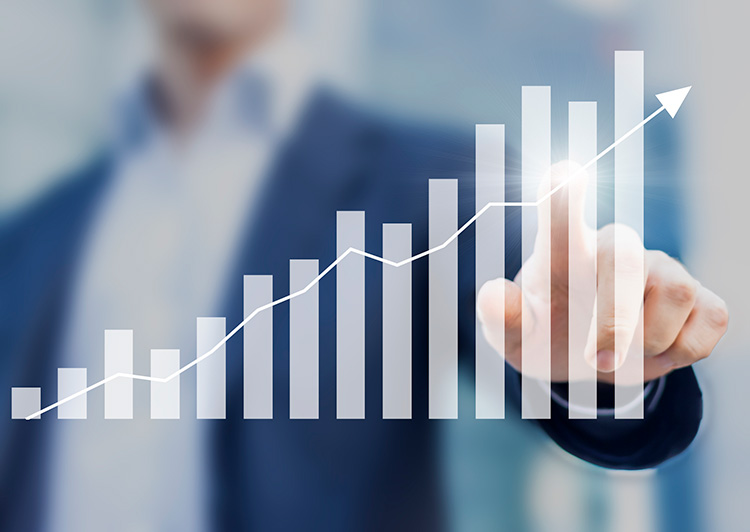 The increased production is one of this machine's greatest benefits. It accurately fills each bag with the right amount of tea, allowing for rapid packing and error-free filling which ultimately lowers the product waste.
Precise Structure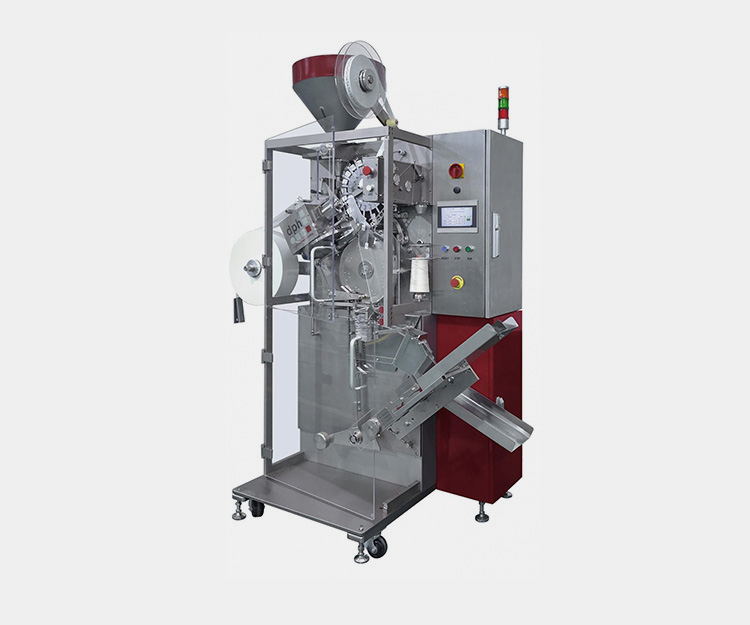 This machine is compact, durable, and precise, and it meets all the essential requirements necessary for safety. The appropriate safety measures are also present, including creeping protection, short circuit protection, and emergency stop. Through its casters, you can easily move it from one place to another. Moreover, the stainless steel body is corrosion resistant, will never rust, and is equally safe for your operators and content as well.
Improve Quality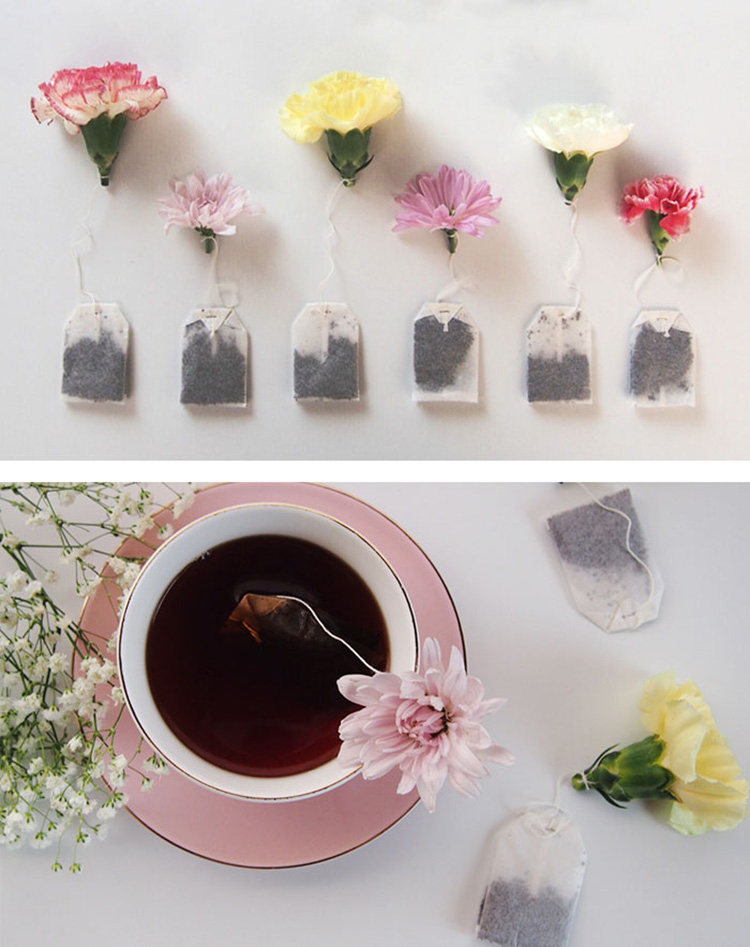 There is no possibility of irregular tea filling when using a tea bag packing machine. This ensures that the quantity of tea leaves in each bag is the same. As a result, the necessity for high-quality tea bags, which many customers seek, has been met here.
Customizable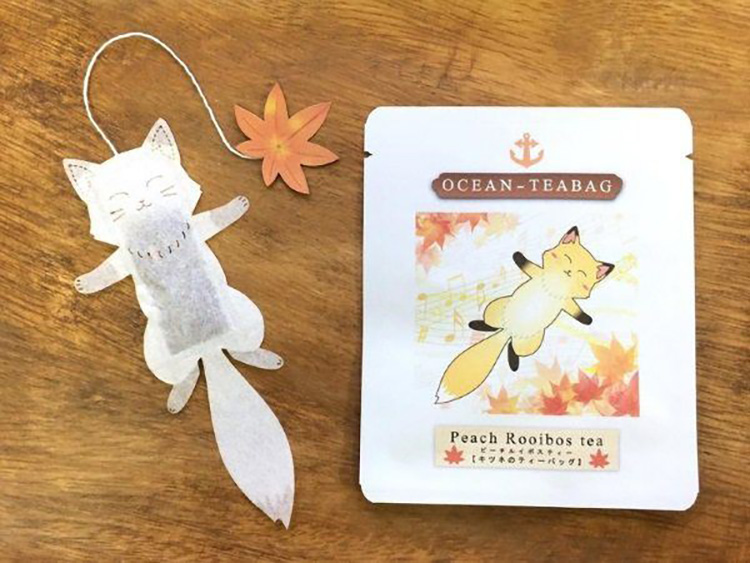 You might be interested in making tea bags that are unique, such as ocean-themed tea bags or other shapes. This is now possible by utilizing a tea bag packaging machine, which will also help you to distinguish your brand in the marketplace.
Increase Shelf Life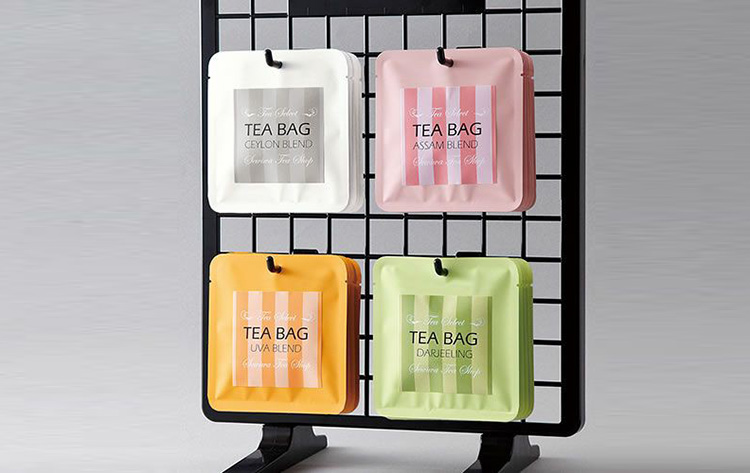 Using a tea bag packing machine also has the added benefit of prolonging the shelf life of your tea bags by giving them a full-proof covering that keeps moisture and heat away from affecting the contents.
Ease of Use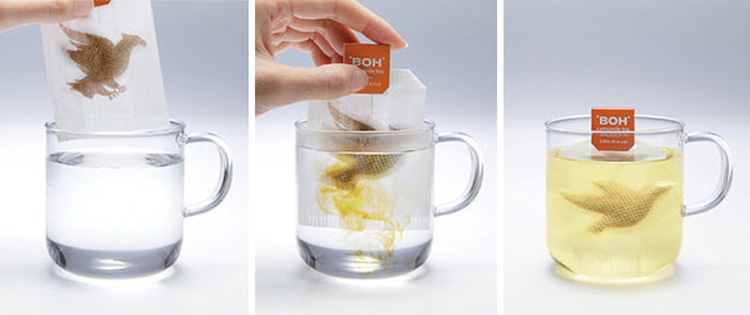 Without any doubt, the convenience and speed of tea bags is the main justification for their usage. You would never want to miss the opportunity of hosting a tea party when traveling on vacation, a trip or just hanging out with pals. Here's, where everyone takes tea bags out of their pockets and use them without tea supplies.
Environmental Friendly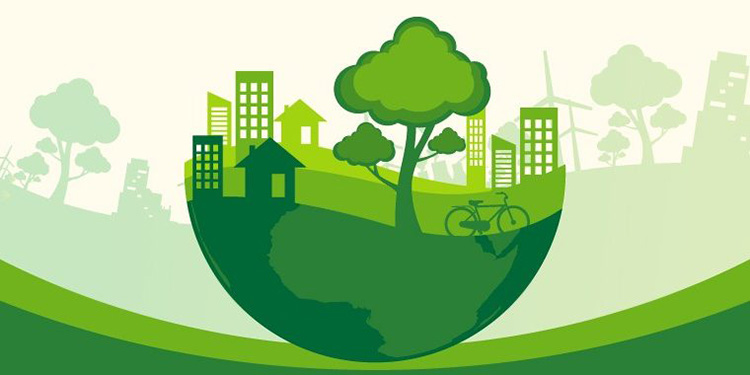 The material used to make tea bags, whether it is the tea storage bag, aluminum staples, or paper tags, is organic. The materials do not contain any chemicals that are bad for the environment. As a result, these compounds are more environmentally benign and anti-pollution due to their decomposition and recyclable nature.
3.What Type Of Bags Are Formed By A Tea Bag Packing Machine?
A tea bag packing machine creates a wide variety of tea bags in different sizes and forms. Here are some of them:
Single Chamber/ Square Tea Bags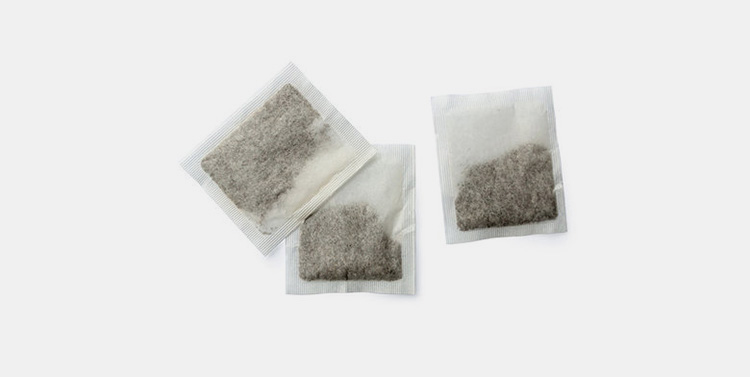 As the above picture display, these types of bags are square shaped prepared from filter paper, compostable fiber or porous plastic. These square shape tea bags are suitable for one tablespoon amount with material having good crushing rather than loose tea. It is due to the less space it provides for the expansion of tea when brewed with hot water or milk. Tea bags have thread and holding tags connected to them, so that they can be dipped easily. Filled square Tea bags are either packed in a corrugated Box collectively or wrapped in separate sachets made up of plastic or aluminum.
Pyramid Tea Bags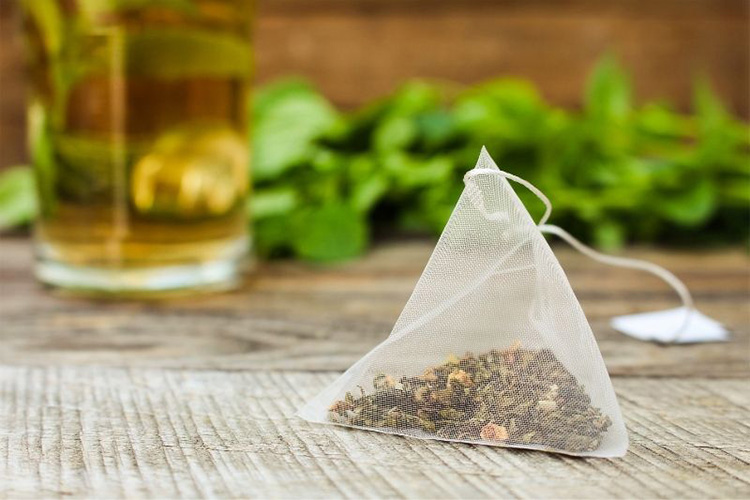 After square Tea bags, the most commonly used tea bags are pyramid tea bags which carry large room for loose leaves to release better flavor and good color. In pyramid tea bags, you can add flowers, lemon zest or rose to give additional flavor. This is only possible in pyramid shape tea bags due to the space it provides.
Double Chamber Tea Bags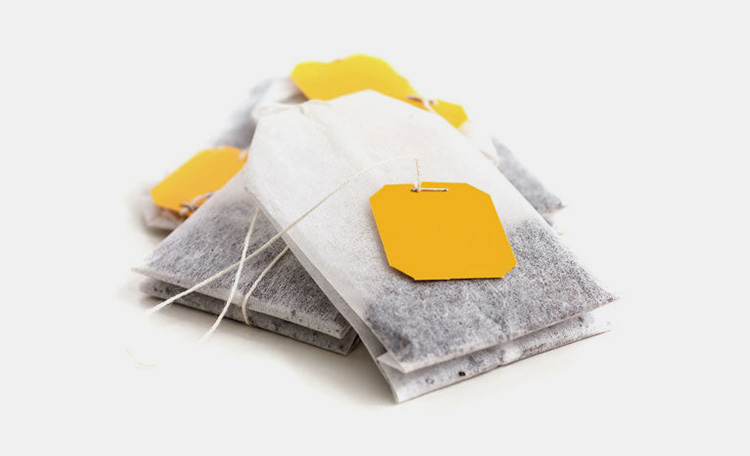 Double chamber tea bags are prepared from filter paper, a thread that joins the bag with paper tag which is itself attached to thread with aluminum staple. These bags are mechanically folded after squeezing by machine and make enable water to fully surround tea from every angle. This eventually better releases the aroma and taste of tea that is 30% more than released by single chamber tea bags.
Stick Tea Bags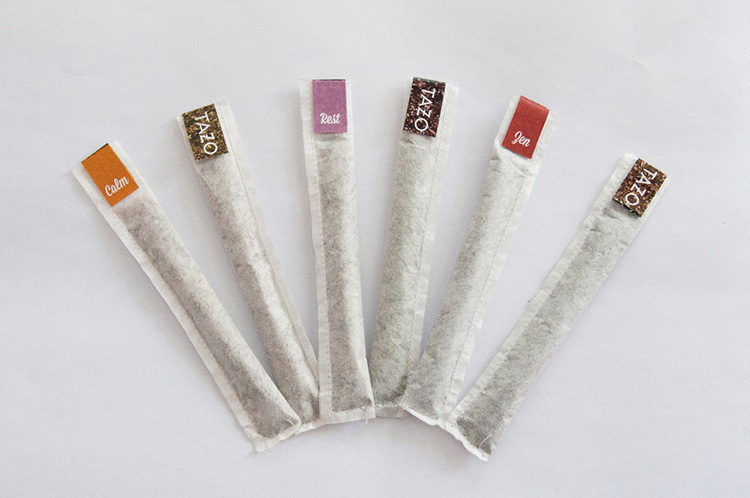 Stick tea bags are long shape vertical bags with upper label for stirring. With larger space it can hold two tablespoons of tea, powder or dust of coffee. The narrow holes allow quick release of tea color and taste as a result it gives strong blend to your favorite cup of tea.
Round Tea Bags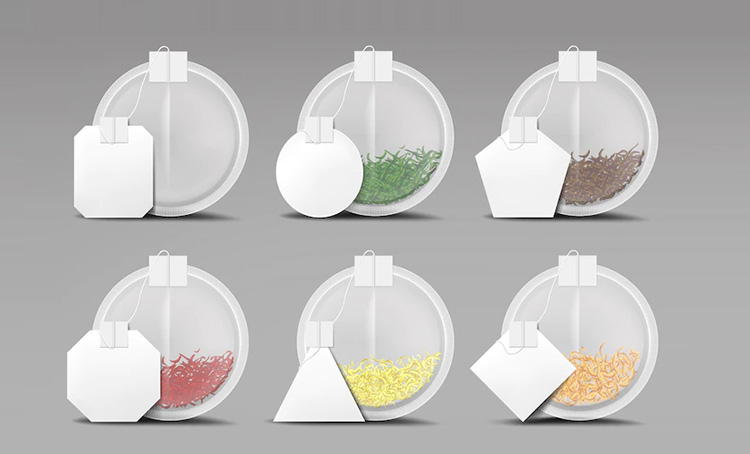 Round tea bags were developed to satisfy consumer demand for tea bags that can store more amount of tea and are appropriate for cups larger than typical delicate cups. Round tea bags are simple to create, require less additional cutting of the packing material, and typically lack thread and tags, which lowers the cost of production.
Irregular Shape Tea Bags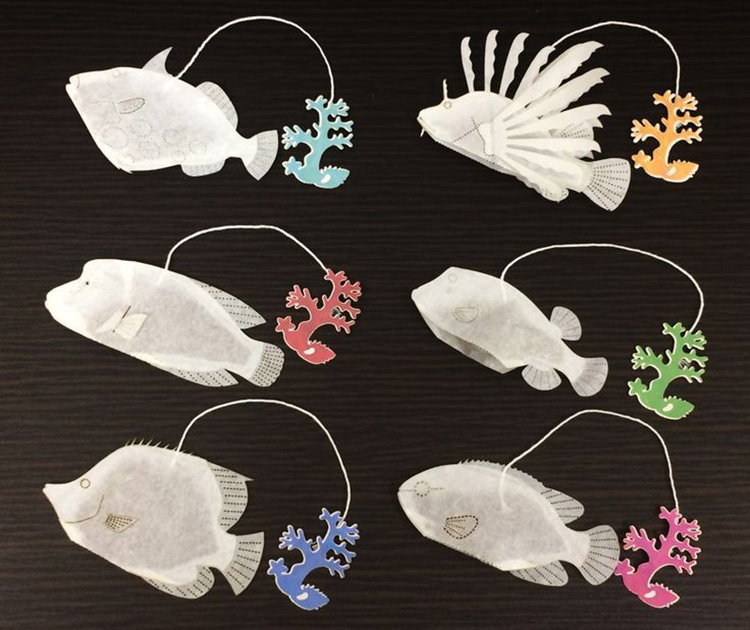 Most companies and cafes used to make distinctively designed tea bags to attract customers and give them memorable experience when dipping their tea bags in cups. For this purpose, a tea bag packaging machine is utilized to create shapes of various objects, including fish, cartons, butterflies, and other items.
Gusseted Tea Bags
In order to increase the amount of material that can fit within a bag, a gusset is inserted. When combined with warm water, these tea bags can store more tea and produce superior results in the form of tea expansion.
4.Describe The Components Of A Tea Bag Packing Machine?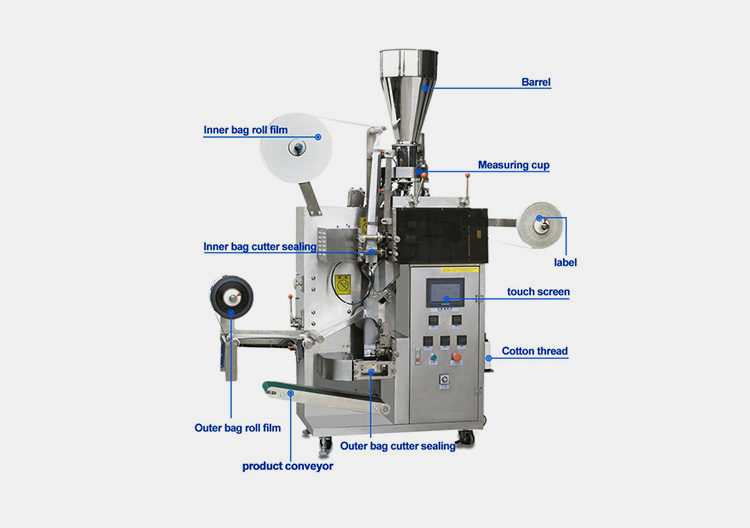 A tea bag packaging machine is made up of numerous components that collaborate in an ordered manner to create lovely and ideal tea bags. The following is a description of these parts:
Barrel
It is also known as the machine's hopper. It is used to store tea, either in the form of granules or leaves, which are subsequently delivered to tea bags once the machine is running.
Measuring Cup
It is located beneath the barrel that measures out the precise amount of tea and delivers it to the bags.
Inner Bag Former
This part of machine is responsible for preparing the inner tea bags from filter paper.
Outer Bag Former
Outer Bag former pack the complete tea bags in plastic film which is mostly printed.
Bag Cutting Device
It has an inner bag cutter and an outer bag cutter whose job it is to cut the filter paper and plastic film into pieces so that tea bags and outer sachets can be made.
Filter Paper Roller
It is an important part of your production from which your inner tea bags are produced. Filter paper is made up of cotton a fiber which is used to separate the fine solid particles from getting into the liquid. These are completely compostable and biodegradable.
Control Panel
The control panel is a touch screen display with built-in capabilities that let you choose parameters for filling your tea bags. For instance, this gadget can be used to control the amount of tea that needs to be loaded and the size of your tea bags.
Thread and Tag Device
The two crucial components that are attached to tea bags to make them easier to grip and dip into water are the thread and tag. Thread spindle and tag roller are incorporated to machine in their fixed positions for this purpose.
Envelope Film Roller
The envelope film roller is used to wrap tea bags. This roller contains a sizable printed plastic or aluminum film that is slowly released for each tea bag.
Finished Bag Conveyor
This is the last part of whole processing which delivers the finished tea bags one after another.
5.What Is The Functioning Procedure Of A Tea Bag Packing Machine?
You can gain better understanding of how a tea bag packing machine works by reading the stages listed below:
Material Loading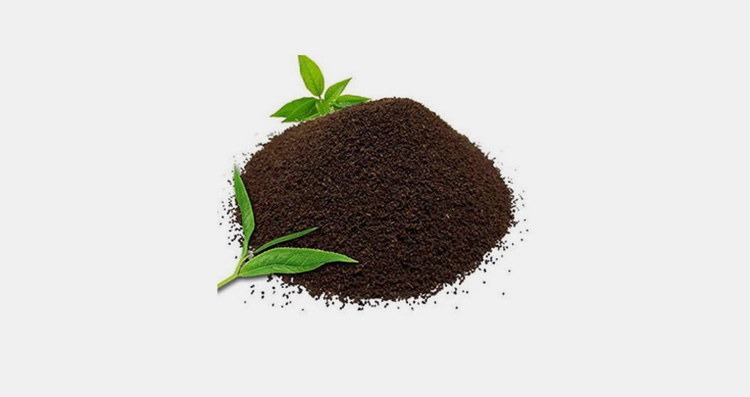 Before starting machine, make sure that all parts are well assembled and screws are tightly joined. After that, load the hopper of machine with tea leaves or dust depending upon the type of tea you want to pack.
Inner Bag Formation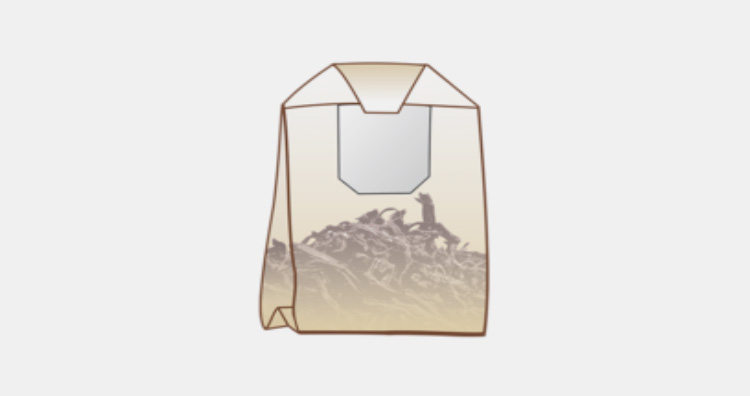 Now, it is the second stage, where formation of inner tea bag takes place. Bag is formed from the filter paper or perforated porous plastic released by the material roller. Through mechanical system, bags are transferred and squeezed into desired shapes and fill with the fixed amount of tea. The bags are then closed through heat sealing or crimping.
Attaching Thread and Tag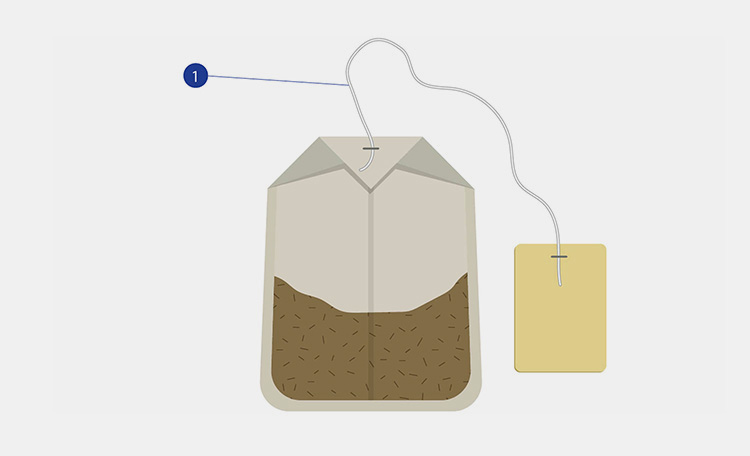 The third step includes attachment of thread and tags with inner tea bags. Thread is released from bobbin and joined to the bag through staple or sticky strip. On the other hand, the edge of thread is protected inside the double layers of heat sealed tags.
Outer Bag Formation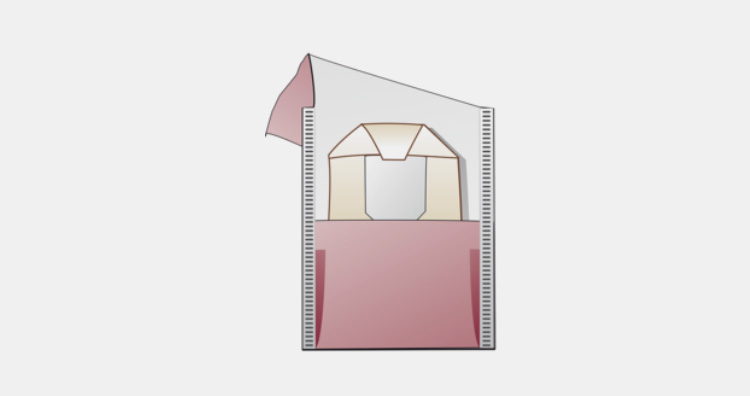 This step is optional in your tea bag making process, as most of the companies used to pack their naked tea bags as a whole in corrugated boxes or gusseted bags. However, the picture is different on the other side as several factories used to deliver their tea bags individually in sachets. Here, the need for outer bag is realized, which is formed from plastic film and wrapped over the tea bags to protect them against moisture.
Finished Bag Conveyor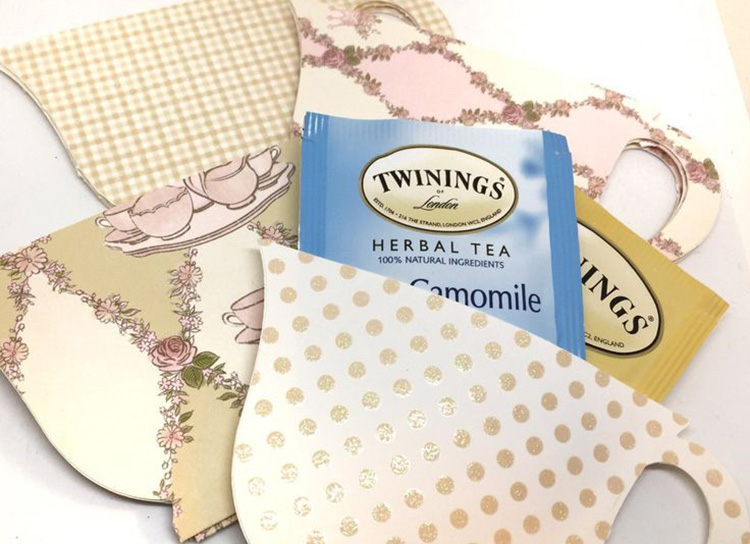 Finally, the cutter clutch cuts down the tea bags that fall on the conveyor belt for discharge after the forming, filling, and sealing processes are finished.
6.How Many Kinds Of Tea You Can Pack By A Tea Bag Packing Machine?
No matter if the tea is medicinal, herbal, or regular, you'd be amazed to know that you can put every sort of tea in attractive tea bags. To learn about them all, keep reading:
Black Tea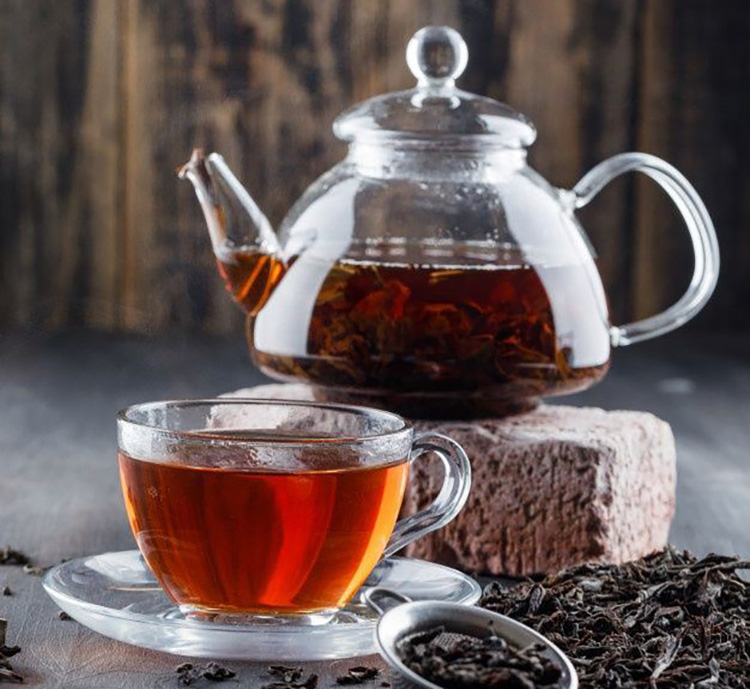 Black tea is generally used in western culture and is served without milk. It is made from a camellia sinensis bush that contains caffeine and other ingredients. It has a number of beneficial health effects, including boosting the immune system and reducing the risk of ovarian cancer and blood pressure. Industries used to process black tea and deliver it in form of tea bags, so that it can be easily taken by consumers in their offices and traveling etc.
Green Tea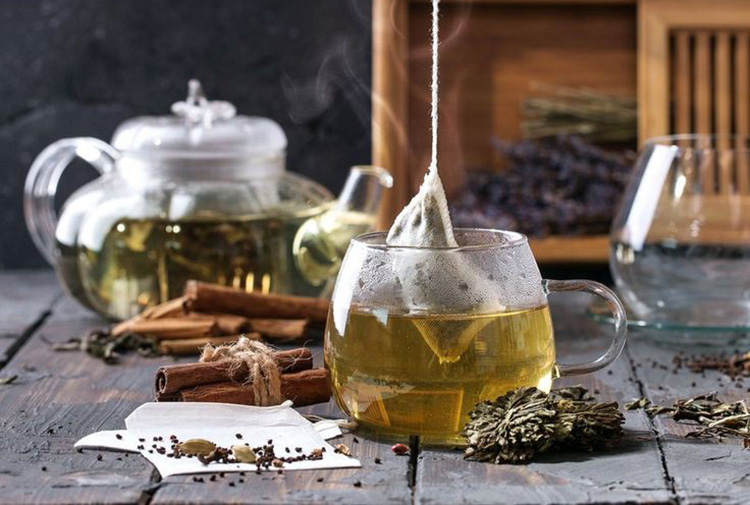 The most widely consumed type of tea for weight loss, mental clarity, and digestion support is green tea. It has few calories and is made from deoxidized leaves. To improve the flavor and aroma, it is typically consumed with cardamom, lemon leaves, or mint. You can use a pyramid tea bag packing machine, which gives you more space, to combine these materials together.
Red Tea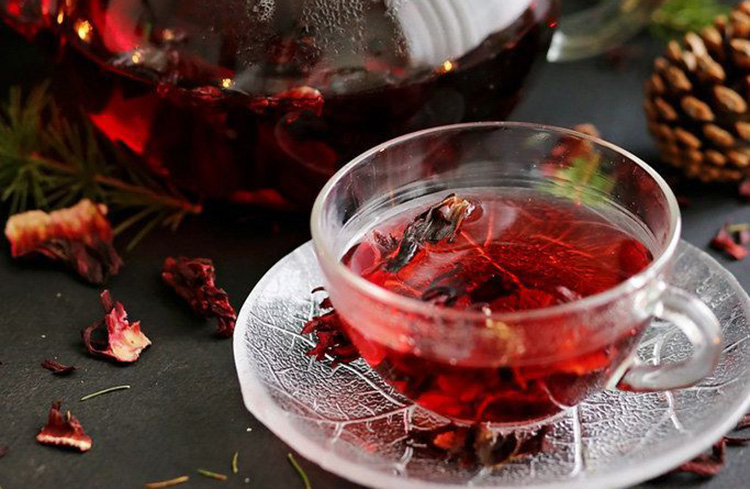 Red tea is made from the fermented leaves of the Aspalathus linearis shrub, which is primarily found around the coast of South Africa. Similar to other forms of tea, red tea offers various advantages including enhancing bone health, managing diabetes, and lowering blood pressure. Additionally, to loose leaf tea, it is also available in tea bags.
Herbal Tea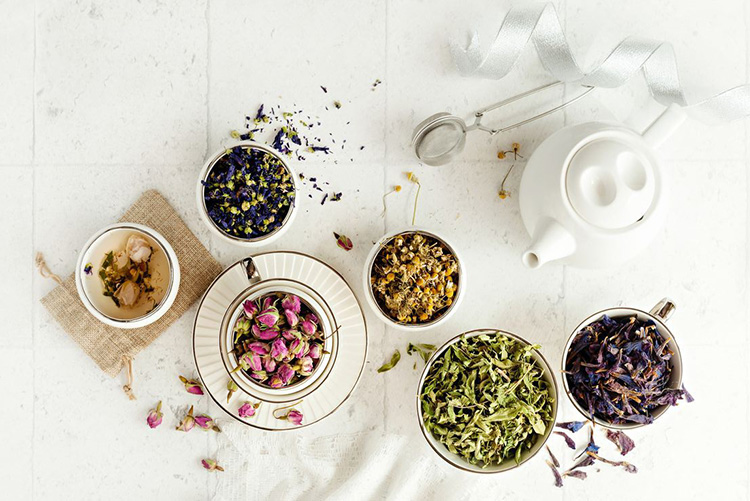 The term "herbal tea" encompasses a wide range of ingredients. For instance, a powerful herbal tea is made by combining a variety of herbs and flowers in the shape of tea bags, such as cinnamon, chamomile, linden leaves, holy basil, ginkgo biloba, fennel, and peppermint. Drinking herbal tea can help prevent infections by enhancing iron absorption and immunological function. It also helps in promoting flawless skin.
7.Differentiate Between Tea Bags And Tea Sachets?
Sachets and tea bags are two different methods utilized for the packaging of tea. By examining the underlying comparison at core, you will learn the distinctions between the two:
| | | | |
| --- | --- | --- | --- |
| No | Factors | Tea Bags | Tea Sachets |
| 1 | Definition | Tea bags are white porous bags used for holding tea, so that it can be easily dipped into water without dispersing the particles in liquid | On the other hand, sachets are plastic bags that are used to pack loose tea or tea dust for the purpose of protecting it from environmental pollution |
| 2 | Packaging Material | Tea bags are prepared from filter paper, cotton or nylon plastic. For easy holding, thread and paper tag is used additionally | Sachets are prepared either from plastic or aluminum foil |
| 3 | Making Process | Its manufacturing process is based on certain procedures such bag forming, filling, sealing, threading, and tag joining | While only requiring a forming and sealing process, sachets are fairly simple to create |
| 4 | Shape | Tea bags come in a wide variety of shapes and designs | In contrast, there is limitation on part of sachets when it comes to different shapes |
| 5 | Cost | Collectively, the cost of tea bags is a bit higher than sachets | Sachets are cost economical in nature |
| 6 | Sustainability | Tea bags may be easily recycled, making them more environmentally friendly and sustainable than sachets | The fact that sachets do not break down quickly and produce hazardous particles that contaminate the soil and water, makes them bad for the environment |
| 7 | Application | Dust tea, loose tea and coffee etc. | Tea, food products, liquids etc. |
| 8 | Examples | | |
8.Which Material Is Used By A Tea Bag Packing Machine For Making Tea Bags?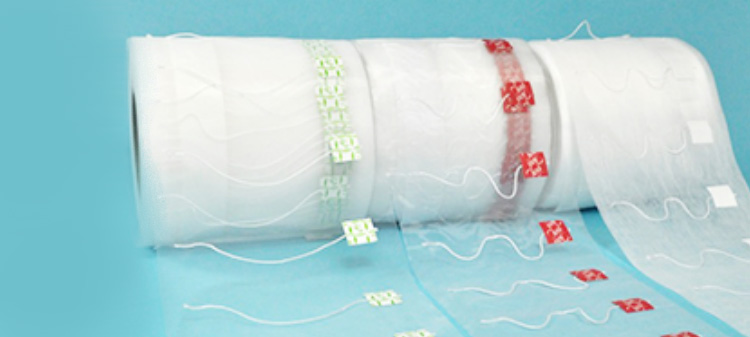 The materials used to create tea bags range widely. Here is a description of these materials:
Inner Bags
Inner tea bags are prepared mostly from filter paper, nylon mesh, non-woven fabric and heat sealable laminated thin plastic. All these materials are biodegradable and having perforated surface for quick contact with water.
Thread
Three original cotton strands are used to create a strong thread that is used to hold tea bags.
Tags
Tea bags have tags tied to them using cotton thread. It is primarily made of sturdy paper that can withstand ink at high temperature.
Outer Bags
Tea bags are packed in outer bags as a safeguard. They are also referred to as sachets and made of plastic or aluminum foil to refract ultraviolet rays and keep moisture out.
9.Why Does Tea Bags Preferred Over Loose Tea?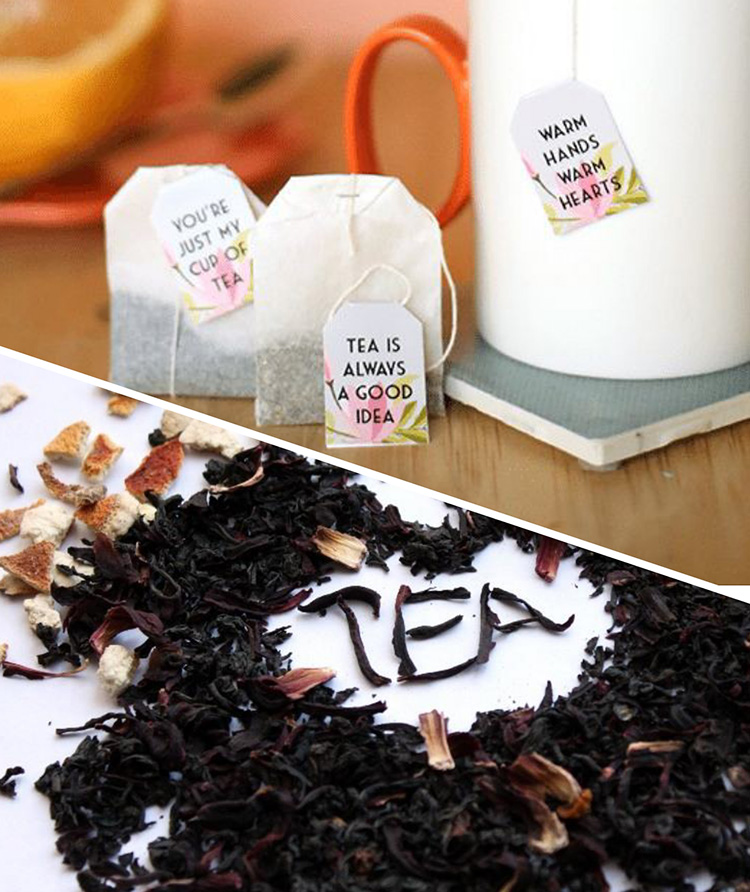 Most people choose to use tea bags rather than loose tea for a variety of reasons. Read the following points to learn more about these causes:
The ease of using tea bags, which is lacking in loose tea, is the primary factor for popularity of tea bags.
Tea bags do not need to be boiled in a water kettle or use additional materials. While as, loose tea requires adequate kettle brewing.
Tea bags do not allow any particles to escape; they only allow color and flavor to be released into your cups. On the other hand, loose tea disperses in your kettle and needs a tea strainer for removal.
Each tea bag contains a set amount of tea, making it simple to understand even for those who have little experience in the kitchen. Contrarily, if you're preparing loose tea, you might add more, which would ruin the flavor.
10.Explain In Detail The Various Types Of Tea Bag Packing Machine?
The following are some several types of tea bag packaging machines:
| | | |
| --- | --- | --- |
| No | Factors | i. Single Chamber Tea Bag Packing Machine |
| 1 | Definition | Single chamber tea bag packing machine is used to form one sides square pillow bags with 3 or 4 sides seal. |
| 2 | Process | The process is started from inner bag forming, material loading, heat sealing and labeling respectively. |
| 3 | Structure | The structure of machine is composed of barrel, dosing station, filter paper roller, cotton thread, cutters and tags device etc. |
| 4 | Application | Dust of red tea, coffee and black tea. |
| 5 | Machine | |
| | | |
| --- | --- | --- |
| No | Factors | ii. Double Chamber Tea Packing Machine |
| 1 | Definition | Double chamber tea bag packing machine is employed to make dual sided tea bags that provide better room for expanding tea. |
| 2 | Process | The process starts with the formation of inner tea bag which is than mechanically squeezed, filled, sealed and joined with cotton thread and tags via staple. |
| 3 | Structure | The machine is made up of a number of components, such as a hopper, measuring tool, control panel, material roller, holding thread, labeling, etc. |
| 4 | Application | Black tea, fruit tea, red tea and coffee etc. |
| 5 | Machine | |
| | | |
| --- | --- | --- |
| No | Factors | iii. Pyramid Tea Bag Packing Machine |
| 1 | Definition | Pyramid tea bag packing machine is a popular type of machine used to make beautiful pyramidal shape bags which have large space for easy circulation of tea and water around it. |
| 2 | Process | The procedure involves creating a circular bag, sealing it from one end, and then filling it with tea. The bag is then sealed from the top in the opposite direction to how it was sealed from the bottom. At last, tea bags are finished and discharged by conveyor in sachets. |
| 3 | Structure | The machine is made up of control system, funnel, dosage device, bag forming, filling, circular device for sealing, sachet forming and discharge conveyor etc. |
| 4 | Application | Herbal tea, green tea, flower tea and loose black/ red tea. |
| 5 | Machine | |
11.What Are The Applications Of A Tea Bag Packing Machine?
A tea bag packing machine is utilized in a variety of settings, including cafes, big businesses, and homes. The following information would reveal where it is applied:
Tea Processing Industry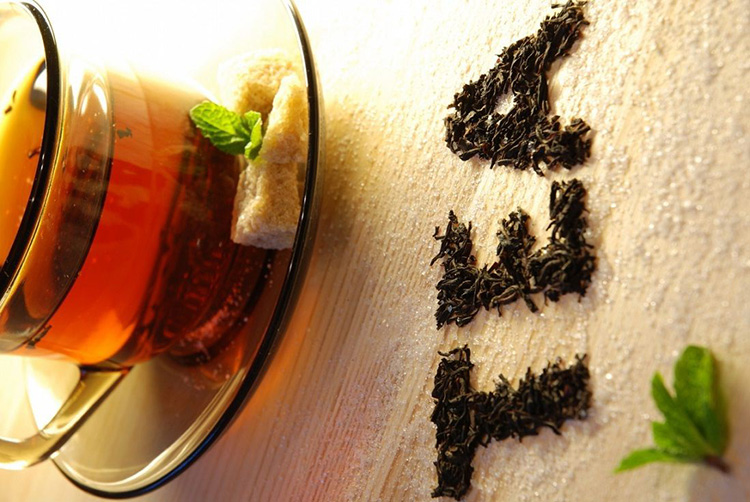 Where tea leaves are processed is the most obvious location where a tea bag packing machine would be present. Every producer wants to offer their clients a broad range of tea options, such as tea bags, loose tea, dust tea, etc.
Coffee Processing Industry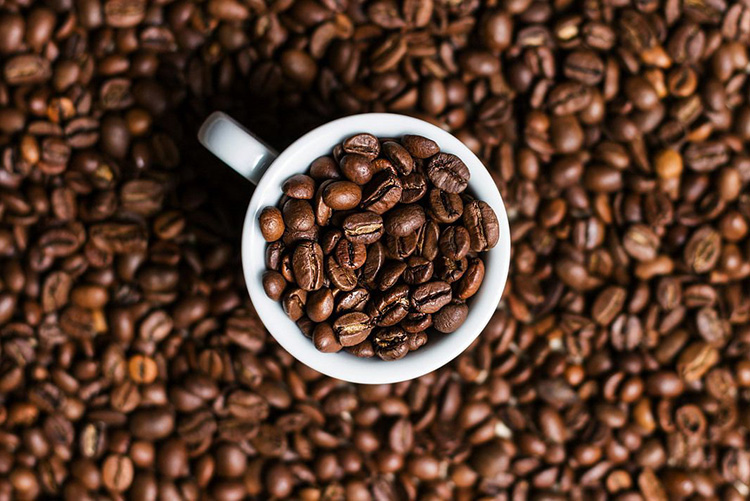 Coffee is consumed as a beverage made from roasted coffee beans. People enjoy drinking a cup of coffee every day to feel stimulated and increase productivity, much way they enjoy drinking tea. Due to this, factories that process coffee often use tea bag packing machines. As a result, coffee is also delivered in tea bags.
Cafes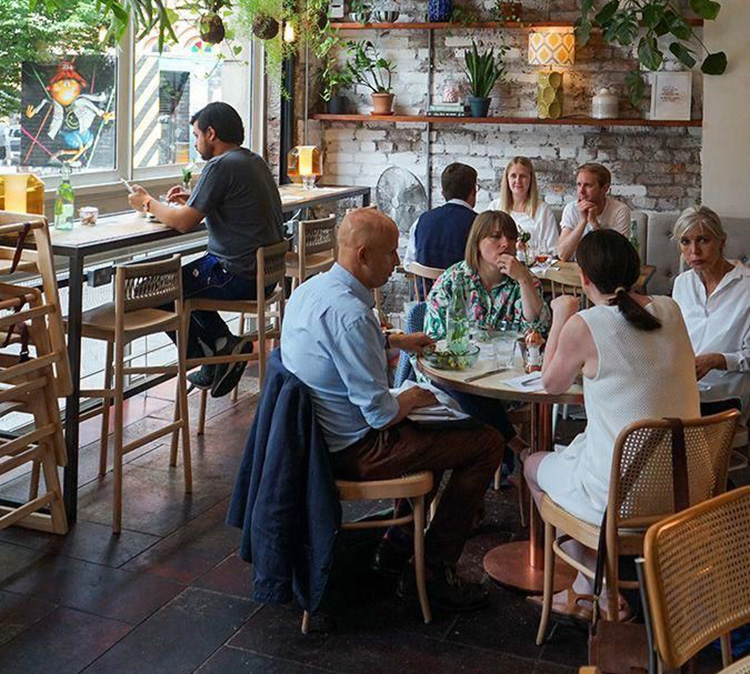 People typically at least drink a cup of tea or coffee in cafes and restaurants. This suggests that the proprietors of these locations will make every effort to provide their clients with the finest possible service, for which they introduce tea bags in attractive shapes. In the end, a tea bag packaging machine is needed to prepare these tea bags.
Herbal Industry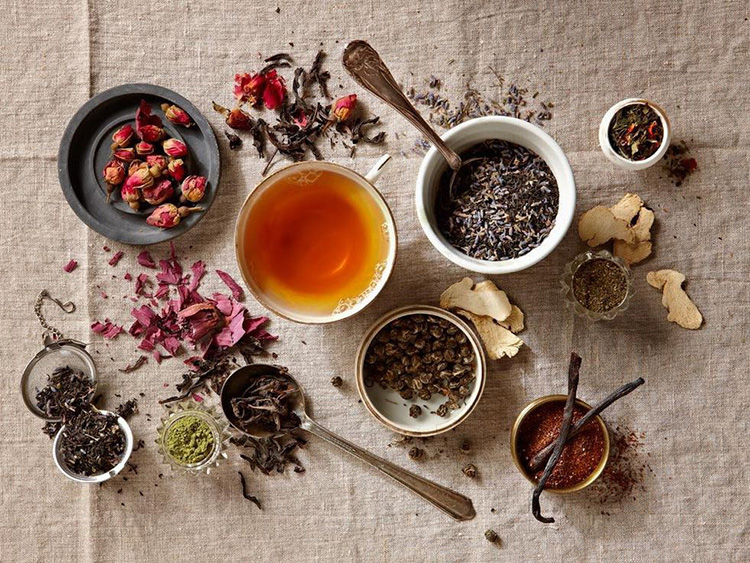 Since the herbal sector is constantly processing various kinds of herbs for a variety of uses, such as herbal medications and herbal tea, etc. Here, herbal tea is flawlessly delivered using a tea bag packing machine, ensuring that its quality is maintained all the way until it reaches consumers.
Chemical Industry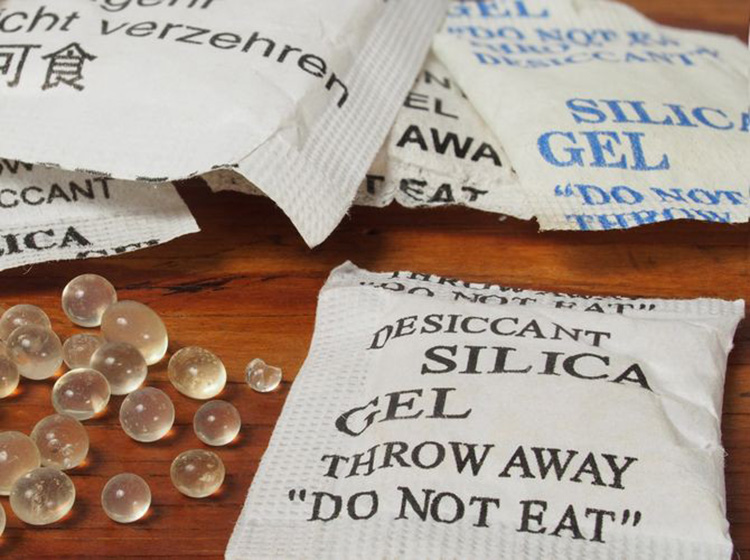 While reading this, you might be startled to learn that chemicals are also packed in tea bags. But how and for which objective? Similar to how tea leaves are packed, this is how it is done. As far as packaging is concerned, it is used to preserve foods, pharmaceuticals, and other objects like handbags and shoes by keeping moisture out. Silica gel is the most noteworthy example.
12.List Down The Machines You Would Need To Complete The Production Line For Tea Bag Packing Machine?
To complete the production line for a tea bag packing machine, the following machines are required:
Leaves Washing Machine
The leaves washing machine is the very first equipment you would require for processing your tea leaves. By washing the leaves through appropriate channel, it is used to remove dirt, sand, and debris from the leaves.
Leaves Drying Machine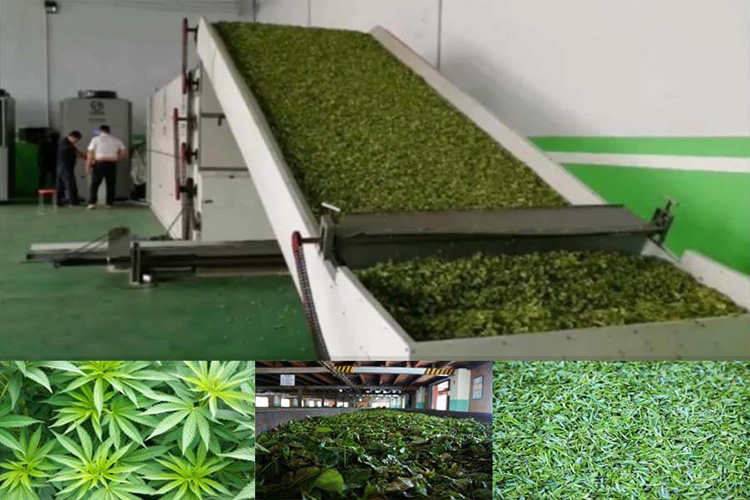 Fresh, damp tea leaves are dried using a leaf drying machine in an oven or heating system. All the leaves are spread out on trays and kept in the dryer room, where they are all perfectly dried.
Herb Crushing Machine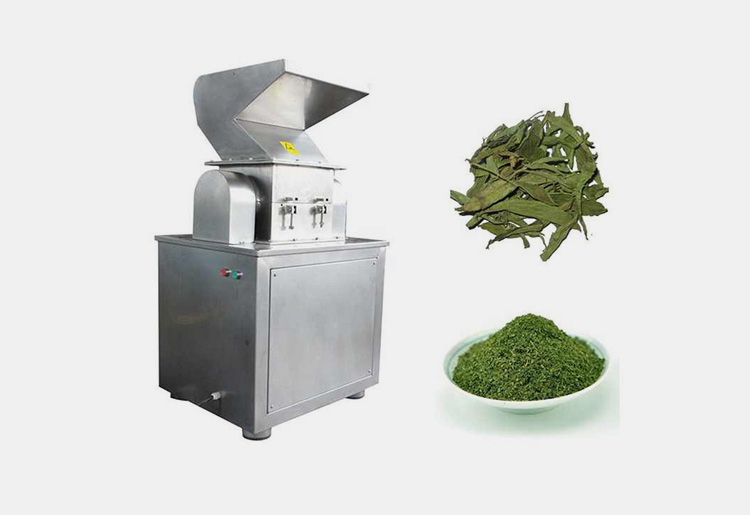 Tea leaves are processed by a herb crushing machine after going through the cleaning and drying stage. This device produces the fine tea dust by an electromechanical method.
Corrugated Box Packaging Machine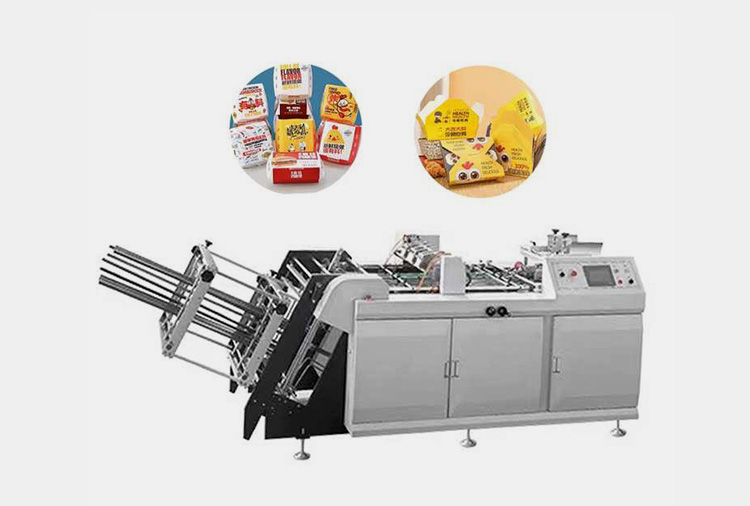 The last step, when all the individual tea bag packets are assembled into a single corrugated box, uses this equipment. Depending on how many tea bags you are placing in them, these boxes come in a variety of shapes and sizes.
13.How Would You Troubleshoot The Common Faults Caused By A Tea Bag Packing Machine?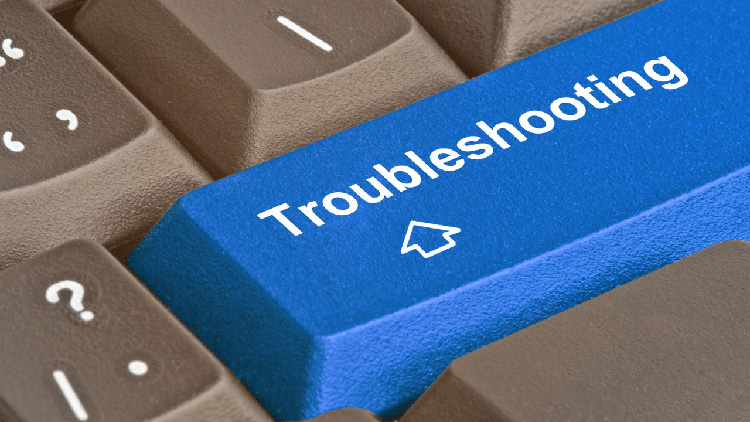 You could run into problems when using a tea bag packing machine. However, you can use the table below to readily combat them.
| | | | |
| --- | --- | --- | --- |
| No | Problems | Causes | Troubleshooting |
| 1 | The speed regulation does not function after machine is turned on | The issue with the PLC software is the only cause of this error | Power off the electric supply and wait for PLC to restart after turning machine on |
| 2 | The inner and outer sealing of machine do not work | It can be because the stepping motor is faulty, the length of bag is wrong, or the wiring between the stepper motor and driver is damaged | Replace the stepper motor and also modify the length of bag |
| 3 | Stop button does not work | Either the screen and inverter are damaged, or after replacing the PLC, you did not replace the stop button. | Inspect the screen to be sure you touched it. Press the button after adjusting and replace inverter and screen in case of damage |
| 4 | The sealing of tag is poor | Insufficient temperature, pressure and bad labeling are the main causes for it | Use tags of good quality and apply adequate temperature along with pressure for strong sealing |
| 5 | Issue with cutting the inner bag | It occurs as a result of a dull cutter and inadequate pressure | Clean the cutter, replace if blunt and allow pressure for sharp cutting |
Conclusion
To sum up, we hope you have enjoyed reading this article and that it has given you a better understanding of how a tea bag packing machine works. Now that you are aware of its importance, you can use a tea bag packing machine. Additionally, if you are interested in buying a bag packing machine, you should consider Allpack, which has a reputable history in offering amazing packaging machinery. You can freely contact us using the provided link for any information or questions. http://www.allpackchina.com/
Don't forget to share this post!
CONTACT US
Tell us your raw material and project budget to get quotations within 24 hours.
WhatsApp Us: +86 181 7101 8586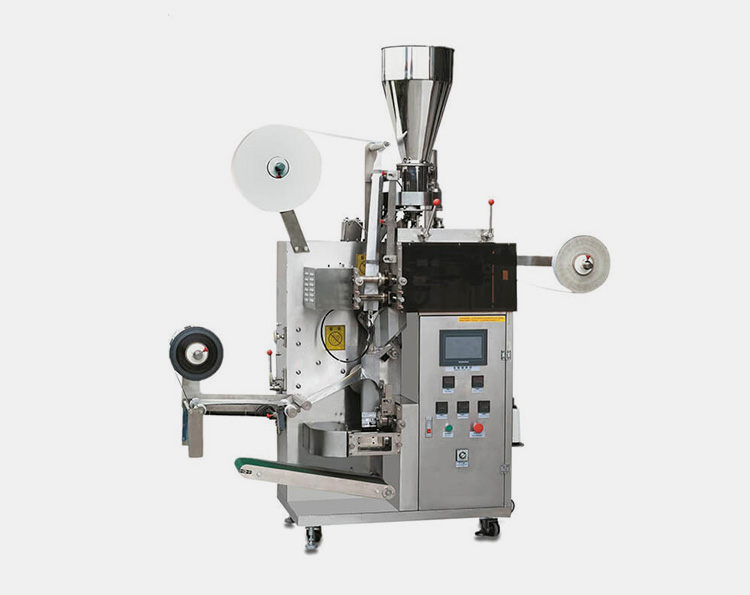 Tell us your material or budget, we'll reply you ASAP within 24 hours