Salsa Packaging: The Complete FAQ Guide In 2023
Everyone loves salsa with their chips. It is a combination of different ingredients that hits special spots on taste buds. But salsa zest is due to tough salsa packaging. It has a role not only in protecting tangy taste of salsa and increasing its shelf-life, but also bold and vibrant salsa packaging is a mean for increasing its product appeal. Salsa packaging protects it from physical, chemical, and biological agents.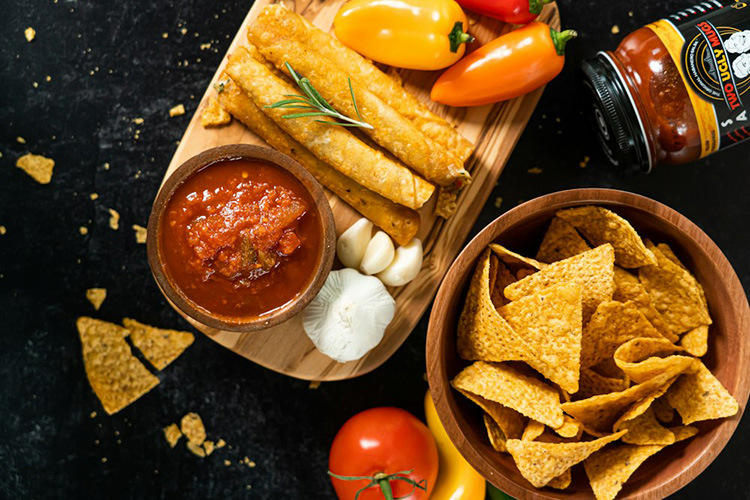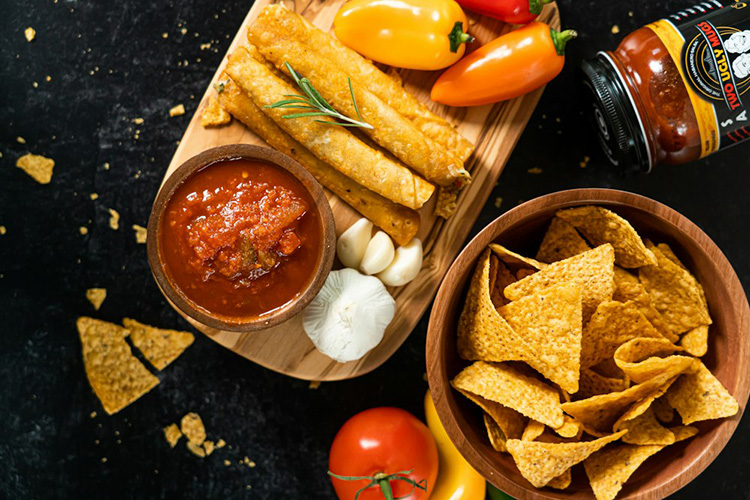 Moreover, labels on salsa packaging convey product information, usuage, brand story and moral values. Are you in the process of creating your salsa packaging? Then this blog will help select the right kind of packaging for your brand.
Add a header to begin generating the table of contents
1.What is Salsa?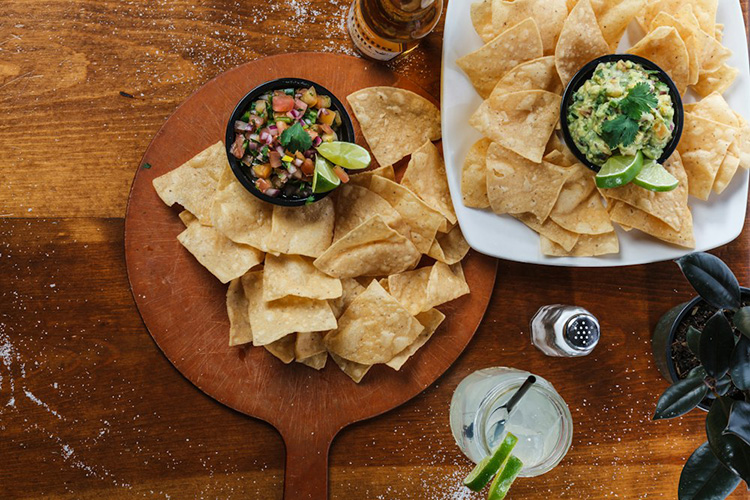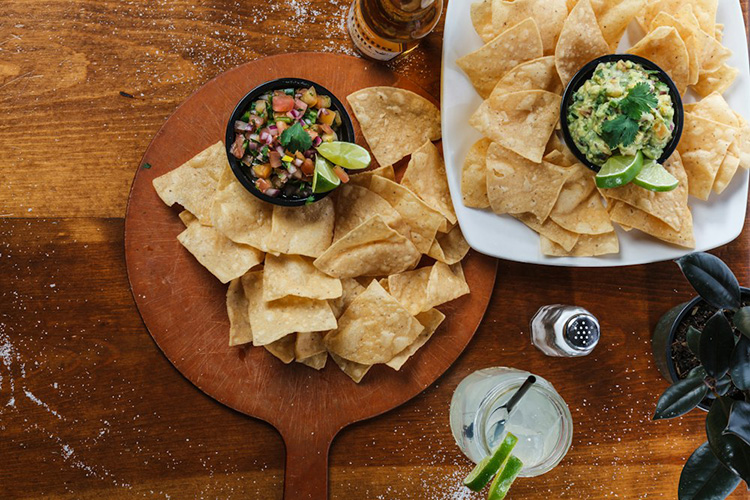 Salsa
Which food is served as a condiment, or topping and, has a spicy tangy flavour? Only one word comes to mind and that is salsa. It is derived from the Spanish word salsa meaning sauce and it also originated from the Latin word salsus meaning salty. Salsa is very easy to prepare and is created from chopped or whole vegetables and fruits.
Commonly tomatillos, cilantro, tomatoes, sweet peppers and other fruits like grapes and pineapples are added for preparing sweet and spicy salsa. It is enjoyed as a topping on eggs, boiled potatoes, roasted chicken and beef. It can be used as a dip with tacos and sandwiches.
2.How to Define Salsa Packaging?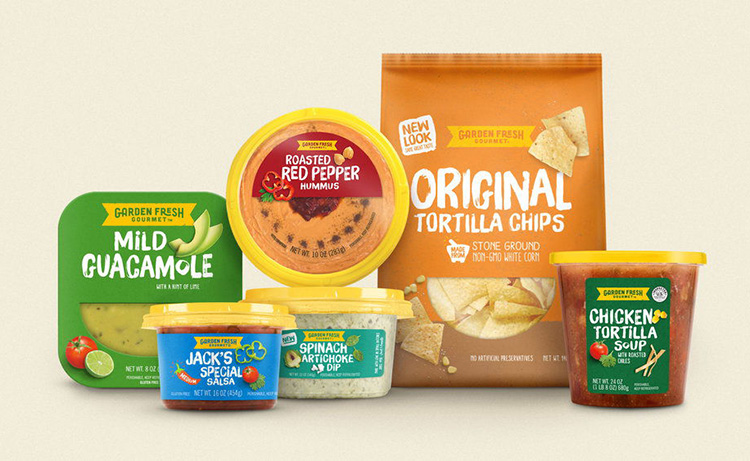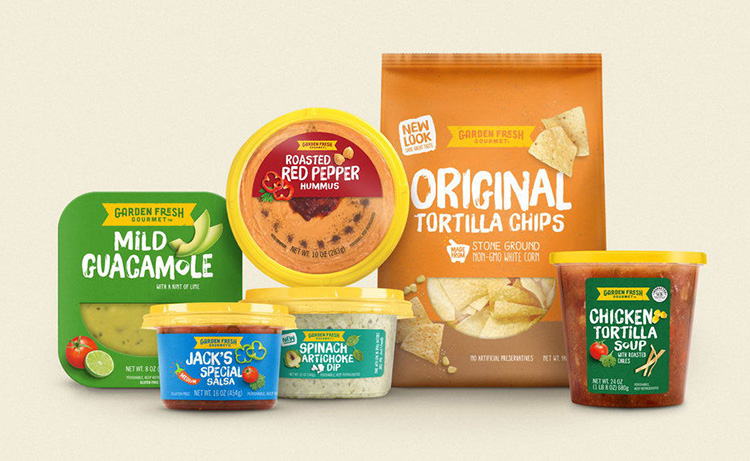 Salsa Packaging- Picture Courtesy: Dieline
Salsa is manufactured with special ingredients that can degrade when left open. Therefore, salsa packaging is deployed as a tool for protecting the salsa components against dust, debris, microbes, insects, vermin, air, moisture, light, and, temperature. It is a safe system for handling and transporting different types of salsas.
Moreover, packaging also prevents the contamination of salsa to ensure the health and safety of the end-users. It also acts as a barrier and shield that safeguards salsa from rough treatment and wear and tear while cargo shipment. Also, stylish salsa packaging is a means of increasing brand sales.
3.Why is Salsa Packaging Important?
It is hard to imagine a world without salsa, as it has become an essential part of the cuisine. Thus, it is necessary to hang onto its wholesomeness to enjoy the best flavours of salsa. This is where salsa packaging has an indispensable part. Brands package salsa in protective layers to save it from harm. Some advantages of salsa packaging are penned below:
Safety During Transport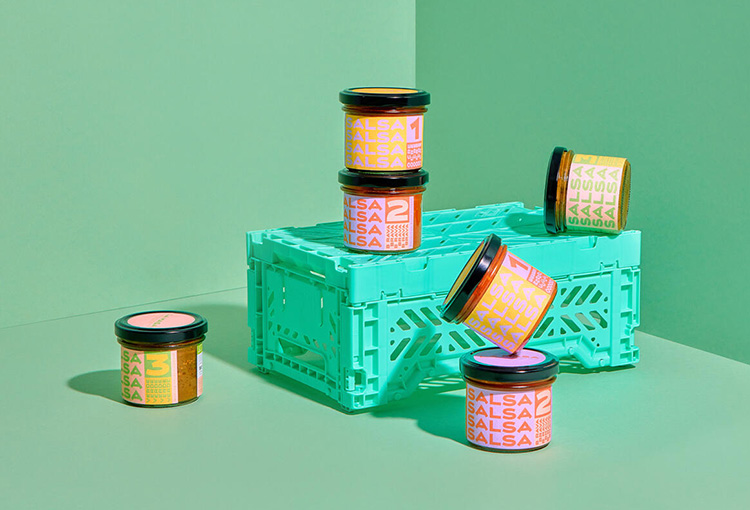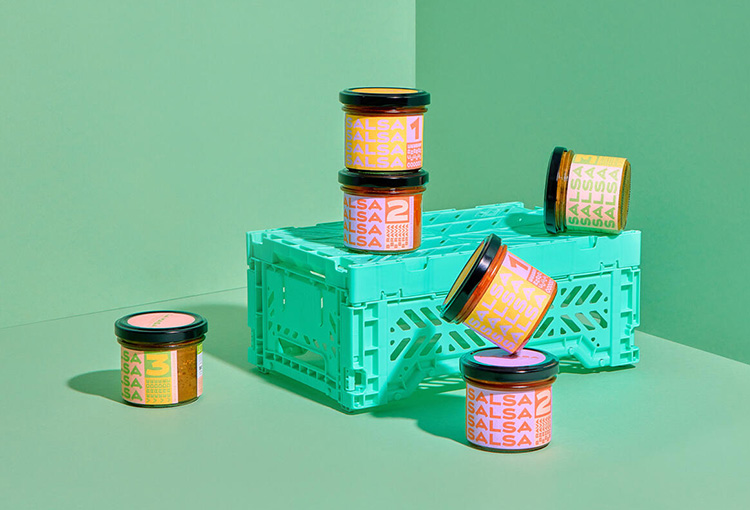 Safety by Salsa Packaging- Picture Courtesy: Packaging of the World
Long hauls could be detrimental to salsa and could lead to spillage and leakage of viscous salsa creating salsa wastage and mess. Therefore, brands pack salsa in puncture and scratch-resistant packaging so that salsa is delivered intact and in optimal conditions to the end-users. It also protects salsa from unstable temperatures and processing disasters.
Brand Advertisement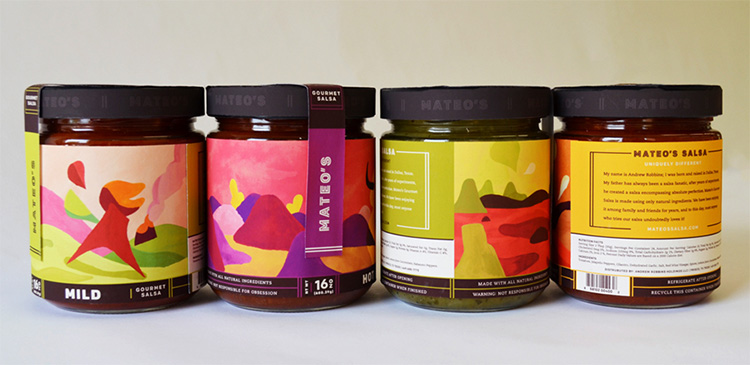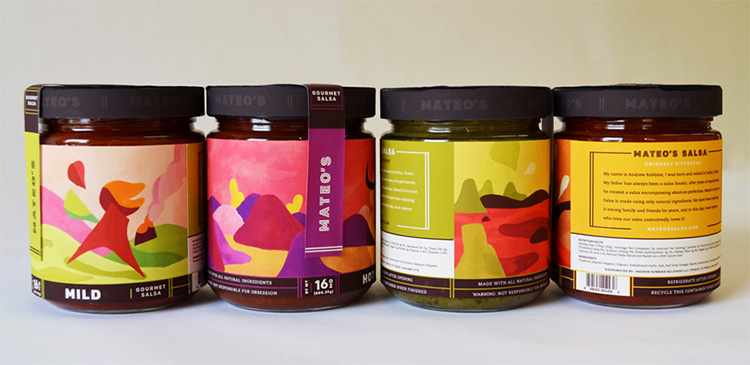 Branding by Salsa Packaging- Picture Courtesy: Ian Andersen Portfolio
One of the significant pros of salsa packaging is its brand awareness and recognition. Ingenious, original, and, stylish packaging is always used as a means for differentiating salsa products on crowded shelves. Moreover, this distinctive packaging is retained in the memory of salsa lovers and is a sure way of sale on recurring visits.
Green Packaging and Waste Reduction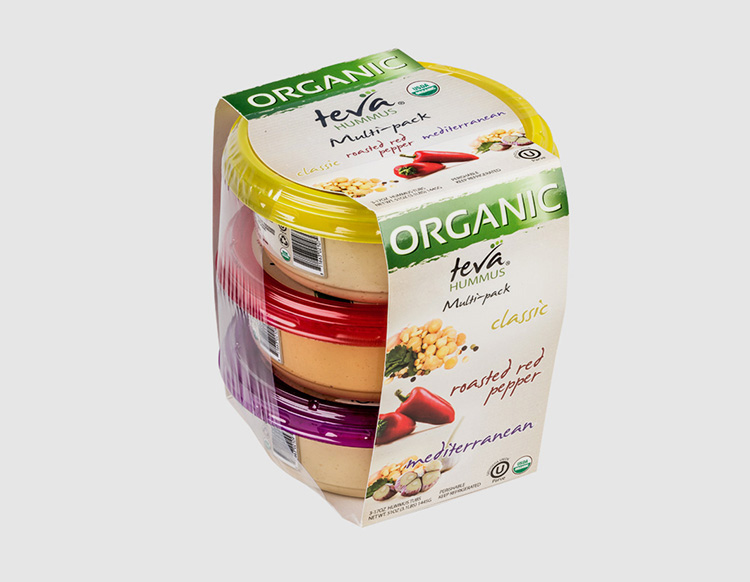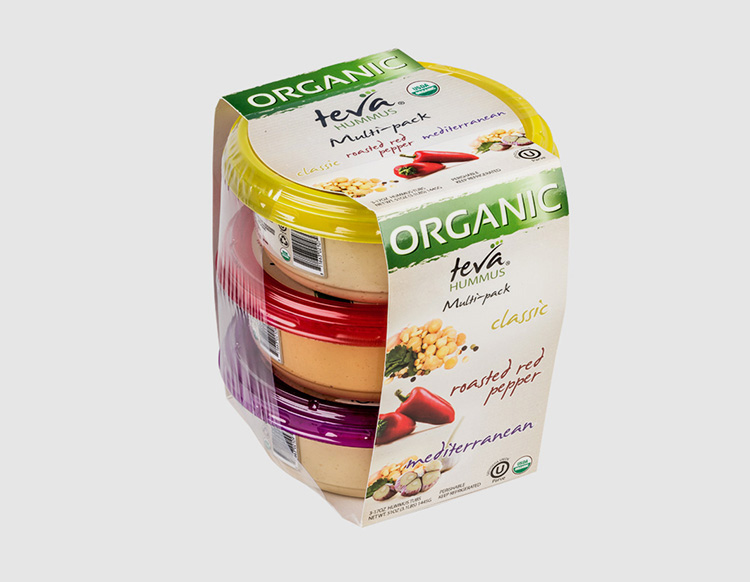 Sustainability of Salsa Packaging- Picture Courtesy: Packline USA
Waste management and landfill issues have created a huge mountain of environmental problems. But with the latest technologies, brands have fabricated materials for salsa packaging that are 100% eco-friendly, producing less waste landfill. These materials are offers sustainability when it comes to recycling.
Storage Convivence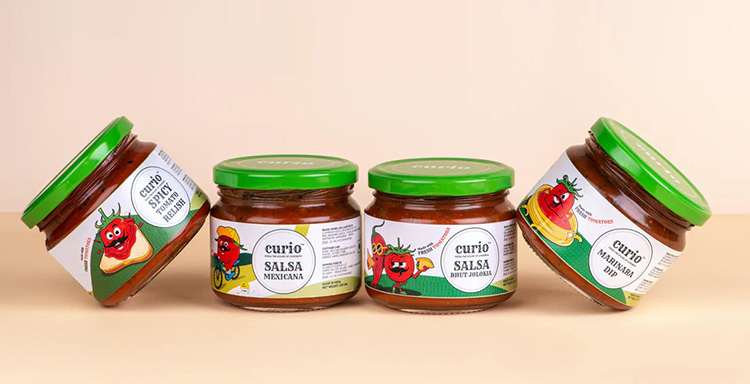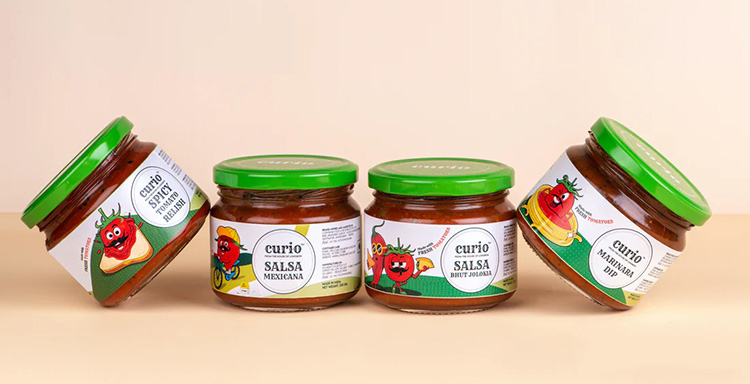 Storage Convinence- Picture Courtesy: Longbow Foods
Opened salsa occupies huge space and is difficult to handle and use. But with salsa packaging, this space concern is not a problem. Salsa packaging is stackable and uses little area in cabinets and fridge. Furthermore, it has spouts and re-closable caps and seals that allow for easy reuse and salsa dispensing.
Anti-tampering and Security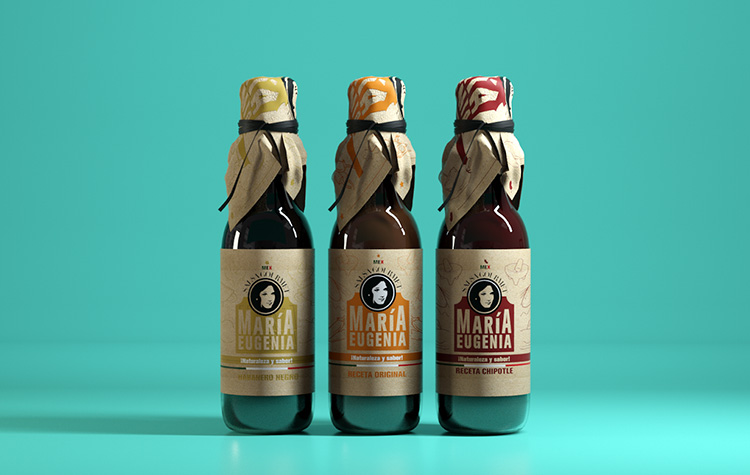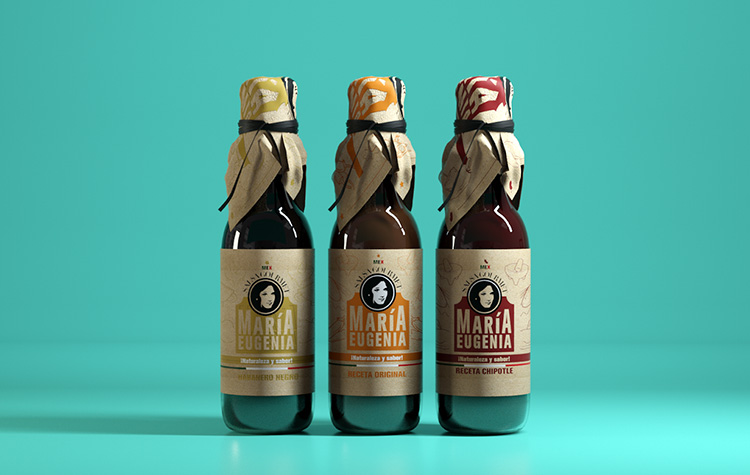 Anti-Tampering of Salsa Packaging- Picture Courtesy: Package Inspiration
Tampering and adultery have been growing over the recent years and have led to the introduction of substandard, low-quality, and, fake products in the market which can comprise health safety. However, with use of innovative contrivances, such as tamper evident seals, tapes, holograms, RFID, and shrink films on salsa packaging has resolved the issue of tampering and fortified the security of packaging.
4.What are Different Salsa Packaging Styles?
Novelty and creativity are a must for attracting and tempting customers to buy salsa, hence, brands are in forever pursuit of creating new packaging styles for their salsa products. Different salsa packaging formats are: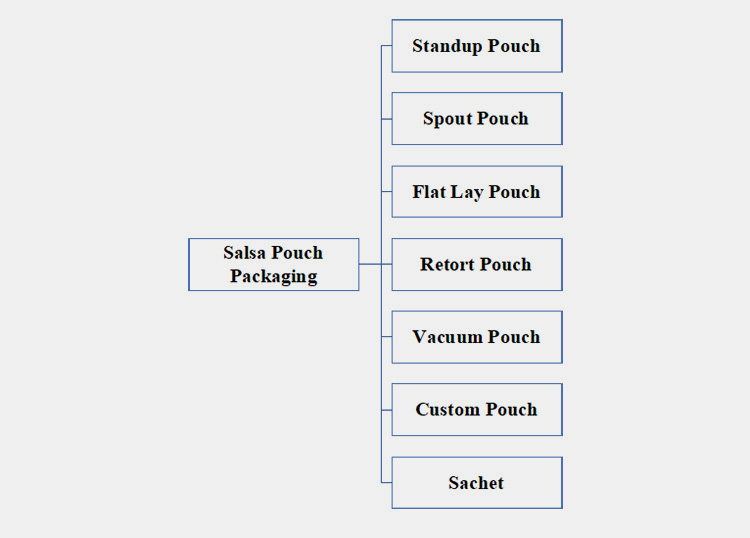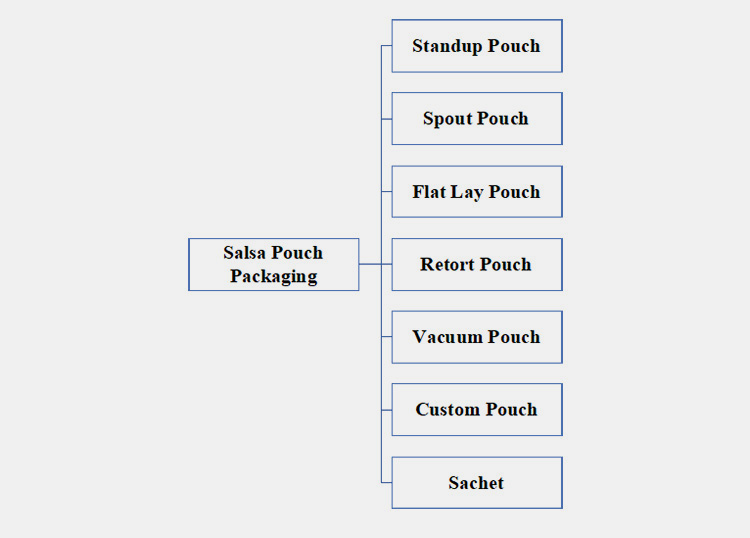 Standup Pouch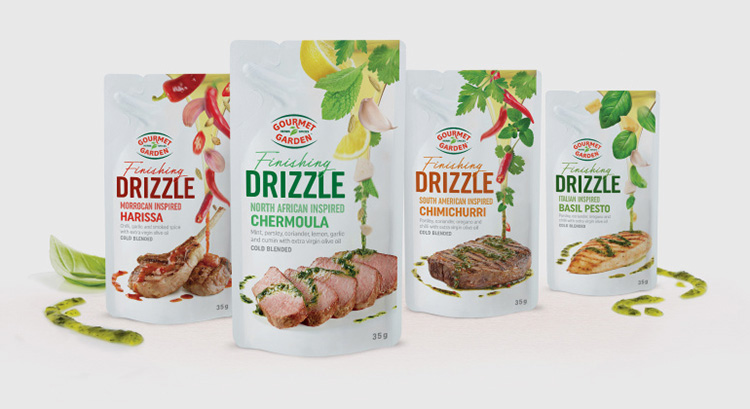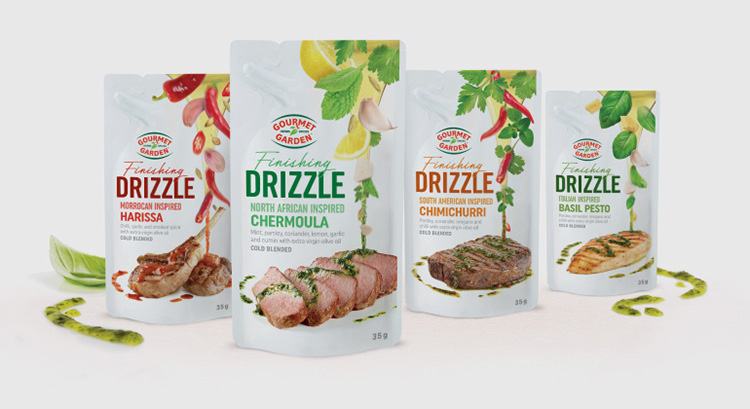 Standup Pouch- Picture Courtesy: Packaging News
This pouch is a versatile salsa pouch that can be customized with tear-away notches, resealing ties, and, zipper. The biggest advantage of packaging salsa in this pouch is its tall outlook on the market shelf that makes an attractive display, serving as a brand bulletin board.
Spout Pouch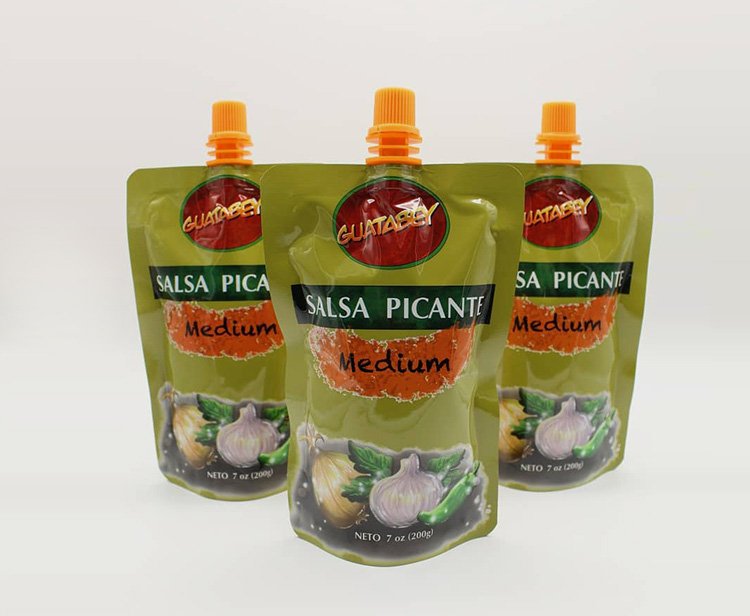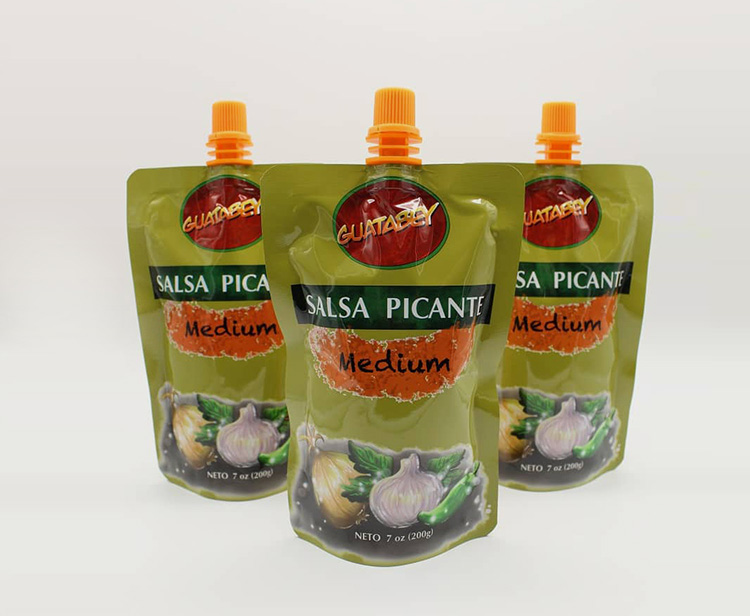 Spout Salsa Pouch- Picture Courtesy: Guatabey
Its name is derived from a spout tube either located at the center or one corner of the pouch. It is a favored choice for salsa packaging because it aids in mess-free and waste-free dispensing of salsa on squeezing a pouch. With spouts, users can control a portion of the pour.
Flat Lay Pouch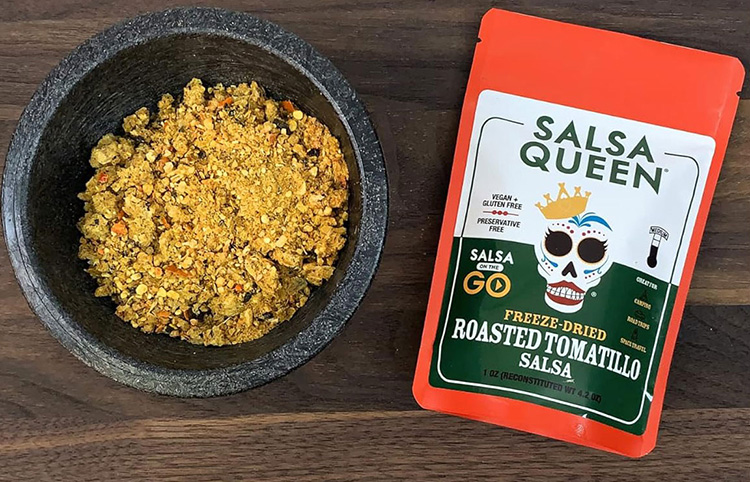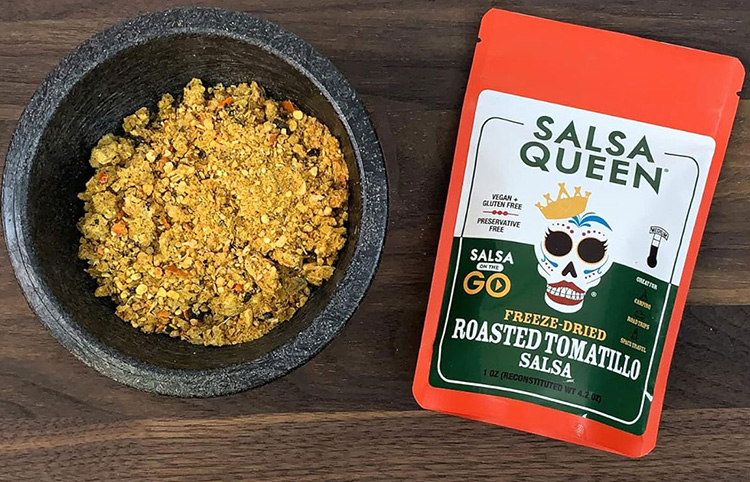 Flat Lay Salsa Pouch- Picture Courtesy: Salsa Queen
It does not have bottom support; therefore, it is supported by the box for display purposes. It typically holds a minimal quantity of salsa because of its small surface area. Its design features three seals. It is usually seen in fast food delivery because of its convenience.
Retort Pouch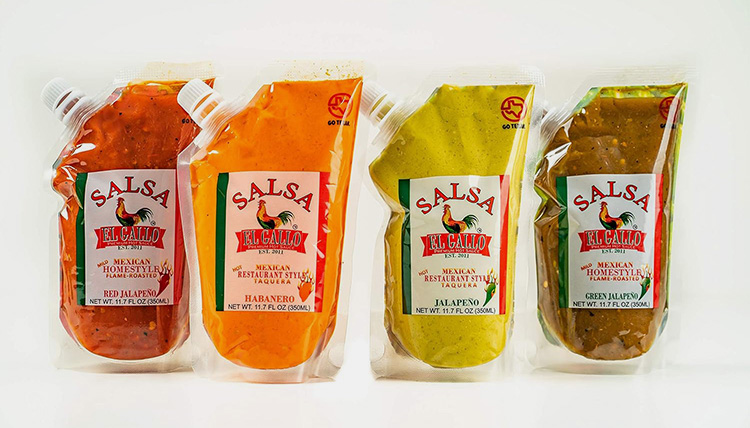 Retort Pouch
It is a part of sterile salsa packaging formed by the combination of plastics and metals. This allows salsa-sensitive ingredients optimum protection. It is made with thermal-resistant materials that can withstand 116-121 °C, employed for microbial destruction.
Vacuum Pouch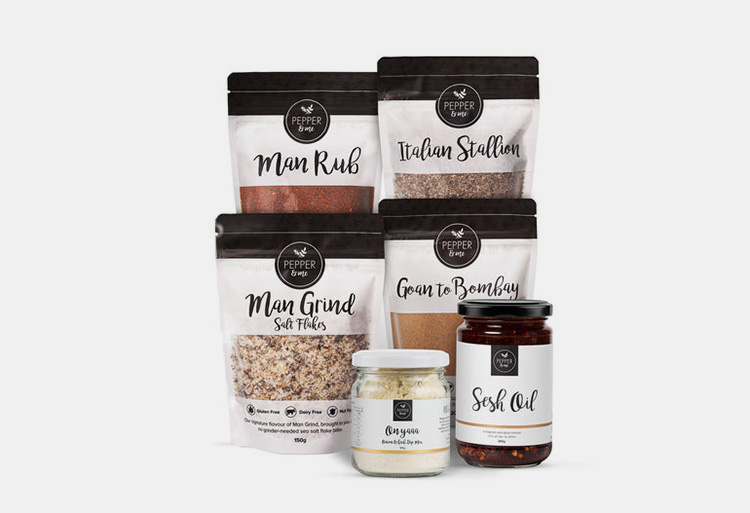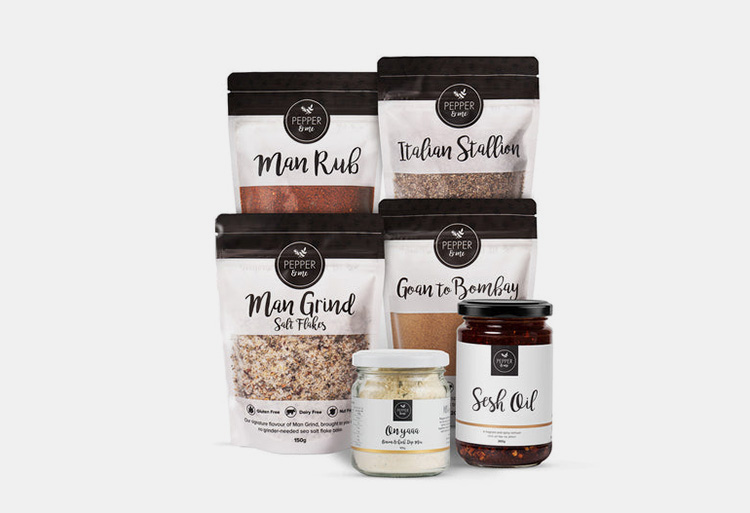 Vacuum Pouch- Picture Courtesy: Pepper & Me
This salsa pouch is packed under vacuum conditions to eradicate air and moisture that could severely impact the freshness and nutritional quality of salsa. In addition to this, it also inhibits the development of microorganisms.
Custom Pouch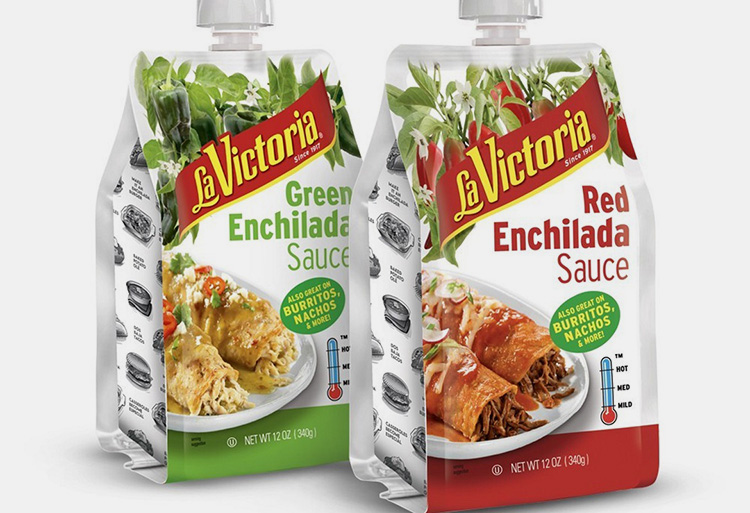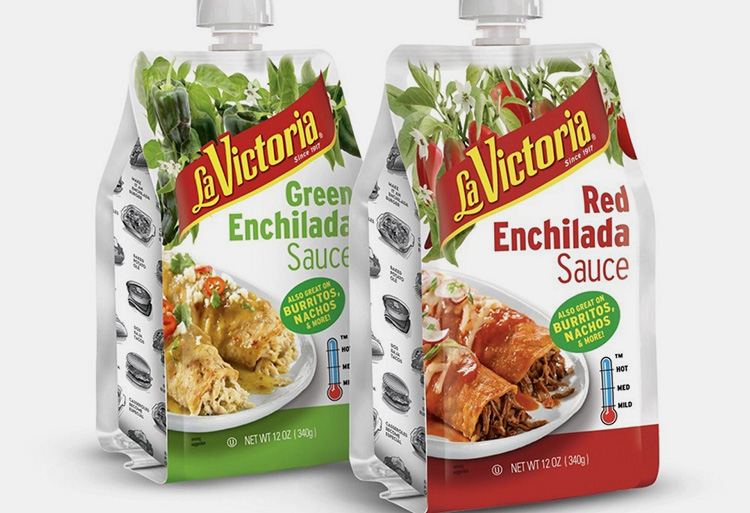 Custom Salsa Pouch- Picture Courtesy: Packaging Strategies
For appealing customers, brands often style their salsa pouch packaging. Salsa packaging is available in custom shapes and designs that distinguish it from other regular pouch styles. It can be customized in any style depending on the preferences of the target audience.
Sachet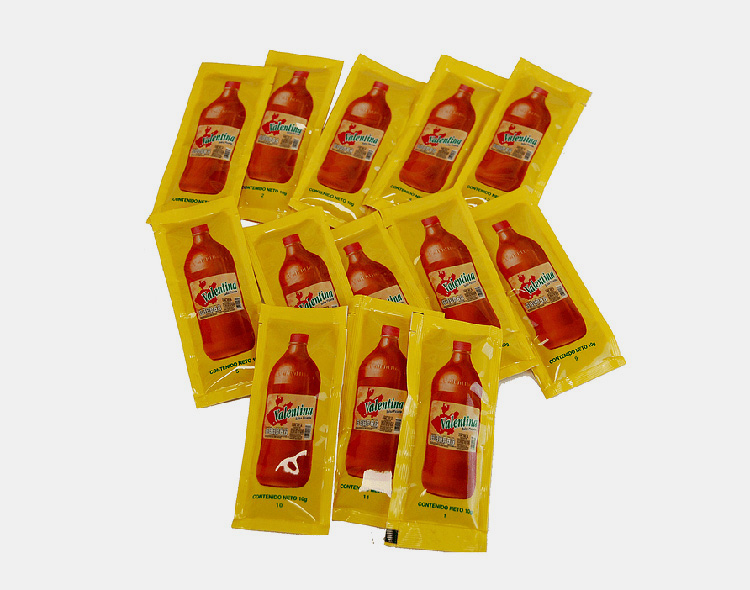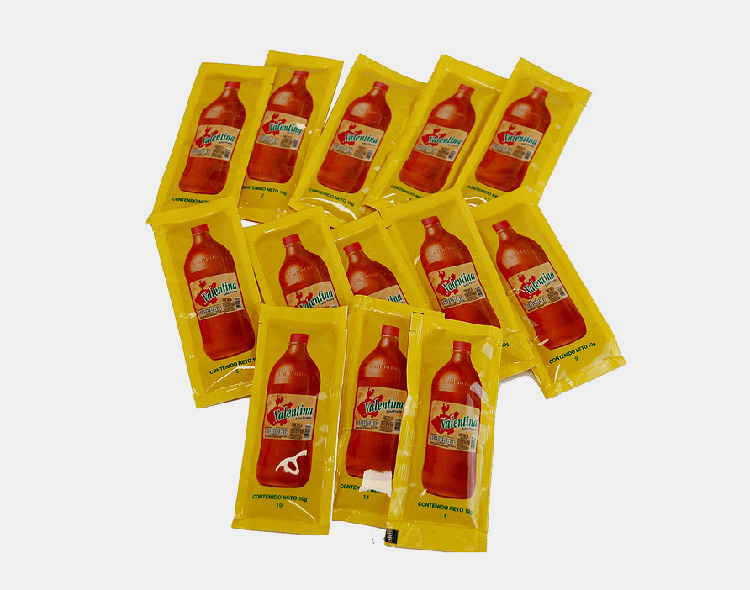 Salsa Sachet Packaging
It is a small one-time salsa serve sachet that is fabricated with two side seals and one bottom top seal. Portability and convenience make it popular among salsa lovers.
Rigid Salsa Packaging
It is a preferred choice over flexible packaging because salsa is a gourmet product and high-end customers are attracted towards the luxurious feel of glass and metals. Some common rigid packaging styles for salsa packaging are: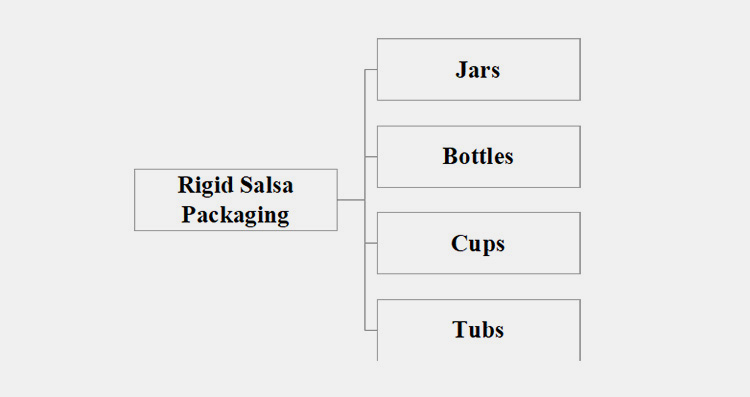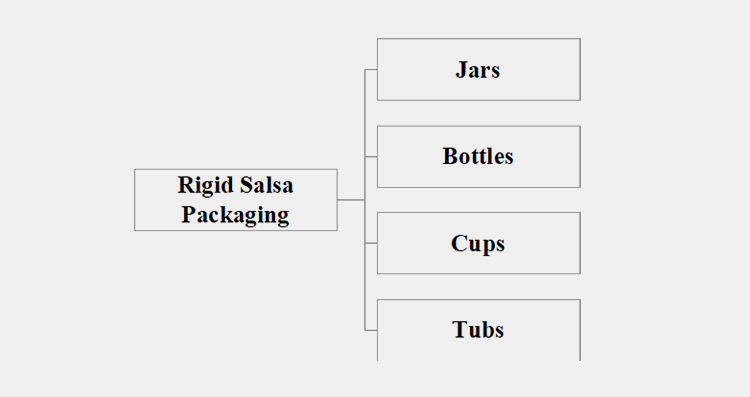 Jars
Huge diversity exists in salsa jar packaging styles like:
Economic Salsa Jars

Economic Salsa Jars- Picture Courtesy: Jenn David Design

It is a very widely popular design style for salsa packaging. It features a wide diameter that is perfect for labelling and showcasing the salsa sauce.
Straight-Side Jars

Straight-Side Jars

It is usually used for storing small volumes of salsa. This jar does not have a neck that allows for ease in taking out salsa.
Hexagon Jars

Hexagonal Salsa Jars

This jar has six distinct edges that offer it an elegant and sophisticated look. It is typically utilized for packaging luxurious salsa brands that create an upend experience for deluxe customers.
French or Victorian Jars

French or Victorian Salsa Jars

It is a square-shaped jar and its four different sides present different areas for distinct labels that contributes to its marketability.
Bottles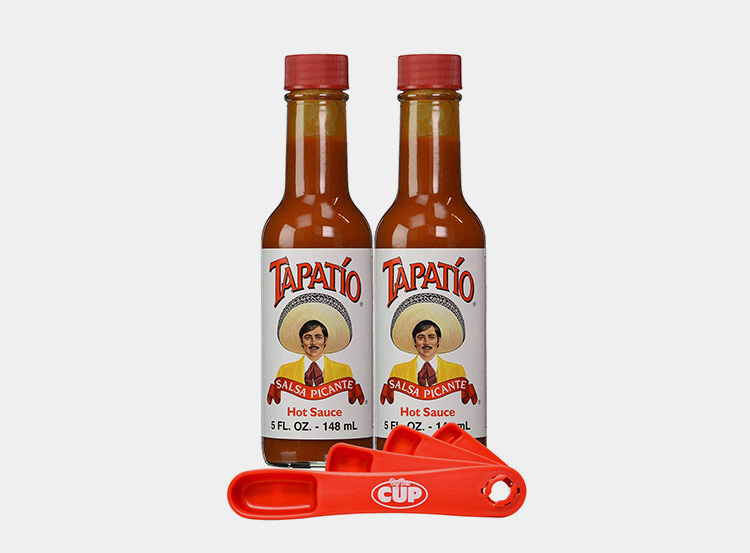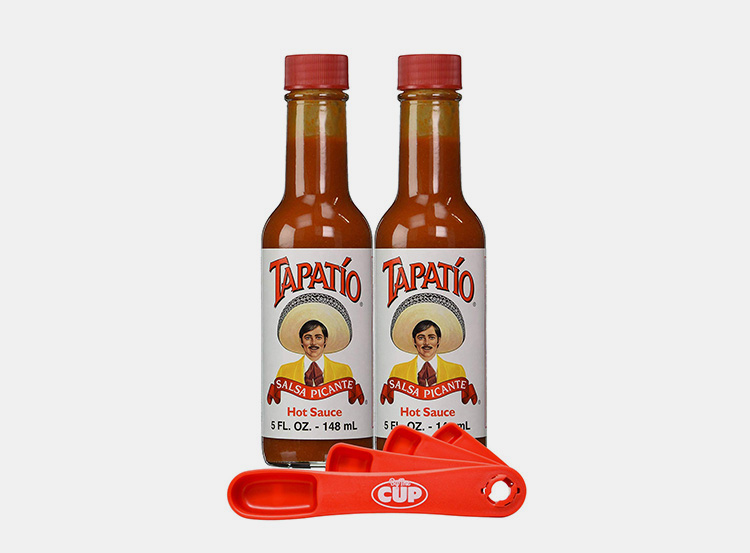 Salsa Bottle
Salsa bottles generally are designed with a long neck that offers a very distinct look. They are closed using twist-off caps and have tamper-evident seals.
Cups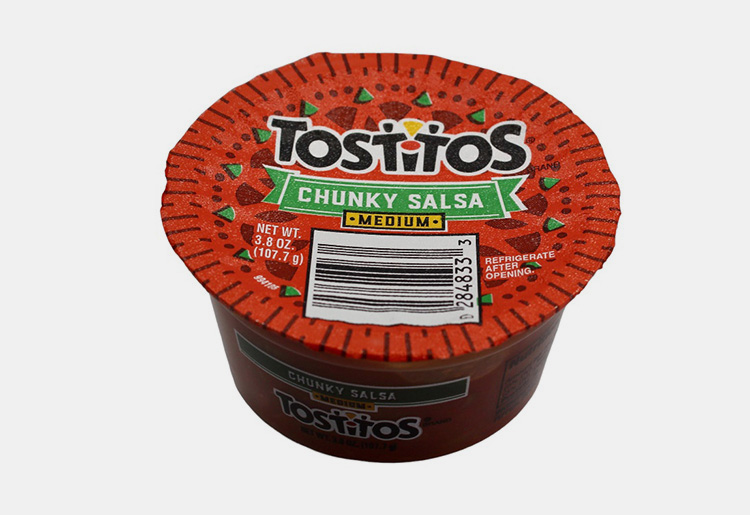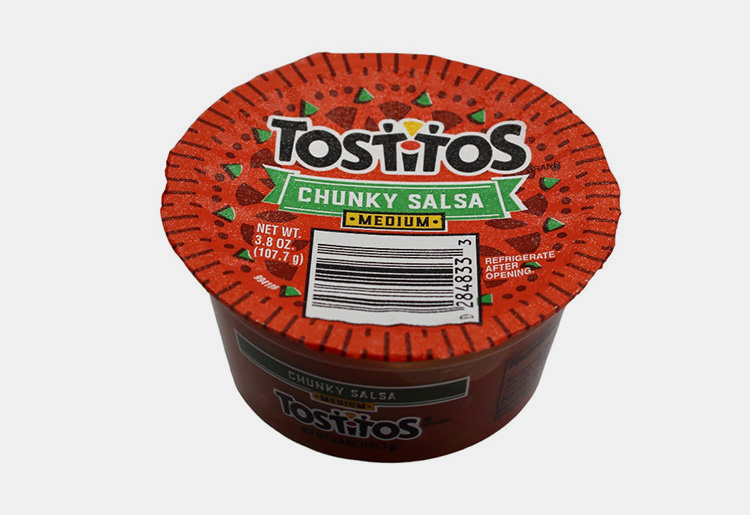 Salsa Cups
Nowadays, salsa is available in cup-like packaging that is sealed with aluminum foil. They have a typical circular or round design. For hustle-free dipping, cup packaging is well-liked by food lovers.
Tubs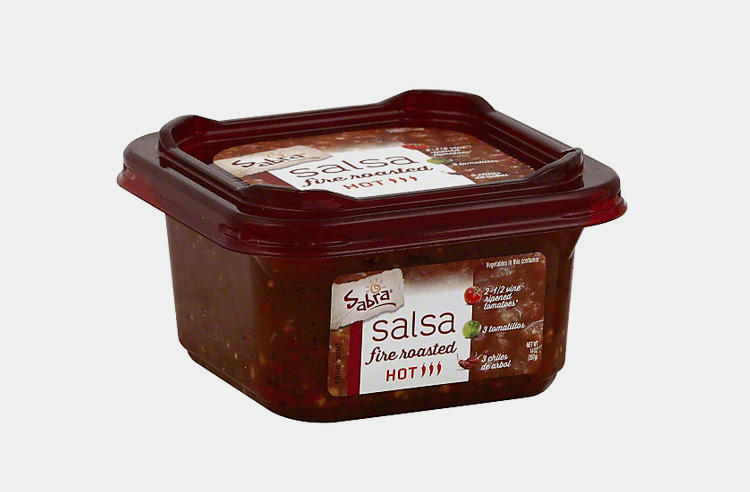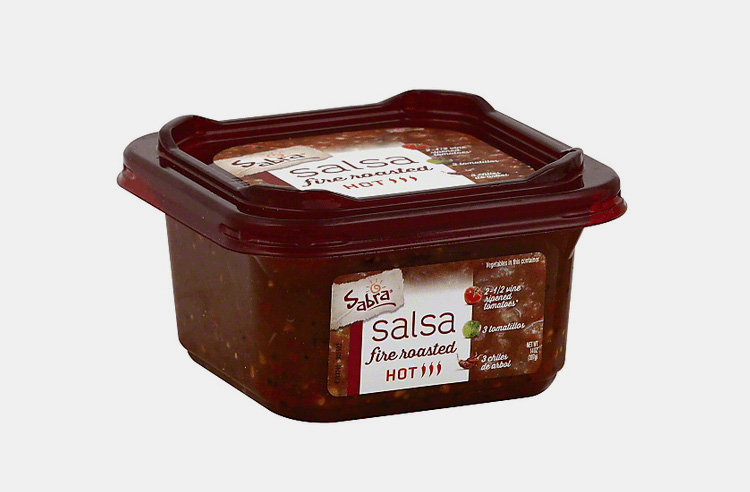 Salsa Tubs- Picture Courtesy: Superlo Foods
It is normally manufactured from plastics and contains the bulk volume of salsa. It has a square, rectangular or circular shape and is sealed using Snap-On lids.
5.What are Machines Used For Salsa Packaging?
Different packaging styles exist for salsa packaging, so to process these packaging formats, there are different makes and models of salsa packaging machines. Let's discuss some principal salsa packaging machines:
According to the Filling Type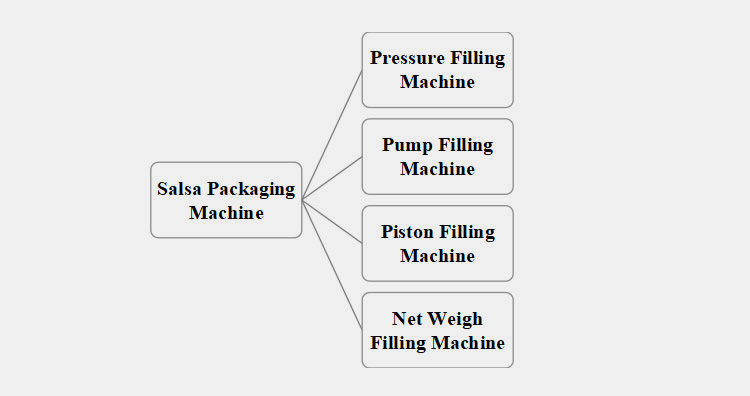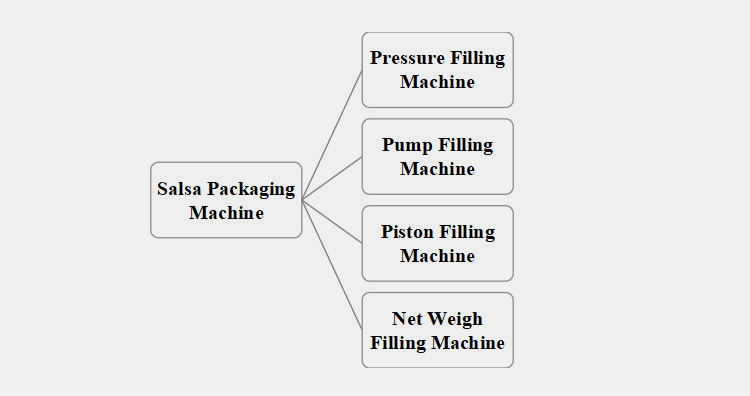 Pressure Filling Machine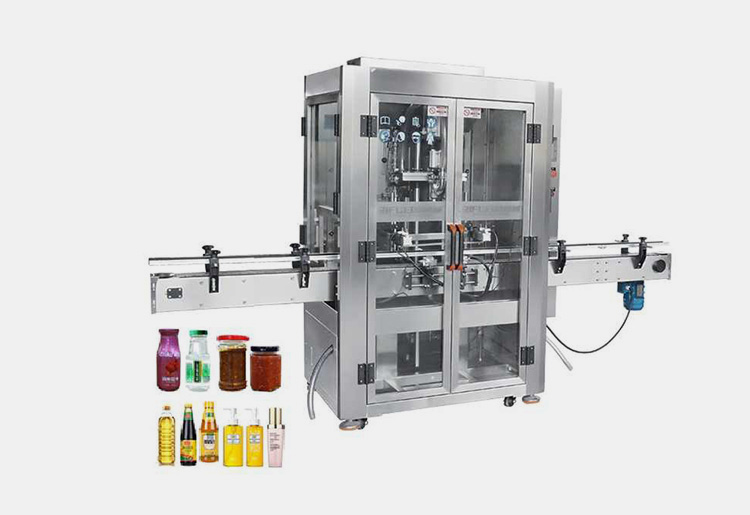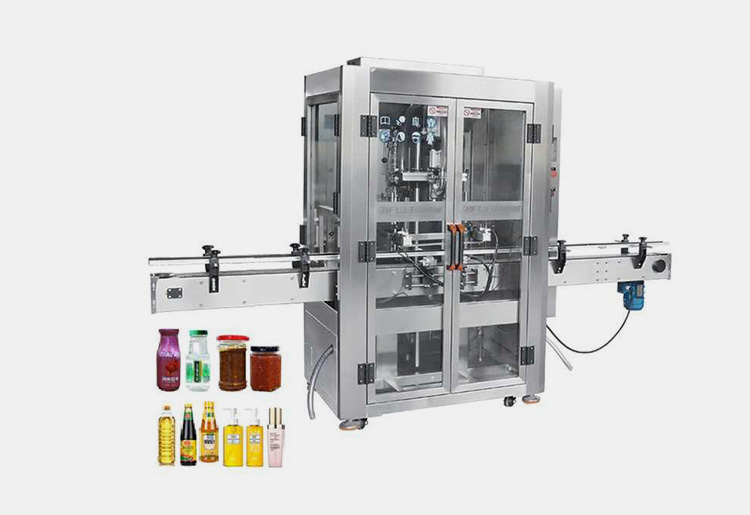 Pressure Filling Machine
This machine has the same design as that of gravity gravity-filling machine. The bulk feed of salsa is usually stored in the holding hopper present at the top of the equipment. The valve below the hopper, controls the feed volume flowing through pipes. High pressure is used for moving thick viscous salsa across the machine tubing.
Working Principle
Time-based operation is employed in this system for the filling of salsa in the containers. Time duration is adjusted on the machine interface. Once countdown starts the salsa begins to flow from the hopper into the filling nozzles. then it is dispensed in the salsa container. After pre-programmed time is reached, filling stops, and the container is transported to other machines for sealing and capping.
Pump Filling Machine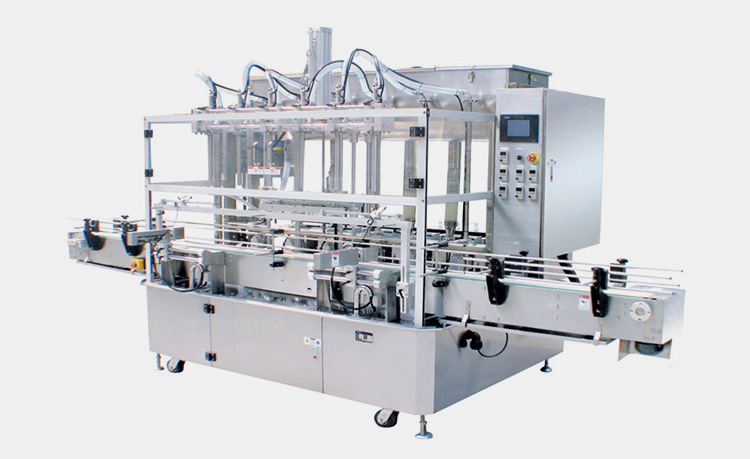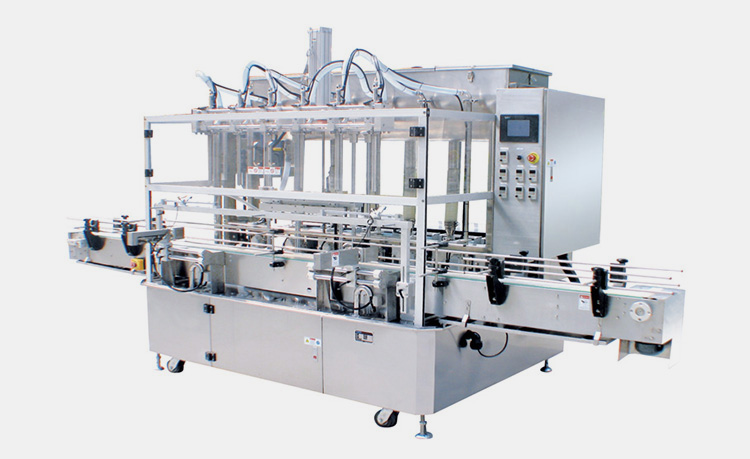 Pump Filling Machine- Picture Courtesy: Makma
This machine work on the principle of positive displacement to fill medium to high viscosity salsa products. It has servo-drives and different pump systems like lobe pump, cavity pump, and gear pump to load different volumes of salsa products in different-sized bottles, jars, and other containers. It is made with food-grade stainless steel that allows for hygienic filling.
Working Principle
Two different approaches are employed in this equipment for the loading of salsa; time-based filling and pulse-based filling. Time-based filling method is exactly similar to the working of pressure filling machine. In pulse-based filling, number of pulses is set to fill the accurate volume of salsa, where one pulse is equal to one pump revolution or half pump revolution.
Piston Filling Machines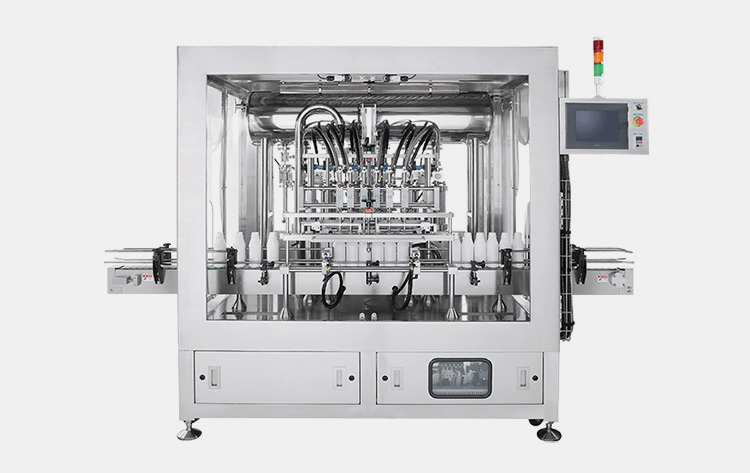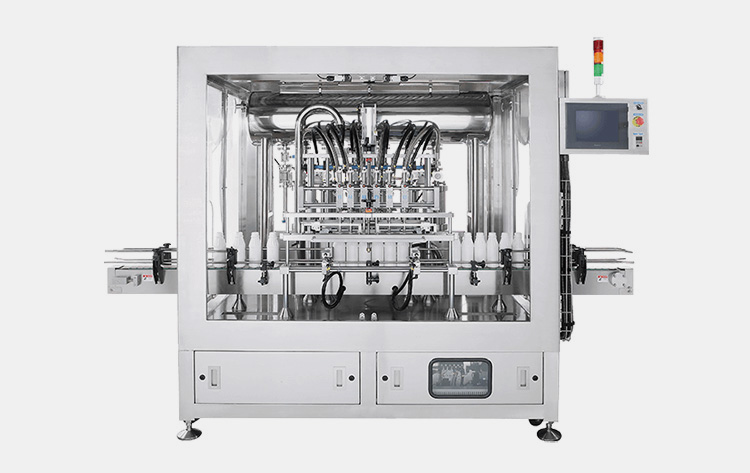 Piston Filling Machines- Picture Courtesy: KWT Machine Systems
This machine has a piston cylinder for dispensing thin and thick salsa products in the packaging containers. The filling volume in the piston filling machine is dependent upon the stroke length of the piston. Each filling nozzle has its piston system for fast loading of salsa.
Working Principle
In this system, with the forward movement of the piston, the salsa product moves down the hopper to the piston cylinder. Then with backward movement of the piston the salsa is forced into filling nozzles from where it is gradually fed inside the container.
Net Weigh Filling Machine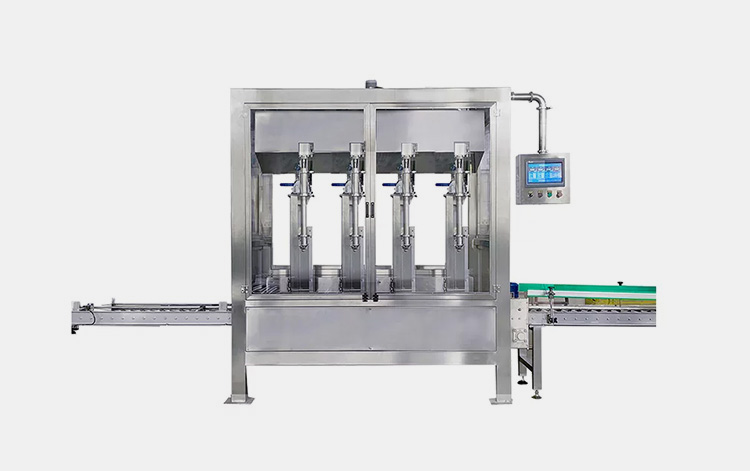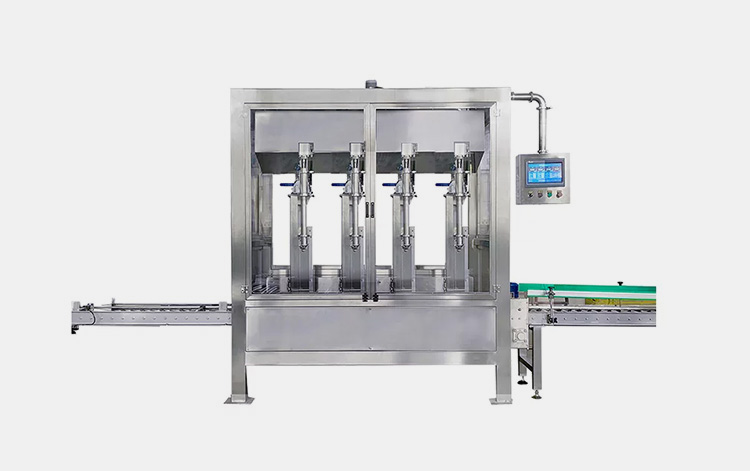 Net weigh filler- Picture Courtesy: vkpak
As the name suggests, this machine loads the salsa by weight as opposed to volume. For precise weight filling, there are load cells present in this equipment that estimate the amount of salsa flowing inside the container. Net weigh filling machine is employed for filling expensive salsa products.
Working Principle
On receiving the signal from the PLC system, the movement of salsa from the hopper to Lfilling nozzles takes place. Salsa flows quickly through filling nozzles inside the container. Load cells measure the exact quantity of salsa inside the container. Once the pre-set weight of the product is achieved, load cells signal for a stop of salsa filling.
According to the Packaging Format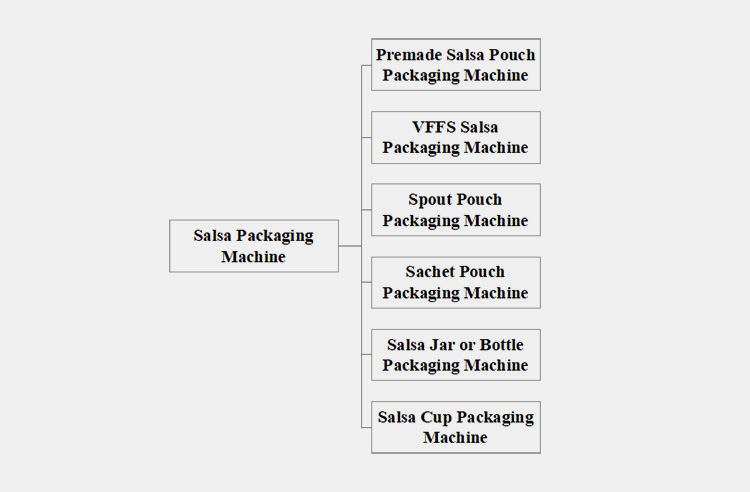 Premade Salsa Pouch Packaging Machine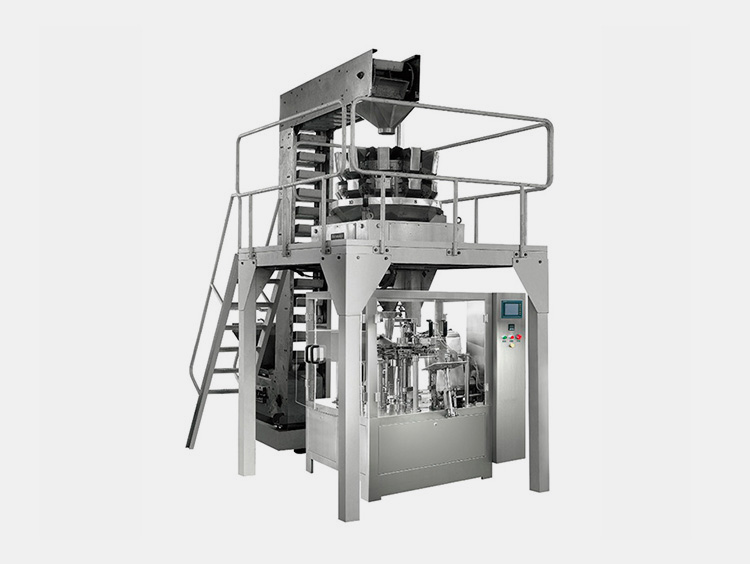 Premade Salsa Pouch Packaging Machine
It has a compact and modular rotary construction; it has a conveyor and star wheel for processing premade pouches. It is well-liked by brands due to its creation of customized special salsa pouches. Quick processing and waste reduction by premade salsa packaging machine aids in fast processing and sustainable approach adopted by brands.
Working Principle
Large loads of bags are first placed in the bag magazine by the operator and the next step is to take these bags to the inflating section which is achieved by the grippers. Compressed air is blown for expanding flat pouches at the inflating section. Salsa is loaded by the filling devices and heat sealer fuse top edges.
VFFS Salsa Packaging Machine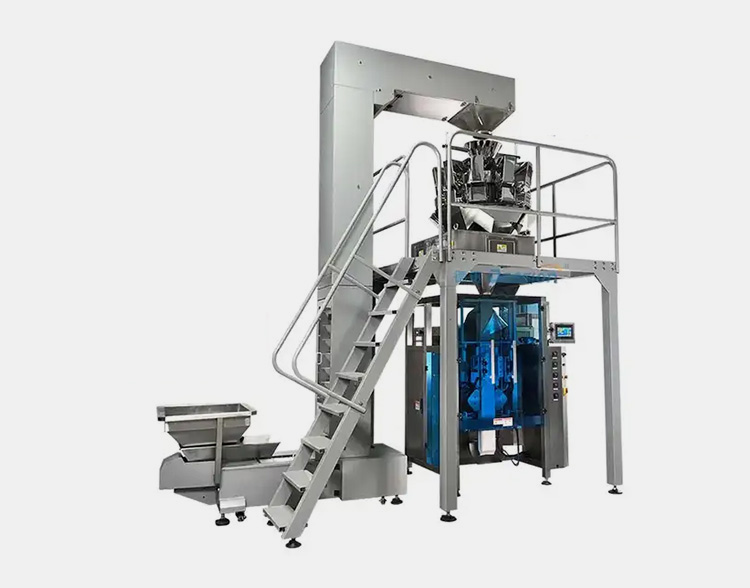 VFFS Salsa Packaging Machine
It carries out forming to the sealing of pouches by itself. It has vertical orientation and, therefore, occupies lesser operation room. It is an adaptable unit, processing every size and shape of pouches. Moreover, it is highly regarded among pouch packaging brands because of its quick and versatile processing.
Working Principle
Upon initiation, the film roll is uncoiled via rotation of the disk unwinder and passes the rollers to reach the conical forming tube. Here it is gathered for the fashioning of pouches. Upon pouch creation, the filling step is started. Once the preprogrammed filling amount is attained, high-temperature sealing bars glue the sides of filled pouches. Sharp knives separate two pouches in the end.
Spout Pouch Packaging Machine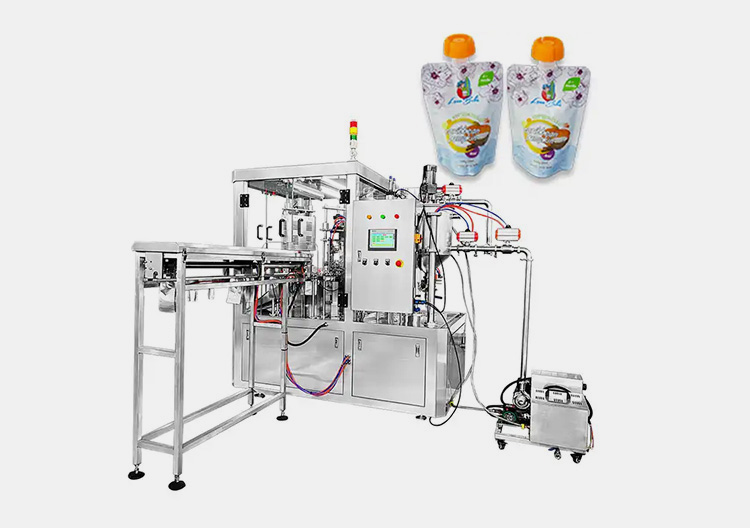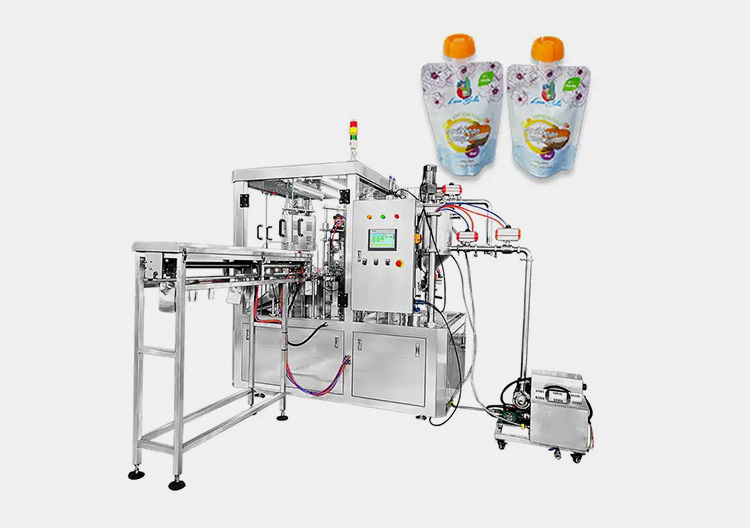 Spout Pouch Packaging Machine
Both premade pouches and packaging film are utilized by this machine for filling salsa in pouches. It also creates customized salsa pouches by using packaging film. Installing spout after salsa loading differentiates this equipment from other salsa pouch machines. Both centre and end spouts are fitted in the pouches.
Working Principle
Depending upon initial constituents whether packaging film or premade pouches, it works similarly to its counterparts. The opening and vacuuming of salsa pouches occurs at the filling stations by grippers and vacuum system, respectively. After that, a fixed amount of salsa is dispensed inside the vacuumed pouch. At the spout fitting area, the spouts are picked up and fitted on the filled pouch. High-temperature sealer seals two ends of spout pouches.
Sachet Pouch Packaging Machine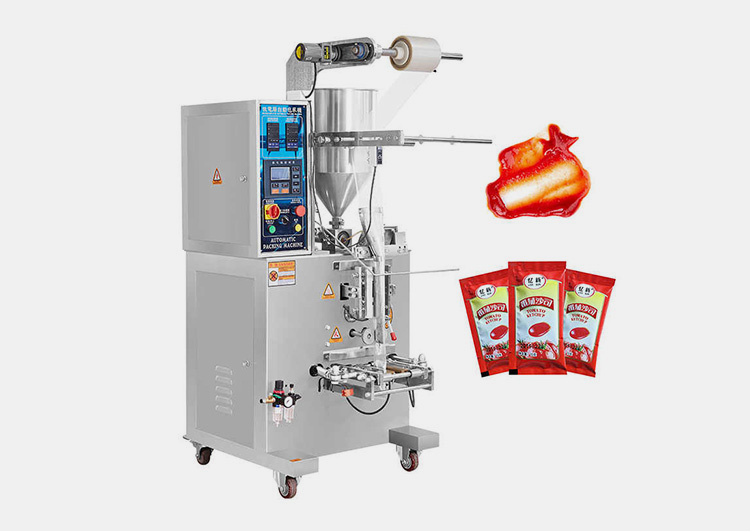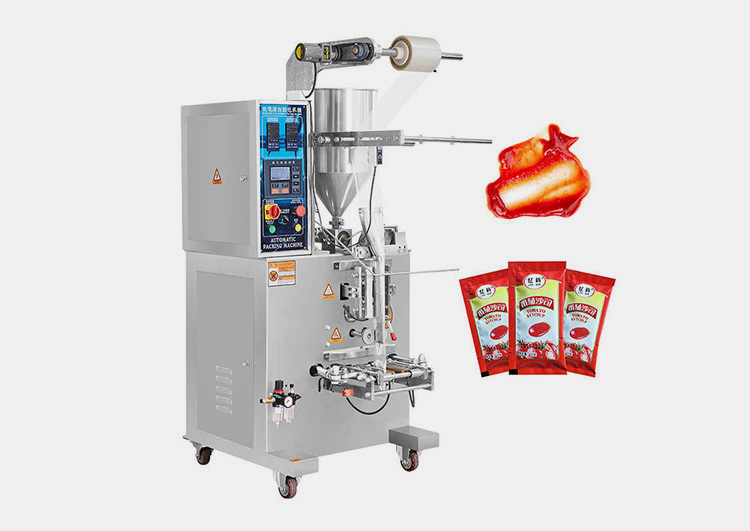 Sachet Pouch Packaging Machine
It is a minimal-sized unit especially, installed in the salsa packaging machine production line for high-volume salsa sachet packaging. It features separate PID temperature regulators for different kinds of packaging films. It can handle aluminum, polyethylene, and composite films.
Working Principle
Similar to the VFFS machine, the first, packaging film travels to the forming station after unwinding. Forming tubes fold and create a tubular sachet. This sachet is filled with salsa due to the movement of the piston or pump fillers. Upon salsa loading, the top edges of the sachet are closed by heated sealing elements. Two connecting sachets are detached from each other by the sharp cutter.
Salsa Jar or Bottle Packaging Machine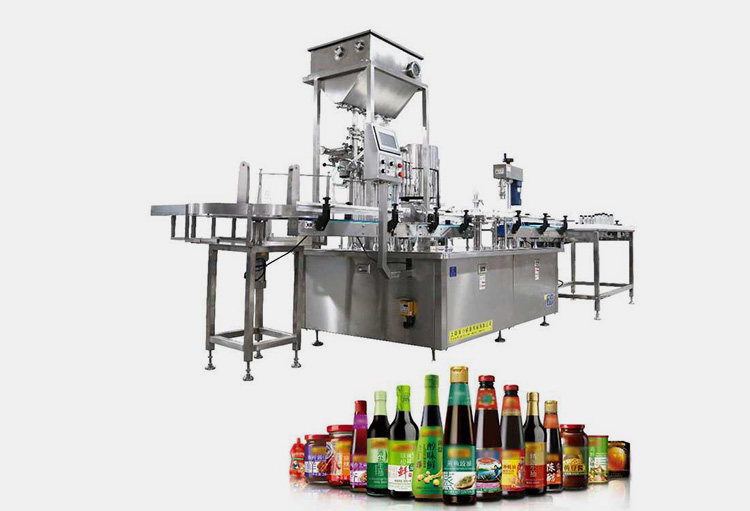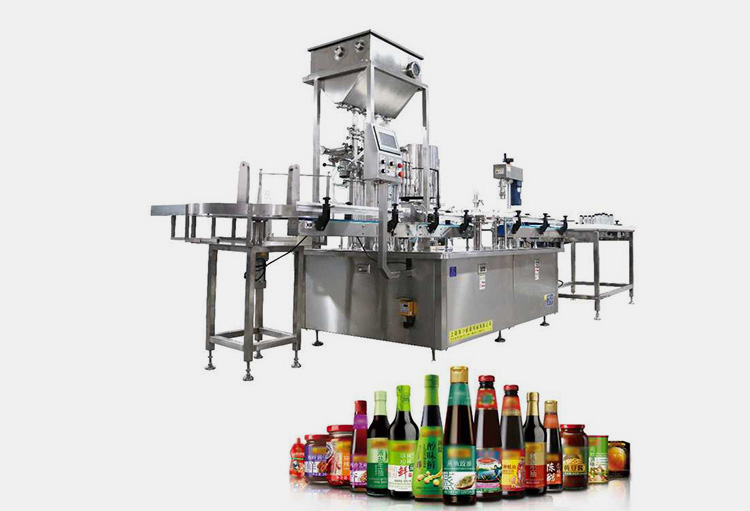 Salsa Jar or Bottle Packaging Machine
It is one of the most highly employed salsa packaging machines because of its popular processing style-bottle and jar. It is fitted with large conveyors and servo drives that play a significant role in spill-free precise salsa filling. Net weigh, piston, and, pump fillers are found in this machine for 24/7 salsa packaging.
Working Principle
This machine benefits from bottle unscramblers that place containers in upright positioning on the conveyors. Gradually, they travel to the filling area, and the filling nozzles load viscous salsa into bottles and jars. Once filling is completed, the containers travel to the capping station for security of containers.
Salsa Cup Packaging Machine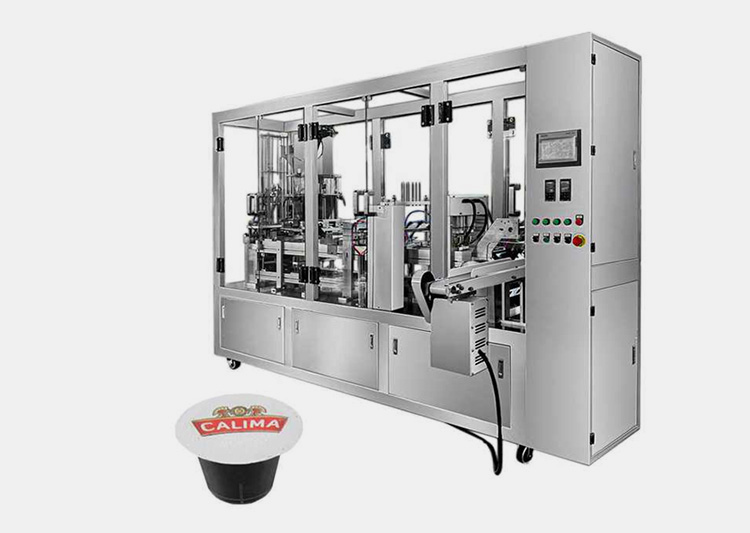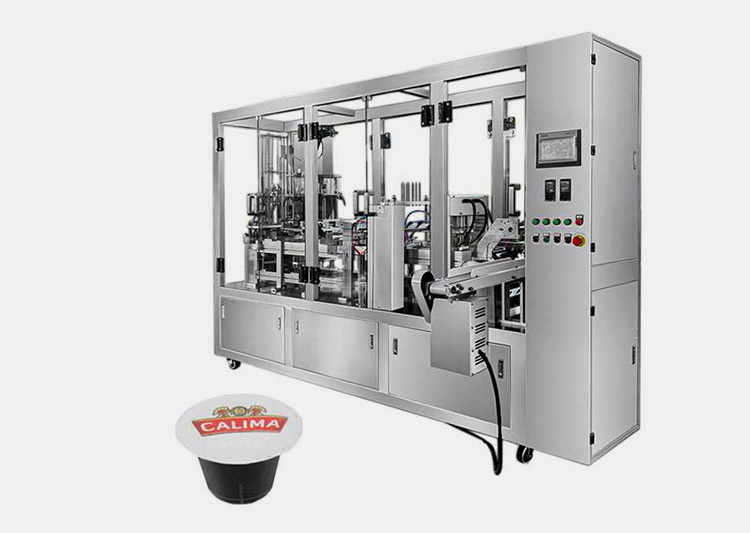 Salsa Cup Packaging Machine
It is employed for packaging high-barrier cups that are used for ready-made salsa sauces. It is a hygienic and clean solution that provides perfect viscous salsa filling. Moreover, it has added stations that ascertain ergonomic filling with rapid and fast changeovers. Due to the use of different dosing nozzles, it can fill any type of salsa product.
Working Principle
First, the cups are loaded on the conveyors by the operator or by bottle unscramblers. As soon as the cup reaches the filling station, the filling begins. The filling heads fill the accurate quantity inside the salsa cup. In the next step, the filled cup is transported to the sealing area where the aluminum foil is placed on top of the cup and heat is applied to fuse the foil with the cup.
6.How the Salsa Packaging Keeps Fresh?


Salsa Packaging- Picture Courtesy: Aubrey D.
Salsa is comprised of different food ingredients that can lose their quality, taste, texture, and aroma if left in the presence of air. The oxygen in the air is mainly responsible for the oxidation of food components in salsa, creating foul odor and smell.
Moreover, bacteria and other pathogens that comprise freshness of salsa, need oxygen for their reproduction and growth. Furthermore, moisture and high temperature amplify the chemical reaction and encourage the multiplication of microbes.
Therefore, salsa packaging has a significant contribution to locking the freshness of salsa sauces. Multi-layered highly protective laminate in flexible salsa packaging made with plastics, aluminum, and, paper; is a durable and robust material that contains salsa freshness for a long time.
This is because it is impermeable to all physical, chemical, and, biological foreign objects. Furthermore, innovative techniques of packaging, for instance, modified atmosphere packaging and vacuum packaging further reinforced the salsa packaging barrier.
7.What are the Requirements for Salsa Packaging?
Salsa is packaged in diverse unique packaging styles that include both single-time as well as multiple servings. Nevertheless, all these salsa packaging must fulfil certain requirements, for instance:
High Tensile Strength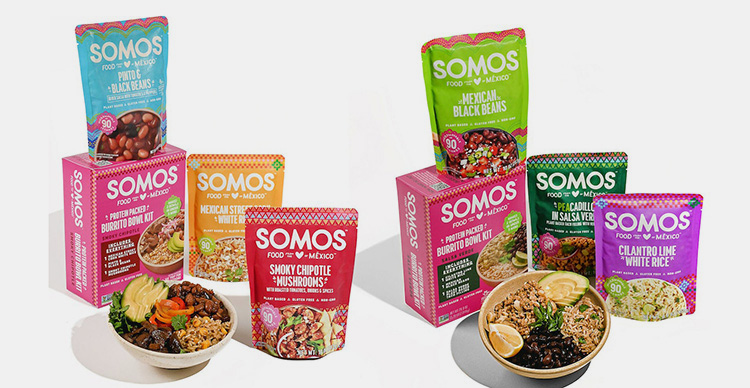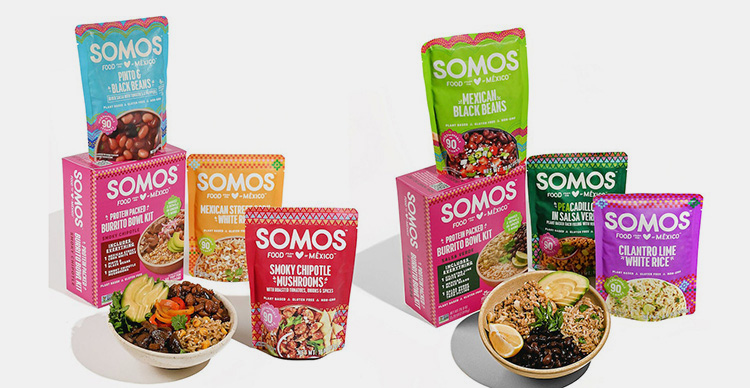 Tensile Strength of Salsa Packaging- Picture Courtesy: Food Manufacturing
Unlike other snack packaging that are lightweight, salsa packaging must not only have high barrier protection and moisture resistance, it also have high tensile strength.
The materials for fabricating salsa packaging should be chosen while keeping in mind that these materials should withstand drop and swelling. As salsa is liquid or semi-solid it is at risk of breakage when it falls off a shelf. Thus, it must have high sturdiness.
Printing and Labeling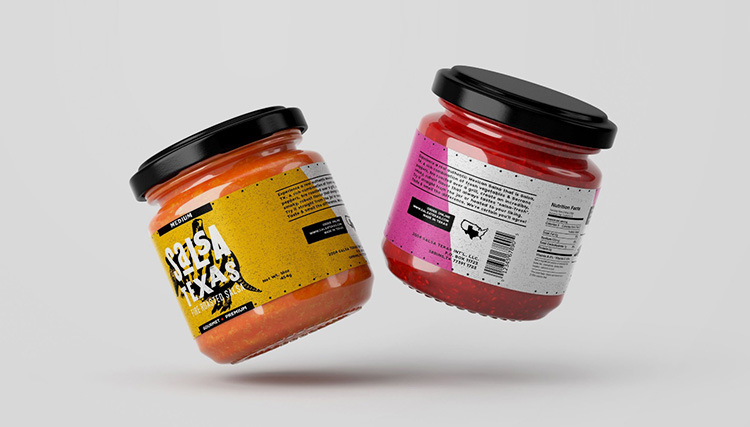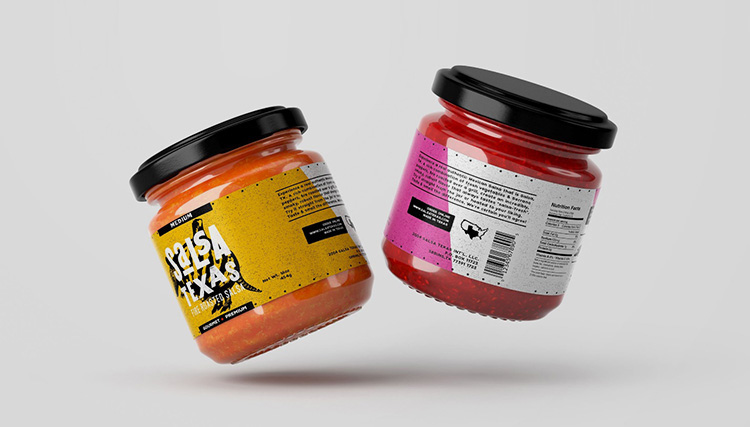 Salsa Packaging- Picture Courtesy: Adeo Cisneros
Another must-have for salsa packaging is that it should be easily discernable even for a person with vision defects.
Labelling and printing are not only for captivating the customers but also convey useful information about salsa products like their forming components, nutrition contents, expiry date, and calorie count. Hence, salsa packaging should have conspicuous blends of color and topography to create stunning effects for labelling and printing.
8.How are Salsa Flexible and Rigid Packaging different?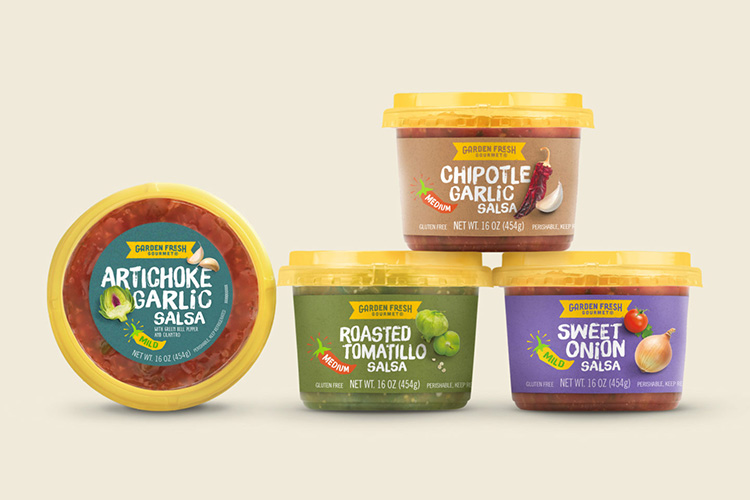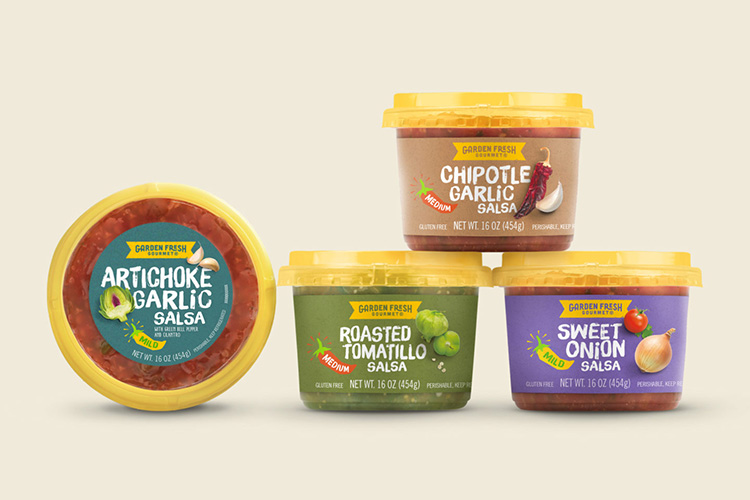 Salsa Rigid Containers- Picture Courtesy: designerpeople
Salsa packaging, both rigid and flexible is seen stacked in retail stores. Are they different from each other? Let's find out.
| | | |
| --- | --- | --- |
| Features | Salsa Flexible Packaging | Salsa Rigid Packaging |
| Definition | It is created from non-rigid and stretchable materials that are easily curved or bent. | It is defined as a tough and long-lasting container that is unlikely to deform and curve. |
| Packaging Styles | Pouches | Jars, bottles, cups, and tubs |
| Size and Weight | It is flexible in size range and lighter in weight, requiring less fuel for transportation. | It has a limited size range and is quite heavier, thus it need more fuel for shipment. |
| Cost-Effectiveness | It does not require heavy investment for manufacturing as starting materials are easily available. | It requires more monetary resources to fabricate as materials are not easily available. |
| Customization | It is easily bendable and ductile; therefore, it can be styled in different designs. | It is resilient and cannot be molded thus it is hard to style these rigid containers. |
| Protection | It does not offer a strong barrier to protect salsa from outside odors, chemicals, and air. | It is a sturdy barrier providing absolute protection. |
9.What are Different Quality Certifications for Salsa Packaging?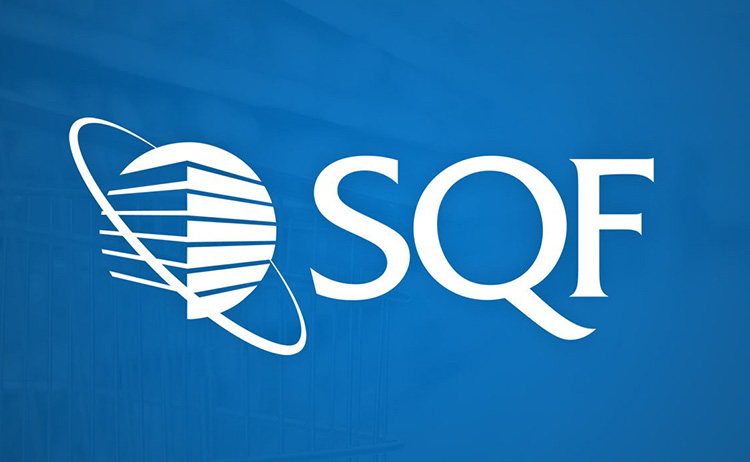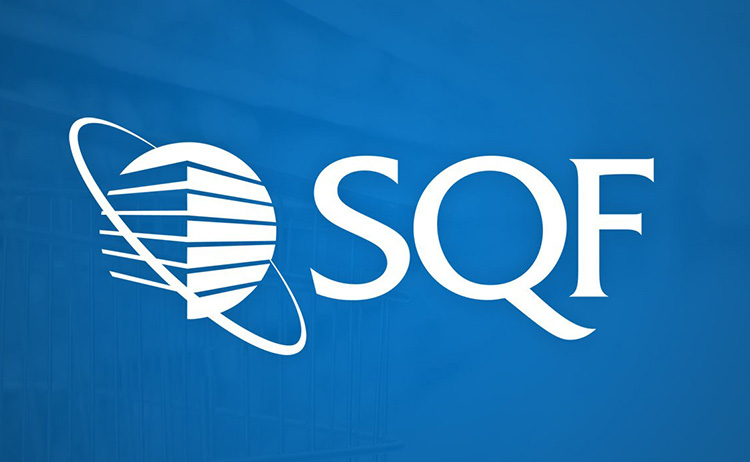 Quality Certifications for Salsa Packaging- Picture Courtesy: Oliver Inc.
To ascertains the quality of salsa and the health safety of end-users, salsa brands are required to have certain certification. With quality certification, brands ensure that their products and packaging are manufactured using the maximum possible ideals of excellence and safety. Some of these certifications are:
| | |
| --- | --- |
| FSSC 22000 | This certification provides an in-depth analysis of hazards associated with salsa packaging like the leaching of toxic chemicals in packaging, the migration of gases, and it ascertains that packaging is completely safe for storing salsa. It applies to all kinds of salsa packaging whether rigid or flexible. |
| BRCGS | It certificates that packaging is manufactured using hygiene practices and it does not compromise the safety of salsa in the packaging. The auditors for this certification monitor the packaging factory layout, employees working area, and, flow processes to assess the risk of contamination. |
| SQF | This stands for Safe Quality Food. It establishes that packaging is good for direct food contact and it will not release harmful chemicals in salsa products. Moreover, it demonstrates that packaging is designed and manufactured with clean and good manufacturing practices guidelines. |
| ASTM | It is also called the American Society for Testing and Materials. It certified salsa packaging can withstand water, is impact resistant, is vibration resilient, has thermal insulation, is leak-proof, and can withstand compression forces. |
10.How Long Salsa Lasts in Packaging?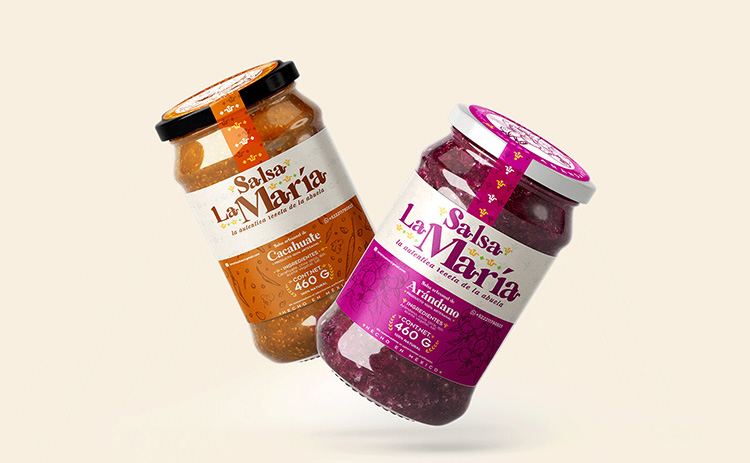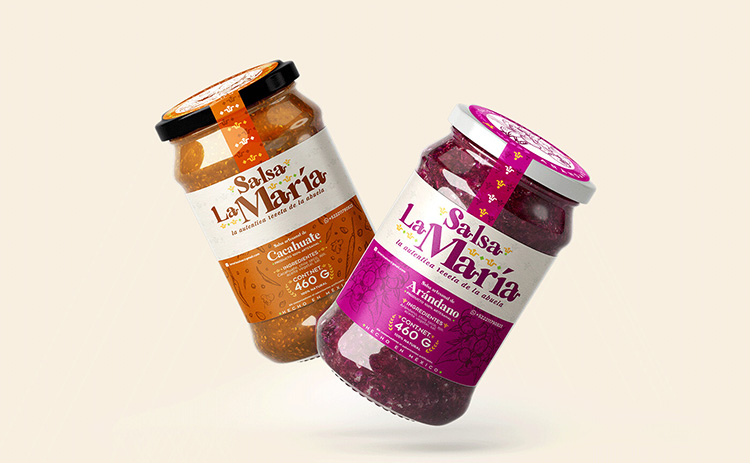 Shelf-life of Salsa Packaging – Picture Courtesy: ArtStation
Going off of salsa products is the biggest time concern in the minds of salsa lovers when the packaging is stored for some time in the pantry. But there is no need to panic as salsa packaging lasts for a long time which is about their best-before date.
This date is found on the back panel of the salsa packaging and is generally about 2 years after its date of packaging.
But if a salsa bottle or jar is unopened, it is best for 1-2 years and it usually even retains its flavors for an extra few months after 2 years. For best results, it can be placed in the fridge as low temperature in this setting can give extra protection against containments. Stored-bought unopened salsa packaging does not go off if placed in a cool and dry place that does not have direct sunlight exposure.
However, salsa in opened packaging is enjoyed for 1-2 months before it develops a fuzzy smell and funky taste. It is advised by specialists to always store opened salsa containers in the fridge as it is formed with acidic ingredients. This salsa has added preservatives so it has a stable shelf-life. If you buy refrigerated salsa packaged in a cup or tub, it will retain its flavour and texture for 7 days after unsealing the packaging.
Conclusion
In summary, salsa packaging is a vibrant bold cover that contains, protects, and stores the salsa. To present their customers with mouthwatering and burst-on-tongue flavors, brands creatively package their salsa products. This salsa packaging is also like a neon sign that readily grabs the eye of salsa lovers. Also, salsa packaging is tailored according to the target audience. If you are indecisive about your salsa packaging selection and want to learn which material will be best for your brand, then we are just a message away. Contact us any time you like!
Don't forget to share this post!
CONTACT US
Tell us your raw material and project budget to get quotations within 24 hours.
WhatsApp Us: +86 181 7101 8586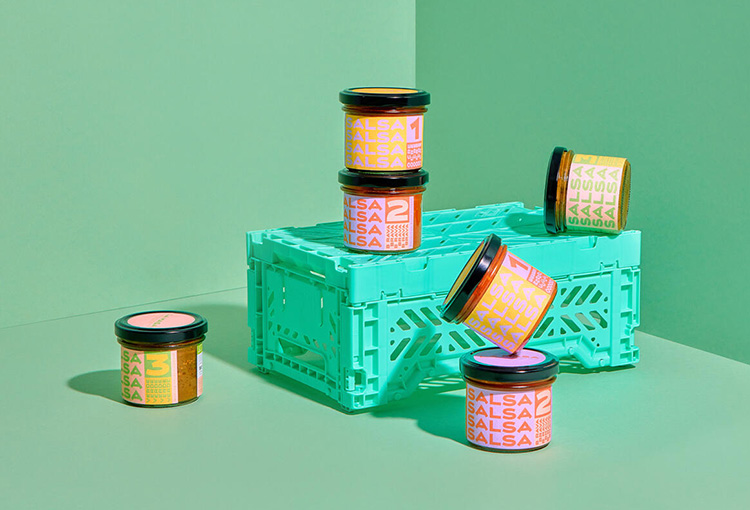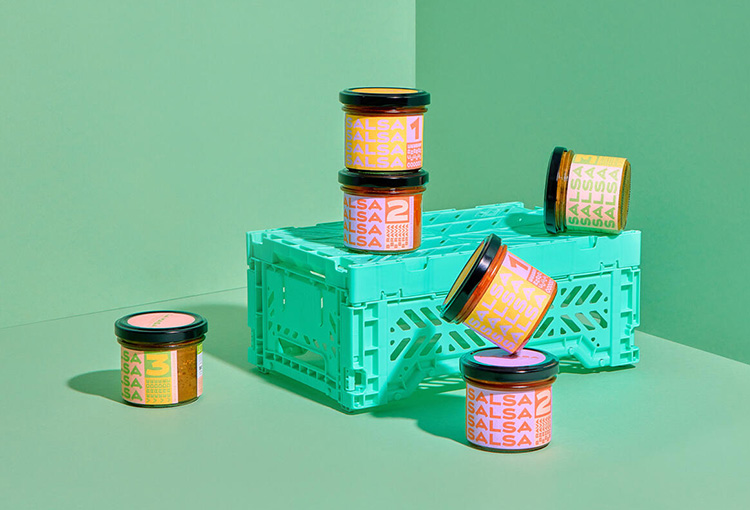 Tell us your material or budget, we'll reply you ASAP within 24 hours