Fertilizer Packaging: The Complete FAQ Guide In 2023
In recent times, huge varieties of fertilizers have been available for growing crops and plants. These varieties stimulated the growth of the fertilizer market which in turn has led to an evolution in farming. To cope with evolving trends, there has been a transformation in the fertilizer packaging. Brands are trying to manufacture recyclable and green fertilizer packaging that is cost-saving as well. There is a high demand for fertilizer packaging due to consumer preference for organic food.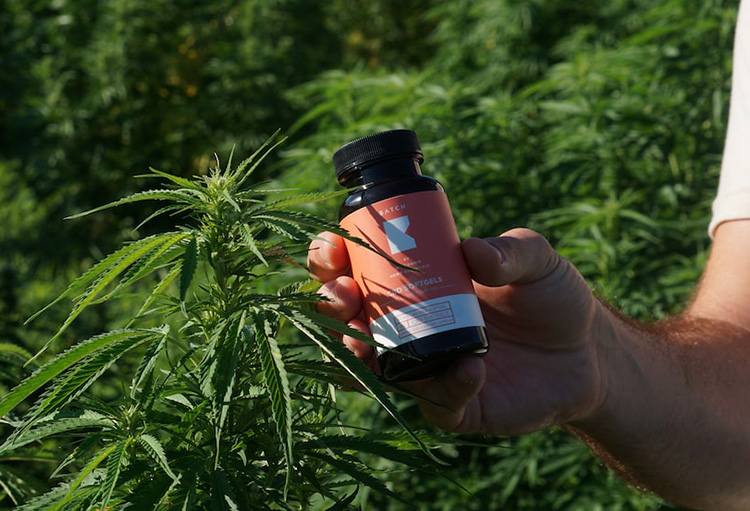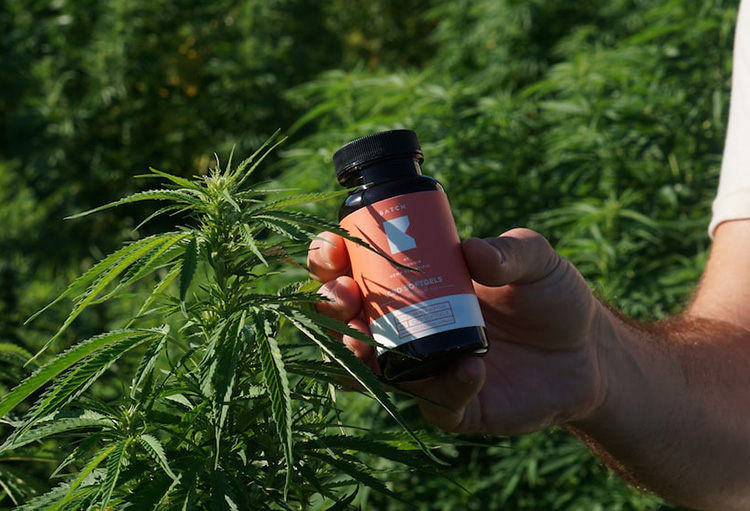 Interested in fertilizer packaging? Want to learn more? Then read this blog to learn every aspect of fertilizer packaging.
Add a header to begin generating the table of contents
1.What is Fertilizer Packaging?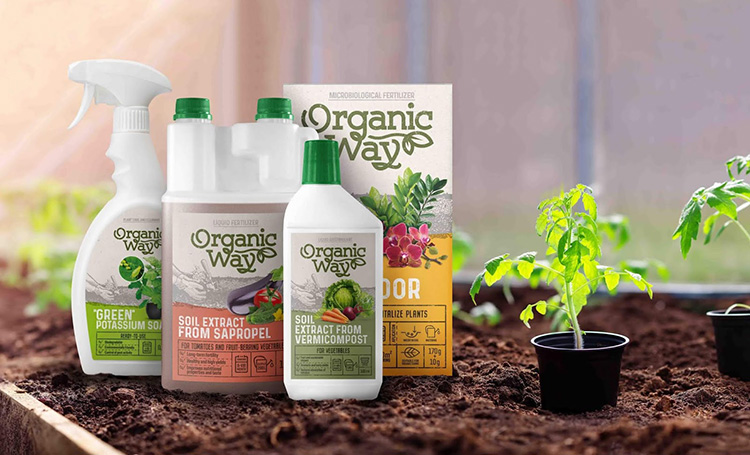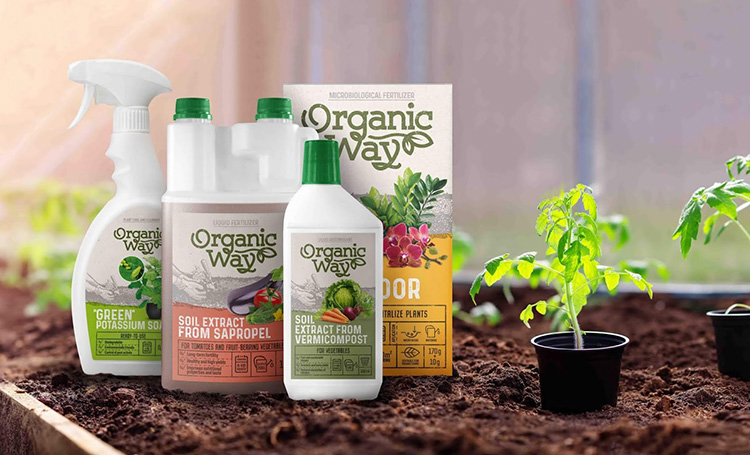 Fertilizer Packaging- Picture Courtesy: Packaging of the World
It is a containment system that surrounds fertilizer pellets, powders, tablets, and liquids from all sides. It is integral in formulating and packing fertilizers for transportation and handling. Fertilizer packaging retains the quality and prevents the wastage of fertilizer from factory to farmers.
Fertilizer packaging involves every step from designing a stylish container to manufacturing it. It wraps the fertilizers for their marketing, distribution, and retailing. Furthermore, it also aims to identify fertilizer products from other brands, protect them from environmental influences, and, boost their artistic appeal. Quite a diversity is seen in fertilizer packaging, for example, pouches, bottles, buckets, jerrycans, and, sacks.
2.What are the Advantages of Fertilizer Packaging?
Packaging is one of the biggest inventions and with evolution, it has emerged as a trendy brand promotion tool that benefits both buyer and seller. Some of the advantages of fertilizer packaging are penned below:
Protection Against Environmental Agents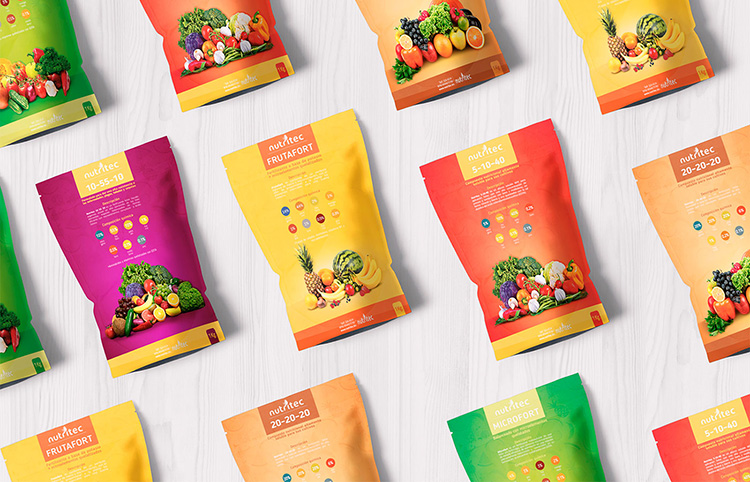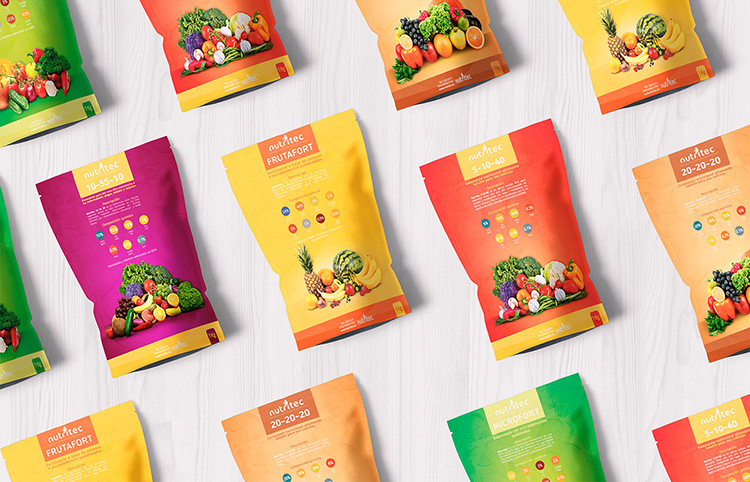 Protection via Fertilizer Packaging- Picture Courtesy: Package Inspiration
Fertilizer packaging has a major role in protecting fertilizer products against different chemical and environmental agents. These culprits like air especially oxygen, moisture, light, and temperature degrade the quality and potency of the fertilizers. Chemicals present in the environment also react with compounds in the fertilizer, resulting in a loss of its effectiveness.
Convenience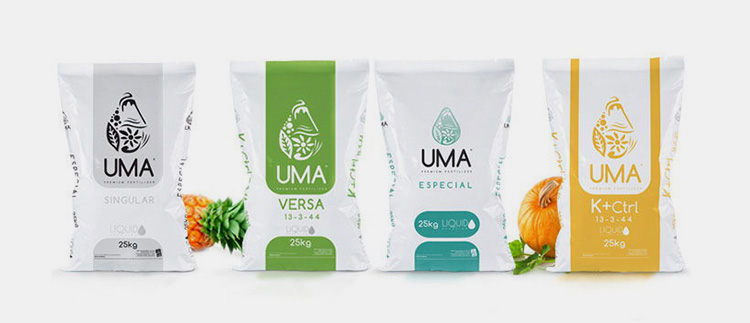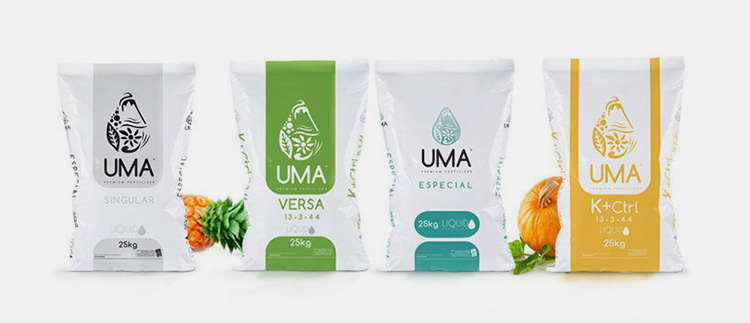 Convenience by Fertilizer Packaging- Picture Courtesy: Dieline
Farmers and other end-users prefer fertilizer packaging that helps in handling and using fertilizers. Thus, fertilizer packaging is designed with different handles and resealing options that provide ease of portability and can be reclosed after using fertilizers.
Marketability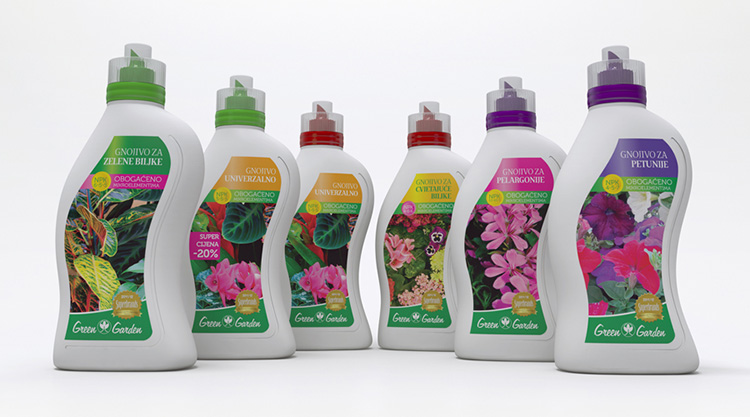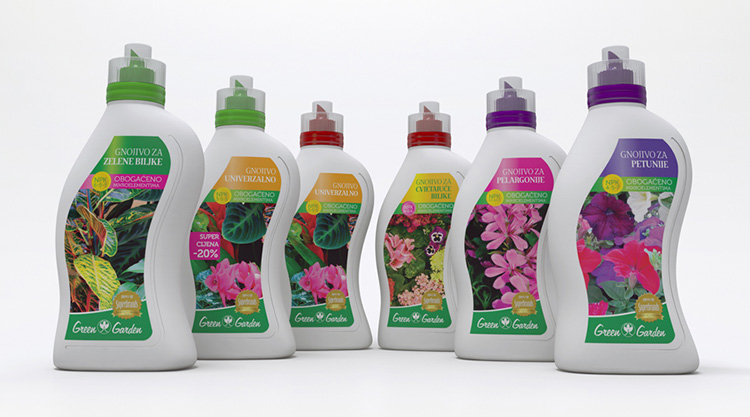 Marketability of Fertilizer Packaging- Picture Courtesy: Shift Brand Design
The attraction of fertilizer packaging has a role in the sale of fertilizers. Elegant packaging with striking design element boost the prominence of the product on the store shelves and is a way to get noticed by the customers. With the use of innovative and creatively-design packaging, brands differentiate their fertilizer products from their competitors.
Product Information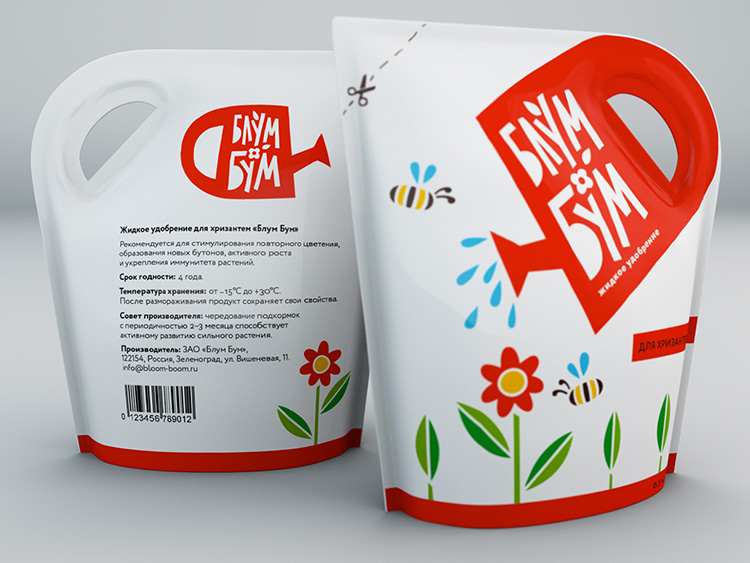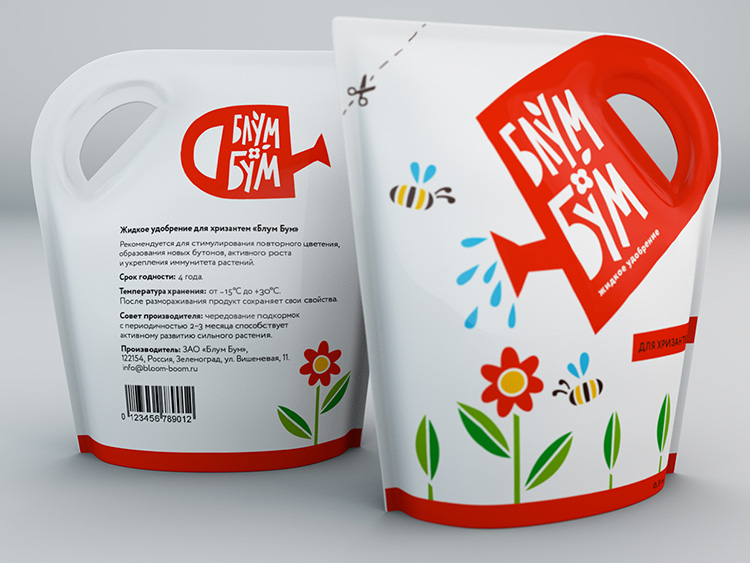 Product Information on Fertilizer Packaging- Picture Courtesy: Trend Hunter
Consumers favor products that are thoroughly labelled. Fertilizer packaging offers a surface area for printing and labelling product information, for example, its best-before date, chemical component, usage guidelines, suitability for certain soils and many more. It also mentions types of fertilizer-organic or chemical.
Tampering-Proof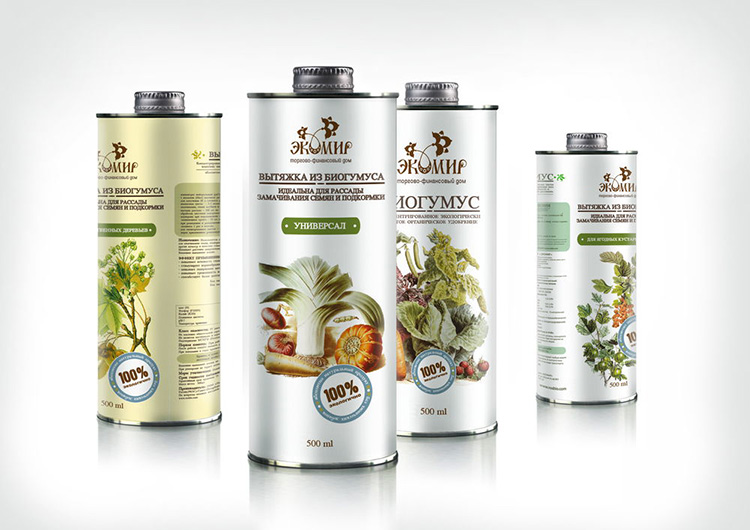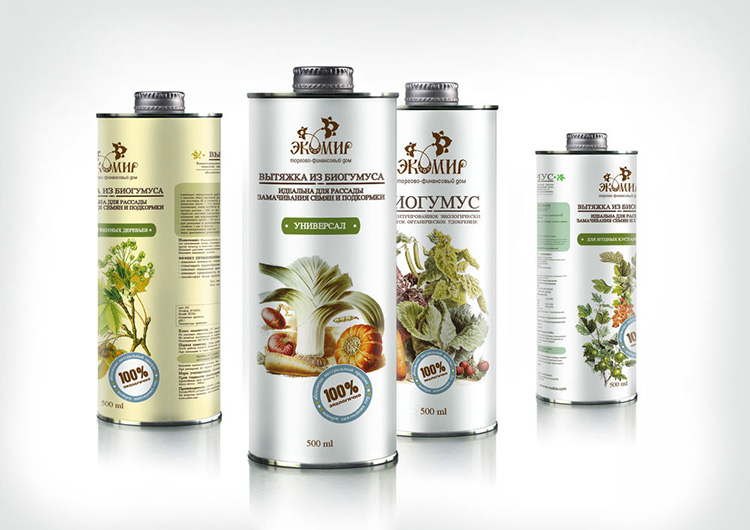 Tamper-Proof Fertilizer Packaging- Picture Courtesy: Dieline
Fertilizer packaging also reduces the chance of product tampering and counterfeiting. Certain features are included on the fertilizer packaging like banding, special closures, graphics, text, hologram labels, and special inks that show whether the product is tampered with or not. These features are not duplicated and prevent packaging from being interfered with before selling.
3.What are the Format Types for Fertilizer Packaging?
A wide range of fertilizer packaging styles are available that cater to different kinds of fertilizers both solid and liquid. These formats have diverse size ranges, shapes, and designs. Let's learn about fertilizer packaging styles:
Fertilizer Packaging Formats For Solid Fertilizers
For packaging fertilizer granules, pellets, pills, and powders, many pouch and jar styles are available. These containers pack both fine and coarse fertilizer powders. This is the list of fertilizer pouches and other packaging styles:
Stand up Pouch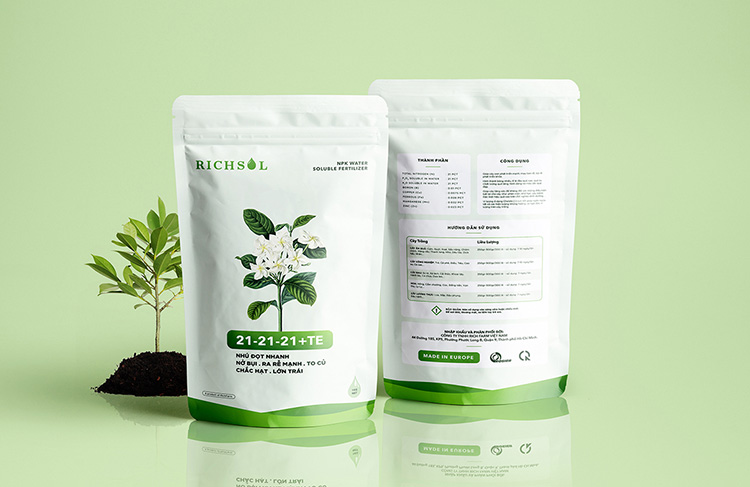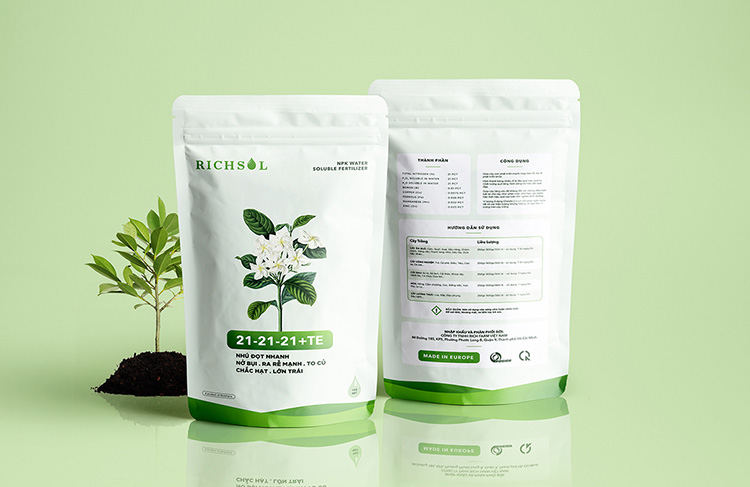 Fertilizer Packaging – Picture Courtesy: Packaging of the World
This pouch type is widely employed styles for packaging garden fertilizers. It has a bottom folding that offers the pouch stability and strength. It can stand on its lower portion on the display shelves. It is lightweight and has a compact design.
Flat Bottom Pouch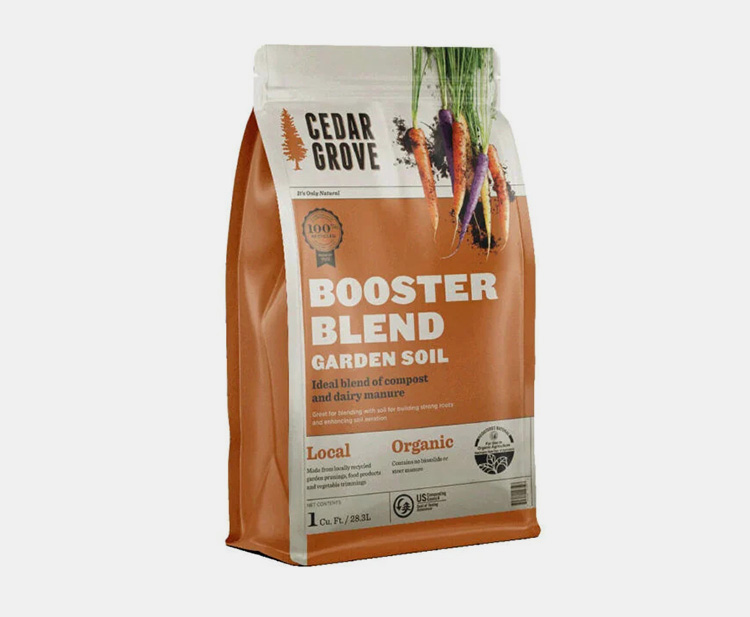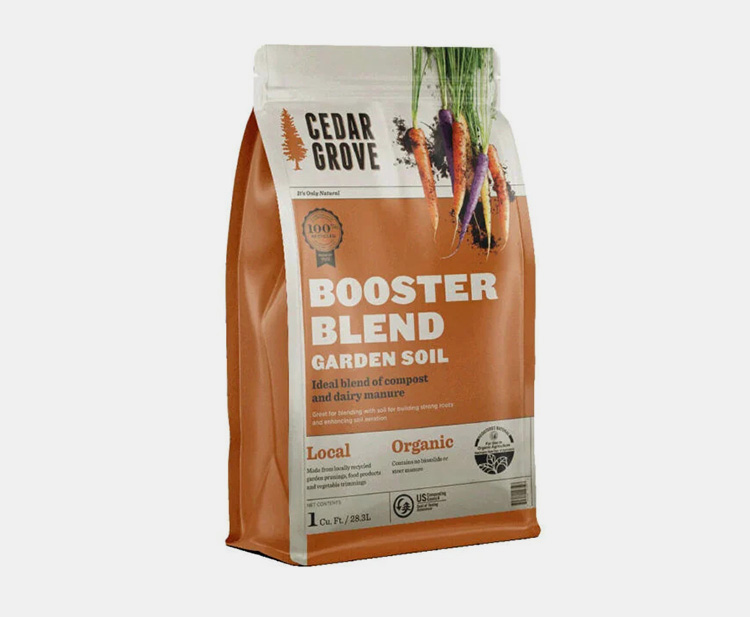 Flat Bottom Pouch Packaging – Picture Courtesy: CarePac
It has a flat bottom with side gussets, these two features confers this pouch style a box-like appearance. It is quite sturdy and can pack a bulk quantity of fertilizer. With its large surface area, it is best for printing and labelling.
3 Side Seal Pouch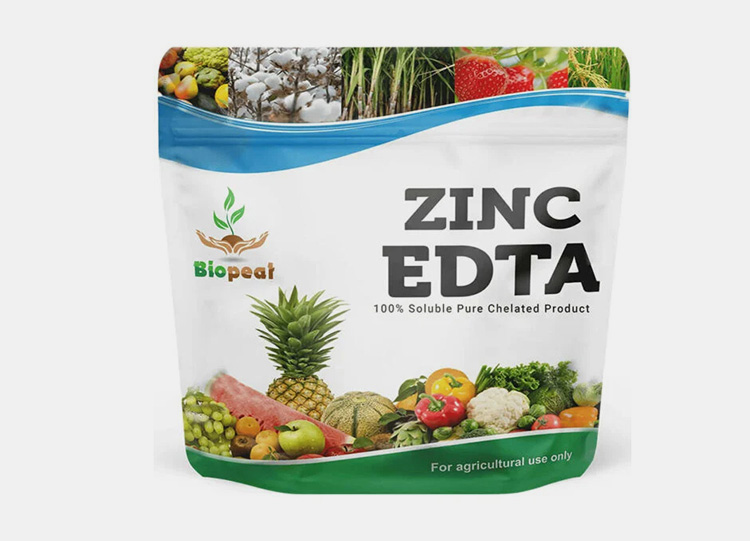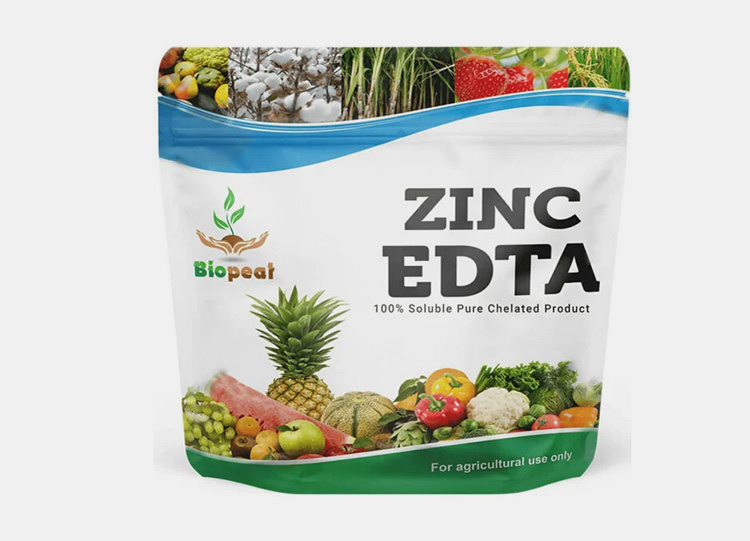 3 Side Pouch Packaging – Picture Courtesy: CarePac
It is commonly employed for packaging one-time-use quantities of fertilizer because of its smaller space. It is typically sealed at 2 sides and the top part. It does not stand on retail shelves as it does not have bottom support.
Large Pillow Pouch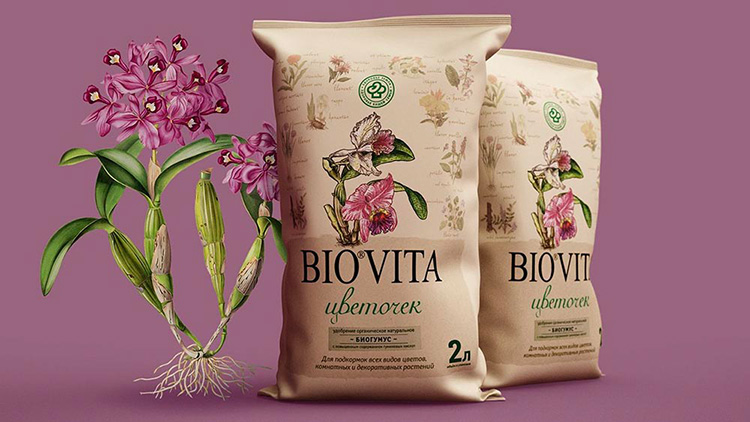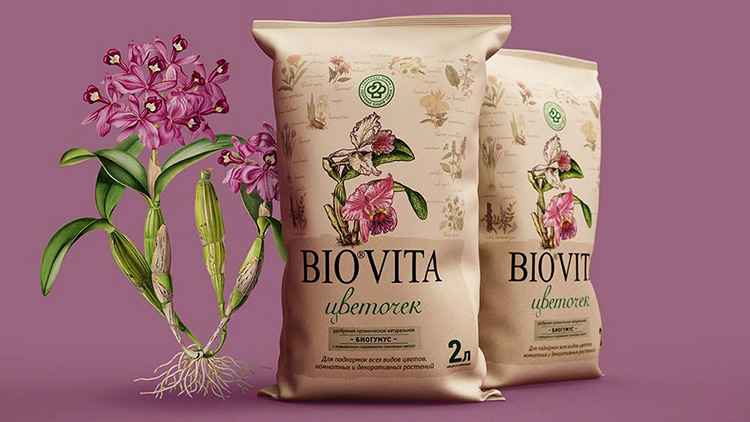 Large Pillow Pouch Packaging – Picture Courtesy: bmpack.com
This pouch has a pillow-like design and can hold bulk quantities of fertilizers. It is sealed at the top and bottom and has two protruding ends. It bulges upon filling fertilizer.
Jars or Canister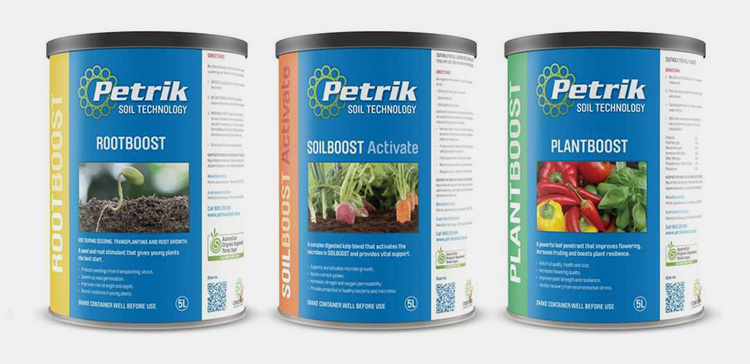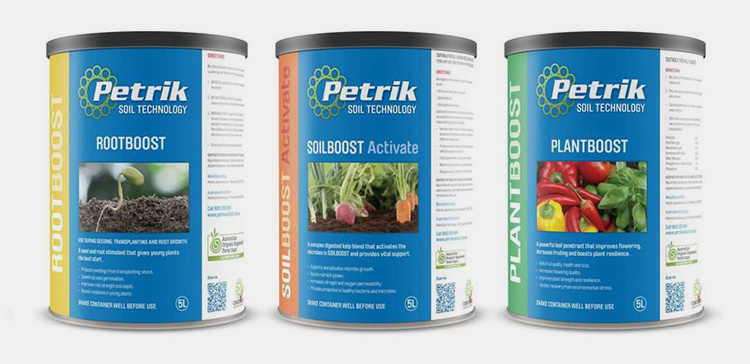 Large Pillow Pouch Packaging – Picture Courtesy: sunshinedesign.com
These are wide-mouth containers with a cylindrical or round-shaped design. It is employed for storing granules, powders, and pellets of fertilizers. These are sealed either using a snap-on lid or a twist-off cap. Jars and canisters are made with metals and plastics.
Fertilizer Packaging Formats For Liquid Fertilizers
There are several packaging formats for liquid fertilizers such as:
Bottles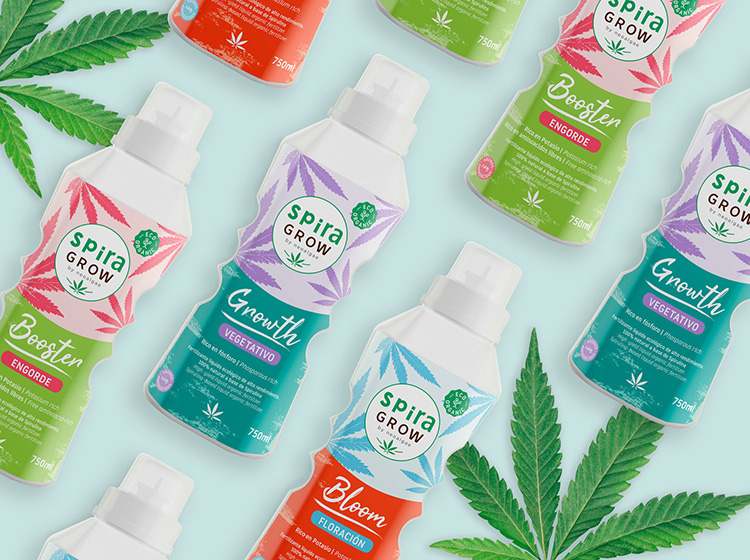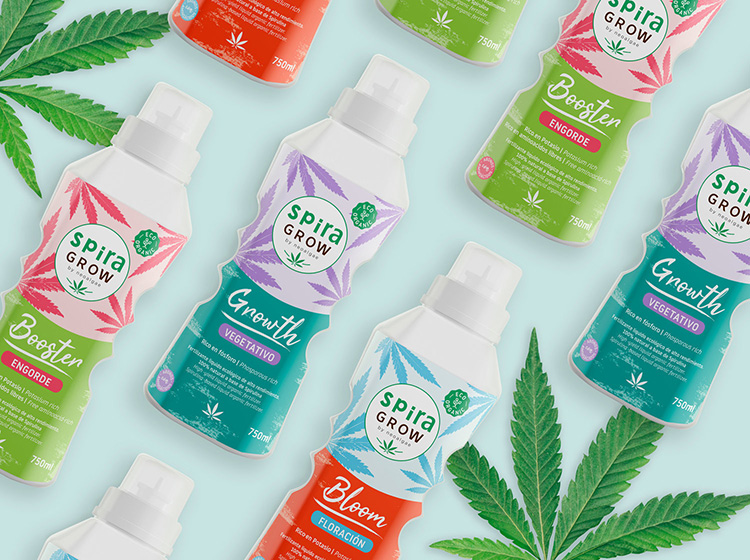 Fertilizer Bottles- Picture Courtesy: World Brand Design Society
Fertilizer bottles typically have a round or cylindrical shape with no neck. However, for attracting customers bottles are designed in unique shapes like twist, square, oval, etc. They also come with two openings and pump nozzles like shampoo bottles.
Jerrycans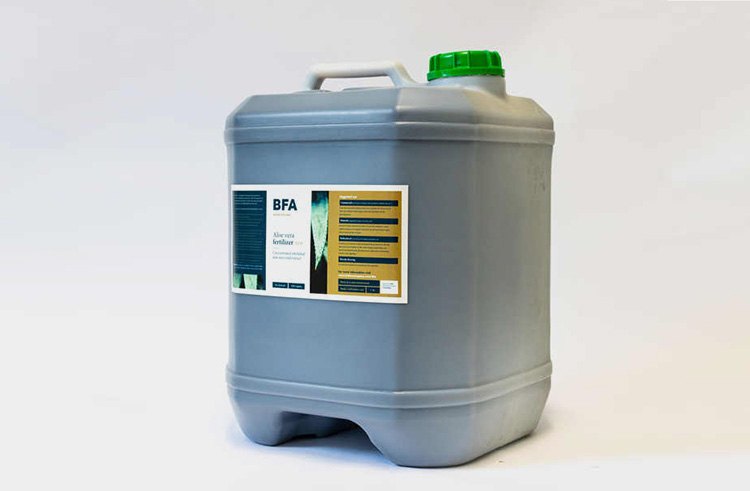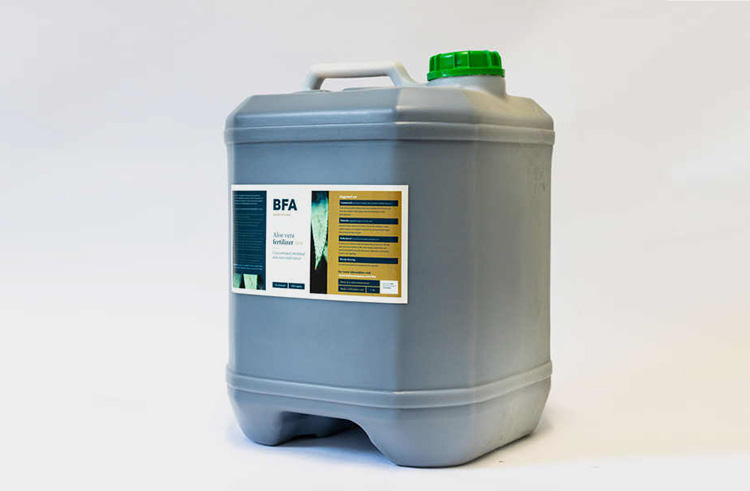 Fertilizer Jerrycans
They are usually utilized for packing large volumes of fertilizers. They are robust containers with a rectangular or square shape construction and a flat base. They come with 1-3 handles that aid in their carrying.
Buckets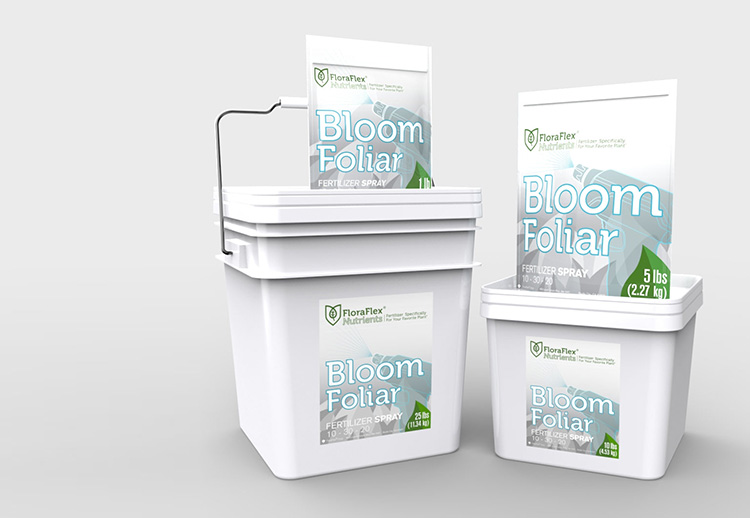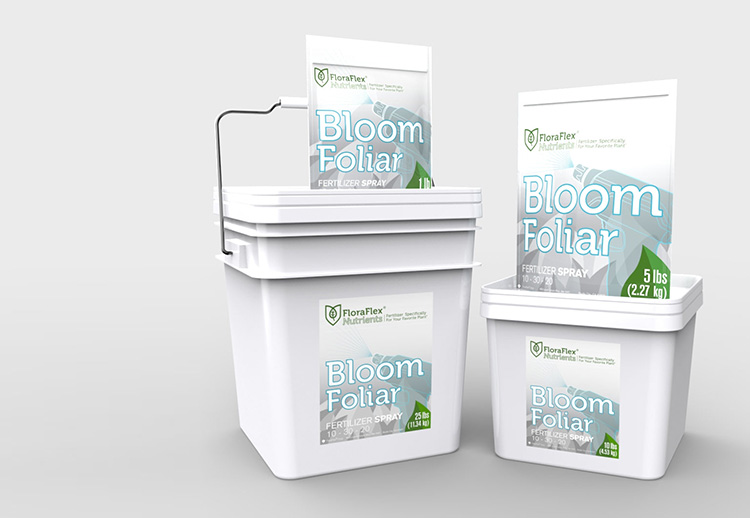 Fertilizer Buckets- Picture Courtesy: NPK Store
They have round or rectangular designs and are re-closable due to their lids. Buckets also have steel or plastic handles for moving them. They are usually manufactured using plastics, such as high-density polyethene.
4.What are Basic Machines in Fertilizer Packaging?
Various kinds of fertilizer packaging machines exist in the market to manufacture and package different kinds of fertilizer packaging. A detail of these machines is discussed below for your knowledge:
According to Design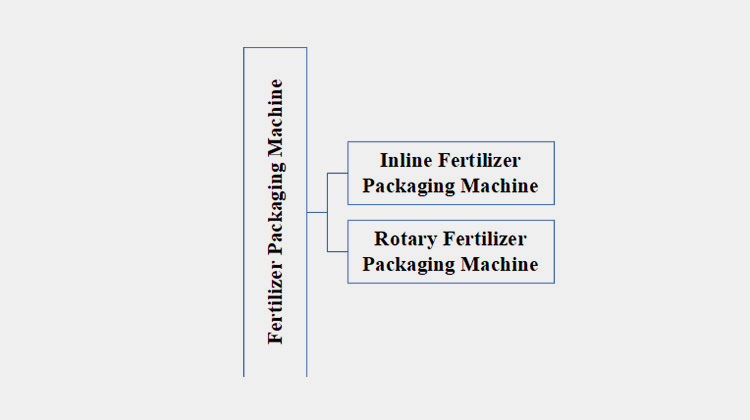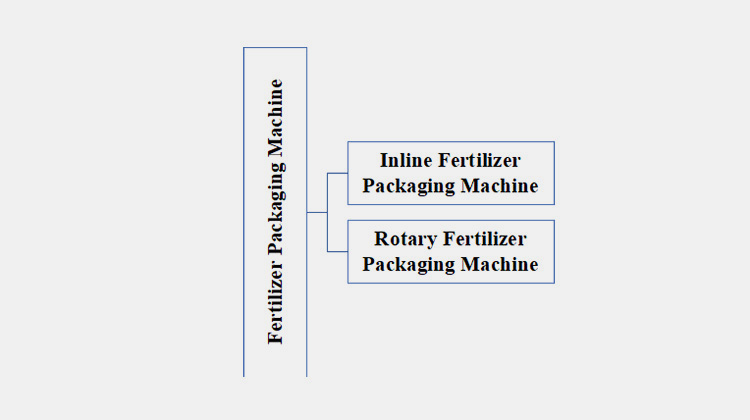 Inline Fertilizer Packaging Machine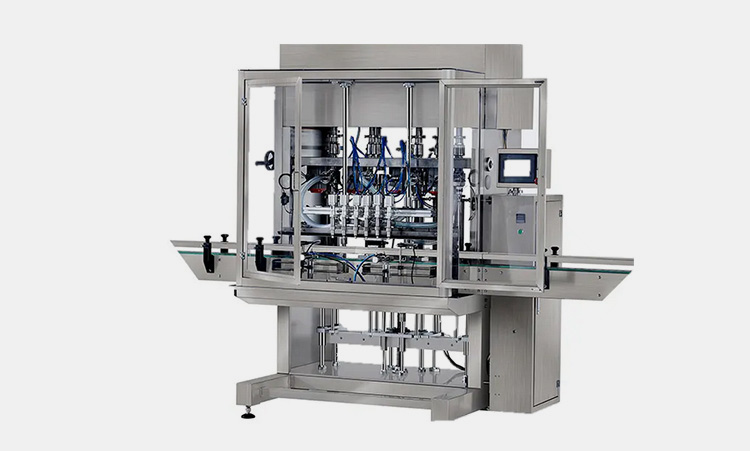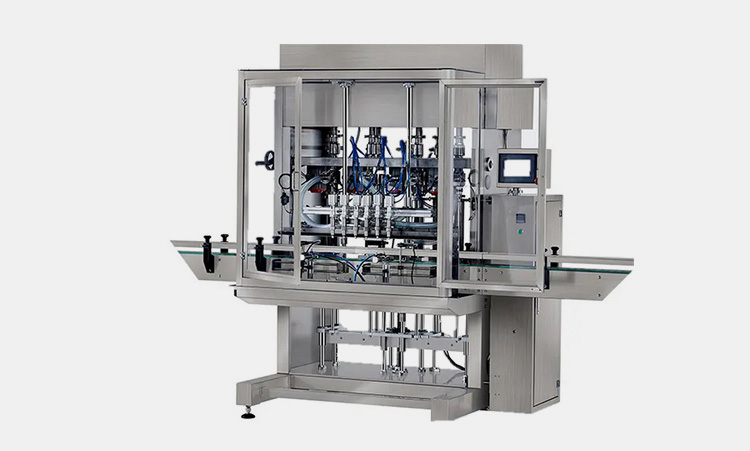 Inline Fertilizer Packaging Machine
This machine drives its name from its straight-line design. It is configured in letters Z, L, or U shapes. The inline fertilizer packaging machine has a long conveyor that is utilized for the transport of different fertilizer containers between stations. The filling, capping, and sealing of containers are carried out in a linear mode.
However, this unit has low processing capacity as a limited number of fertilizer containers are filled in one go. But this machine is one of the most cost-saving solutions because of its simple design and working mechanism.
Working Principle
Fertilizer powders or their other forms are first loaded into the hoppers present at the top of the machine. Then containers are put on the conveyors at regular intervals. These containers move in a straight line towards the filling nozzles
Rotary Fertilizer Packaging Machine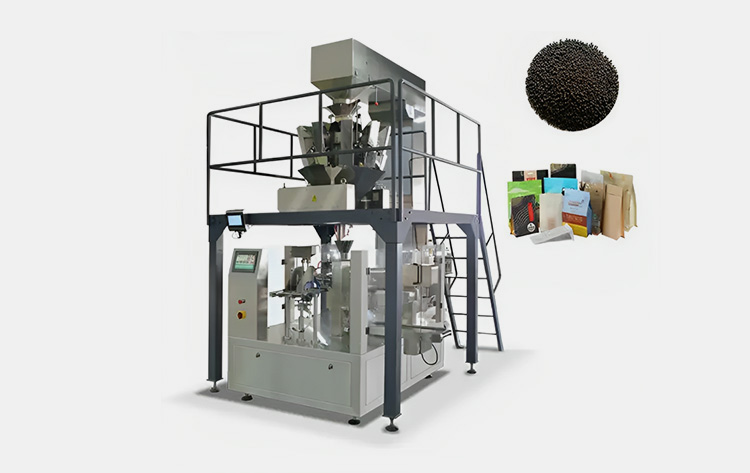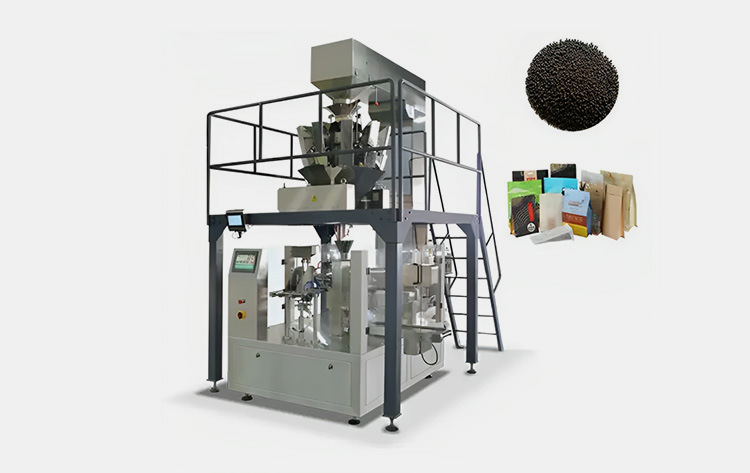 Rotary Fertilizer Packaging Machine
It has one of the most efficient machine designs because of its quick filling. This unit is designed in a circular configuration because it features a star wheel or turn table in addition to conveyors. Simultaneous fertilizer filling and downstream processes are carried out in this machine, resulting in higher processing volumes.
It is a compact solution but comes with a high purchase cost.
Working Principle
Containers travelling on the conveyor go to the turret where star wheel components place containers on the turret. The filling station located at the turret fills the container with the movement of auger devices. After filling, sealing or capping occurs at sealing and capping stations, respectively.
According to the Packaging Format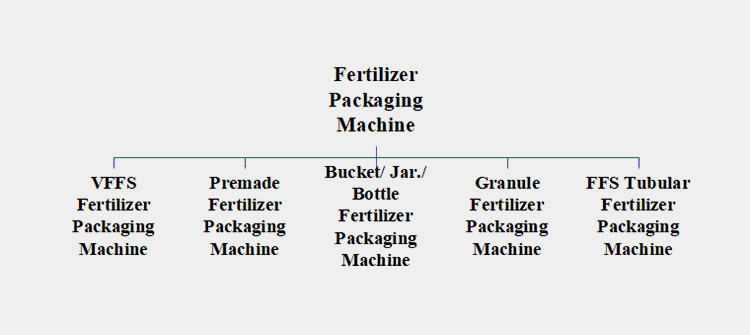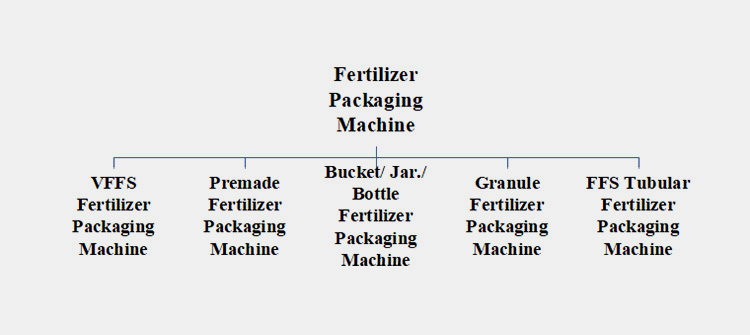 VFFS Fertilizer Packaging Machine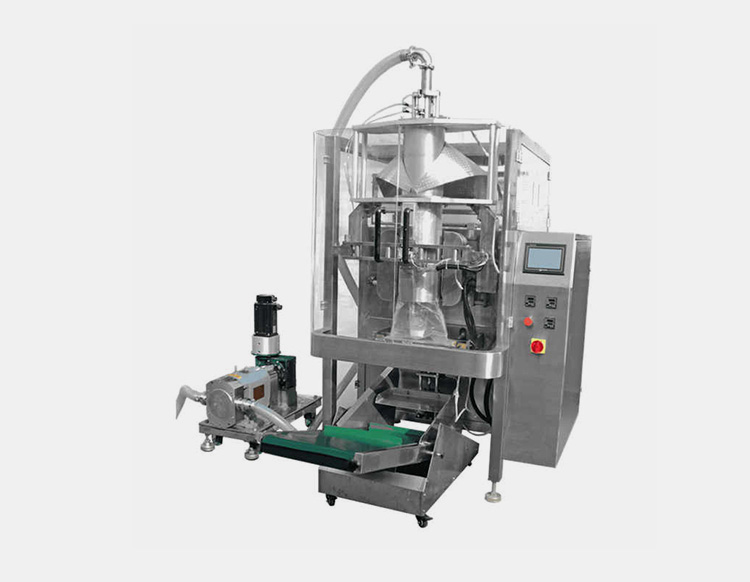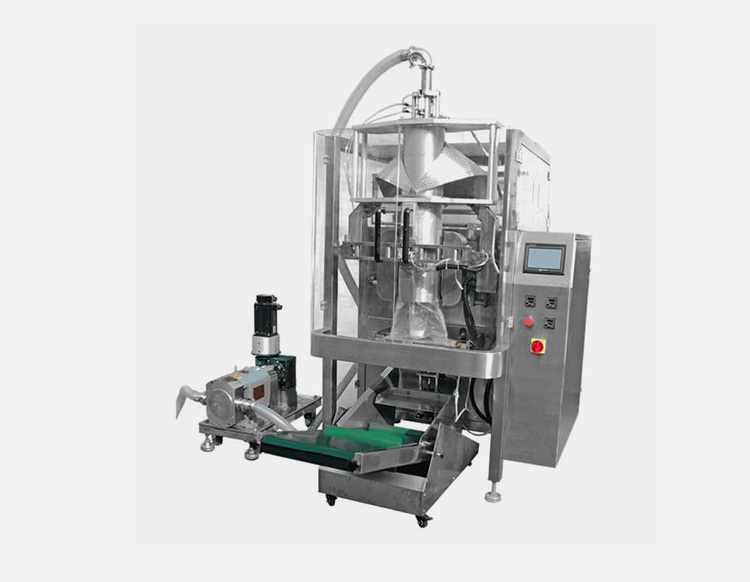 VFFS Fertilizer Packaging Machine
No fertilizer pouch packaging line is complete without a vertical, form, and seal machine. It is one of the integral units for pouch packaging because of its minimal footprint, cost-effectiveness, and high speed. The whole fertilizer packaging operation occurs in the vertical orientation.
Working Principle
The working of this machine begins with the loading of the film roll and travels to the forming unit where folding of film and creation of pouch bag take place. Then fertilizers are dispensed inside the pouch via filling devices. Then, the sealing of the pouch occurs by heated sealing jaws and sharp blades separating two adjoining pouches.
Premade Fertilizer Packaging Machine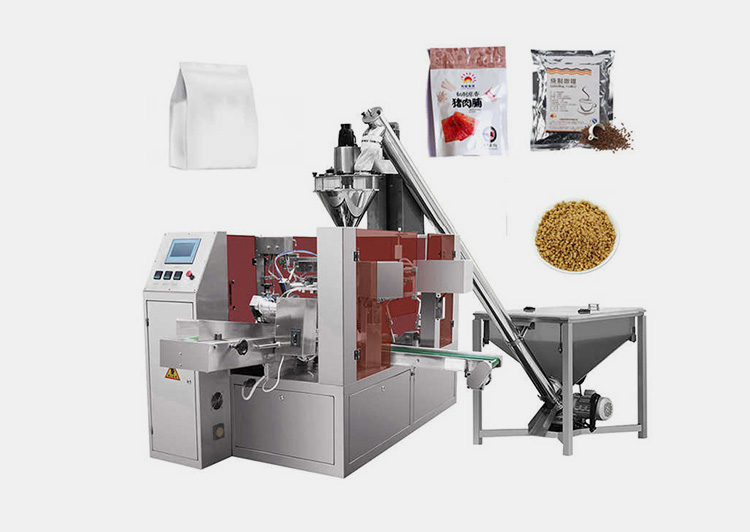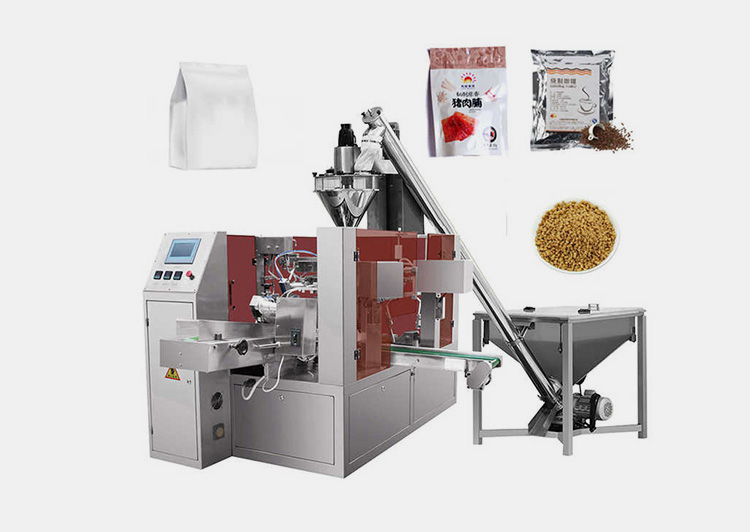 Premade Fertilizer Packaging Machine
It is one of the quickest solutions for packaging fertilizers in pouches because there is no pouch creation in this equipment instead it fills ready-made pouches. It comes with rotary turn tables, PLC units, large auger devices, and conveyors. It has a much larger size than the VFFS machine but is also it versatile solution for production.
Working Principle
The ready-made pouches are stored in the bag magazine. The gripper components present in this system carry the pouches one after another to the inflating section. High-pressure compressed air is fed into flattened pouches for their inflation. Then inflated bags travel to the filling station where filling nozzles fill these pouches. After filling, sealing and discharging of pouches occurs via hot sealers and discharge chute.
Bucket/ Jar./ Bottle Fertilizer Packaging Machine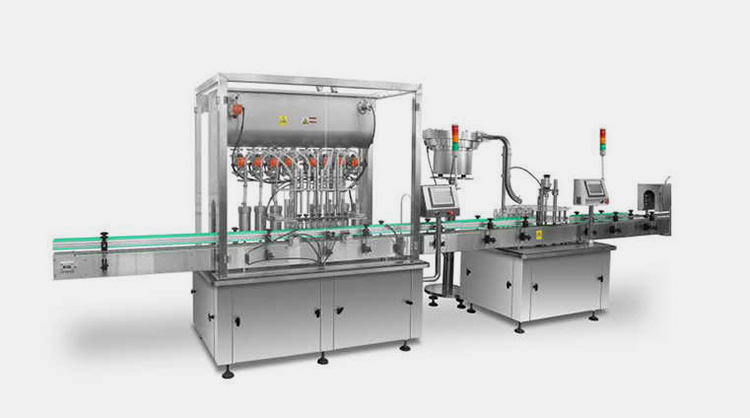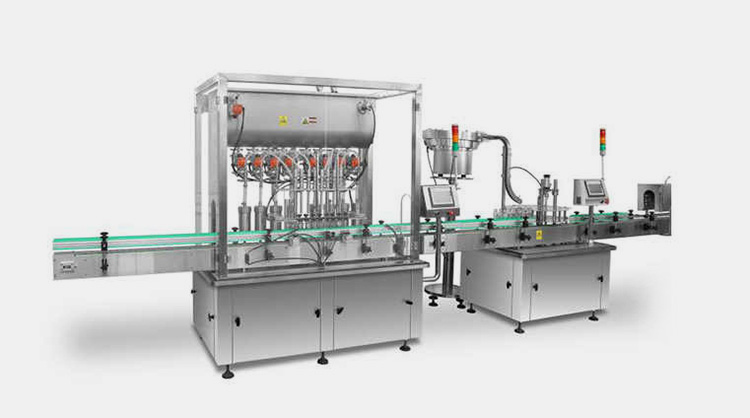 Bucket/ Jar./ Bottle Fertilizer Packaging Machine
It is a much larger system routinely employed in large businesses for high-volume filling of fertilizers. Different kinds of filling devices- auger, pump, piston, and net weigh filler- are present in this equipment for smooth and consistent filling of fertilizers. It is a most adaptable unit that offers versatility in fertilizer filling with fast format change.
Working Principle
For automation, a bottle or other container unscrambler is added to the fertilizer packaging machine that puts containers in the correct position on the transport conveyor. They are carried to the filling station and filling nozzles introduce the required amount of fertilizer in bottles, jars or jerry cans. On completion of filling, the filled containers are transported to down-the-line systems for sealing the fertilizer containers.
Granule Fertilizer Packaging Machine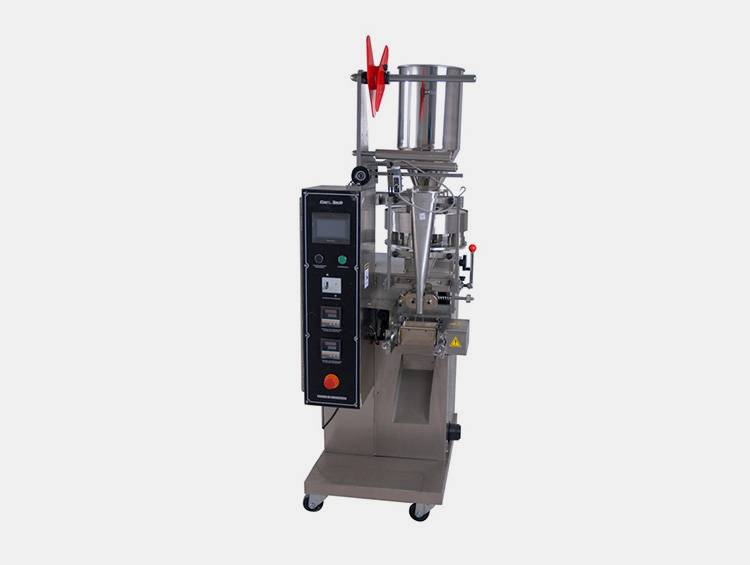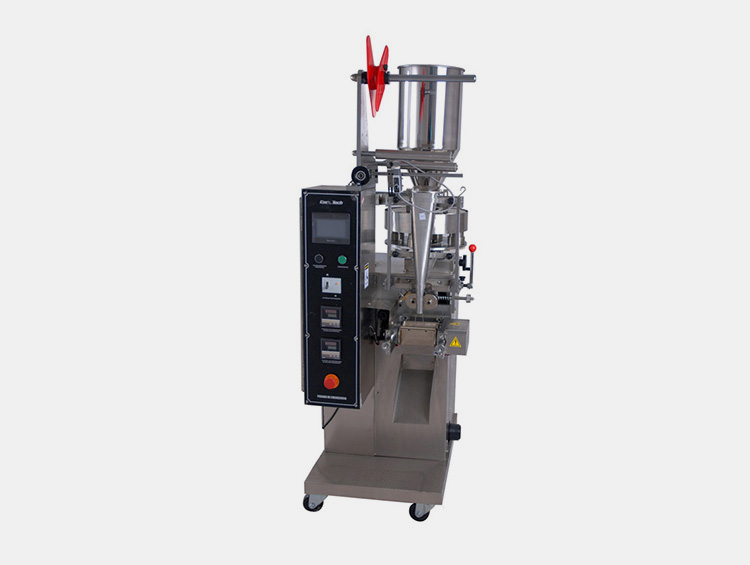 Granule Fertilizer Packaging Machine- Picture Courtesy: Allpack
This system offers precise filling of granular and powdery fertilizers. It has a compact construction requiring, smaller working space; hence it is a budget-friendly machine for smaller and medium-sized industries. Automatic alarm systems and photoelectric sensors present in this equipment ensure the safety of users and systems.
Working Principle
The PLC systems featured in this system provide automatic control of feeding, pouch formation, printing, and, sealing. Packaging film is transformed into a bag by the forming tube and sealing jaws. Large hopper, auger fillers, and, filling nozzle work in synchronization for accurate fertilizer loading. Upon filling, heated bars seal the top side of the pouch for security.
FFS Tubular Fertilizer Packaging Machine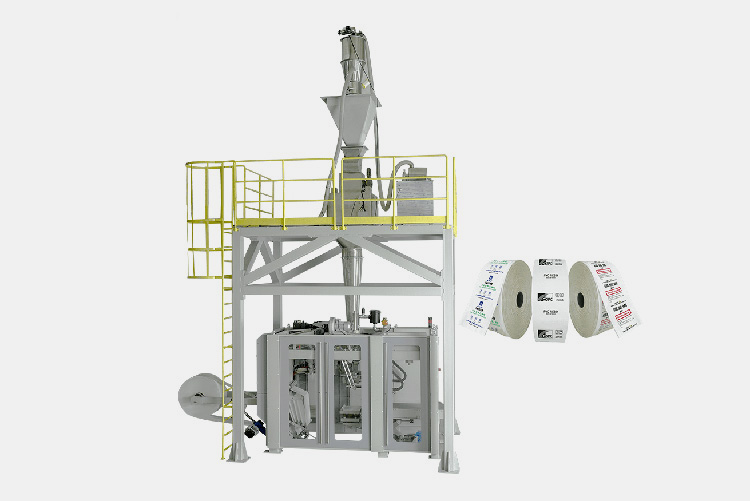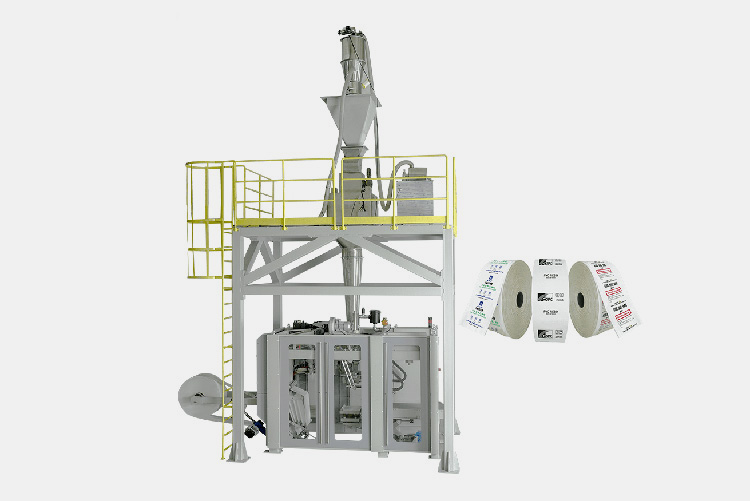 FFS Tubular Fertilizer Packaging Machine- Picture Courtesy: Finopack
This machine is utilized in settings that require bulk-capacity filling. This system has a larger construction for making and filling large-weight fertilizer bags. It is integrated with an electric reel lifer that is utilized in lifting and loading large film rolls on the holder. Waterproof wiring and stainless steel construction allow to achieve maximum hygiene standards.
Working Principle
Upon loading of a large film roll, its uncoiling occurs due to the movement of rollers. The film is folded and cut with a sharp cutting knife. An automatic gripper takes this cut tube-like pouch. Then filling nozzles fill the tubular sack-like pouch; after filling, high pressure sealer seal the top end of the filled bag.
According to the Filling Type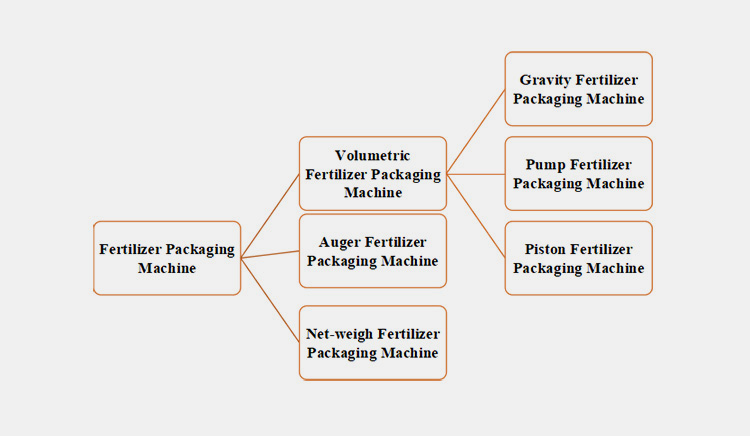 Volumetric Fertilizer Packaging Machine
There are three main types of volumetric fertilizer packaging machines which are discussed in detail below:
Gravity Fertilizer Packaging Machine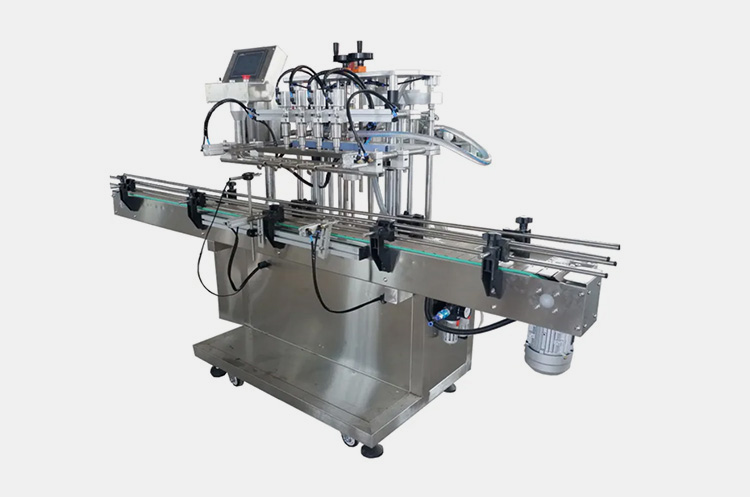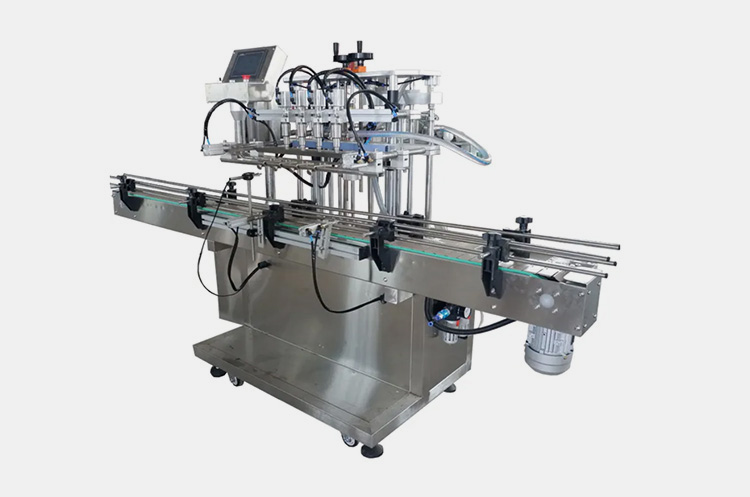 Gravity Fertilizer Packaging Machine
This type of volumetric fertilizer packaging machine is typically employed for filling free-flow liquid-based fertilizer. This machine has a simple construction consisting of a hopper, filling nozzles, and, conveyors. It is used for filling the exact volume in every fertilizer packaging container, for instance, bottles, buckets, and jerrycans.
Working Principle
It operates on the working principle of time-based gravity filling. First, time is programmed on the machine's PLC control system. Afterwards, containers are placed on the moving conveyors. When they reach the filling nozzles, the liquid fertilizers start flowing down from the hopper to the filling nozzles due to gravity. When pre-programmed time is touched, filling stops.
Pump Fertilizer Packaging Machine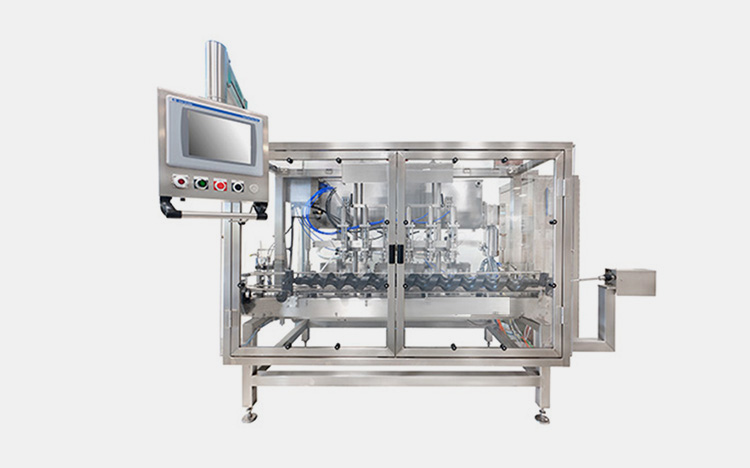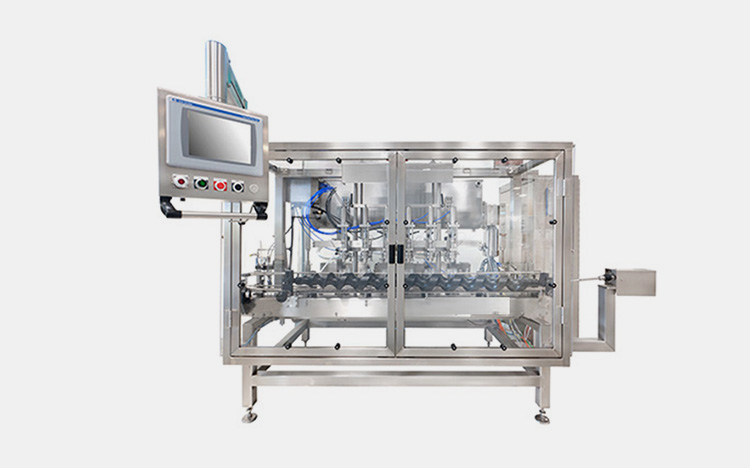 Pump Fertilizer Packaging Machine- Picture Courtesy: Pacific Packaging Machinery
It is available in diverse design types, such as table-top, semi-automatic, and industrial-sized pump fertilizer packaging machines for bulk-volume filling. It is employed for feeding both types of liquid fertilizer- free-flowing and viscous. It has a variety of pump types for accurate volumetric filling, such as cavity pump, gear pump, lobe pump, etc.
Working Principle
A time-based and pulse-based filling is employed in the the pump fertilizer packaging machines. In time-based filling, time is set for pump rotation during each style. Pulse-based filling is defined as one rotation or half-rotation of a pump in each cycle.
Piston Fertilizer Packaging Machine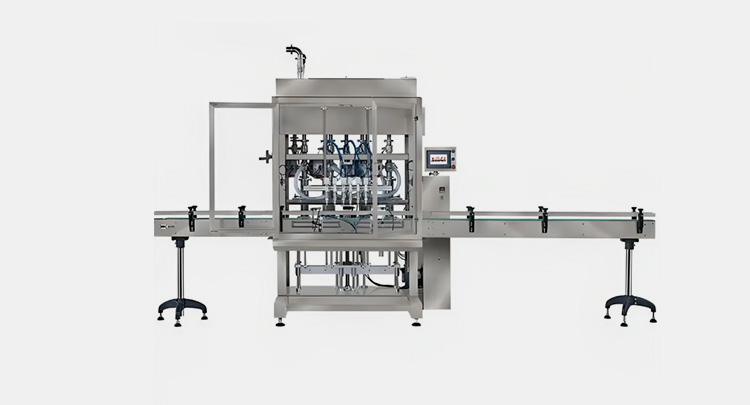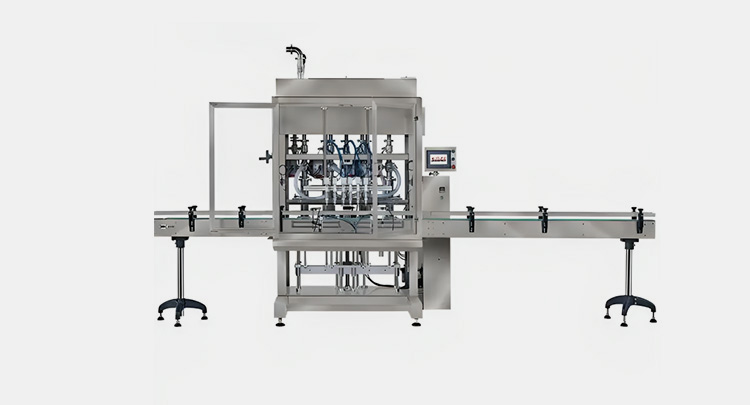 Piston Fertilizer Packaging Machine
This machine allows the manufacturers to load both thin and thick viscosity fertilizers in the packaging containers. It is one of the most commonly employed machines in the fertilizer packaging line for precise volumetric filling. The extent of the piston stroke in this machine controls the volume of every fill accomplished by the equipment.
Working Principle
When containers move under the filling nozzles, the rotary valves open and fertilizer from the hopper moves with the stroke of the piston to the cylinder. On the second stroke of the piston, the liquid is dispensed inside the filling nozzles from where it is fed inside the container.
Auger Fertilizer Packaging Machine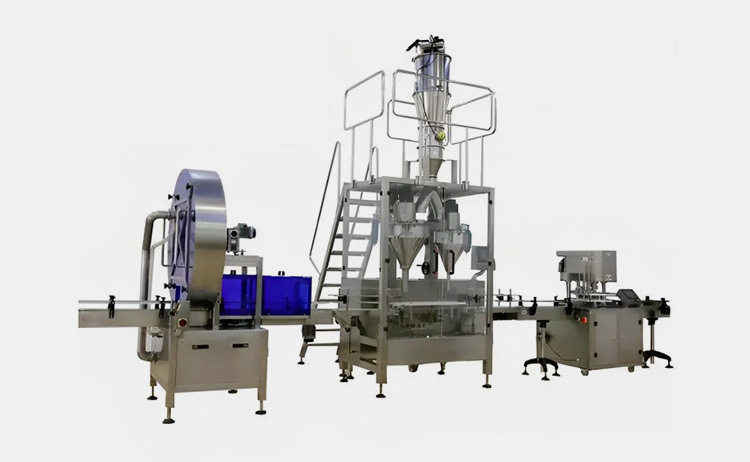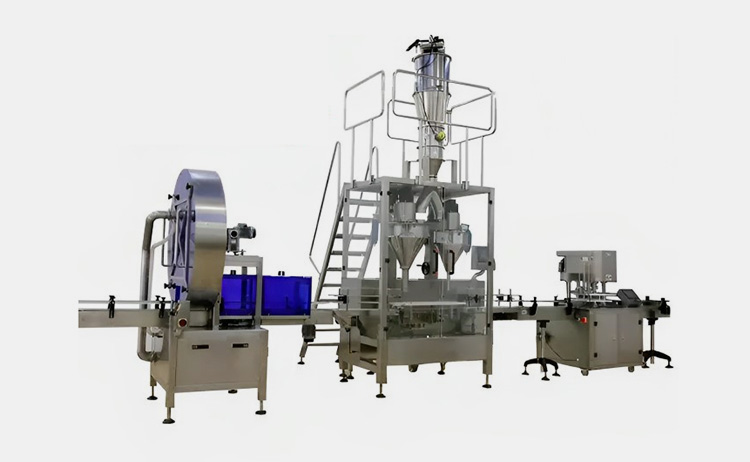 Auger Fertilizer Packaging Machine
This machine is widely employed machine for solid fertilizer packaging such as powders, tablets, and granules. It has one to two filling heads that allow high volume fertilizer packing. It features an auger filling device that measures and dispenses the correct amount of fertilizer in the containers. Servo-driven controls allow for consistency and repeatability in every fill.
Working Principle
It has a simple working concept in which fertilizer materials are loaded inside the containers with the rotation of auger. A bulk amount of fertilizer is packed into the hopper. Due to the auger drive, the auger device or screw rotates. Because of auger movement, the fertilizer feed travels down the funnel to the containers via filling nozzles.
Net-weigh Fertilizer Packaging Machine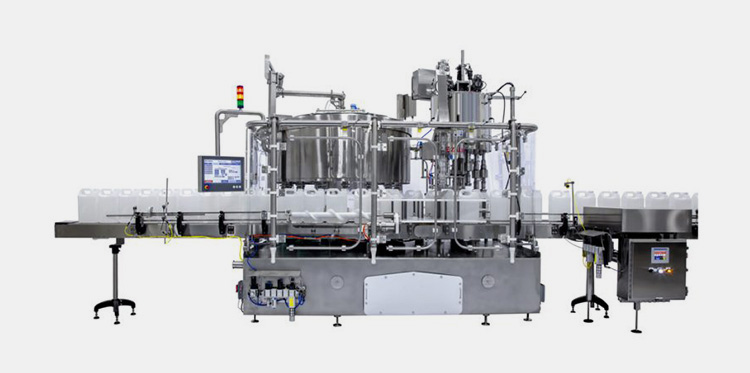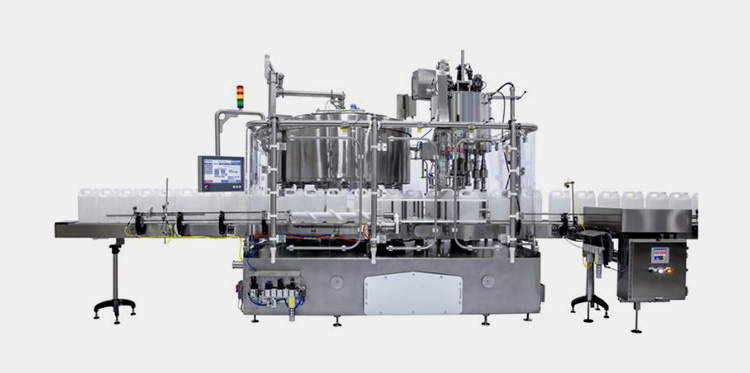 Net-weigh Fertilizer Packaging Machine- Picture Courtesy: Federal Mig
It is the only machine that measures and fills fertilizer feed by weight rather than volume. It is particularly employed for packaging expensive and aggressive types of fertilizers. Load cells found under the conveyors aid in achieving a high rate of accuracy. It can be considered as the most evolved type of weighing scale.
Working Principle
The fertilizer feed flows from the hopper to the filling nozzle that gradually dispenses it into the packaging container. Load cells located underneath the container measure the amount of fertilizer being loaded inside containers. First load cells record the tare weight of the containers and then materials are fed by the laminar flow. Electronic cards control the measuring process in the load cells and generate feedback after every cycle.
5. What is the Purpose of a Degassing Valve in in Fertilizer Packaging?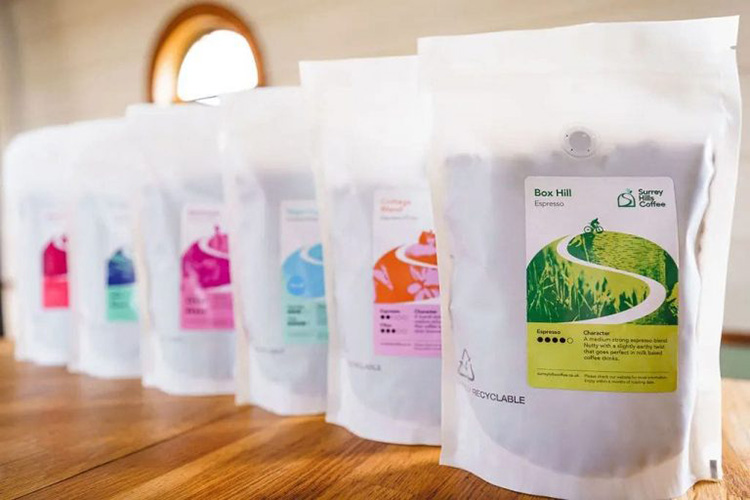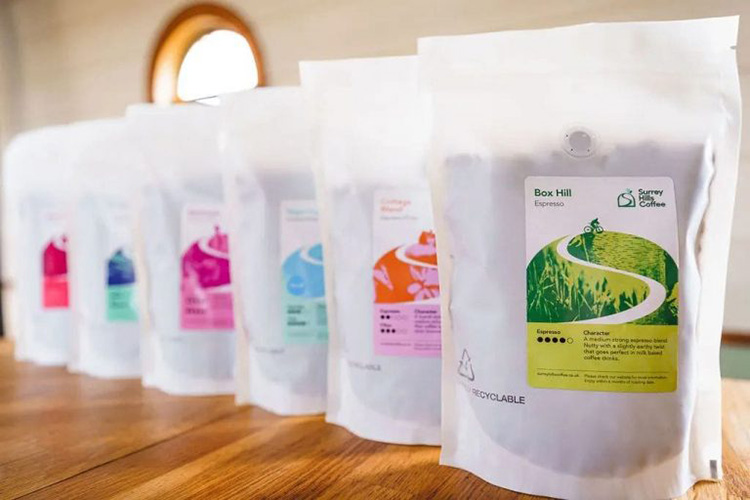 Degassing Valve in Fertilizer Packaging – Picture Courtesy: The Bag Broker
Have you seen tiny holes in the fertilizer packaging? These are de-gassing valves, normally present on the upper side of the fertilizer pouch packaging. They are also known as pressure relief valves. De-gassing valve is a one-way valve meaning it allows gases to escape from the packaging but prevents the entry of gases inside the fertilizer packaging.
Chemical reactions are continuously occurring in the granular fertilizer and produce ammonia gas. The fertilizer packaging could burst due to pressure build-up because of ammonia accumulation. Due to the de-gassing valve, this gas goes outside of the packaging, creating sable inside pressure. This valve is very important in maintaining the quality and strength of fertilizer.
Moreover, it also protects fertilizer packaging from rupturing or deforming due to high pressure.  It increases the expiration date of the fertilizer and provides safety to packaging and handlers during transportation and retailing.
6.Why PE and PP manufactured Bags are Popular For Fertilizer Packaging?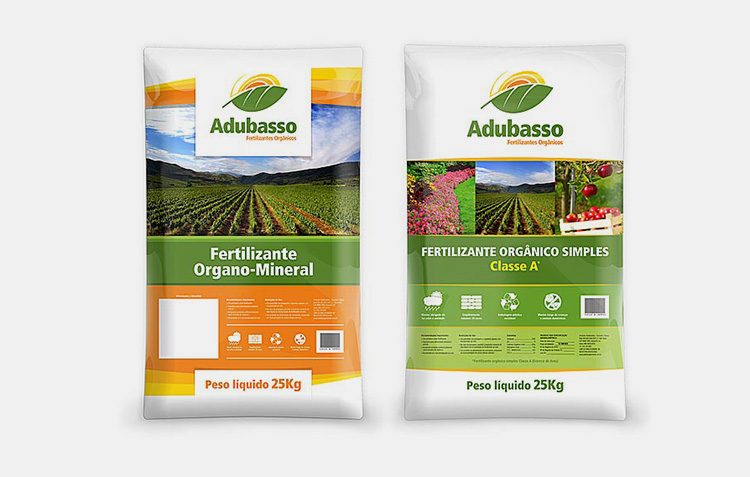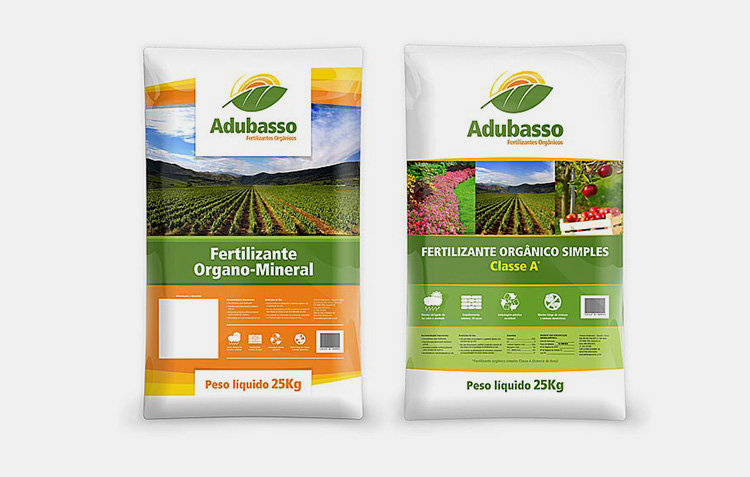 Plastic Fertilizer Bags- Picture Courtesy: O3 Design
Traditionally, burlap sacks or woven cloth bags were used for transporting and storing fertilizer. The invention of plastic has led to the creation of durable and protective pouches for packaging fertilizers. There are diverse types of plastic bags for fertilizers but the two most common are- PE (Polyethylene) and PP (Polypropylene) bags.
PE bags are frequently used for fertilizer packing because of their significantly higher water-proof feature about 30%. Secondly, it comprises of anti-skid strip that offers stability upon stacking. Moreover, they are tough, long-lasting, and have puncture resistance.
PP tapes are interwoven together in two opposite directions to form PP bags. This feature increases the tensile strength of the PP bags. Moreover, due to interweaving, the air is easily circulated in the bag which decreases the chance of bag swelling. Also, these bags cost less to manufacture and, therefore, are popular among fertilizer brands.
7.Is there any Difference between Solid Fertilizer Packaging and Liquid Fertilizer Packaging?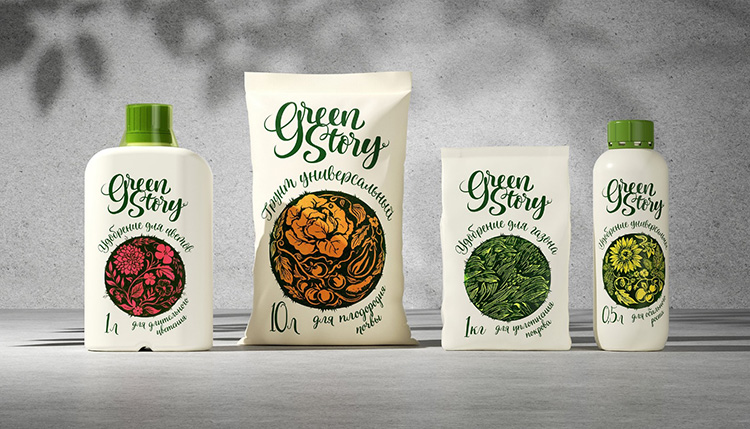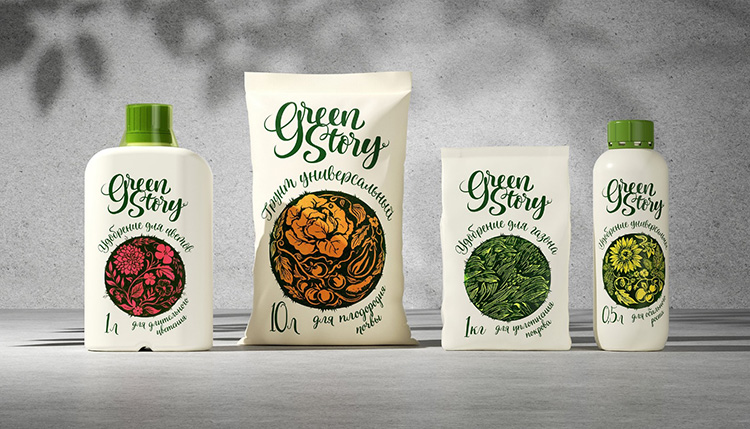 Fertilizer Packaging- Picture Courtesy: X.com
Fertilizers come in both solid and liquid physical states but do you wonder if are there any differences in the packaging of both fertilizer types? The answer is yes, there are some significant differences in both these fertilizer packaging.
Solid fertilizer packaging is manufactured using tough materials that can accommodate the weight and granular nature of fertilizers. These include pouches and sacks. Liquid fertilizer packaging involves containers that are meant for packing liquids, for instance, bottles, jerry cans, and buckets.
Solid fertilizers are usually first taken out of packaging and then applied to soils. Liquid fertilizers packaging is directly attached to a hose for spraying soils. Solid fertilizer packaging is typically made with paper, woven fabrics, and plastics while liquid fertilizer packaging is generally made with glass, metals, and, plastics.
8.What is the Difference between an Open Pouch and vs Valve Pouch For Fertilizer Packaging?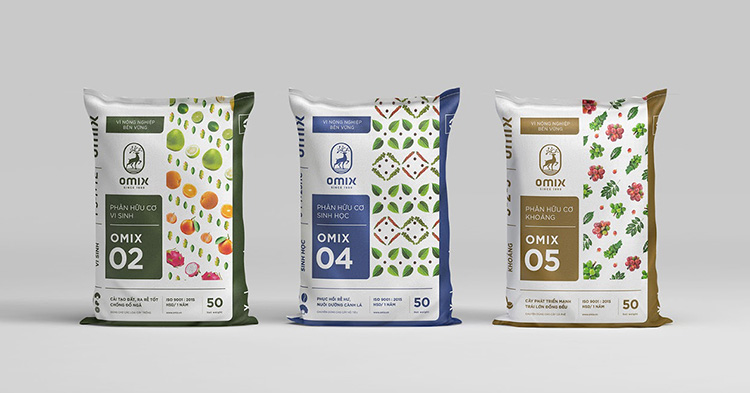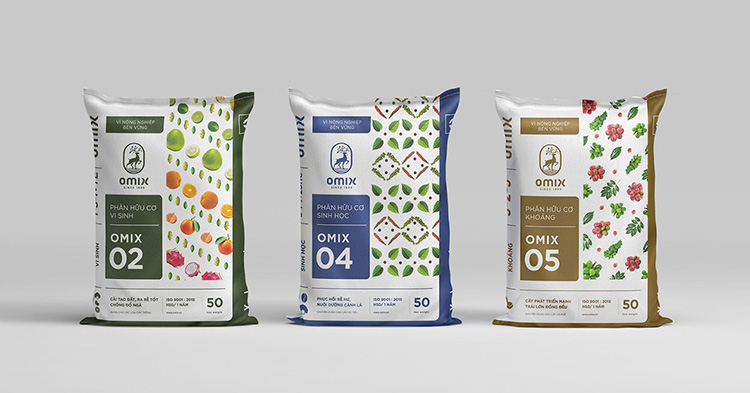 Valve Fertilizer Bags- Picture Courtesy: Packaging of the world
Both type of pouches- open and valve- are regularly used for holding fertilizer; however, there are some major differences between these two pouches. Let's discuss a few of the differences:
| | | |
| --- | --- | --- |
| Feature | Open Pouch Fertilizer Packaging | Valve Pouch Fertilizer Packaging |
| Opening | In this type of fertilizer pouch, the opening is found across the upper side of the pouch. | It has an opening for filling fertilizers in one corner. |
| Sealing | Sewing, heat sealing, and gluing paper tapes are used for closing the said pouches. | Ultrasonic sealing is employed for closing this fertilizer pouch. |
| Size Options | It has a variety of size options and can be small to large. | It has a limited size range like in between small and medium. |
| Price | Open-mouth pouches are less expensive to produce. | Due to its typical design, it is more expensive. |
| Air Permeability | It is more airtightly sealed to prevent air entry. | It is troublesome to hermetically seal valve pouches. |
| Stackability | They form loose pallets. | They form more tight pallets due to their better stackability. |
9.What Do Numbers on Fertilizer Bag Packaging Mean?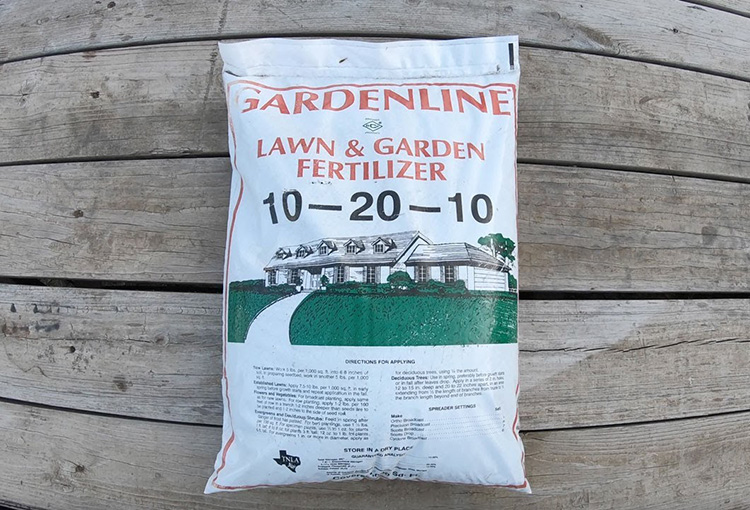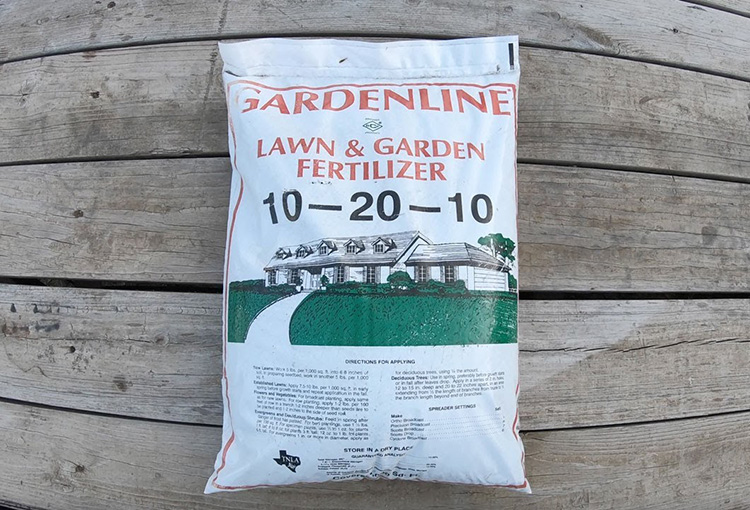 Numbers on Fertilizer Bag- Picture Courtesy: Hobby Farms
The labels on fertilizer packaging have three striking numbers such as 20, 20, 20 or 21, 0, 0. The first number corresponds to the quantity of nitrogen in the fertilizer, the second number indicates the amount of phosphorus or more specifically phosphate (P2O5), and the third number shows the quantity of potash (K2O) or potassium.
If there is 20, 20, 20 on the fertilizer packaging, it means that this fertilizer has an equal quantity of nitrogen, phosphorus, and potassium which is 20%. However, if the label says 21, 0, 0, it denotes that there is only 21% of the nitrogen in the fertilizer with no phosphorus and potassium contents.
10.How Long Does Fertilizer Packaging Last?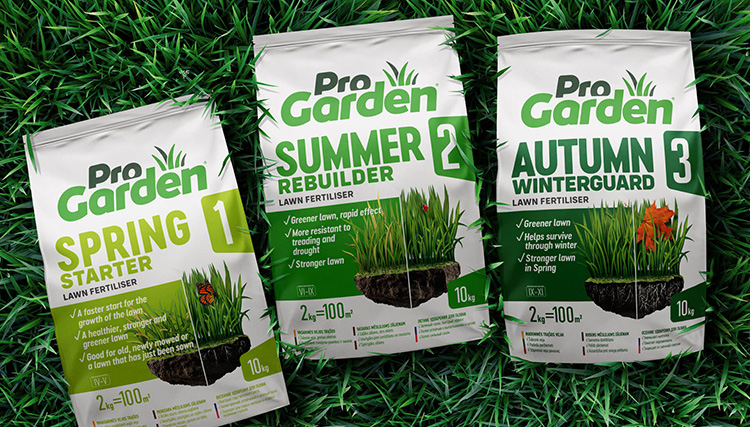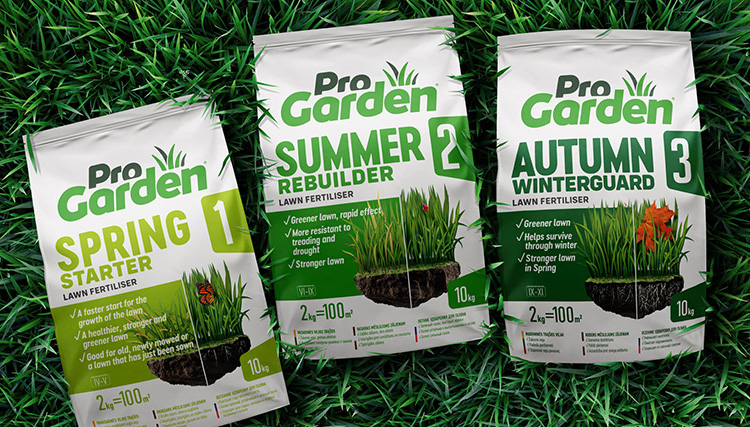 Shelf-life of Fertilizer Packaging- Picture Courtesy: Package Inspiration
Farmers and other consumers worry about the expiry date of their fertilizer packaging. Here is good news for you. Fertilizer packaging has no finite expiry date.
Unopened, fully sealed fertilizer packaging can last for several years. Liquid fertilizer in the packaging can have an expiry date of over 10 years if stored at a place with a temperature of below 37.7° C or 100°F, while granular fertilizer in the packaging has a longer expiry date than its liquid counterparts. If properly stored in a cool and dry place away from chemicals it can last for a couple of decades. However, organic fertilizer typically has a shelf-life of 1-5 years in tightly closed packaging.
However, if the packaging of granular fertilizer is opened then it should be stored away from humid areas as granules will quickly absorb water vapours, leading to their caking. Thus, it can lose its effectiveness and strength.
Conclusion
Fertilizer packaging is the one thing that holds, protects, distributes, and brands the fertilizer products. The chances of fertilizer sale depend upon the right material and the right packaging design. For a brand to succeed in this competitive market, it should know the ideal packaging material and packaging. If you want to invest in the perfect machine that is well-aligned with your product goal, then Allpack is just the place for you. Whether you are indecisive in selecting a packaging type or machine, we are always happy to help. For the best deals and offers, please feel free to contact us.
Don't forget to share this post!
CONTACT US
Tell us your raw material and project budget to get quotations within 24 hours.
WhatsApp Us: +86 181 7101 8586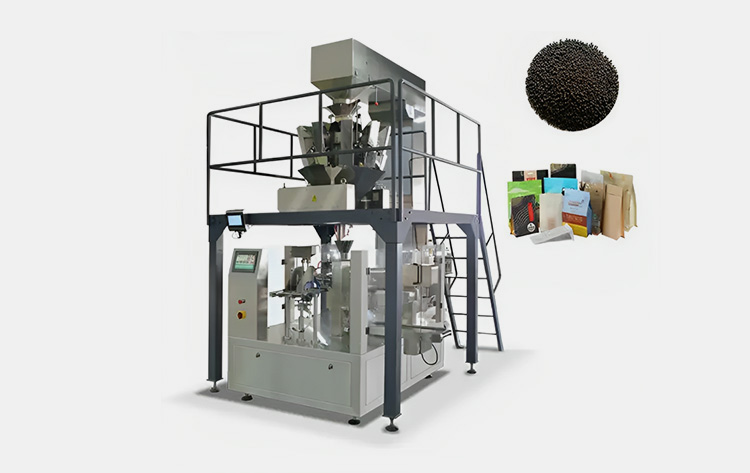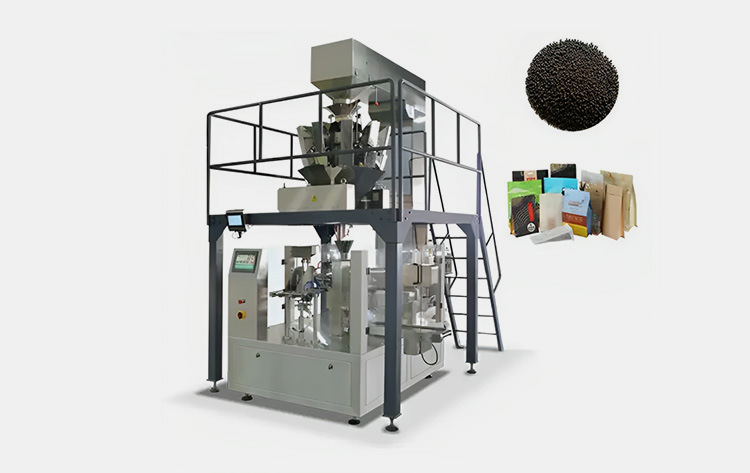 Tell us your material or budget, we'll reply you ASAP within 24 hours