Bag Closer: The Complete Buying Guide In 2023
Productivity of industries in modern world is increasing day by day. As a result, the finish bags are difficult to be enclosed manually. For this, bag closers are highly suitable which are now produced globally. A bag closer is a highly efficient machine that is used for sewing industrial packaging, warehouse packaging and fertilizer bags.
Numbers of manufacturers are now busy in making bag closers due to their increasing demand. But before purchasing these bag closers, it is necessary to get all related information. That how can bag closer fulfill an industries production demand and what are their advantages. For this Allpack China is providing you complete buying guide for a bag closer which can assist you at every level. You can take the most of it!!
1.What Is A Bag Closer?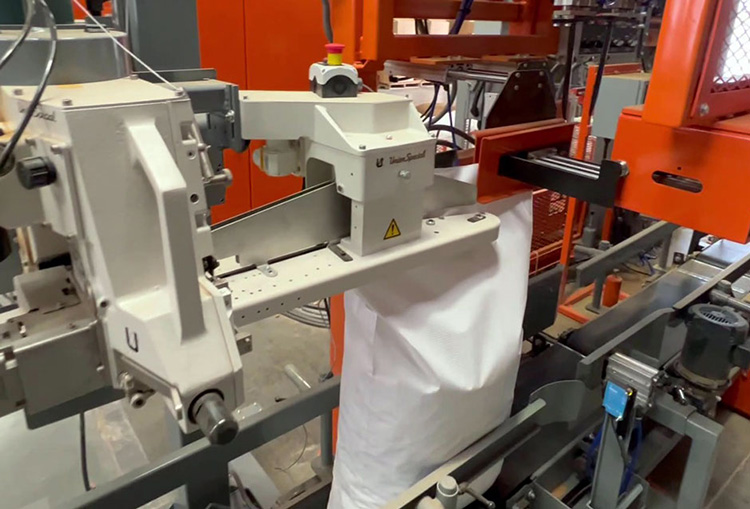 A bag closer is a highly efficient and precise machine that closes filled bags like a sewing machine. These machines are mostly in demand nowadays as they stand up to sew bags with high reinforcements. Bag closer are simple to operate and requires no expertise.
The feed mechanism of a bag closer is more conventional that helps to achieve smooth and better looking closures of bags. The parts of a bag closer are also machined to a closed tolerance and are heated to a certain temperature to bring resistance and reduce downtimes in them.
2.What Are the Advantages of a Bag Closer?
Advantages of a Bag Closer
Safety handling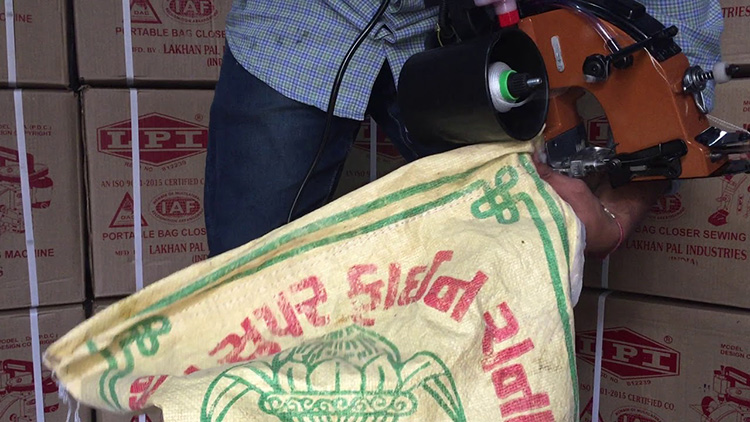 Bag closers are fully equipped with safety measures and shows no tolerance in that factor. The plastic handle is also there for insulation purpose.
Continuous Operation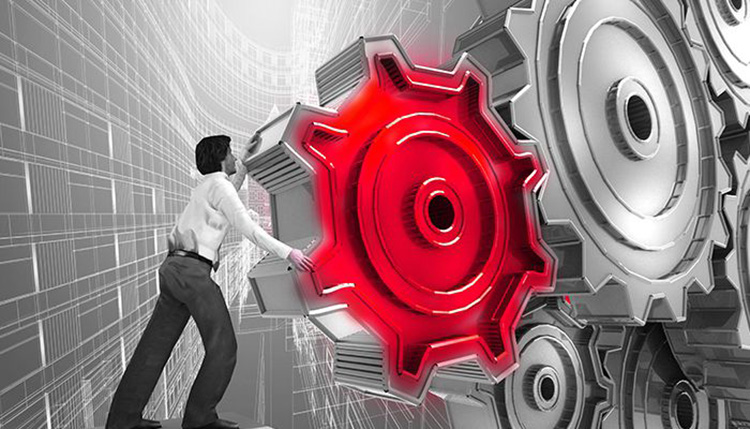 Bag closers are efficient in closing bags with ease that are on the bagging line. The machine takes the bag itself or manually and with comfort closes it depending upon the specification of material.
Quality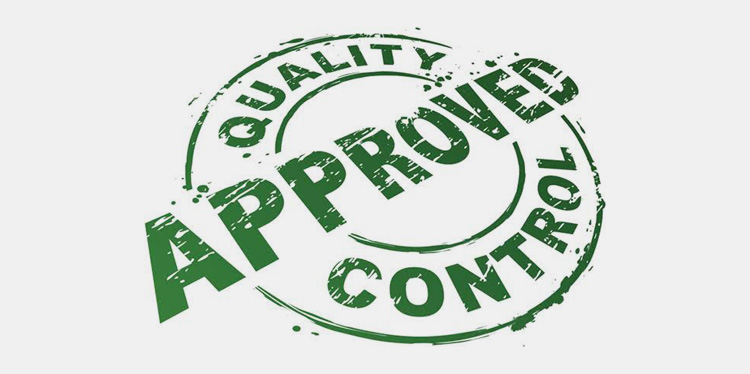 The quality of thread closing achieved using a bag closer is a unique factor of this machine. No manual closing technique can even come closer to a bag closer when it comes to uniqueness and precision.
Soundless Operation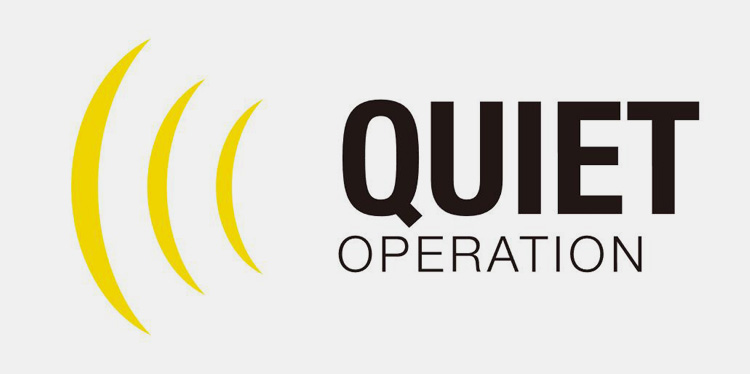 Unlike traditional sewing machine, operation of a bag closers produce no sound because of a high grade and wear resistant nylon cam that are capable of reducing noise to a distinct level. The machine has no steel cam which actually is responsible for producing sound.
Adaptability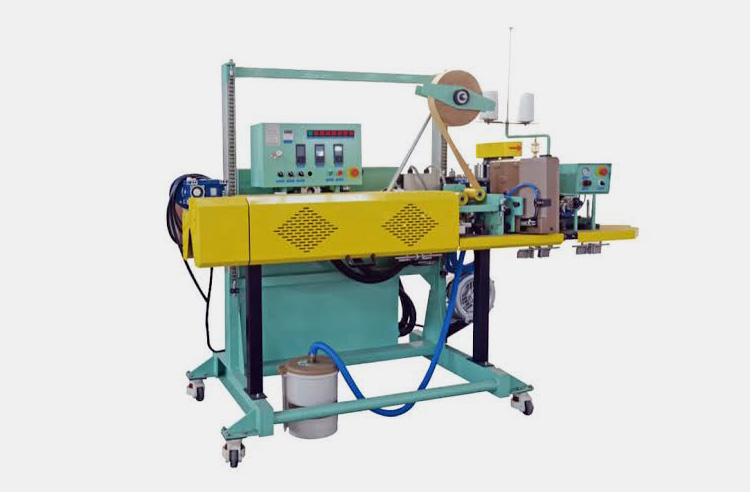 Bag closers have high adaptability as they can be used in any type of conditions and are also moveable which helps the manufacturer to use it where and when required
Availability of Spares

The spare parts of bag closers are easily available in market and are also changed after long time due to their supreme quality material
Non-corrosive Structure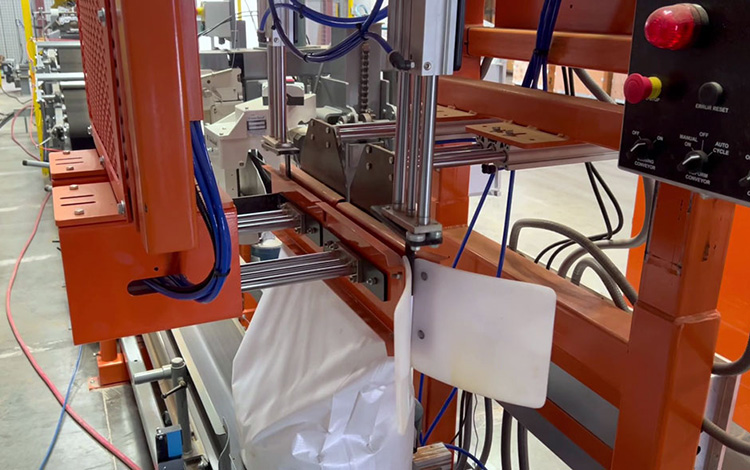 Bag closers are highly suitable for production setup's including places where humidity is present. The non-corrosive structure supports the machine to resist from environmental conditions and increases its life.
Auto Thread Cutter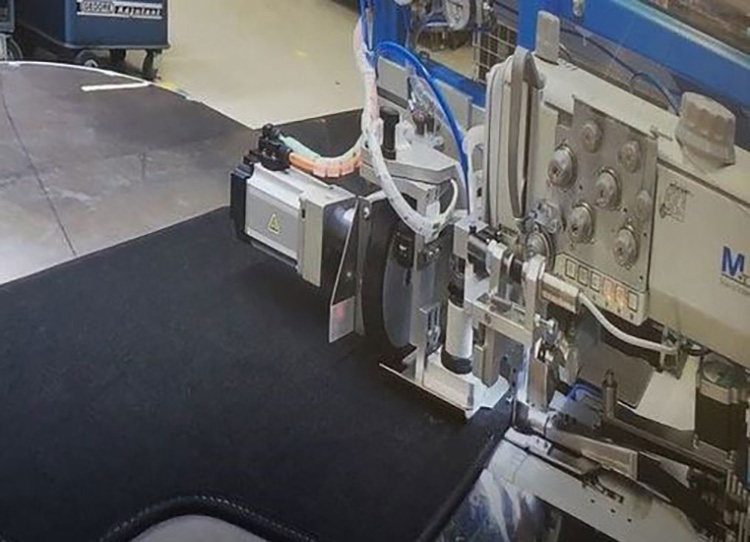 Traditional the cutting of end thread was done manually which directly involves human nature to any accident. A bag closer has an automatic thread cutting blade which cuts the thread with severe protection and in a closed manner.
3.What Are the Applications of a Bag Closer?
Applications of a Bag Closer
Packaging Industry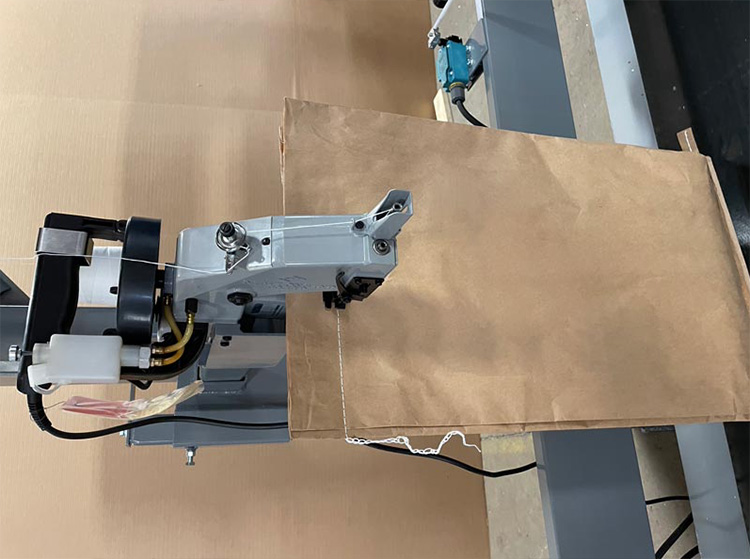 Bag closers are usually functioned by a simple stitched chain. This structure helps them to operate at a high speed level. This is why these bags are most popular in packaging industries where papers, rubber or clothes bags are sealed in an efficient manner. The productivity of a bag closer is that much high that it sews a bag in less than 6 seconds. This makes its application more useful for all of the industries. Bag closers are mostly used in food packaging, where floor or other items are closed. These are also applied in manufacturing industries, where high productivity is to be achieved in less time.
4.What Is the Working Principle of a Bag Closer?
Working Principle of a Bag Closer

The working principle of a bag closer is just like an ordinary sewing machine. It just includes high level of automation and integrated systems. The working principle of a bag closer follows following points.
Initially all the external parameters of a bag closer like temperature, needle quality, conveyor speed, thread quantity and nature according to the bad composition and electrical connections are checked with high concern.
When all the parameters are found to be normal then the process of a bag closer machine is said to be start.
In the process, the bags are filled with material at first and then directed towards the bag closer.
Manually or through conveyor system, the bags are inserted in the system through a device guide.This device guide also straights the top edges of bags which make it easy for the machine to sew. The speed of feeding is also set account to the quantity and nature of material.
As the bag is detected on the system the automatic sewing head starts its operation. It allows the thread to travel from in feed needed and as the bags moves forward the sewing process is carried out.
At the end when the bag is completely closed, the excess thread is removed by sharp edged blades and similarly the process is repeated in cycle.
5.What Types of a Bag Closer Are Available in Market?
Types of a Bag Closer
There are two common types of bag closers available in market
Manual Bag Closer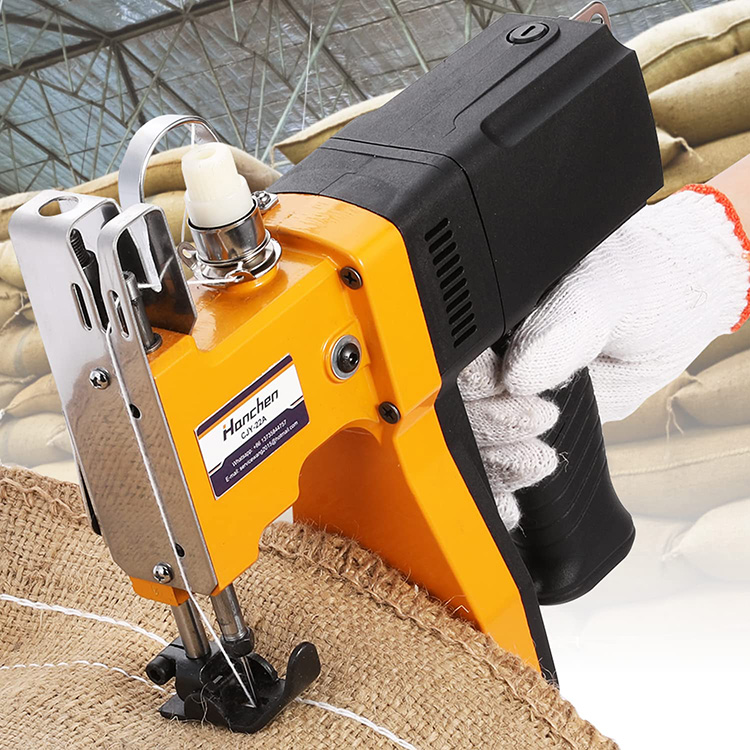 A manual Bag closer is a portable machine that stitches products with choice and wherever required. Pouches and bags process in small scaled industries can easily be stitched using a manual Bag closer. They can be easily carried to anywhere. We simply have to insert the top edge of bag in the machines head and it closes the bag in an efficient manner. Sealing is done in a very short interval of time
Automatic Bag Closer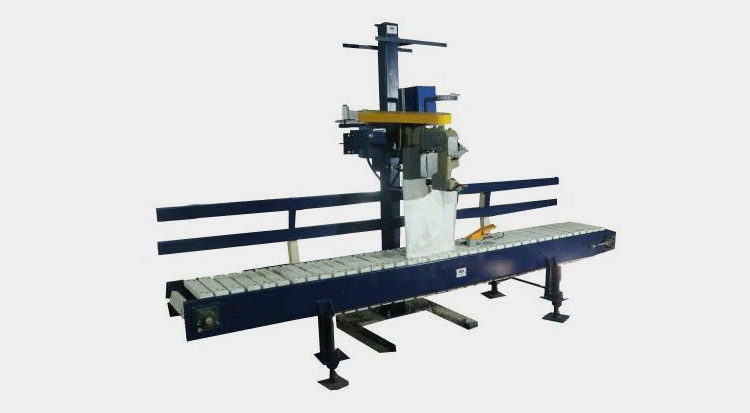 Automatic or Industrial bag closers are used in high level manufacturing and processing industries. These machines are fully automated and require no manual interfacing. Somehow, few machines require man power only for entering the products into the system. The product travels on the conveyor and in a same manner it exists without any support. The productivity of fully automated bag closers is around 600-800 bags per hour which is great in number.
6.What Are the Main Components in A Bag Closer?
Main Components of a Bag Closer
The main components of a bag closer are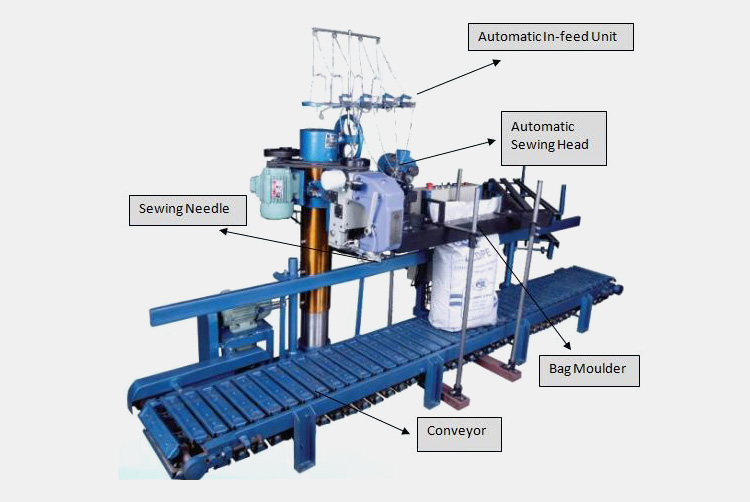 Automatic Sewing Head
This is the main unit of a bag closer. This is where the electro mechanic and non-stoppable services are provided by the machine. The sewing head carries the in feed unit which contains thread and cutting head.
Conveyor
In a bag closer machine the product is carried in and out from the system through these conveyors. The conveyors direct the bag to get in the automatic sewing head and also are responsible to get the product out.
Sewing Needle
The core item of a bag closer which actually is responsible for closing of bags is sewing needle. The needles are selected as per the standards of material used for packaging. Vice versa the thread is selected according to the size of needle.
Bag Moulder
For proper shape so that the bag closer perform the efficient closing, bag moulders are placed at the top of the system. They aligned the top layer of bag so that closing is done in a smooth manner.
Automatic In-Feed Unit
An automatic in feed unit is responsible for proper entering of a bag. They contain sensor and other safety measures and allow the machine to perform sewing if all parameters are satisfied.
Label Attachment Facility
At the end of a bag closer, there is an automatic label attaching facility. These are often used for attaching label to filled bags on both of their sides.
7.What Common Errors Are Found in A Bag Closer?
Errors and its Remedies in a Bag Closer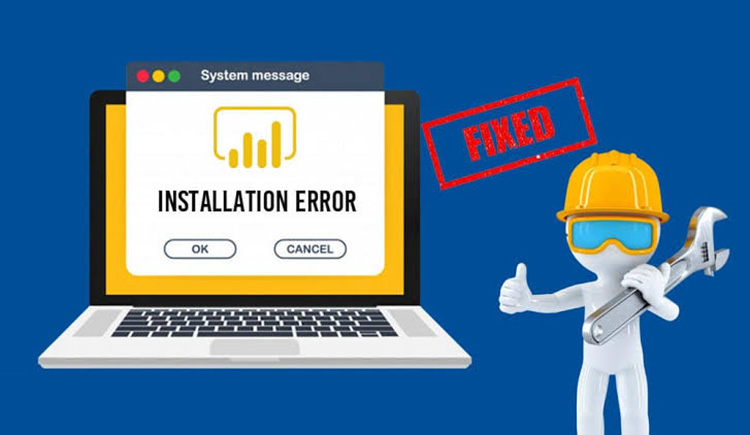 S.NO

ERROR

CAUSES

REMEDY

1

Bunching Of Thread

Due to extra thread during sewing

Remove all the extra threads from machine and also from the fabrics to avoid bunching problem

2

Broken Needles

Dull or hook needle due to excess production

Replace the needle for every new project this ensures that no broken needle is used

3

Skipping Of Stitches

Due to damaged needle

Due to unmatched needle

Due to unmatched thread and bobbin dimension

Re – threading of both top and bobbin threads

Checking of needles can also remove this problem

Check the timing of operation of a bag closer

4

Improper Feeding Of Fabrics

Deactivation of drop feed setting

Improper placement of presser foot

Activate the drop feed setting of a bag closer

Checked the presser foot and its direction and correct it before performing action

5

 

Inconsistency Of Bobbin Tension

 

Use of undesired thread

Use the type of thread which is delicate to the nature of fabric

6

 Breaking Of Thread

Improper thread used

Use the type of thread which is delicate to the nature of fabric

7

Inconsistently Knotting And  Tangling Of Thread

Tiny bits of dust and lint inside the system

Proper cleaning of machine as per the standards given by manufacturer

8

Knocking In Machine

No proper checking of bag closers

Clean the machine as per the standards given by manufacturer and also protect the whole system from dust
8.What Important Factors Are to Be Observed Before Buying A Bag Closer?
Factors to be considered before Purchasing a Bag Closer
The factors that are imported and necessary to be observed before buying a bag closer are as follows:
Manufacturer authenticity

With the increase and demand of bag closers, different types of bag closers are now available in market. This sometimes become a problem for the buyer. It is necessary to have a proper machine check and the credibility of maker. Manufacturer's feedback can also be gained through customer's satisfaction and after sales policy
Local Assistance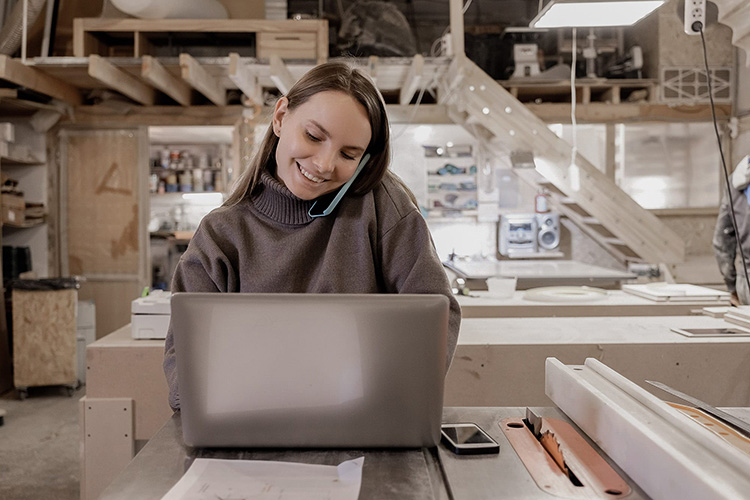 The companies which have assigned their representatives in every part of the world are more famous due to their local and quick assistance. The product can be verified through these suppliers and they make sure their availability whenever they are asked to do so. Local assistance can also be somehow beneficial as they act as a bridge between the manufacturer and buyer.
Productivity
A bag closer that ensures high level of productivity either used in small scale or large scale industry. The buyer should prior select the machine to its choice and according to production requirement. Machine that produce more in less time are more likely to be selected. That's why machines output always hold a greater importance before purchasing it as it is directly related to the production of any industry.
Conclusion
Keeping an eye on the increasing demand of bag closers, numbers of manufacturers have now started manufacturing bag closers. These bag closers are highly efficient and suitable for places where high production targets are to be achieved. But before purchasing a bag closer it has always been a concern to remove all types of queries related to bag closer. For this purpose we Allpack China are here to guide, support and help you at every level. If you still have confusions or require bag closer specification you can visit our website https://www.allpackchina.com and take the most from there. Best of luck
Tell us your raw material and project budget to get quotations within 24 hours.
WhatsApp Us: +86 181 7101 8586
Want to get Best Price Bag Sewing Machine from China?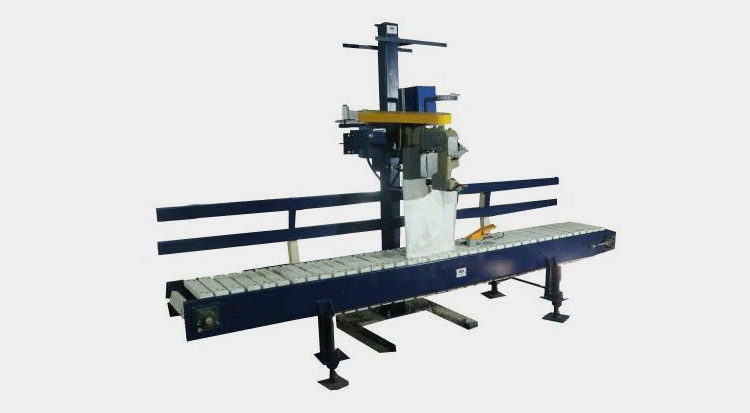 Tell us your material or budget, we'll reply you ASAP within 24 hours!