Soda Can Sealer: The Complete Buying Guide In 2023
Whether you are processing soda, wine or juices you should keep in mind the customers demand on the part of your packaging. Now, consumers not only look for the content inside your containers, but they are also concerned about the quality of packaging.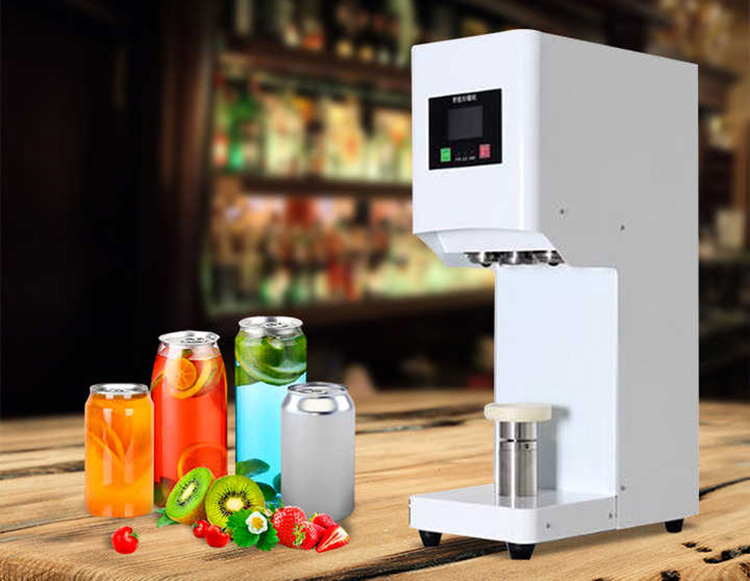 Soda cans is the result of popular demand due to its sustainability and convenient usability. Here, the fact of hermetic sealing of these cans is not supposed to be overlooked. For this, a soda can sealer has been introduced to resolve the issues regarding soda can sealing. This buying guide is thus drafted to shed light on several aspects of soda can sealer. Let's start knowing them!
Add a header to begin generating the table of contents
1.What Is A Soda Can Sealer?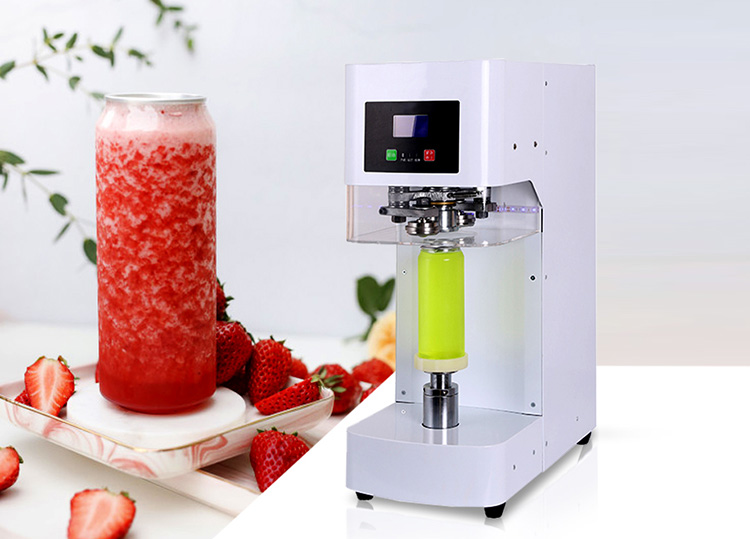 A soda can sealer is the machine employed to tightly seal the lid of soda filled cans over its body. This machine is an inevitable part in your can packaging as the preservation of content inside requires hermetic sealing, what is only possible by a soda can sealer.
It can seal cans with varying nature as like plastic, glass, tin or aluminum. However, the lid is made of tin. You can get soda packaging machine in different types depending upon your production. Industries from different backgrounds are keen to bring this machine into use including beverage, wine, cold drink and milkshake etc.
2.Why Should You Use A Soda Can Sealer?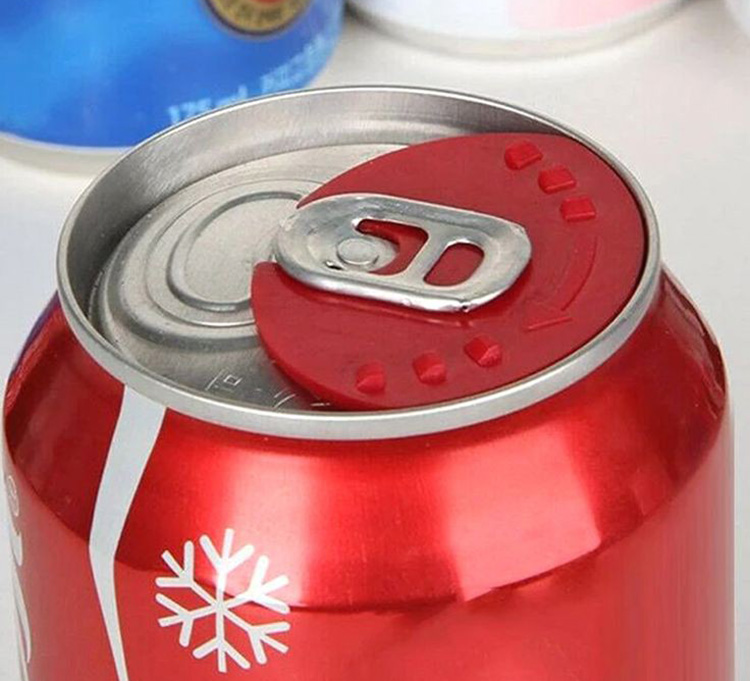 You would need soda can sealer if you really want to deliver your material to customers in the form that its originality cannot be compromised. Here, the use of a soda can sealer becomes obligatory as it helps you to accomplish this task.
Delivering your products in cans is not sufficient, but they also need tight sealing for which a soda can sealer is the answer.
Leak-proof packaging of liquid material is somehow challenging as your main concern would be to reduce the spillage. For this purpose, soda can sealer not only seals the cans through curling and welding, but it also fills the blank surface with sealing compound inside seam.
3.How Does A Soda Can Sealer Work?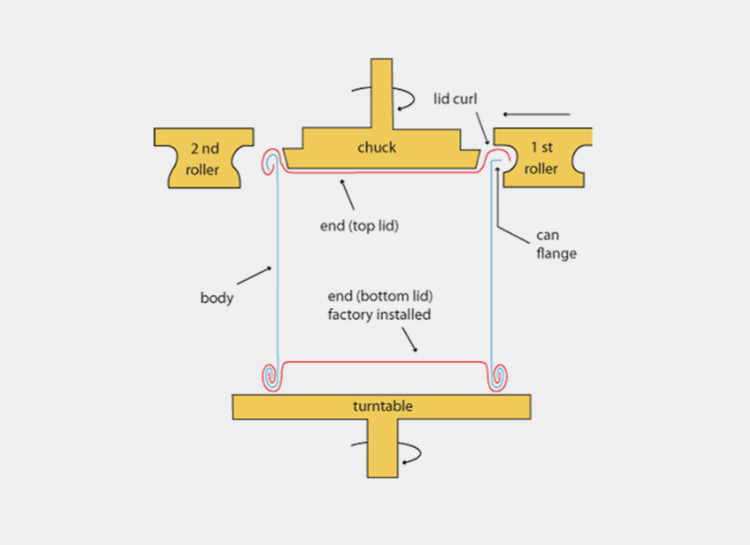 The working mechanism of a soda can sealer is based on certain steps that are provided as under:
Firstly, filled can is covered with aluminum or tin lid over it and the can is loaded over nickel plated screw where it is fixed steadily.
The operator then starts the machine and lower screw plate is pushed towards upward direction.
After reaching to the sealing stage, roller continuously moves the can in steady manner and during this time the edges or lid are tightly attached to the flanges of cans and sealing process get finished.
4.Which Type Of Cans Can Be Sealed By A Soda Can Sealer?
To talk about the types of cans a soda can sealer would seal, you need to consider the information given below:
Aluminum Cans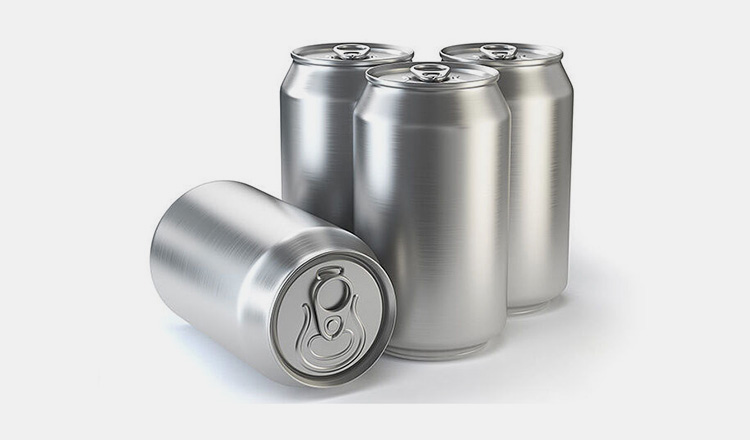 Aluminum cans are made of thin metal that is usually used for beverages, oil, soup, food products and other non-food items etc. The 100% recyclability of aluminum has increased its importance.
Tin Cans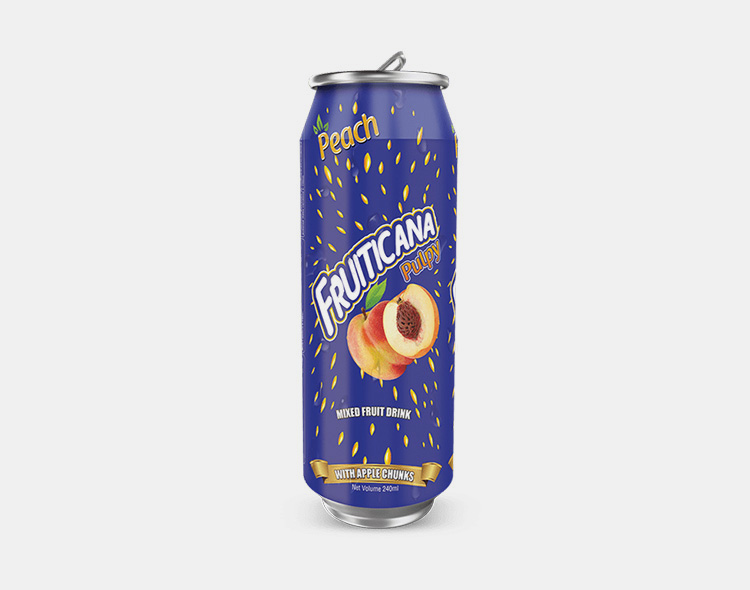 Tin cans are prepared from thin steel. Similar to aluminum cans, they are also used for storing food products in liquid, gas and solid form. In addition, tin cans are more compact, durable and heavy than aluminum cans. However, the reusability of tin is limited.
Plastic Cans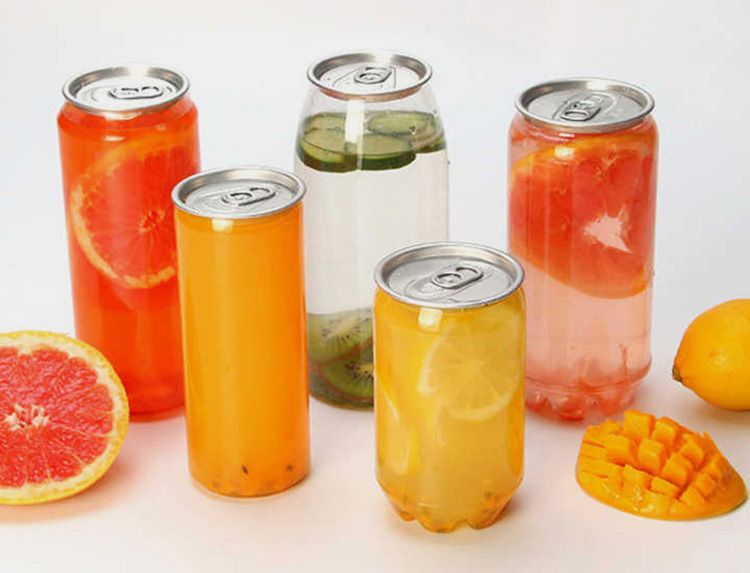 Plastic Cans are typically produced from transparent pet plastic which is then further processed coloring. Most of the firms like to deliver their beverages and products in these beautiful plastic cans. You can use a soda can sealer for sealing these plastic cans with tin lids.
Glass Cans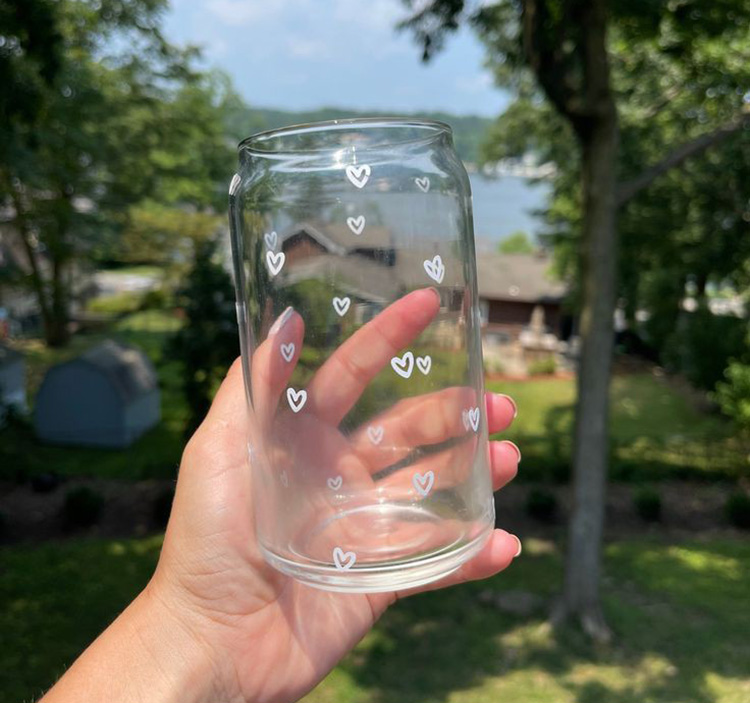 Glass is not only used for bottles but cans as well due to the alluring picture they give. Manufacturers prefer to store their items in glass Cans because they do not want to take any risk of product damage in case of can rust that ultimately deteriorate the content inside.
Metal Cans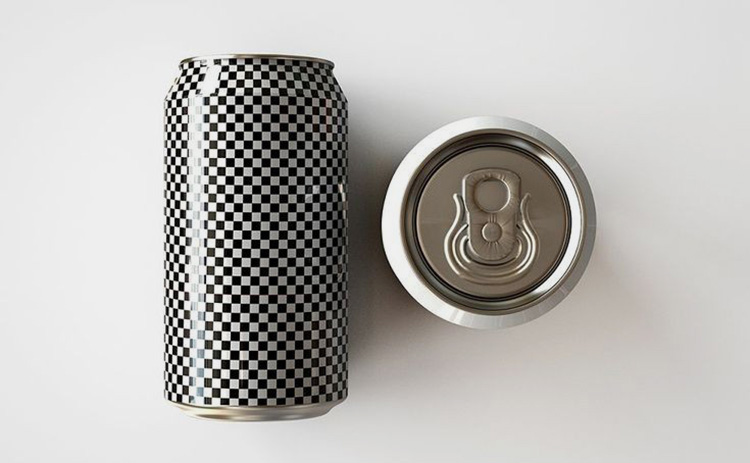 Metal cans are thick in texture and do not easily deform. In cosmetic, paint and food Industries such cans are used to gain the customer's satisfaction. Moreover, in some cases metal cans are ready to be microwaved.
5.What Are The Benefits Of Using A Soda Can Sealer?
Do you know how many benefits you can get by using a soda can sealer? For knowing these advantages consider the information given below:
Prevent Leakage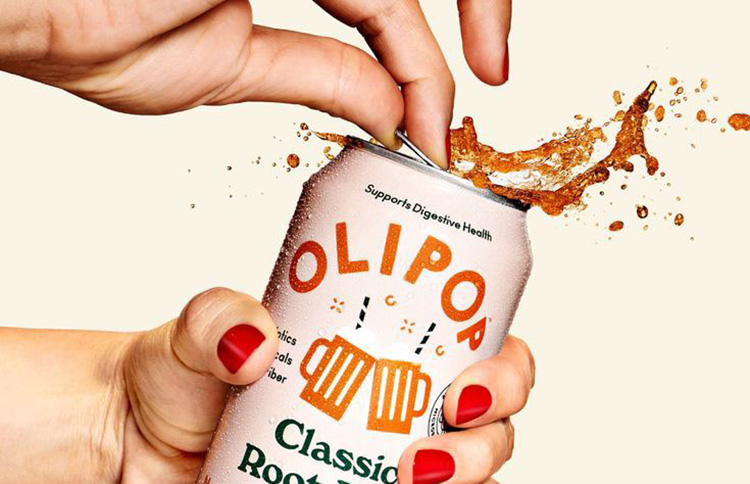 The basic aim behind using a soda can sealer is to prevent the product spillage and leakage especially during transit. In addition, soda water or cold drinks are such type of material that they lose their quality and taste if exposed to room temperature. Thus, tight sealing avoid this risk.
Extend Shelf Life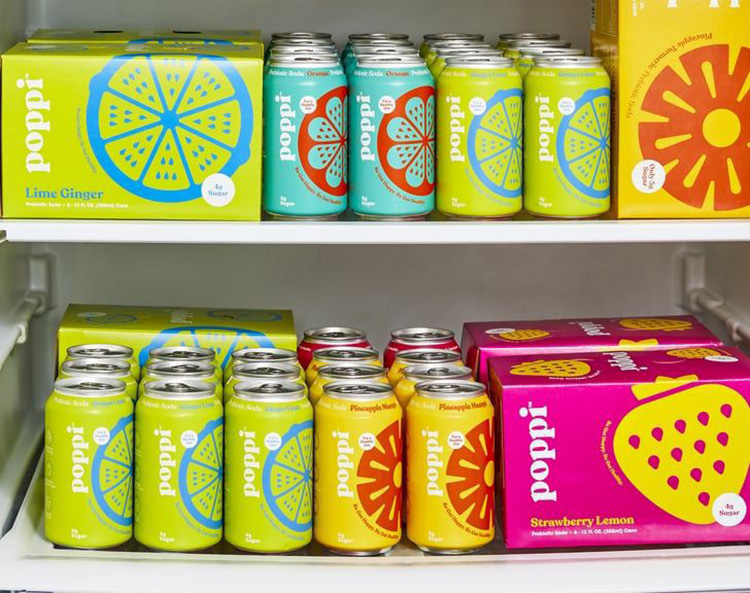 Another benefit which it carries is the protection of your food items to stay longer. After tightly sealing your dry fruits, beverages and food items you would realize the maintenance of their original form until you break the sealing for consumption.
Hygienic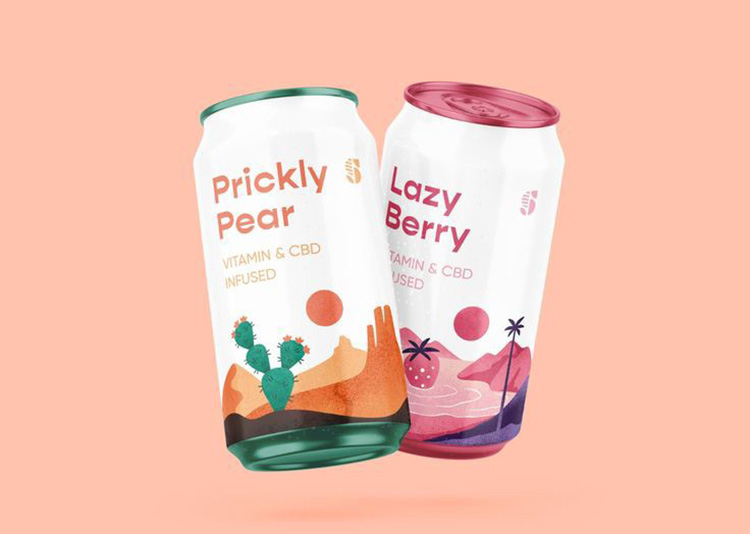 The machine is hygienic and safe for any type of sensitive product. It does not use any harmful way for sealing cans.
Easy Operation
The process of machine is very convenient and simple. Even in manual type, operator is required to rotate the wheel and rest process is done by machine itself.
Cost-effective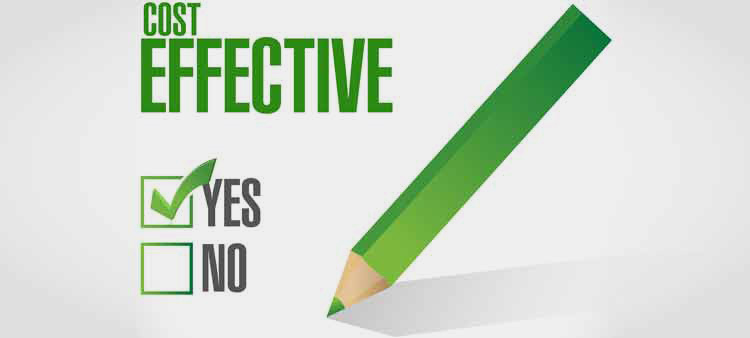 Soda can sealer is cost-effective that comes with reasonable price. In small amount of money you can produce hermetic sealing for your cans and ultimately distinguishing your products in market.
Precise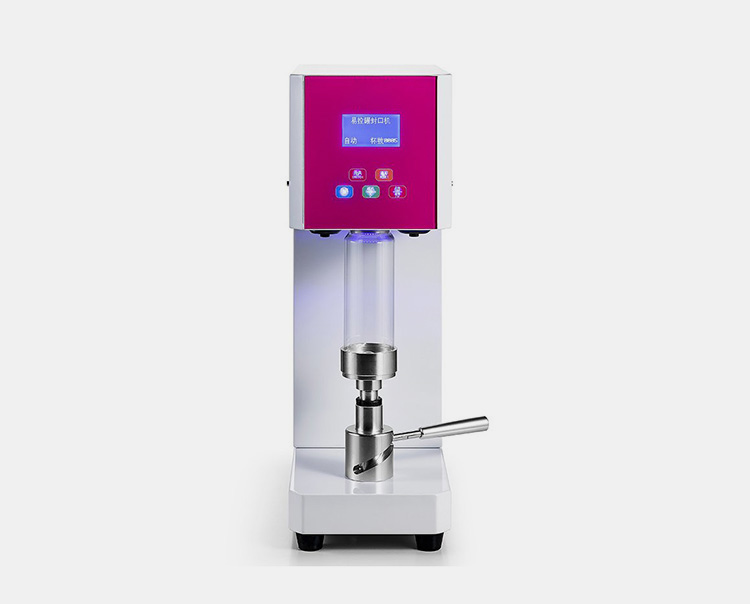 The structure and design of machine is highly precise and portable that you can easily move it anywhere you want.
6.Describe The Components Of A Soda Can Sealer?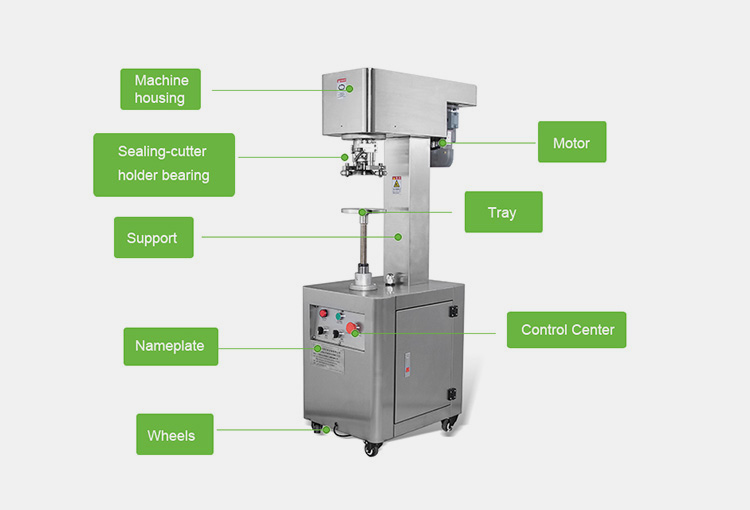 The structure and components of a soda can sealer can be understood by below details:
Stoving Varnish Box
It is the machine housing that holds sealing rollers and sealing compound together under its cover.
Operational Panel
This part of machine is located either on the top or bottom side comprised of several switches for executing the machine. With simple operation this is more intimate and allow quick easy control.
Conveyor Belt
It is an important part that takes the cans from one side of machine towards sealing mechanism and discharging phase respectively.
Power Motor
The core component of a soda can sealer is the integrated power motor that runs the rotating screw with much efficiency resulting in extraordinary performance.
Rotating Kit
The rotating kit
Seamer Turntable
This screw is nickel plated connected with table of machine that holds the cans when placed over it. During sealing process it rotates the cans with consistent speed.
Main Frame
It consists of overall machine parts such as machine housing, wheels, support tower, tray and name plate etc.
7.What Are The Types Of Soda Can Sealer?
You would find different types of soda can sealer in market, but which one is meeting your demands? The answer to your question is described as under:
Fully Automatic Soda Can Sealer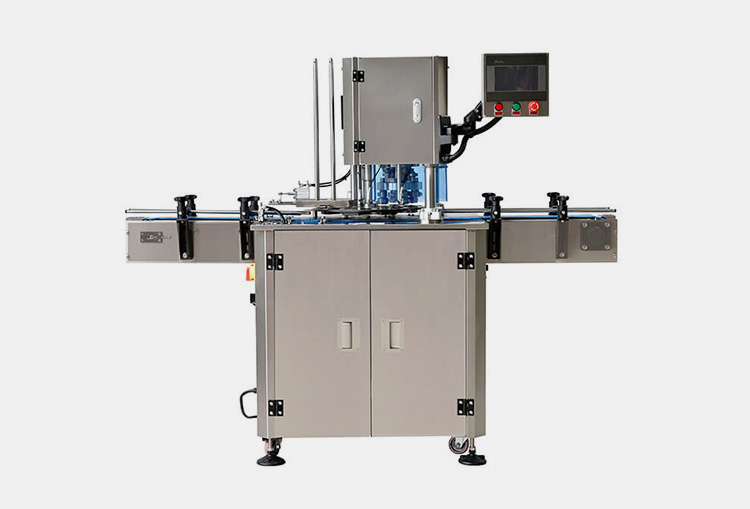 Fully automatic soda can sealer is standard machine employed to deal with heavy workload in large industries. This machine accomplishes the task independently. With the highest speed ratio it can seal up to 30 cans per minute.
Components
The structure of machine consists of conveyor belt, upper sealing screw, turntable lower mold, control panel, driving motor and wheels etc.
Working Principles
It works through consistent process when loaded cans are placed over conveyor belt. These cans are delivered to station where lids are placed over the open cans and conveyed to rotary sealing head that tightly seals the edges of lid with opening of cans. During sealing compound is filled in the blank places of curl lid edges to ensure leak free sealing. After sealing, cans are discharged through conveyor.
Application
This machine is applied in large scale industries like beverage, dairy, food and wine industries.
Semi-Automatic Soda Can Sealer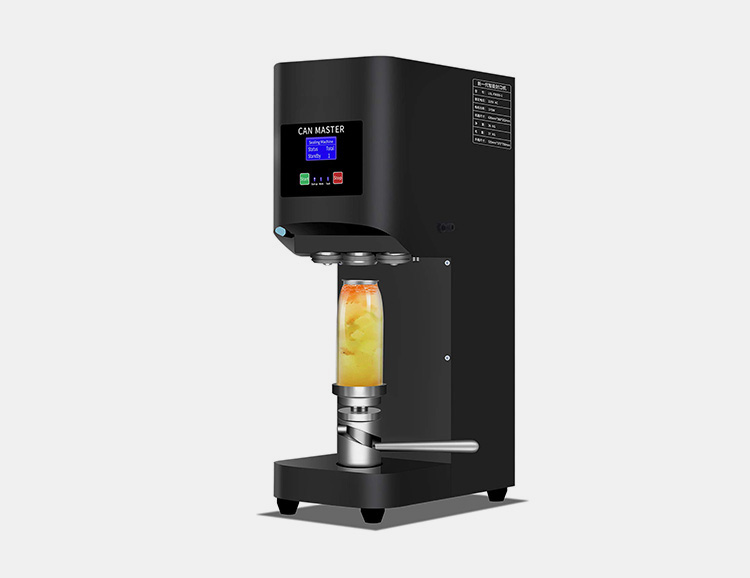 Semi-automatic soda can sealer run through the dictation and direct help by an operator. It can carry medium size production volume with reasonable price and good speed.
Components
The machine is composed of handle, main frame, control system, rotating stand and moving rollers on upper side.
Working Principles
Operator manually place the filled bottle with lid on turntable. The handle is then pushed upward so that can could reach to the sealing roller. Here the seaming roller folds lid and fills sealing compound in hollow areas for spillage free sealing. After completion, user push down the handle and pick up sealed can.
Application
Firms with medium scale production desire to adopt this technology including dairy industry, restaurants and cosmetic industry etc.
Manual Soda Can Sealer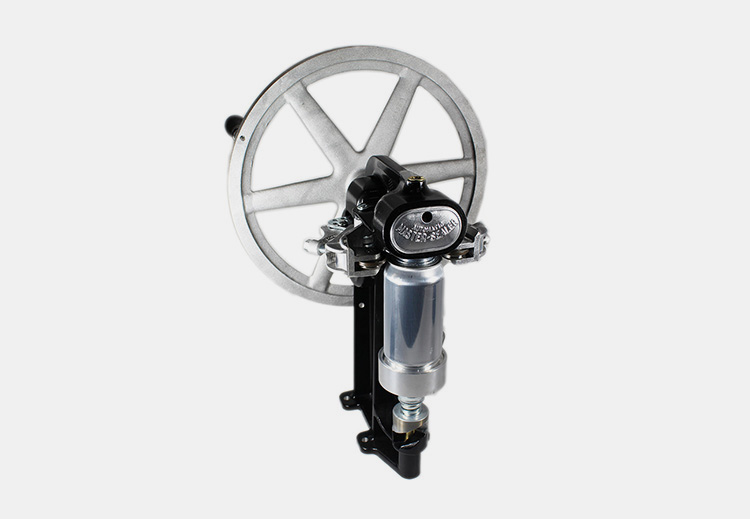 This is the third category of a soda can sealer which is also known as manual soda can sealer. With compact and precise body you can use this machine without any difficulty. On the other hand it relieves you from power supply as it works without electricity.
Components
The components of machine includes moving wheel, holding handle, sealing rollers, turntable and stand.
Working Principles
Put the filled can with lid over it. Make sure can is accurately caught by turntable holding place and start moving the wheel through handle. The can will be sealed in few minutes.
Application
This machine can be used in kitchens, home based business for hair oil and food markets etc.
Handheld Soda Can Sealer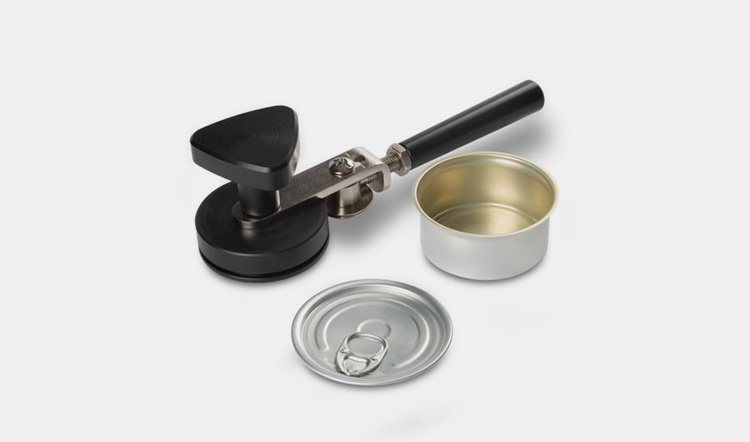 This small handheld soda can sealer is portable as well. With extremely cheap price any person can afford this. The degree of efficiency is entirely dependent upon user.
Components
This handheld equipment is composed of few parts such as handle, screw and can holder.
Working Principles
Take the can and fill it with liquid or any other material you want to store. After doing so, put the lid on can and pick up your handheld soda can sealer to initiate the process. Loose the screw of sealer and join the edges of can mouth and lid. Now tight the screw and move the sealer around your can. The single round will eventually tightly seal the can.
Application
You can use this sealer in your kitchens, restaurants and in research labs for sampling or similar purposes.
8.Differentiate Between Semi-Automatic Soda Can Sealer And Fully Automatic Soda Can Sealer?
Differences between semi-automatic and fully automatic soda can sealer are quite clear. Just follow the table below to know them:
| | | | |
| --- | --- | --- | --- |
| No | Factors | Fully Automatic Soda Can Sealer | Semi-Automatic Soda Can Sealer |
| 1 | Definition | It is prepared with advance technology in order to fully eliminate human errors by independent process | This machine is designed to take medium level production with the help of an operator |
| 2 | Process | The process is simple and fast as performed by machine | The mechanism requires efforts and constant involvement in form of can loading and unloading |
| 3 | Structure | Structure of machine is complex with big size and integrated devices | Compact and precise design that can be easily mobilized |
| 4 | Speed | It has higher speed with sealing more than 30 cans in a minute | It is slower in performance than fully automatic sealer. Furthermore, the efficiency rely on user |
| 5 | Capacity | It can work non-stop with greater capacity | The capacity of machine is limited |
| 6 | Application | Applicable in large enterprises such as beverage, wine and lubricant industries | Adopted by medium size production firms like restaurants, herbal products and food items etc. |
| 7 | Machines | | |
9.In Which Areas A Soda Can Sealer Can Be Utilized?
This question is of great importance; as you would keen know the application of a soda can sealer you are going to include in your production line. So, look into below areas:
Beverage Industry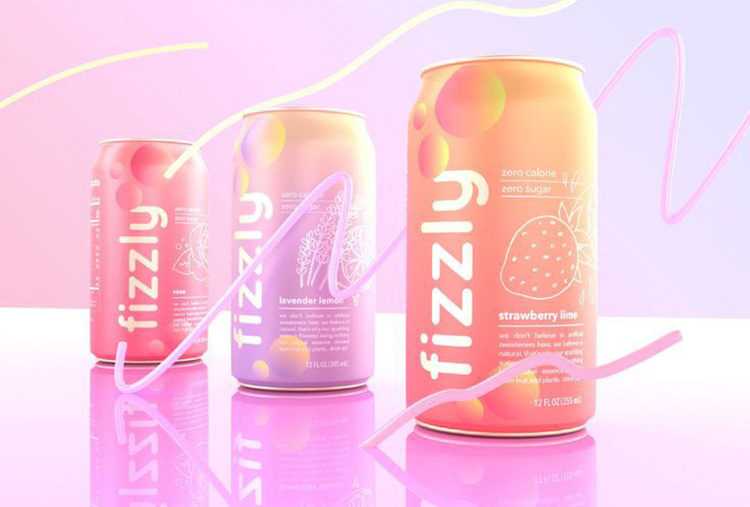 No doubt the first and foremost industry in your mind comes when talking about application of soda can sealer is beverage industry. All the fresh juices, soft drinks, cold drinks, milkshake and even milk itself is packed in cans for which you would look for this machine.
Wine Industry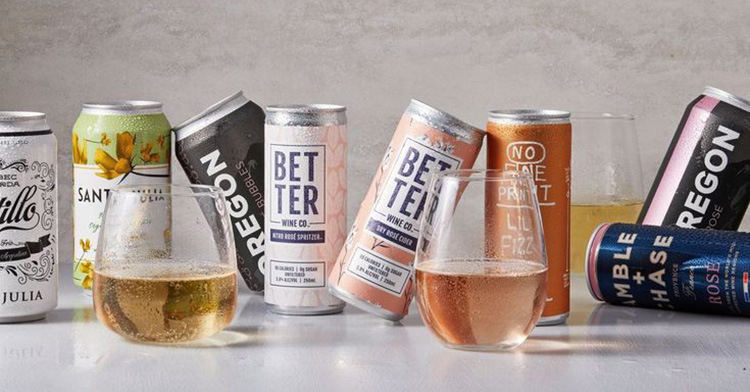 Another area is wine industry, which is glad to use soda can sealer for satisfying customers in providing quality content. People prefer to take wine in cans as the risk of bottle damage and spillage is absent here.
Food Industry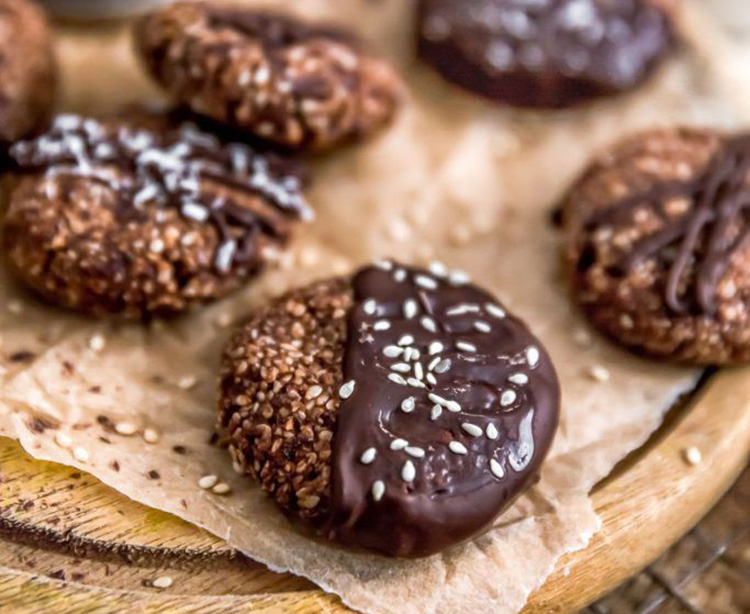 Similar to other areas, food firms are also admiring the use of a soda can sealer. They are glad to seal their prepared coffee, cookies, olive oil and candies in cans.
Cosmetic Industry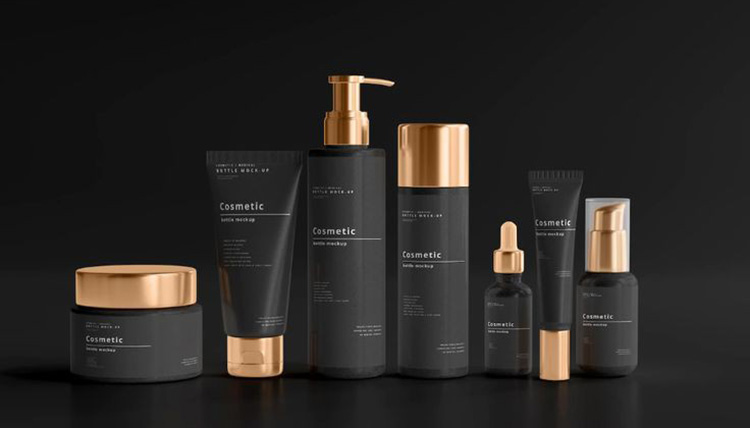 Shampoo, perfumes, lotion and creams are the products which needs proper protection until they are used by consumers. Now, their sealing remains a crucial matter when it comes to packaging. However, this is done by a soda can sealer.
Paint Industry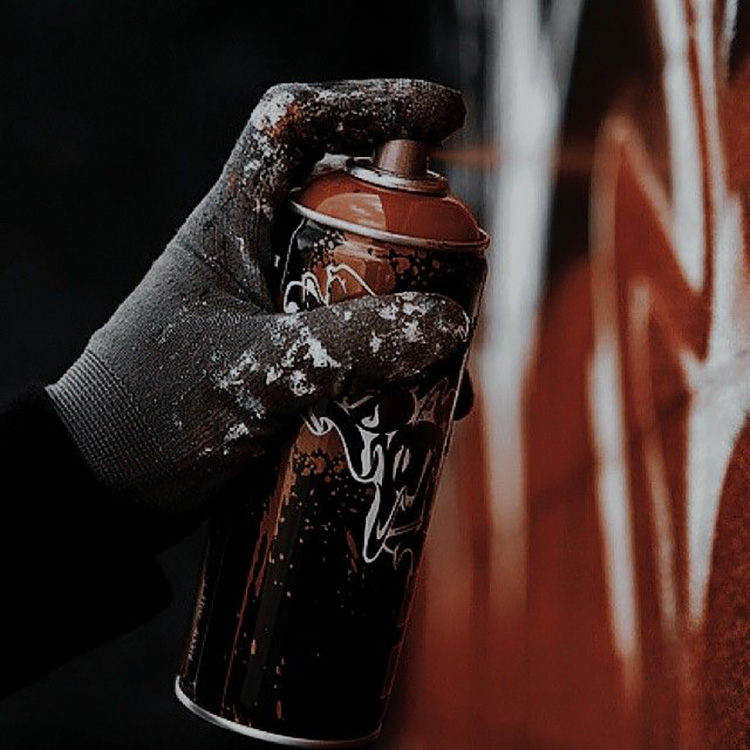 Paint is available in spray form which is easy to use with a single splash. These cans are made of tin or metal which requires good quality sealing that is accompanied sealing compound. This is accomplished by a soda can sealer.
Pesticide Industry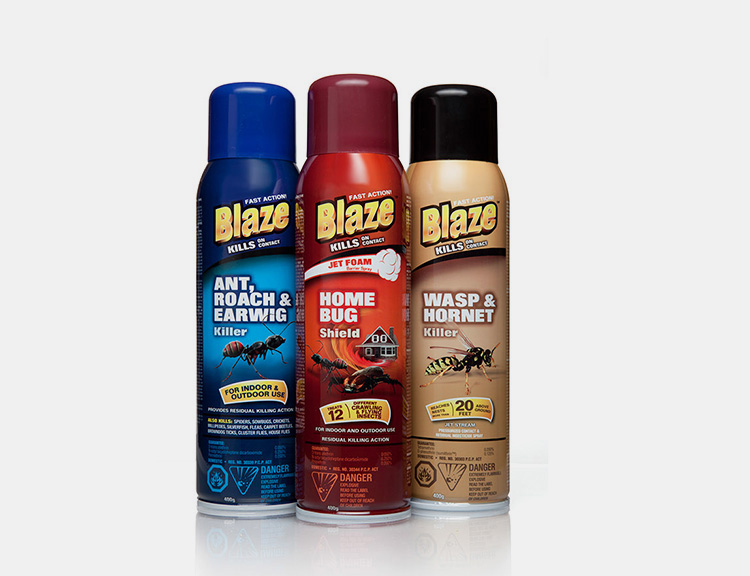 Insecticides and pesticides are chemical substances used to get rid of the insects especially on crops and in houses. These are now available in spray form, but their hazardous materials are dangerous for humans. For this purpose, spray cans are used for killing pesticides which are also sealed by a soda can sealer.
10.What Are The Support Devices For A Soda Can Sealer?
If you are running large scale industry, or you want to do so, then you should be well aware of the all necessary equipment you would need for your business. They are as follows:
Can Making Machine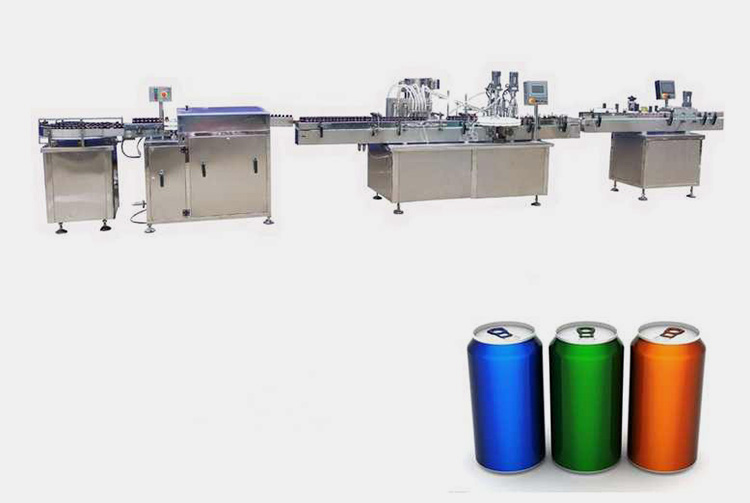 This is an inevitable part of your can packaging process. Whether you are making cans of tin, aluminum or any other material you would definitely need a can making machine that will do it for you. Mostly, in aluminum or tin cans, the roller of aluminum is needed for operation. The machine gradually torn apart the aluminum foil and transform it into cans after passing through several steps.
Lid Making Machine
This information should be in your knowledge, that the body and lid of can are separately prepared. Thus, for tin can lids you would need this machine.
Liquid Filling Machine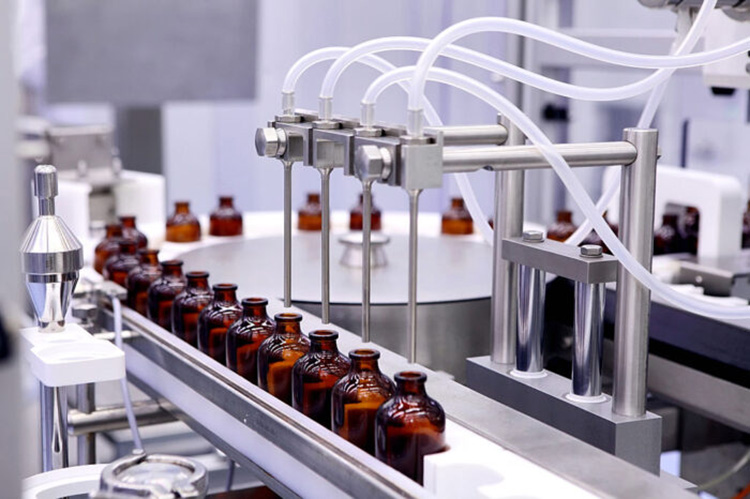 After the can making machines, a device you cannot overlook is the liquid filling machine if you are associated with liquid dosage content. For filling, wine, juices and cold drinks, a liquid filling machine is utilized.
Volumetric Filling Machine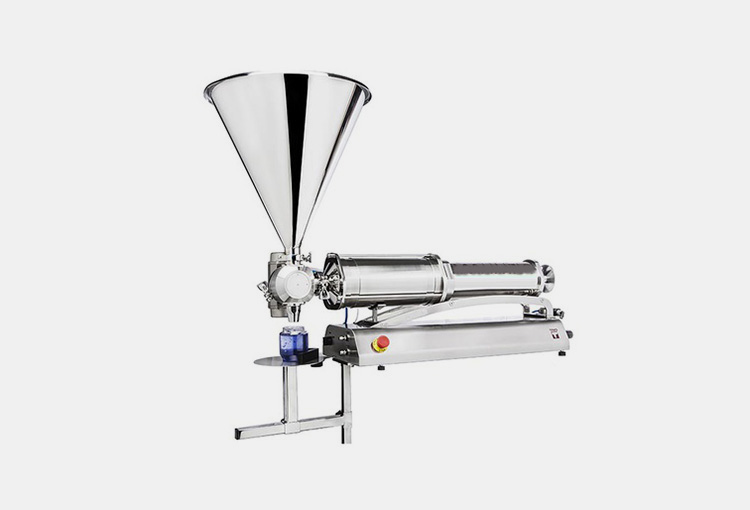 Volumetric filling machine is a device that delivers exact amount of content. You can get it both for liquid dosage and solid material as well.
Nitrogen Flushing Machine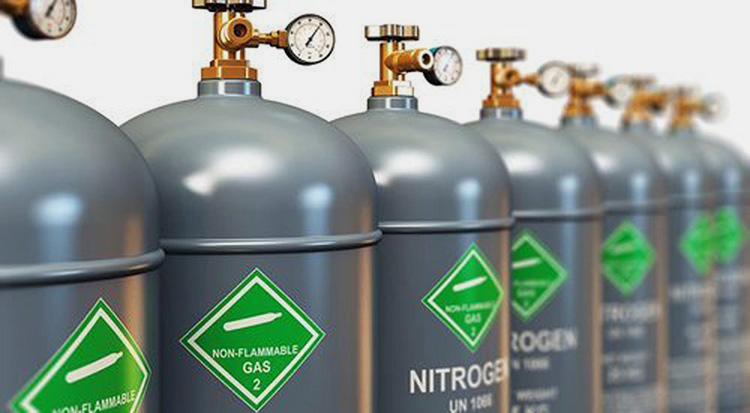 Nitrogen flushing machine is the device that replace oxygen present inside the containers or cans with nitrogen. This step is done before and after filling material which assures the safe environment against microorganisms.
Can Printing Machine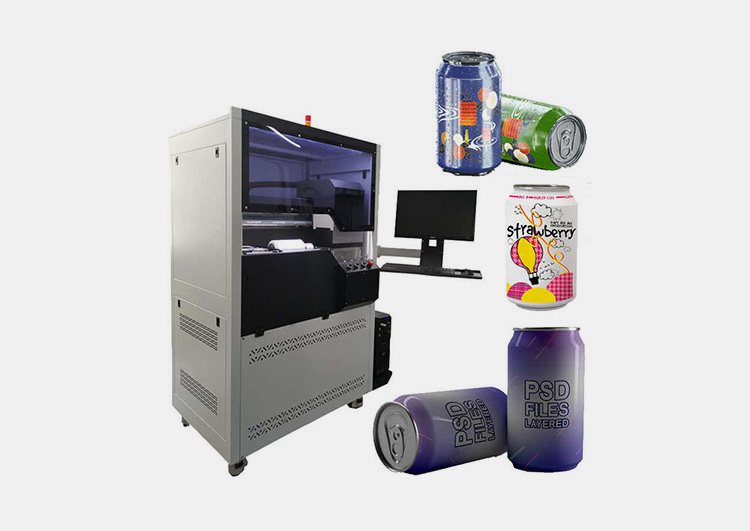 The printing of your cans is an essential step that you can never avoid. It gives you the chance of making your products unique and well recognized in global market. After getting prepared, the cans are either printed through the same machine or separately printed by individual machine.
Shrink Wrapping Machine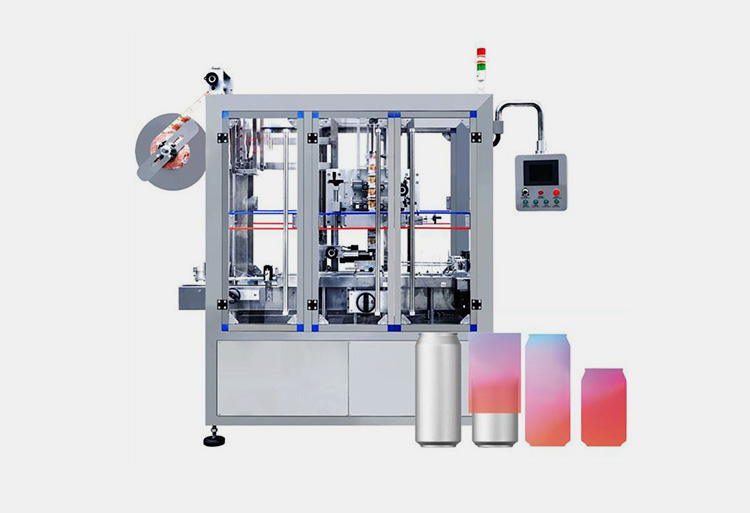 Shrink wrapping machine can be brought into use for both as a primary packaging and secondary packaging. The primary packaging includes sleeve shrink labeling, where loose printed label of film is shrunk around the can through heat. While as, for secondary packaging, bulk of cans are combined and packed in a single film.
11.What Are The Necessary Precautions For Soda Can Sealer?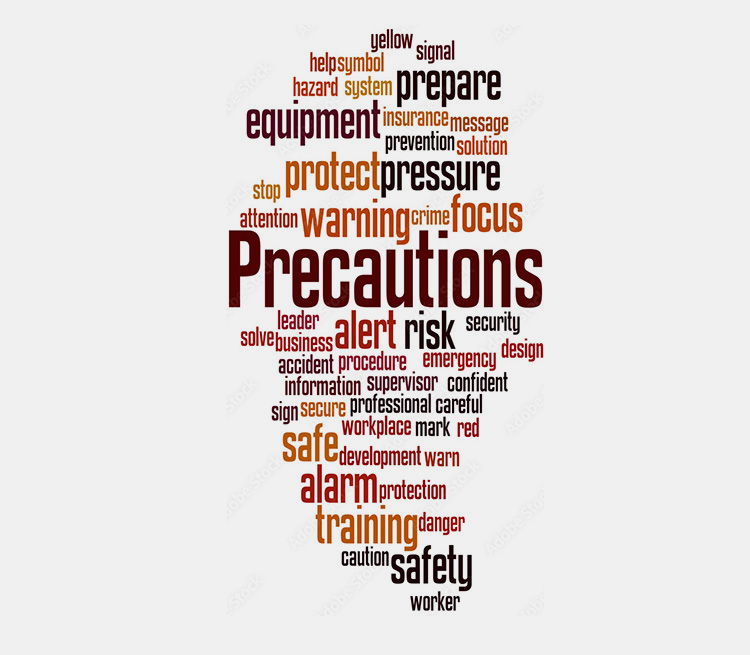 Every machine should be used while taking necessary precautions. What are the precautions for a soda can sealer? You will get to know by reading following tips:
When starting sealer, make sure that all components and gadgets are well fixed and tight in their respective areas.
Always check the connection of power supply is appropriate.
During operation, check the driving motor to avoid risk of overheating.
Lubricate the parts of machine with oil to prevent rust and blockage.
Wear gloves and glasses for protection in case of any mishap occurs during operation.
12.How To Solve Common Problems Faced When Operating A Soda Can Sealer?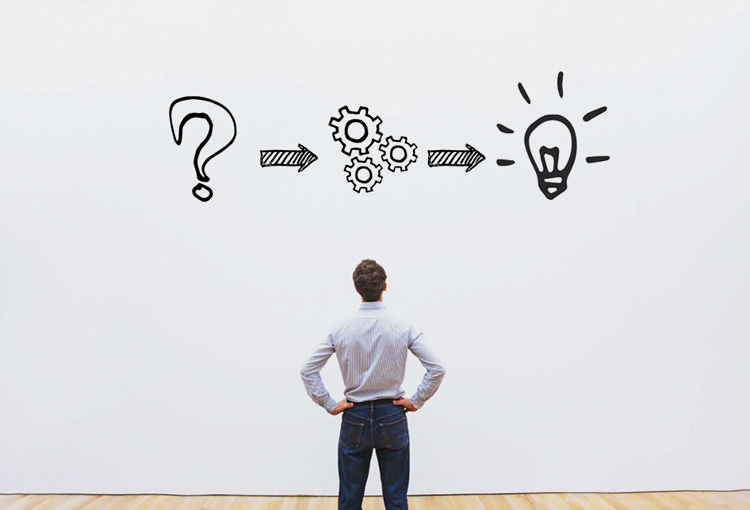 To enable you in solving the common problems when using a soda can sealer, we have drawn the table below:
| | | | |
| --- | --- | --- | --- |
| No | Problems | Causes | Solution |
| 1 | The hook of body is too long | It is due to excessive force from lower plate | Reduce the pressure from turntable plate |
| 2 | The sealing is fractured in curved area | The possible causes for such problems are too much tight sealing, extra sealing compound or the incorrect welding due to long hook of can body | Resolve it by loosing sealing screws, reducing the amount of sealing compound and adjusting the turntable |
| 3 | Problems in lid detecting | The sensor for detecting lids is damaged | Check and replace the sensor |
| 4 | Machine does not start the process | Sensor is unable to detect the presence of cans | The place of detector should be adjusted |
| 5 | Unbalance in sides of sealed lid | The position of turntable is offset | Examine and alter the turntable position |
13.What Should Be Considered Before Purchasing The Best Soda Can Sealer?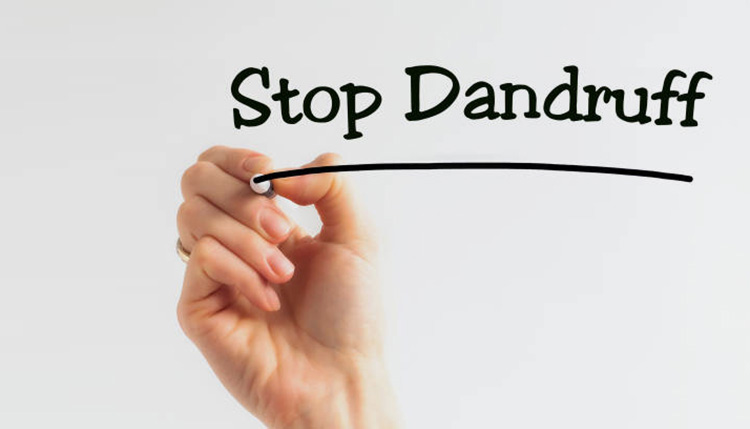 Before purchasing a soda can sealer, you should consider the following tips:
Compatibility: Make sure the sealer is compatible with the type of cans you will be using.
Capacity: Consider how many cans you will need to seal at one time, and look for a sealer with the appropriate capacity.
Durability: Look for a sealer that is made of high-quality materials and has a sturdy construction.
Ease of use: Consider how easy the sealer is to operate and maintain.
Price: Compare prices of different sealers and choose one that fits within your budget.
Brand reputation: check for the reviews and reputation of the brand.
Warranty: check for warranty and after-sales service of the product.
Safety features: check for safety features like overheat protection and child-lock.
It's also a good idea to read reviews from other customers who have used the sealer to get an idea of its performance and reliability.
Conclusion
Soda can sealer is the core part of every enterprise that is involved in processing. Delivering high-quality products also demand standard packaging and sealing. If you are also engaged in a similar area you might need a soda can sealer from a trusted supplier for which you should consider Allpack with a reputable history of providing packaging machines. For further details please stay in contact with us.
Don't forget to share this post!
CONTACT US
Tell us your raw material and project budget to get quotations within 24 hours.
WhatsApp Us: +86 181 7101 8586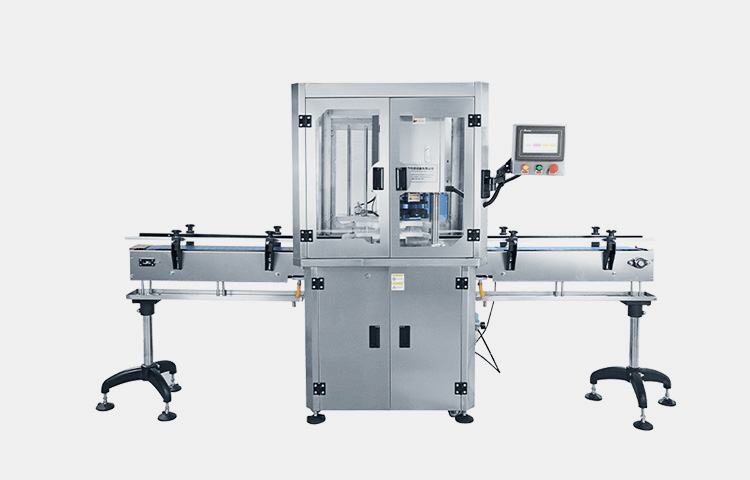 Tell us your material or budget, we'll reply you ASAP within 24 hours