Food Tray Sealing Machine: The Complete Buying Guide In 2023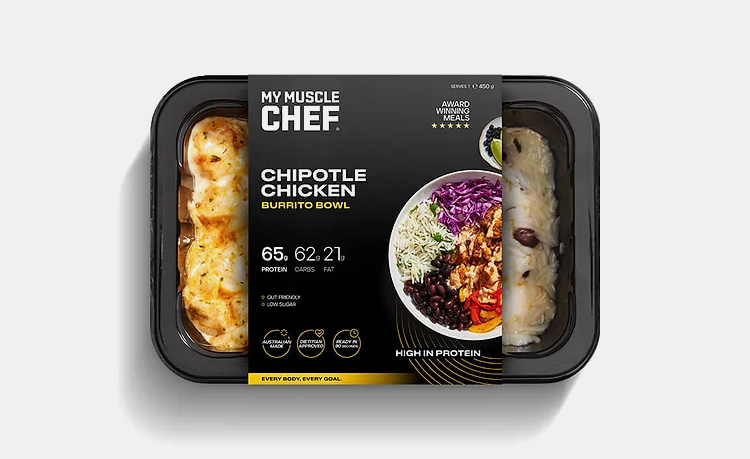 Are you in need of a food tray sealing machine? If yes! What's the reason? Isn't it to protect your food from being wasted?
Do you know? That research has found 25-40 percent of fresh food spoiled everyday, which does not reach consumers due to wastage in transit. The reason is no doubt inappropriate packaging which ultimately diminish the quality of food. To combat this challenge food packaging industry has been revolutionized by introducing advance technology automated machinery. Food tray sealing machine is among them the best known preservation methods. Just take time and consider the following questions to get benefited from this equipment!
Add a header to begin generating the table of contents
1.What Is Food Tray Sealing Machine?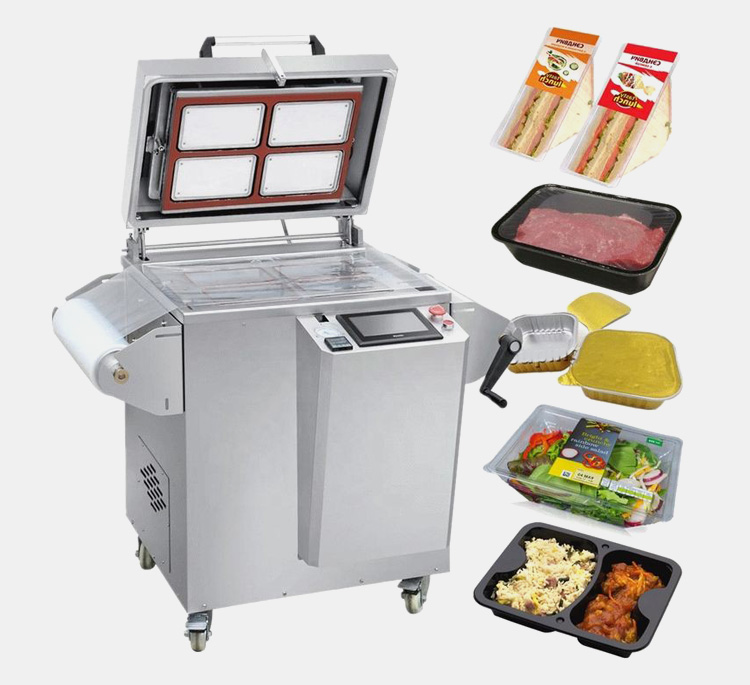 A food tray sealing machine is also known as tray lidding machine which seals the loaded trays with top side plastic film to avoid product leakage and preserves its quality.
It is capable of processing different types of trays with varying sizes, depths and material. That's why this equipment has been widely used in professional kitchens, butchery stores or other markets to facilitate the customers by providing fully fresh food in a safe way.
2.Why Is Food Tray Sealing Machine A Good Choice?
The question may arise in your mind that why you should go for a food tray sealing machine! So, underlying benefits which it can give, is the answer to your question:
Prolongs Shelf life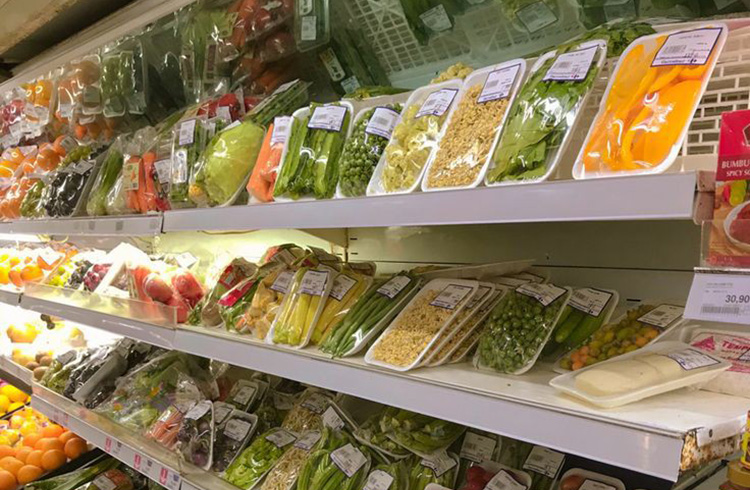 The very crucial benefit which a tray sealer give is no doubt the extension of food shelf life. By using plastic barrier over food tray it refuse external elements and retain the food freshness for longer period.
Versatile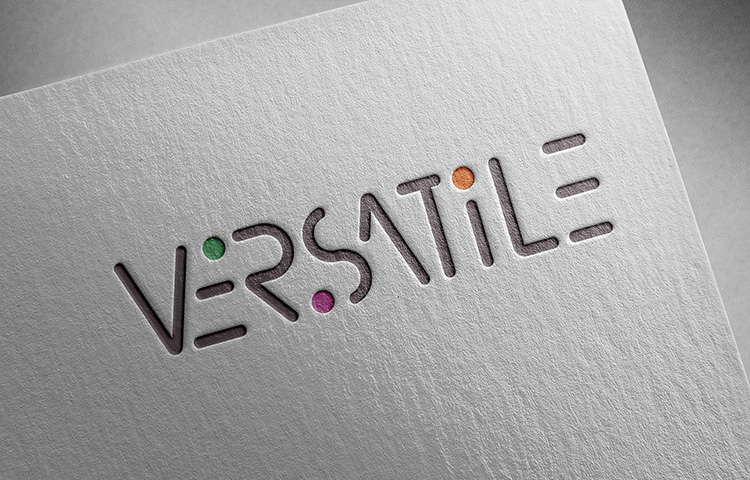 Food tray sealing machines are integrated with superior features which provides you different sealing options. For instance, moist, dry, cold and hot food products can be sealed with temperature accordingly.
Effective Sealing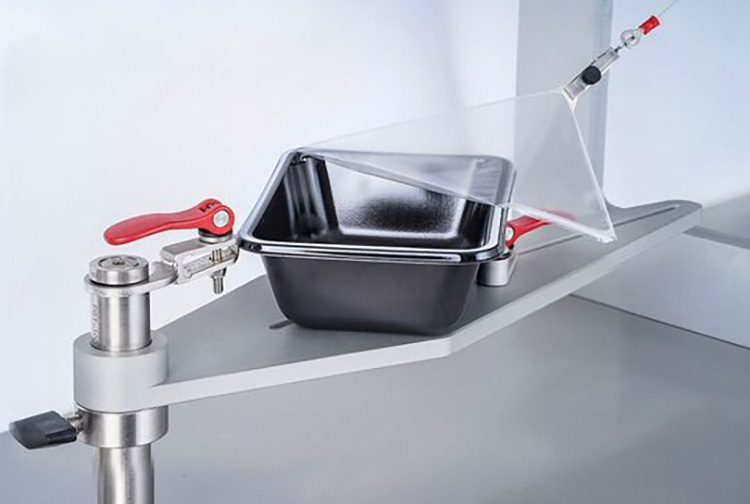 The machine has been designed with turbo sealing option and having extra wide sealing strips which dispense the strongest possible and effective sealing to better match your needs.
Sustainable Trays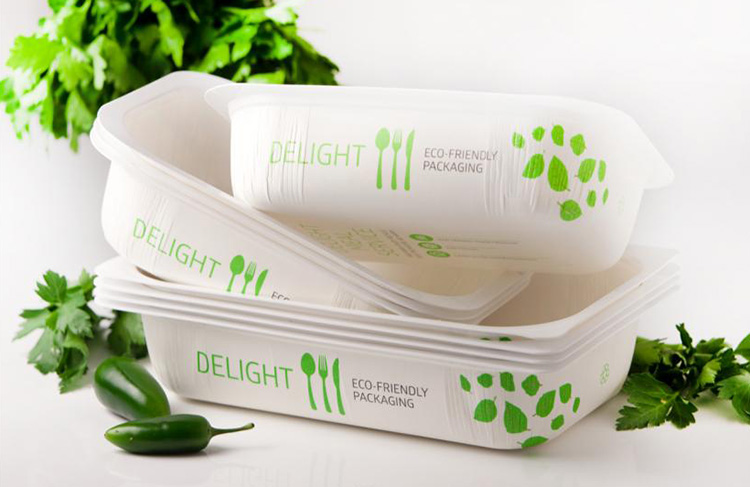 Its foremost benefit is that you can easily put the packed food trays in a microwave oven without fear of melting because they are highly sustainable and can endure the heat. These trays are eco friendly, can be recycled and completely decomposable.
Portable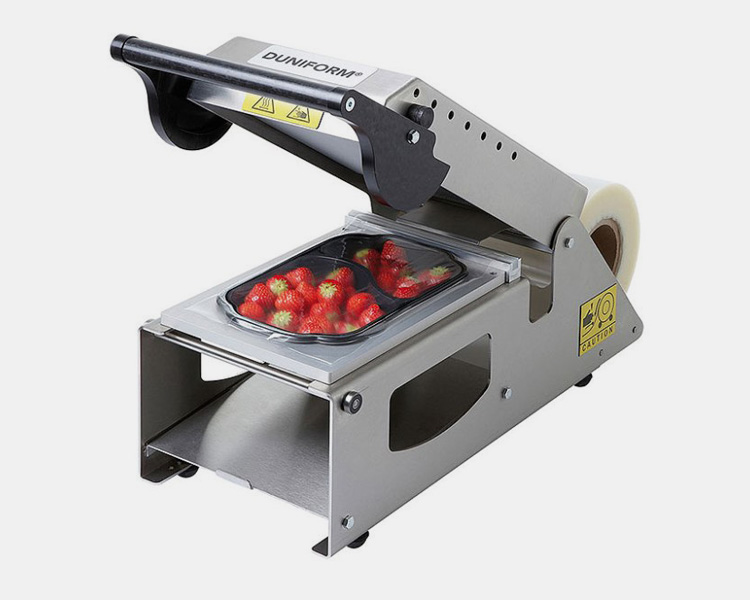 Another essential attribute of food tray sealing machine is that it is highly portable. You can easily carry it on fishing or haunting trips in order to preserve the meat freshness immediately.
Durable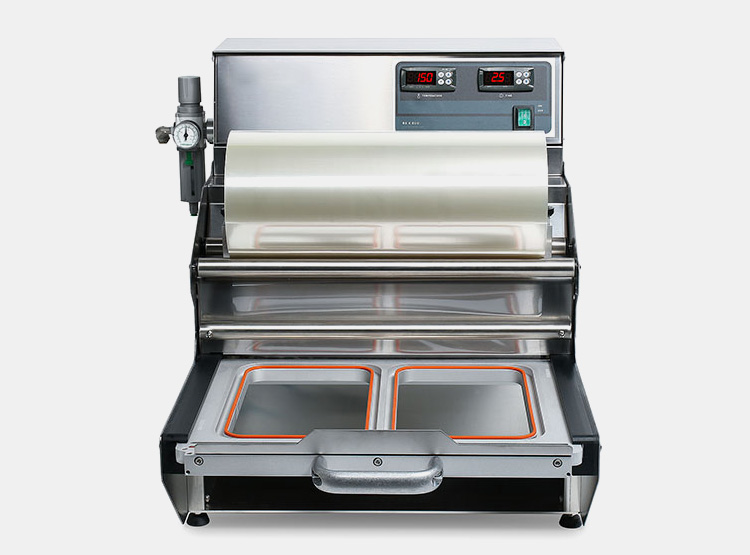 Made with stainless steel, this equipment has extremely compact structure with antibacterial agents which makes the packaging safe and cleaning easy.
Attractive Presentation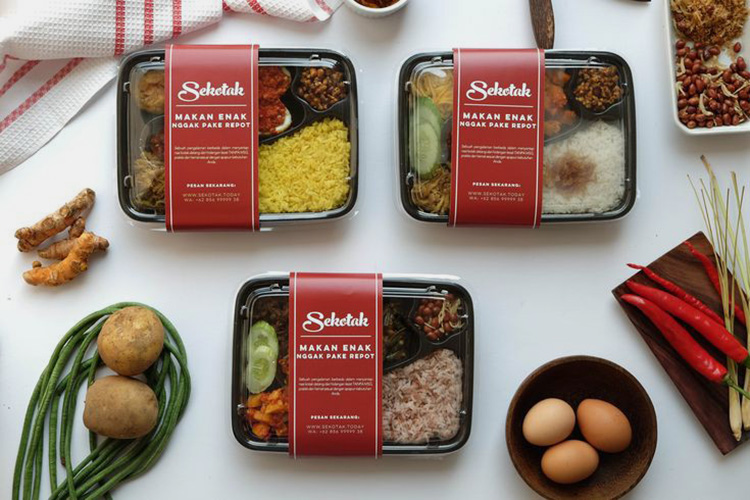 A food tray sealing machine not only seal your food items but give them a charming look with optional tags so the attention of consumers can be grabbed. The lidding system also enables the companies to brand their products by using effective labels and ensuring visibility.
3.Explain The Major Steps Involved In Operating A Food Tray Sealing Machine?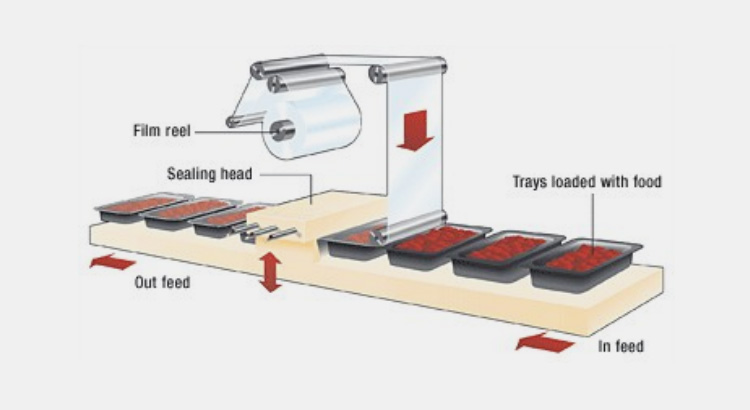 Knowing about a food tray sealing machine also includes the complete understanding of its operational methods, so you may not be left with any important step. Major working principles are elaborated below:
First of all the food which has to be filled in trays is prepared and properly settled in trays. These loaded trays are then placed in machine where they get indexed.
A layer of plastic film is applied over trays and the upper sealing station is compressed against trays and leave firm sealing. Rest of film is cutted down and the object is discharged for final outlet.
4.What Type Of Food Products Can Be Packed While Using A Food Tray Sealing Machine?
Huge number of food products are perfectly suitable for tray sealing. These includes:
Meat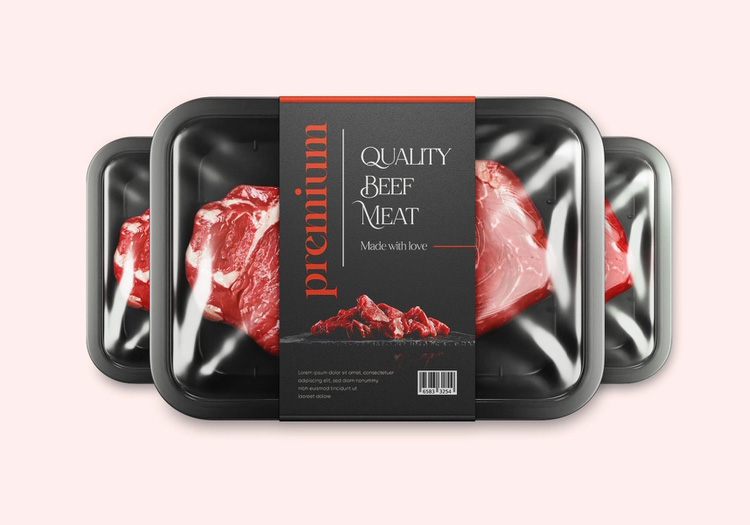 To avoid contamination and delay spoilage the packaging of both raw and cooked meat can be carried out.
Sea Food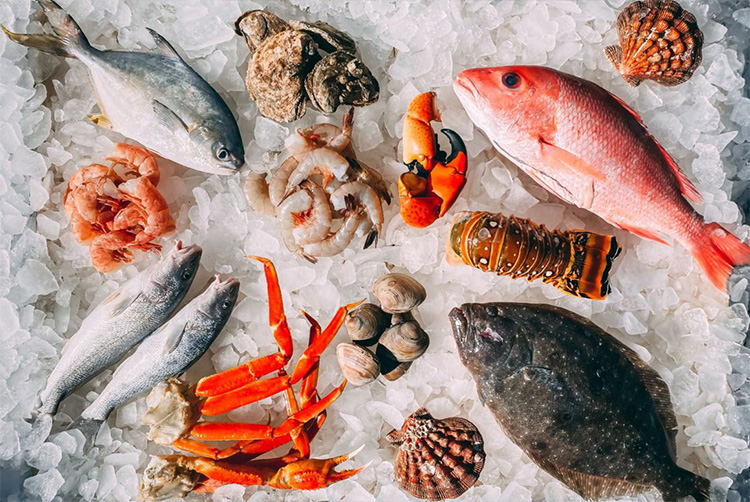 As a matter of fact, availability of seafood is confined to particular areas. Keeping this fact in view, huge amount of crustaceans and fishes are plastic wrapped and freezed so they can be delivered to consumers.
Sauces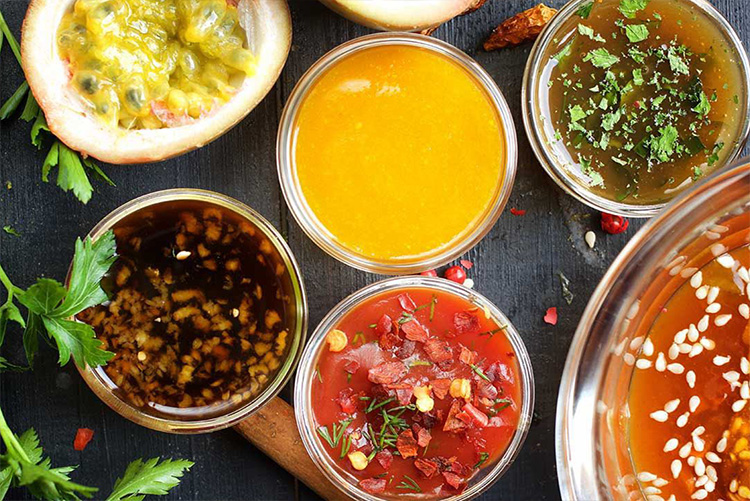 The hermetic sealing of machine guarantees leakage free packaging of liquid items like ketchup sauce, chilli sauce, yogurt etc.
Cheese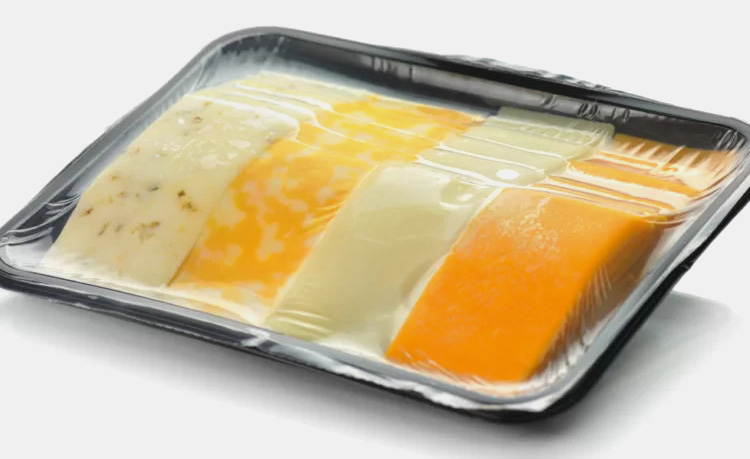 Cheese is quite sensitive in nature hence, growth of mold is likely to occur. For its quality protection cheese is mostly sliced and passed through the tray sealing process.
Ready Meals
Now a days pre-prepared meals have higher demand due to which they can be beautifully wrapped in food trays for easy accessibility to customers.
Fruits and Vegetables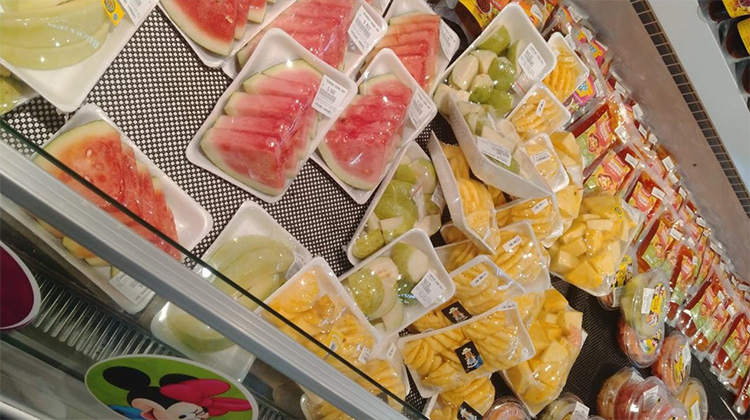 Fruits and vegetables are highly hydrated in nature which if not covered properly can lead to microbial growth. A food tray sealing machine is thus used for their palatability and safety.
Fast Food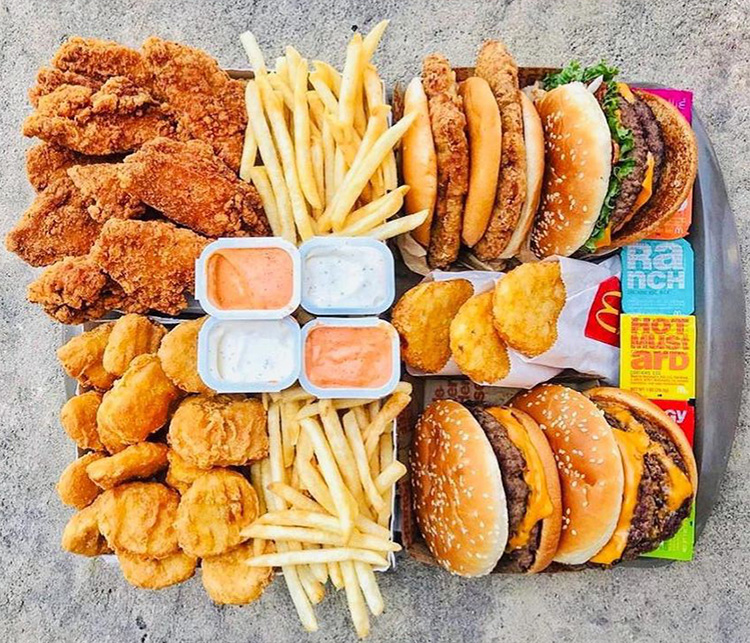 Variety of fast food outlets like burger, sandwich, french fries, pizza and chicken nuggets can be sealed in food trays.
Dough Products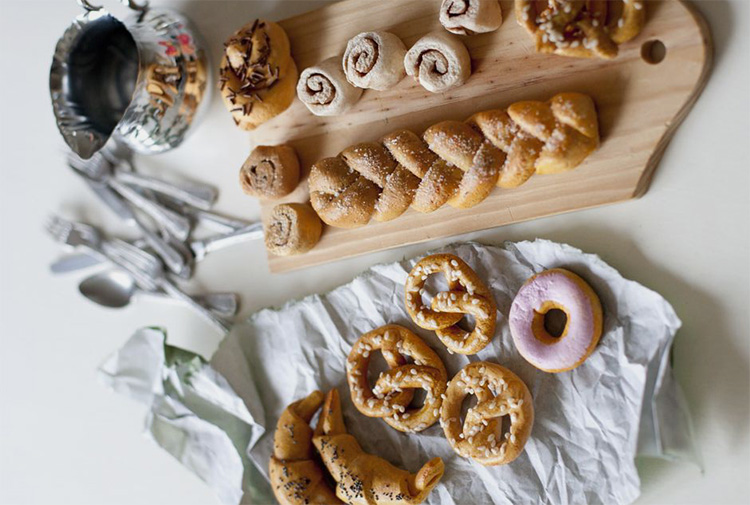 Most of the dough products which are prepared in bakeries are often packed in trays such as cakes, breads, patties, croissant etc.
Sweets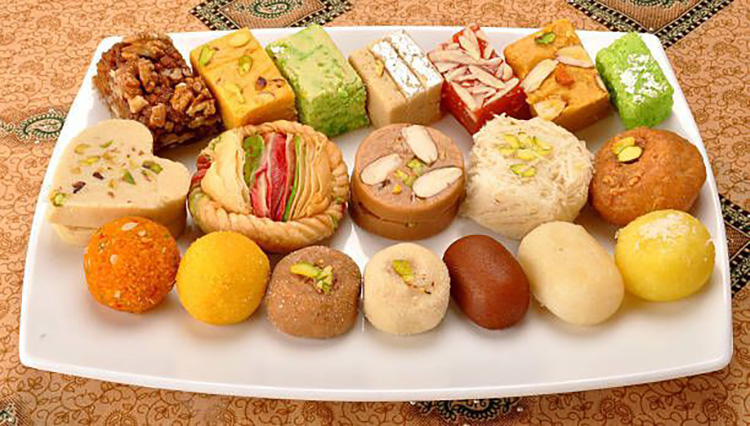 Sweet items are mostly juicy which if not covered accurately can cause the growth of mold. In this way, a food tray sealing machine has good performance.
5.Which Kind Of Trays Are Used By A Food Tray Sealing Machine?
Various types of trays can be used for food packaging. Some of them are explained below:
Polypropylene Food Tray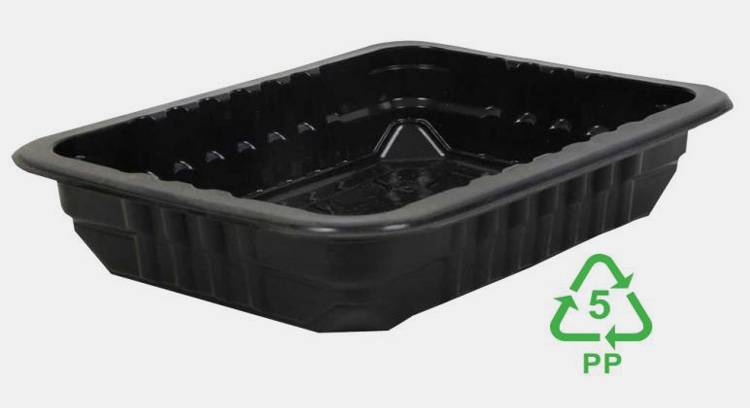 Polypropylene is fine plastic used for preparing food trays. Its corrosion resistant and anti-acidic structure is quite sustainable and ideal for packaging of fresh produce, seafood and frozen meals.
Aluminum Food Tray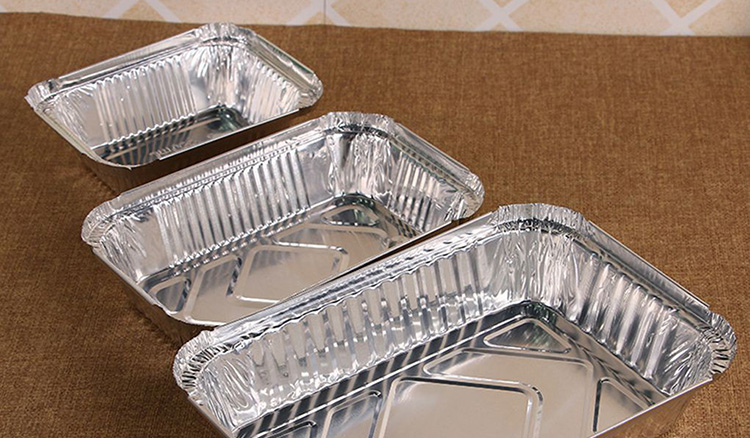 Aluminum Food trays are populary used for food packaging as it can be microwaved and recycled. In addition, it provides a strong barrier against oxygen and light thus keeps the food safe.
Bagasse Sugar Cane Fibre Food Tray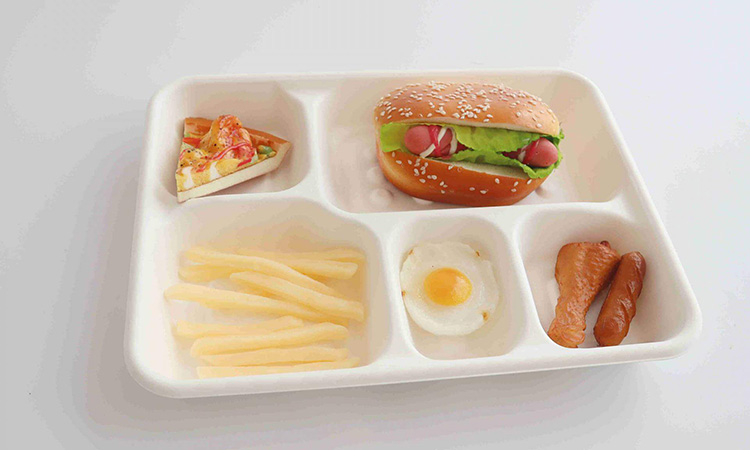 As the name indicates bagasse trays are produced from sugar cane and are biodegradable which makes them more environmental friendly. Bagasse has low carbon footprint and can bear low to high temperature.
C-PET Food Tray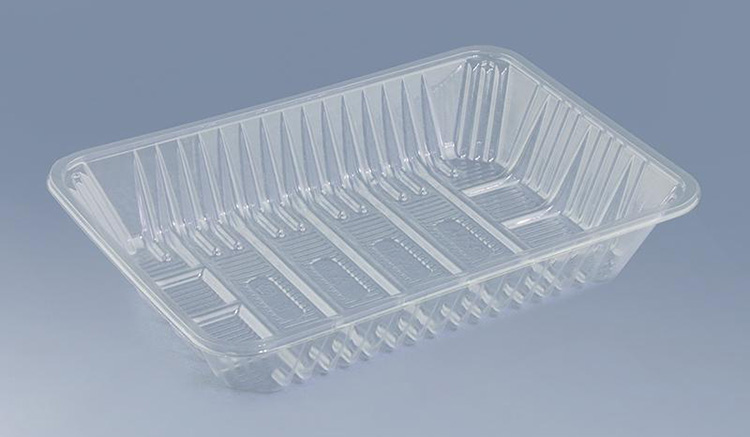 Crystallizable polyethylene terephthalate trays are made up of 80% recyclable plastic. They are highly versatile and are perfectly suitable for handling multi-temperature environment.
6.Describe The Essential Components Of A Food Tray Sealing Machine?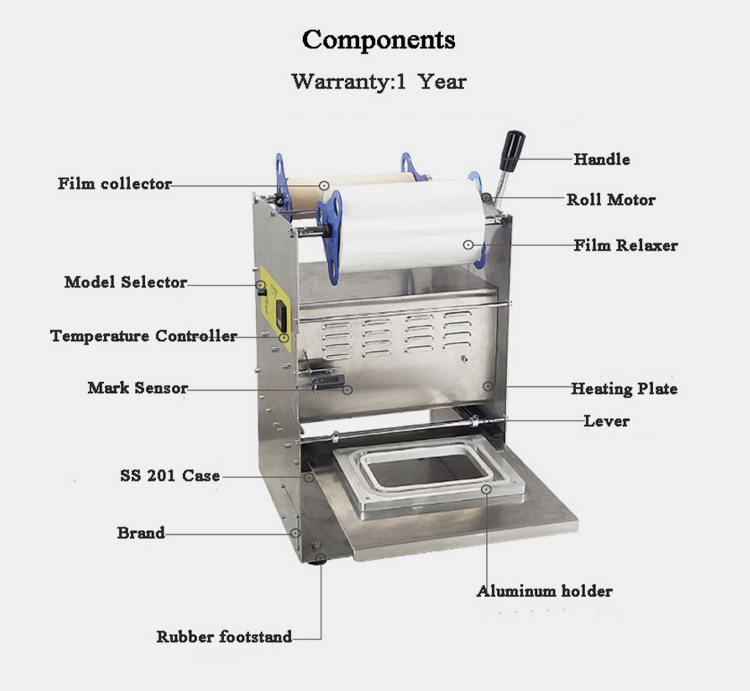 Different parts combined together make the structure of a food tray sealing machine. These components are:
Trays
The most prominent and obligatory part of food tray sealing machine is no doubt a tray(s). These trays are made from various materials like plastic, aluminum foil, sugar cane etc. Food is poured in containers with full transparency which are then placed in machine for packaging.
Film Reel
Film reel is a type of stand on which roller of film is wounded so it can be easily spread over filled trays.
Film Roller
Another integral component of tray sealer is film roller. It plays essential role in whole processing by providing the barrier in form of clear film with anti-fog properties that is lid over tray.
Tray Holder
This area for holding tray is located inside the machine. Trays are
Temperature Control
The nature of products influence packaging parameters. Thus, temperature varies from one type of products to another. To maintain the originality of food items temperature of machine is set accordingly which is done by this part.
Cutter
This part of machine is used to cut down the flexible plastic film that is applied on loaded tray.
Heating Plate
It is a kind of flat plate usually of the size of trays which after heating pressed on the tray and after that a hermetic sealing is realized.
Conveyor Belt
This entity of a tray sealer is very important in automating the procedure of tray sealing. Conveyor belt is mainly used to take the filled containers towards its destination and discharged after final sealing.
7.Explain The Classification Of A Food Tray Sealing Machine?
A food sealing machine can be divided into following types. They are:
Automatic Food Tray Sealing Machine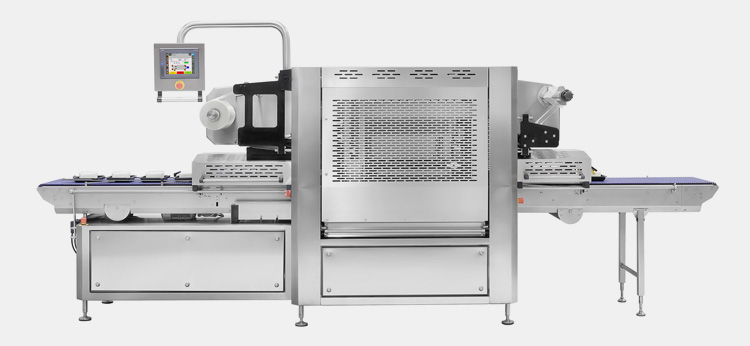 Automatic food tray sealing machines are employed to carry the entire sealing process independently. It is the conveyors which enable machine to work constantly and reduce the manual intervention. Its level of efficiency can be checked by its performance that it can seal upto 200 trays in a minute.
Working Principles
Operator is required to set the configurations for sealing like the time duration of trays for staying under heating area, temperature pressure etc. The process starts when machine is plugged on. The trays lying on machine are moved forward by the conveyor belt towards sealing mechanism. During that time a layer of film is dispensed from the roller on each loaded tray, cutters cut the plastic film and trays are moved ahead. Here the heat pressure is applied over surroundings of trays to let them properly sealed.
Components
The main components of an automatic food tray sealer includes stainless steel body, conveyor belt, film roller, control unit, temperature controller, cutting blades tray holders and movable wheels.
Application
Fully automatic tray sealers are mostly used in large scale business areas due to fast processing. For instance baking industry, markets with fresh food products like vegetables and fruits, dairy industry, meat and sea food processing industries have great demand for this equipment.
Semi-Automatic Food Tray Sealing Machine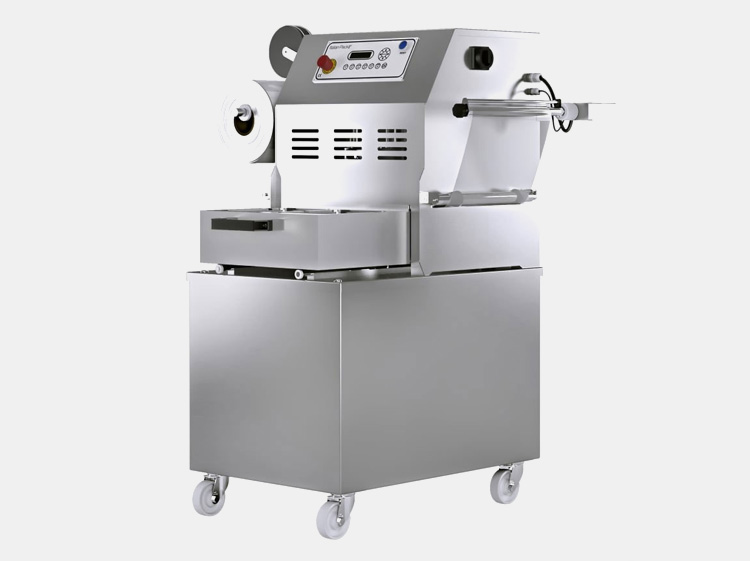 This type of machine is perfect for small medium-sized operations. Although, it requires an operator to push the tray station for sealing but has a greater output ratio and can seal many trays in a single time. It can pack 40 trays per minute.
Working Principles
The mechanism begins after the placement of pre-made trays in tray holders by the user. Laminated layer is scraped from roller and overlaid on the trays. Gradually the heat initiate thermal effect on film and get them melt for creating firm sealing. For few seconds trays are kept there and picked up after completion of their sealing.
Components
It consists of tabletop frame, tray holders, film reel, film cutters, heating system, control panel, cooling system and wheels for mobilization.
Application
This type of machine is perfect for medium size operations. Mostly restaurants, hotels, meat shops and catering industries take this machine to carry their usual tasks of packing ready to eat meals.
Manual Food Tray Sealing Machine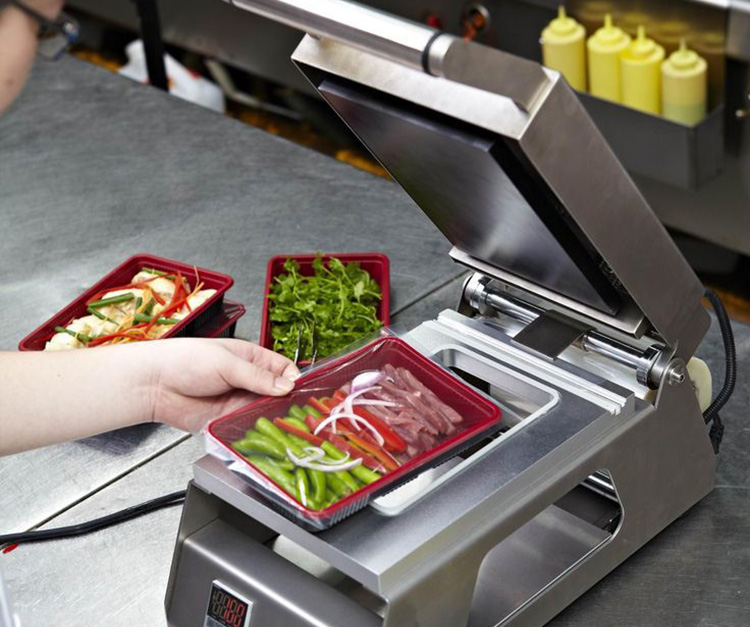 Portable tray sealing machine has usually one or more tray space. They are best for domestic use and can be easily moved from one place to another. It requires you to place the loaded tray in it, cover it by pulling plastic film and pushing down the sealing head over tray so it can be properly sealed.
Working Principles
Operating this small size machine is quite easy. You have to place the filled tray into the machine tray holder and close the head of machine. Grab the film over tray and push it down to completely cover the tray with film. After doing so, just turn the button on and machine will create thermal effect.  It eventually leads to strong sealing of tray.
Components
Its precise structure is composed of a single tray holder, power button, temperature control switch, sealing roof and film roller located at the back of machine.
Application
It is frequently applied in home for storing readymade meal or packing fresh vegetables or fruits for retaining their quality. Moreover, it can be also used in small laboratories or medical stores for keeping chemicals and medical devices far from contamination.
8.Differentiate Between Tray Sealing Machine And Pouch Sealing Machine?
To pack food in a way that it is far away from bacteria, two common methods are used in packaging area which are tray sealing and pouch sealing. How each is different from another and which one is more flexible is what we are described below:
| | | | |
| --- | --- | --- | --- |
| No | Factors | Tray Sealing Machine | Pouch Sealing Machine |
| 1 | Definition | It is also known as tray lidding machine which uses temperature to form sealing of trays that varies in shapes and sizes. | Pouch sealing refers to the formation of pouch sealing that is achieved by the bonding of two plastic films through application of heat pressure. |
| 2 | Working Procedure | A layer of plastic film is applied over the loaded tray and it is passed through the heating phase. | For pouch sealing two flexible materials are joined together on their opening side via thermal effect. |
| 3 | Sealing Area | Sealing area of tray is wider than pouch sealing because tray needs consistent temperature across the whole surrounding area. | Area of pouch sealing is narrow as it only require band on its top side. |
| 4 | Capacity | Tray sealing machine has high capacity of processing number of trays at same time. | While as, pouch sealing machine can only seal a single pouch at one time. |
| 5 | Material | It is mostly used for fresh products like fruits, vegetables, readymade meal etc. | Contrary to tray sealing, pouch sealing is often utilized for powders, granules and products having long shelf life. |
| 6 | Application | Large markets, restaurants and bakeries are using this machine on great extent. | Its presence can be found in food industry, chemical industry, and pharmaceutical industry |
| 7 | Machine | | |
9.Highlight The Areas Where A Food Tray Sealing Machine Is Popularly Utilized?
From restaurants to houses, every business and domestic entity is keen to incorporate the innovative technology of a food tray sealing machine. Thus, its presence can be traced in following areas:
Restaurants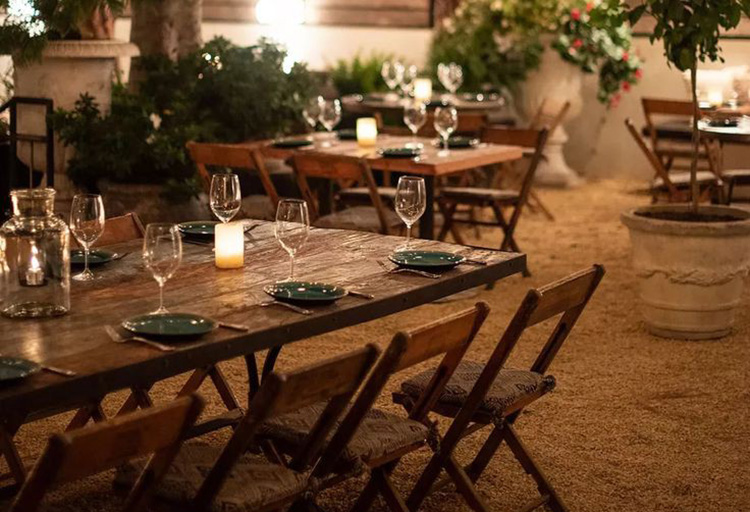 A name comes in our mind when talking about the applicability of a food tray sealing machine is obviously restaurant. It is a place where food is circulating all the time which too needs proper packaging. In addition, people are now a days more tendent towards utilizing pre-made food instead of spending hours in kitchen that is something time consuming. For the accomplishment of these tasks a food tray sealing machine has been used.
Catering Industry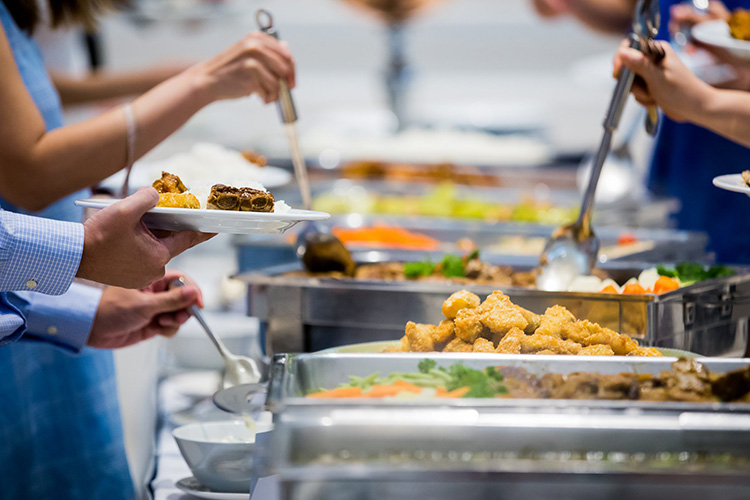 Catering refers to the business in which food and other items like beverages are provided to people on special events. Here again food tray sealing machine play an important role as food is beautifully packed in ready form, so it can be easily microwaved and consumed.
Household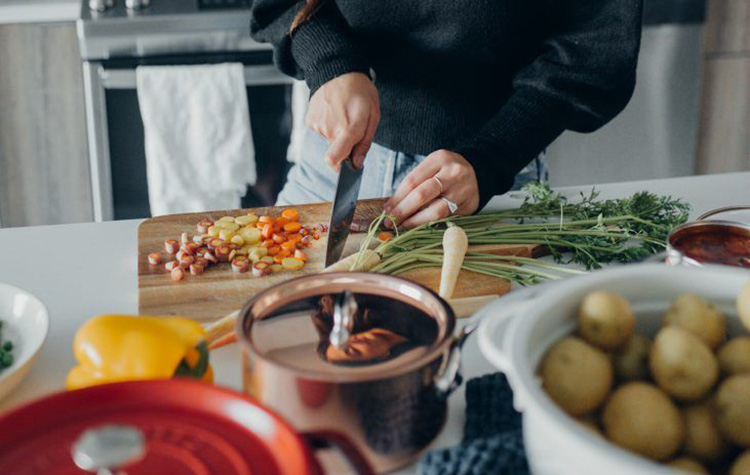 This machine is also used in houses as most of the people prepared food and refrigerate it for an emergency time or to take it with themselves on their offices. Such type of ready to eat meal too require accurate sealing which is done by a food tray sealing machine.
Meat Industry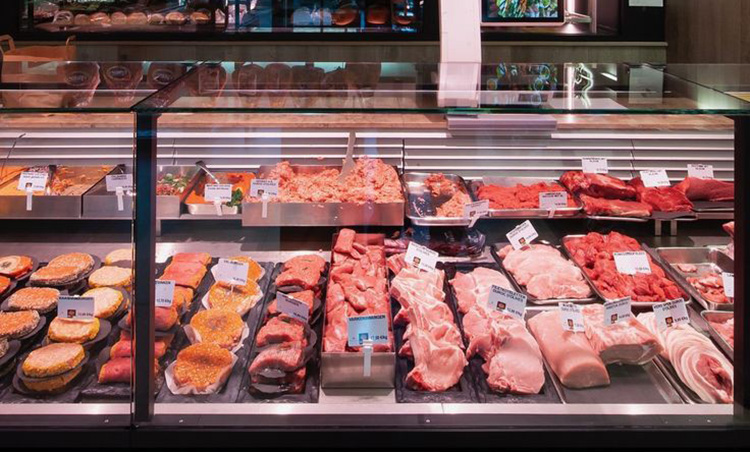 Another area which looks for the services of this machine is meat industry or butchery stores where most of the time meat is laid. Without packing this type of fresh meat allow the direct contact of bacteria which can harm the product quality. To get rid of this problem the tray sealer is the answer.
Dairy Industry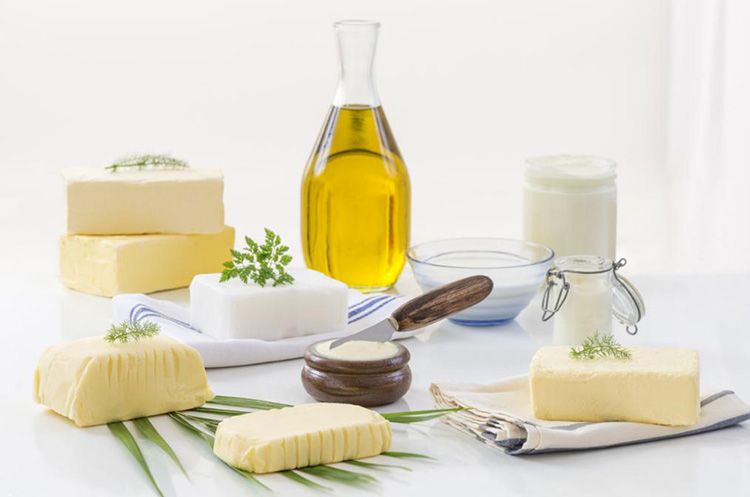 Similar to other industries, dairy firms are also utilizing this machine for various purposes. For instance, lots of dairy items including cheese, butter, yogurt and cream are often sealed in food trays.
Large Markets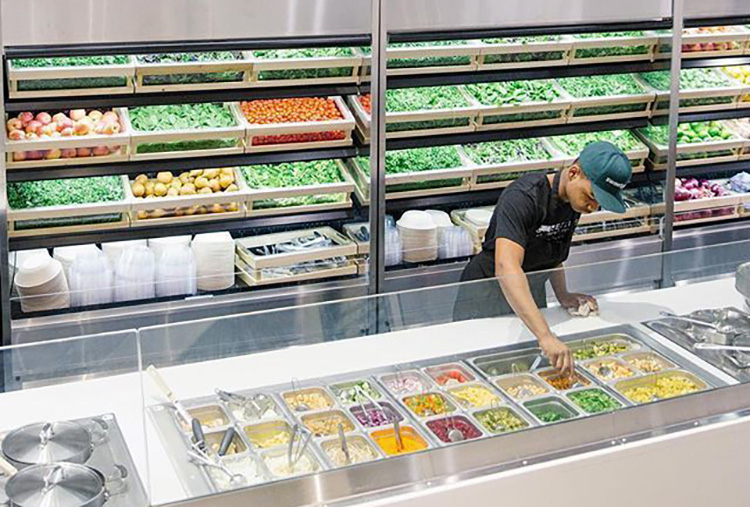 A place where thousands of fresh food items are laying will definitely need an equipment that is not only accurate in packaging but efficient as well. For this, a food tray sealing machine is highly praised.
Confectionary Industry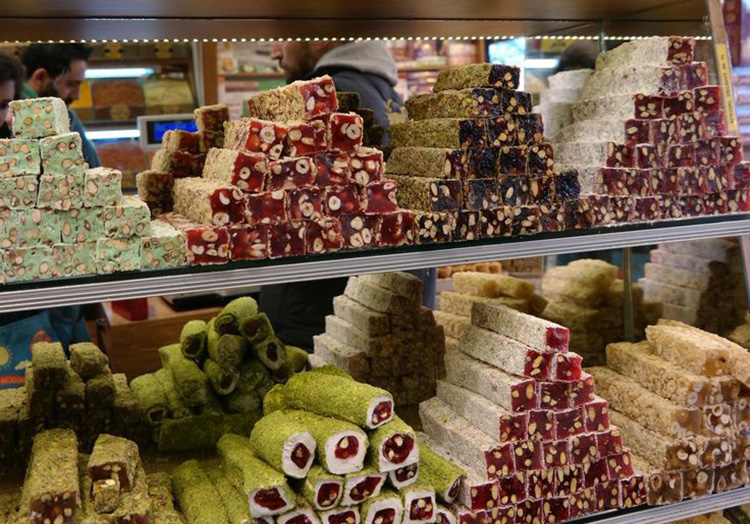 Sweet products are likely to get spoiled by bacteria quickly because they are sticky in rich and are sugar rich. Thus to preserve their delicious taste long lasting many confectionary industries are packing their products in trays processed by a food tray sealing machine.
Baking Industry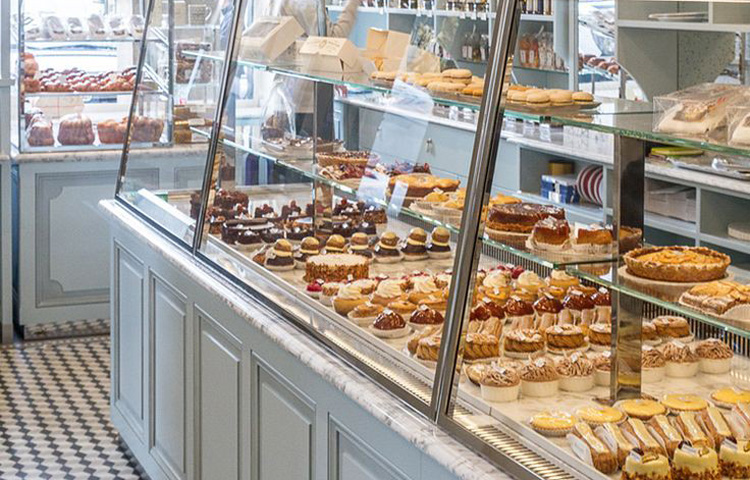 Like confectionaries, baked items are also sensitive in their nature. It is a matter of common observation that bread and other similar products are deteriorated by microbes. To retain their safety and originality for a longer period, they are covered in food trays.
Medical Industry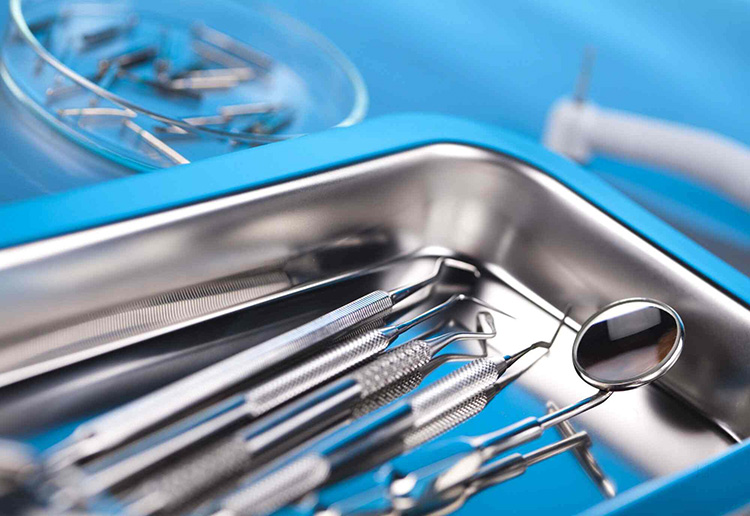 Medical industry is the area having demand for high level of sterilization. Different medical devices used for surgeries are kept in clean and full of hygienic environment. This is the reason why a tray sealing machine is always the first choice of these industries.
Hotels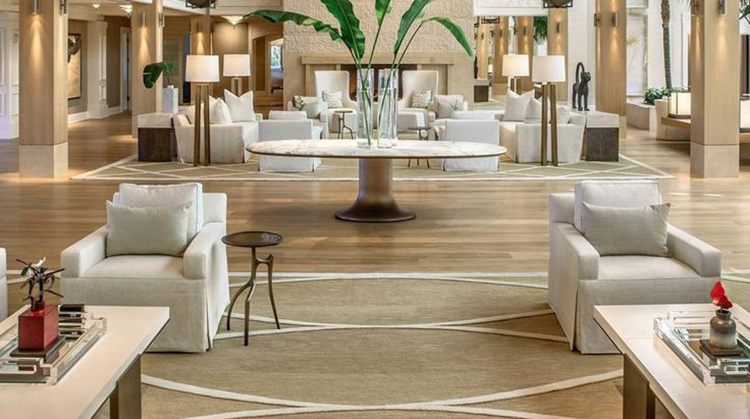 Different hotels are using this machine in order to better serve their customers. The packaging done by a food tray sealing machine has good appearance which leaves good impression on customers.
10.What Are The Causes And Countermeasures For Failure Of Food Tray Sealing Machine?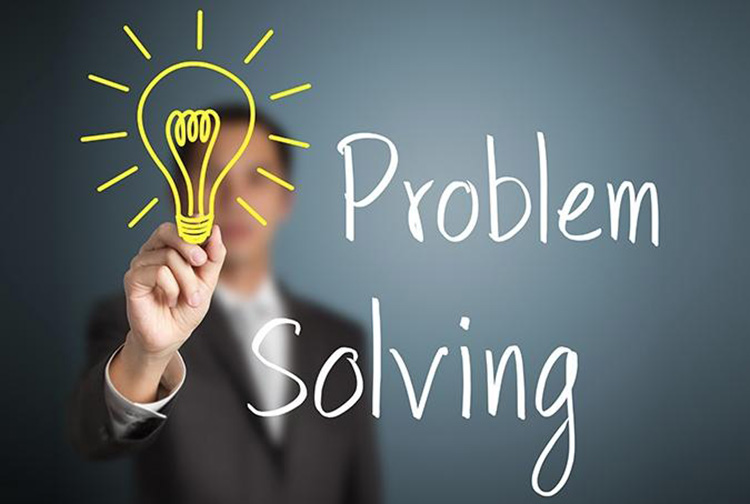 Every good machine comes with certain complications for which you have to prepare yourself. Same as, a food tray sealing machine might cause some problems during operation thus requiring you to know the underlying cures:
| | | | |
| --- | --- | --- | --- |
| No | Problem | Causes | Countermeasures |
| 1 | Edges of tray are jagged and sealing is in completed | It usually happens when temperature is too low or cutters are not sharp enough to accurately cut down the film | Increase the machine temperature to suitable level and also sharpen the cutter by replacing with new one |
| 2 | The feeding of film is incorrect | Possible causes are the inappropriate handling of plastic film or storing it at a high temperature which produce fusing between layers | Make sure that temperature is moderate for keeping film and the stacks are not too high than instructed |
| 3 | Problem of build up | The only reason for this error is the higher level of temperature which cause damage to sealing parts | Adjust the heat pressure and regularly remove build up |
| 4 | Polyethylene heat seal extrusion | The high thermal pressure often squeeze and stick the hot sealing film | An easy remedy is to reduce the machine pressure on tray edge parts |
| 5 | Heat seal leakage problem | Either heat is too high, packaging material is weak or seal is contaminated which leads to product leakage | Reduce heat to avoid film melting on sides, use thick film and clean the sealing area |
11.What Points Should Be Kept In Mind When Choosing A Food Tray Sealing Machine?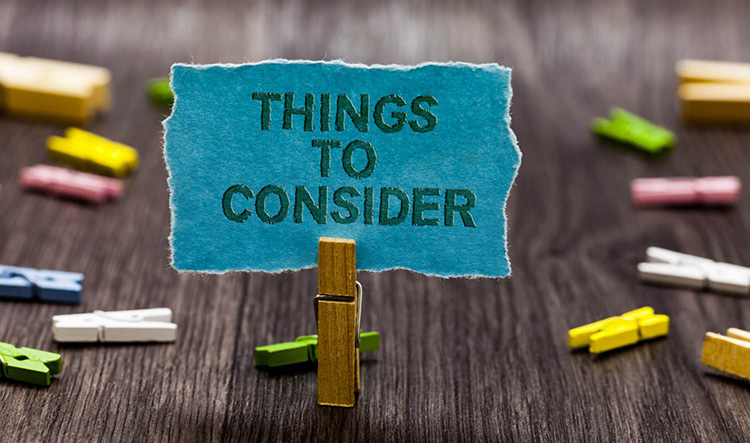 The choice of effective packaging machinery needs full concentration and consideration. Therefore, you have to be vigilant enough to gather every possible information related to the machinery you are going to purchase. For that, look into the following points:
Nature of Production
The very first question every user should ask before purchasing a food tray sealing machine is the nature of material he wants to pack by the equipment. What is the volume of your products? Do you want to pack single featured item or various goods? Answering them will ultimately lead you to opt for better option which compliments your demands.
Technical Specifications
Ask the provider about machine technical specifications like its speed, temperature control and length of tray holders. These points play very significant role in shaping your production line because every product needs different temperature and trays.
Type of Trays
Tray is the obligatory part for packaging of food when using a food tray sealing machine. So, must consider the type of trays, which better suits your needs. For instance, those trays are perfect which has ability to endure high temperature.
Affordability
Ask from any reputable supplier about the price, warranty and ease of operation. If you find your answers positively then the machine is good for your initial food sealing process
Parts Availability
It is very important to know that parts of machine are easily available. Its reason is the delay caused by unavailability of parts.
Conclusion
A food tray sealing machine has high global demand on both commercial and domestic level. To fulfill this need Allpackchina is trying to fully satisfy customers by provide you with ultimate solutions for your problems. Our fast, hygienic and self sufficient trays sealers can sort out your challenges. We hope you find this article an intersection one. For further information or queries please contact us.
Don't forget to share this post!
CONTACT US
Tell us your raw material and project budget to get quotations within 24 hours.
WhatsApp Us: +86 181 7101 8586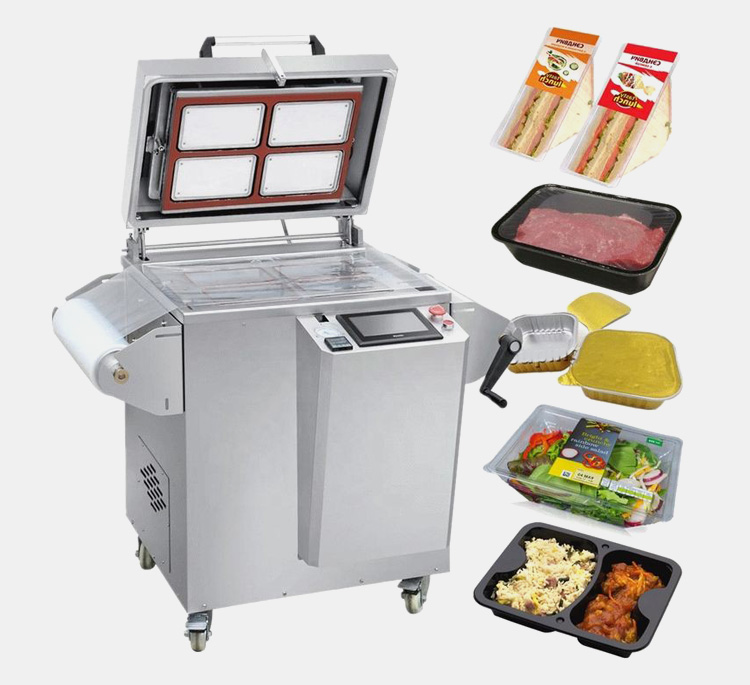 Tell us your material or budget, we'll reply you ASAP within 24 hours