PACKAGES
PACKAGES
Capsule Filling Machines In Allpackchina
Capsules are very important to the entire pharmaceutical industry. Capsules are generally used to fill powders or granules that are irritating to the esophagus and gastric mucosa. When some drugs are volatile or easily broken down by saliva in the mouth, capsule shells are generally the best choice. Therefore, the technology of capsule filling arises at the historic moment. There are different capsule filling machines for capsule shells of different models and materials.
Allpack china is one of the most professtional capsule filling machine manufacturer in china with 11 years experience. If you are finding the perfect capsule filling machine for all sizes and shapes of capsules to make your own capsules for supplement or nutrition, this is your best option. All the capsule filling machines below will be your right choices.
Here are 5 solutions for your different needs including manual capsule filling machine, semi-automatic capsule filling machine, fully automatic capsule filling machine, hard capsule liquid filling machine and softgel encapsulation machine.
Manual Capsule Filling Machine
Allpackchina manual capsule filling machine is an essential tool for your business to produce supplements, vitamins, medicines, or other products in the form of capsules. Before learning how to operate, you need to prepare the raw materiasl and place it into the hopper. After that, place each filled capsule on a movable platform and place a manual capsule closing disc onto the platform and manually move it to close each capsule. After all the capsules are filled and closed, they will be ejected into a collection tray for further processing or packaging.
Model: AS-100 (100 capsule holes on arrangement plate);
Mechanical arrangement design, fast arrangement speed, high automatic arrangement rate;
Consisting of frame plate, cap plate, middle plate, body plate, pressure plate, and scraping plate;
Widely applied for 00#, 0#, 1#, 2#, 3#, 4#.
Semi-automatic Capsule Filling Machine
Allpackchina semi-automatic capsule filling machine can fill pills and capsules with powders, granules, liquids, semi-solids, or combination products with both machine work and labor work. It involves powder loading, filling, and closing. You need to load the powder into the hopper and the machine will complete the filling and closing work.
Model: CGN-208S;
Adopted programmable control system, touch screen panel operation, stepless frequency conversion debugging and pneumatic joint control;
Stainless steel fuselage and worktable to prevent corrosion and oxidation;
Satisfied GMP standard, easy to be clean and powder material saving;
Appllicable for finishing capsule filling, cap adjusting, and capsule closing;
Fully Automatic Capsule Filling Machine
Allpackchina's full automatic capsule filling machine can automatically fill hard gel capsules with various types of material such as powder, granules or pellets, etc. automatically and without labor work. The working process involves powder loading, capsule splitting, capsule filling, capsule discharging, and station cleaning.
Model: NJP-1200C;
Equipped with 100DS high precision cam dividing box for increased filling speed and raised up filling capacity;
Increased filling speed of 1100pcs capsule per minutes;
Significant enhanced production efficiency and longer service life;
Improved quality and production efficiency;
Suitable for pwoder, granule, pellet, and tablet filling;
Hard Capsule Liquid Filling Machine
Allpackchina hard capsule liquid filling machine can fill liquid substances into empty capsules automatically. Before starting operation, hollow capsules are loaded into the hopper and conveyed into multiple tubes. Liquid material will be dosed and filled into the hollow capsules. After through the locking system, capsules will be tightly locked with caps. In the end the capsules will be ejected out of the mold.
Model: NJY-300C
Adopts step-less frequency converter for convenient and intuitive operation;
Designed for high-end products in the pharmaceutical, health care, and other industries;
Equipped with man-machine interface control system for capsule and material lack alarming;
With vacuum positioning and separating mechanism for the 99% capsule probability;
Adopts high-precision ceramic pump and servo moto;
Softgel Encapsulation Machine

Allpackchina soft encapsulation machine can make soft gel capsules by filling semi-solid, liquid, or suspension into hermetically sealed gelatin with high efficiency. The working process involves gelatin preparation, filling material preparation, encapsulation process, and drying and inspection. First, you need to heat the gelatin as the capsule shell. Then, add liquid, semi-liquid, oil, or paste-like substances into the hopper and conveyed it into the injection wedge via tube. The filling material will be filled into soft capsules with the encapsulation system.
Model: HTSYS-5
Adopted cold system with integrated cooling fan;
Consisting of gelatin melting tank, insulated gelatin storage tank, electric control cabinet, conveyor, shape/drying rotary cage, and colloid mill;
Low noise, high accuracy (loading error is less than +/-2%);
Simple operation, stable and reliable function;

Inquiry


View More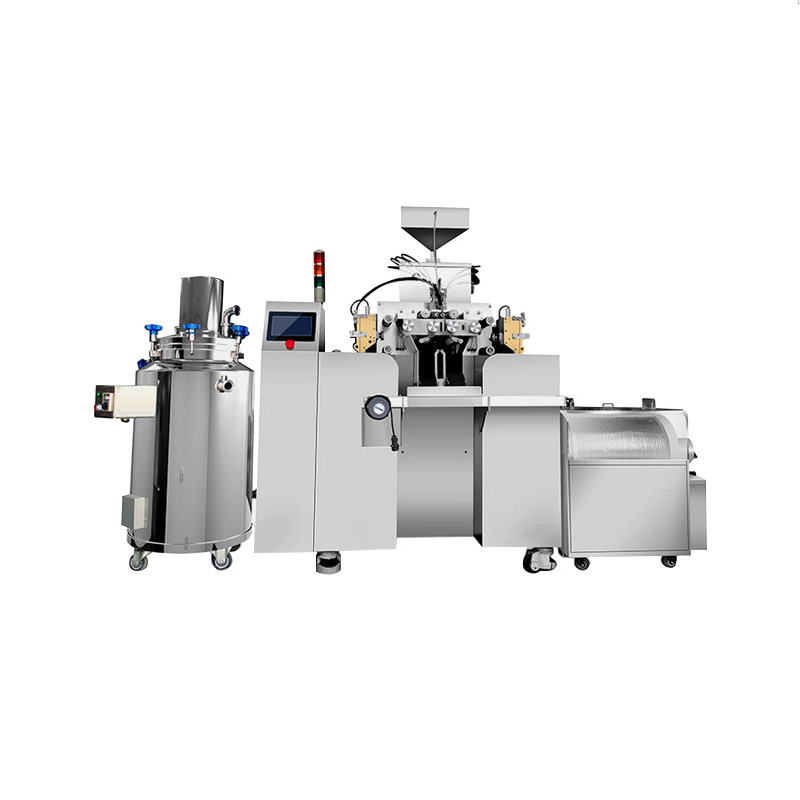 Capsule Filling Machine Related Posts
CONTACT US
Tell us your raw material and project budget to get quotations within 24 hours.
WhatsApp Us: +86 181 7101 8586